Once at Cottonwood Pass, we weren't mounted on our horses and mules and ready to set off into the unknown wilderness that lay ahead for several hours. The horse I was given was a dapple gray named Ears.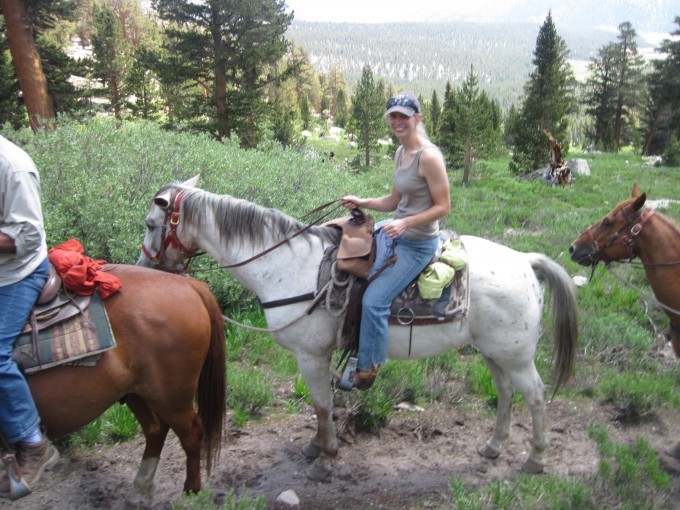 Ears was aptly named considering the fact that his ears flopped sideways and swayed in time with the his gait.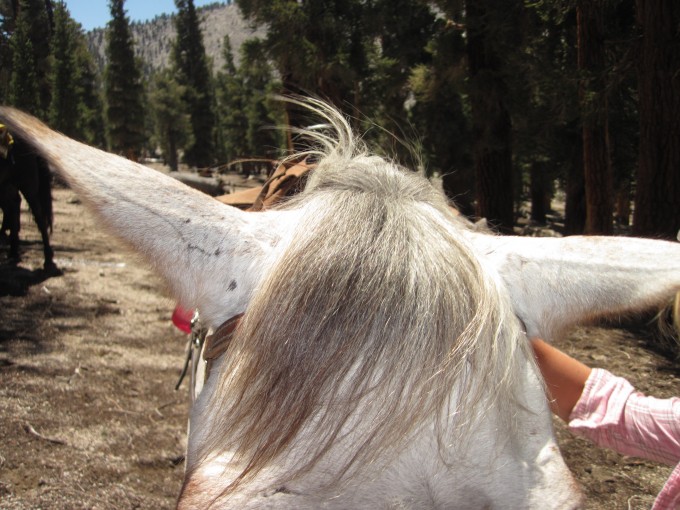 He was a horse that was prone to falling asleep the minute I dismounted and greatly enjoyed apple cores.
Bobby was given a mule named Sweeper.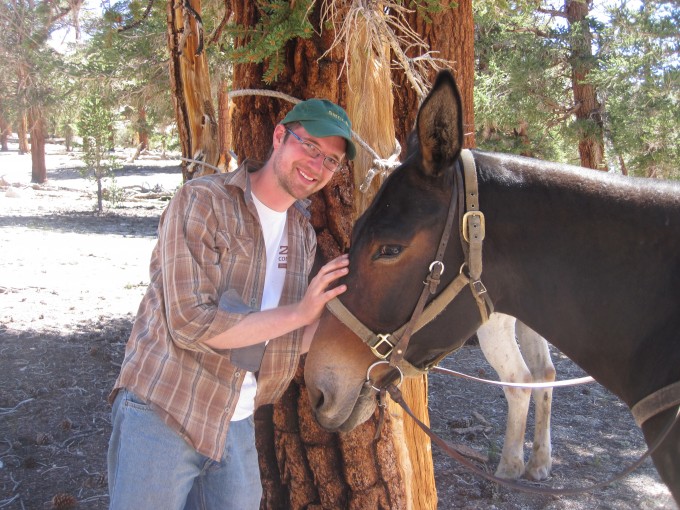 She had lovely eyes and used them to size Bobby up pretty quickly. Lets just say that Bobby never really "rode" that mule, she made all the decisions in that relationship. Often times you would see Bobby off the trail, Sweeper would be sneaking a snack, and occasionally she would follow the animal in front of her. It was frustrating for Bobby because Sweeper's rather adoring owner was our cook/guide and kept telling Bobby what an amazing animal she was and about all the awards she had won at a variety of mule shows. Bobby was unimpressed and did not particularly enjoy her company but was forced to put a happy face on for the benefit of her owner.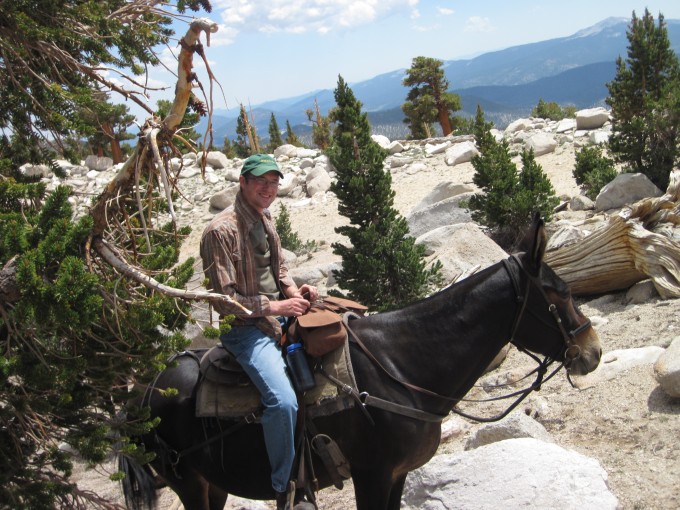 We rode every day for at least three hours but by far the longest day we had was the very first day. Bobby and I had already been up since 4:45 and we didn't start riding till almost noon. We stopped for lunch and the guides chatted with us and seemed like fairly reasonable people and told us that any time we needed to stop for a break to just ask.
After mounting back up and continuing on the trail things began to go south. It turned out that the two women guiding us were the cooks and had actually never been to the campsite our pack train was heading to. Arguments about which way to go ensued. They told us there would be a place to stop for water along the way, but they never stopped. One of the older women in the group (Patsy) drank all her water and the heat of the day soon got to her. She began to waiver on her horse and slide off the side. Somebody was able to jump off their own steed and catch her before she hit the rocks below. Because of where this occurred we were unable to get off our horses and take a break. Instead we waited for her to recover and feel less dizzy. Fortunately among our group were two ER doctors and a paramedic. She was in good hands and feeling better after drinking more water. We continued on the trail with a guide closely following Patsy. It eventually came to pass that I had to go to the bathroom. I asked the guide behind me if we could stop, she told me that we would soon be there if I could hold on. I agreed and the journey continued. Three hours later and we still weren't there and had no idea how much longer the journey would be. After continually talking loudly about how badly I had to go and how uncomfortable I was they still refused to stop ensuring me we were close… Sunset was approaching and all of us were beginning to get upset. They never let us stop for any sort of break. 
We finally made it to camp and Bobby and I ran as fast as we could to the nearest cover so we could finally relieve ourselves. We were all starving and the kitchen had yet to be set up (considering the cooks were our "guides") and dinner wasn't served until well after dark. While it was being prepared each group was given tents and we all set out to find a good spot. The trick with camping on the trail is that you have to be 100 feet away from water and the trail. Naturally those spots would be the first you would chose because that's where the flat ground is. But, alas you can't. So we looked for the least hilly spot and set up our tent. Bobby and I always slept in a way so he was on the downslope and not me so he wouldn't crush me in the night. 
We cuddled in the tent together not speaking because we were both worried that we had chosen the wrong trip. The guides seemed so awful and we were worried that everyday would bring the same unpleasantness as the first. But we decided to focus on the positives of the day. We began to discuss the spectacular views we had seen. The new ecosystem that we were now a part of. The fact that there only seemed to be two species of trees that could live in that particular environment. We laughed at the backpackers we had passed along the trail throughout the day that looked upon us enviously and then we discussed how we also felt pangs of regret that we weren't backpacking. We decided that the first day was always the roughest and that the following days would prove to be better. 
We slept well that night exhaustion taking us into deep dreamless sleeps. I, of course, had to pee in the night and we soon learned that setting our tent up close to a good bathroom spot was a good idea. The camp did have a popup privacy tent for using the group hole, but was usually close to the main camp where the guides slept outside. To prevent waking them I would use a tree or boulder nearby the tent. While getting up in the middle of the night having to pee while camping is frustrating it also offers an extreme beauty. I made Bobby get up with me the first night so he could look up into the sky and see the multitude of stars. Nowhere except in the wilderness far from the harsh artificial lights of towns and cities can you see so many stars! 
The days that followed proved to be much more enjoyable with shorter rides, frequent breaks, and unending natural beauty constantly surrounding us.
We began to get to know our group mates rather well and were pleased that a sense of humor ran strong in most of them. 
Bobby and I enjoyed hiking around the camps and looking for spots to do some bouldering.
One day we even fished a little! The doctors on the group were fishing for Golden Trout and asked if we wanted to try. I laughed telling them that I had been fishing a couple of times but had never actually caught anything. One of them gave me their pole and instructed me on what to do. I soon caught my first fish! A small Golden Trout! We released it back into the water after one of the doctors got the hook out and it swam away. 
While we were enjoying the various day rides, hiking, and bouldering we were really anxious to make the journey up Mount Whitney!