The weather for the weekend was looking perfect with highs in the 80s and lows in the high 50s. We decided it would be warm enough that we should be able to take our 6 week old baby boy, Jack, camping without too much concern for him staying warm enough. Before we could head out we had to make a few purchases to make camping with an infant as stress-free as possible. We needed a new, family friendly tent, a portable crib, and appropriate warm layers for Jack for sleeping. We went to REI during their Labor Day sale and bought a new tent, because the three we already had just wouldn't do. We purchased the REI Kingdom 4, a two room, ridiculously large tent. My requirements were that we had a tent that was large enough that my camping chair could fit inside so I would have a place to nurse at night. The tent also needed to be large enough to accommodate Jack's new Pack 'n Play, Bobby, myself and Latigo, an 80 pound Golden Retriever. We both wanted a tent that was large enough for us to stand up in. The Kingdom 4 fit the bill perfectly for all of our wants and needs, large enough to accommodate us all with room to spare, and at a little over 6 feet tall we could easily stand and walk around! We couldn't have been more pleased with it all weekend! Our only critique would be that the zippers for the doors would get snagged occasionally and there were so many zippers that it was easy to unzip the wrong thing.
We were both pretty concerned about Jack staying warm enough in the night, as he still can't regulate his own body temperature. We ended up bringing several layering options to keep him warm while ensuring he could sleep safely. Bobby had bought him a Patagonia Snowsuit in case things got really cold, one of Bobby's coworkers had just given us a Merino Kids winter sleep sack, and my sister had given us a Halo Micro Fleece sleep sack. I also brought along three pairs of fleece pajamas, three long sleeved onsies, two fleece hooded sweatshirts, multiple pairs of socks (for both feet and hands), and several hats. Seems like a lot for a single overnight but you never know how many blowouts you'll be faced with. In general when we take Jack out for hikes we always have him in fleece pajamas with an undershirt on and that seems to keep him the perfect temperature on warm days so we hoped the additional layers we packed would be enough to keep our little bean warm for a whole weekend spent outside.
Saturday morning came and I had managed to pack most everything throughout the day on Friday while Jack napped. Now it was time to load the car. Bobby rushed around like a mad man trying to get everything crammed into the car. I fed jack and got him dressed for our weekend of adventure before helping Bobby. We made our first mistake of the weekend that morning. We thought it would be best to get out the door as fast as possible and that if we didn't eat breakfast and just got breakfast on the road it would help save time. This meant that we were both stressed, sleepy, and hungry. Not a good combination. Parents remember to take care of your own personal needs because when one person is unhappy the whole family is. We were snapping at one another about the smallest things and we knew that food for everybody should be a priority from then on.
We left the house at a reasonable time, but had to go back for a forgotten item. We were officially on the road at 8:30 a.m. Jack, if following a feeding schedule of every 2 hours which he sometimes follows to the minute or sometimes goes longer or shorter, was due to eat in 30 minutes. We used to be really obsessive about planning outings around feeding times. Now, we are both much more relaxed about it and don't even bother worrying about it. We've taken on the mindset that he's going to need to eat when he's going to need to eat and I can feed him pretty much anywhere so why worry about it! Jack ended up taking an epic morning nap, as he is sometimes want to do and we made it halfway to our end destination (the camping area we were headed to was about a 2.5 hour drive)! We needed to stop at a grocery store for a few last minute supplies so I fed Jack in the car in the parking lot of a Safeway and Bobby ran in to get the last few items we were lacking. We were soon back on the road and enjoying our long road trip while listening to our new favorite children's music sung by the outdoorsy duo, The Okee Dokee Brothers! Seriously for all you parents out there check out this wonderful duos music! Their two most recent albums, "Can You Canoe" and "Through the Woods" are fun for both kids and adults and have great outdoor adventure themes!
We arrived in Leavenworth, WA just in time for lunch and all three of us were ready to eat. We found food at a Bratwurst stand and sat in the shade while munching. Jack was alert and happy throughout our visit to Leavenworth and working hard on supporting his own head!
We didn't linger long before heading out of town and down the nearby Icicle Canyon in search of a campsite for the night. We chose this particular area to camp in because of the plethora of hotels that can be found in the town of Leavenworth. We had both agreed that if we couldn't keep Jack warm or if things just weren't working we would wave the white flag and head for a hotel.
The first of four campgrounds along the Icicle Canyon is Eight Mile Campground, as soon as we entered we began to get nervous that we wouldn't be able to find a site for the night when we saw a sign decked out in white balloons that read WEDDING!!! Sure enough Eight Mile was full. We continued along the canyon road and stopped at Bridge Creek Campground. Again, dread set in as more balloons and signs labeled the way to the reception for the wedding at Bridge Creek's group site. We continued further down the canyon road until we came to lower Johnny Creek Campground.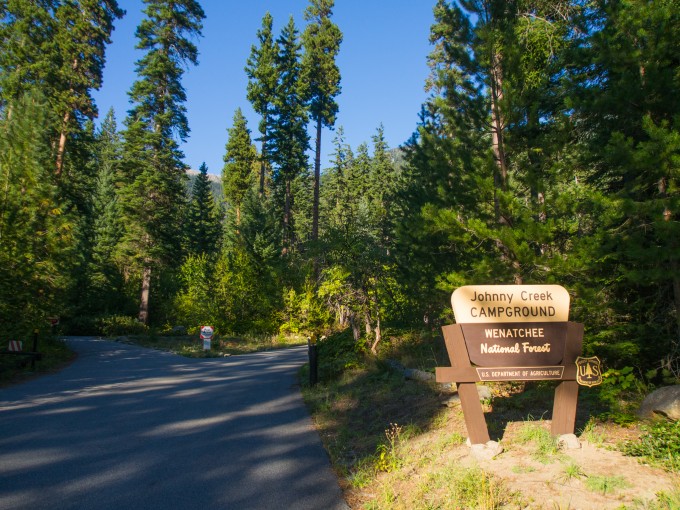 We had stayed at lower Johnny Creek once before when I was 30 weeks pregnant. We found the perfect spot in the campground for our needs, it was large enough to fit our giant tent, close to a pit toilet, close to the creek and it was off by itself. The only downside was that it was fairly close to the road but that didn't dampen our spirits. We were hopeful that the distance between our campsite and everybody else, coupled with the noise from the creek and road would drown out any of Jack's screams and therefore not disturb or upset any of our fellow campers. We had planned on introducing ourselves to our neighbors had the sites been close together and just warn them of our new camper as a courtesy. We did read in another parenting blog that some people bring along earplugs to offer to their neighbors as a peace offering but we didn't go that far.
Bobby set up the tent while I fed Jack.
Once Jack finished eating Bobby took him and I set up the bedrooms inside the tent.
We were very happy with the layout.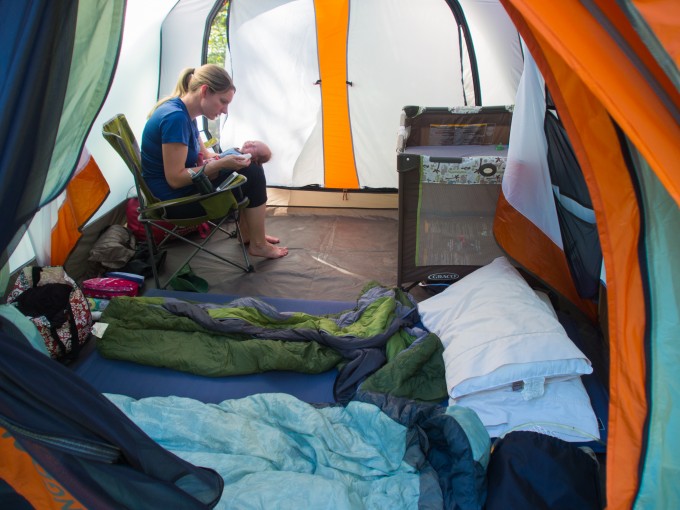 Jack was clearly tired after having been awake for a couple of hours. We swaddled him in a sleep sack and put him down for a nap in his new Pack 'n Play.
We too were exhausted and both fell fast asleep. We decided that Jack must be growing because he took another epically long nap! Bobby and I woke up an hour later feeling very refreshed while Jack slept on for a bit longer before waking up hungry. Bobby went out and built a fire while I fed Jack in the tent and when we emerged we had a roaring hot fire to warm Jack up!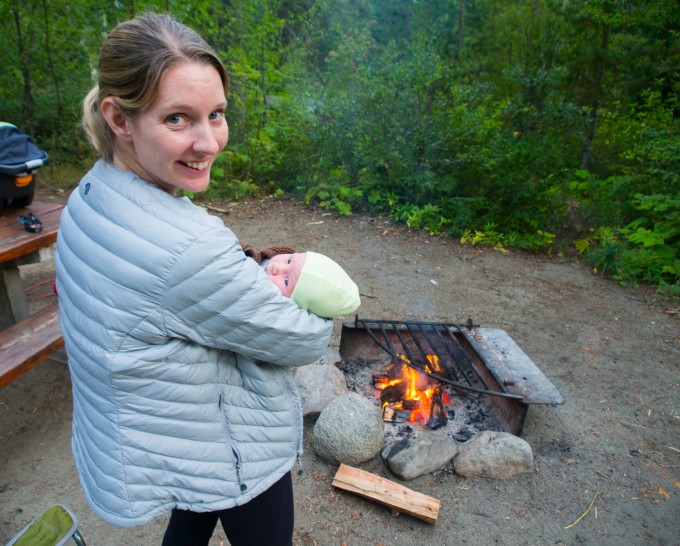 We found that cooking a meal in a campsite with an infant is tricky. Usually Bobby and I share the responsibilities of cooking in camp but we were down one cook as Jack was a bit fussy and wanted to be held. Bobby took the task of soothing our son as I grilled up burgers, fried some onions, and set the table with all the other fixings we had brought along.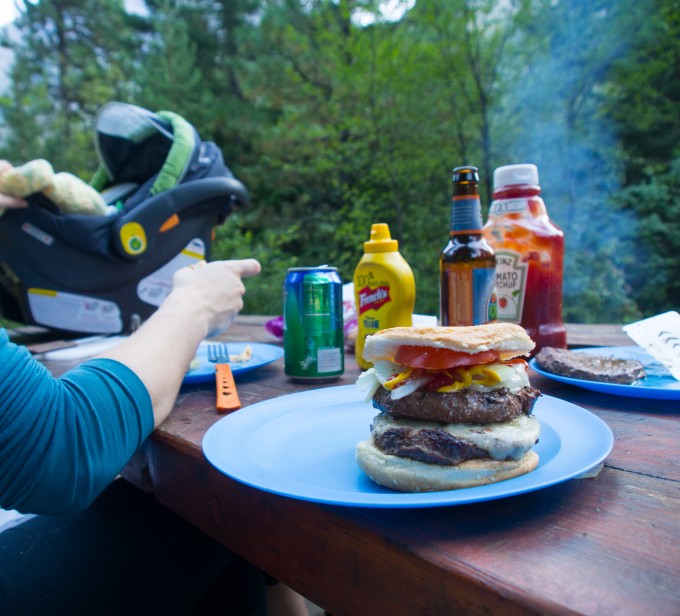 As is my new habit I scarfed down my food as quickly as possible. Jack was calm enough to be okay sitting in the carseat while we ate as long as I rocked him. But, he was due to eat and his fussiness was increasing. We retired to the tent, leaving Bobby with the dishes, and Jack had a hearty dinner. Nursing in the tent was incredibly comfy! We were protected from the sun and the bugs rather nicely! Nursing in my camping chair is shockingly comfortable made even easier with the assistance of my trusty Boppy. The sun was setting and Bobby set up one of our headlamps in a high pocket of the tent to act as a small lantern inside.
Jack generally cluster feeds at night starting at 6:00 and going anywhere from 9:00-11:00. But he was not following his usual pattern. Instead he was fast asleep by 8:30 and we couldn't wake him up enough to have him eat. We were worried how difficult the coming night would be… Bobby and I went to bed as well and were both soon sound asleep. Jack slept for 6 hours straight! We couldn't believe it! He got up and ate at 2:00 a.m. and was once again fast asleep.
He got up 2 hours later, ate and was asleep in no time flat and slept until 6:15 a.m. In our opinions the night couldn't have gone better! We had ended up dressing him in a long sleeved onsie, socks, fleece pajamas, the Halo Micro Fleece sleep sack, the Merino Kids winter sleep sack, and 2 hats. While his little cheeks and nose were chilly his body, hands, and feet were nice and toasty.
I was surprised at how warm he stayed, I had gotten a bit cold in the night and had been waiting for him to wake up screaming and envisioning him and me moving to the car to sleep. I continually checked on him and he was always warm and happily sleeping.
Bobby got up and built a fire for us to warm up by while he cooked a delicious breakfast of blueberry pancakes and bacon while I tended to Jack.
He went down for his first nap of the day (generally an hour after his first feeding) without a problem and while Bobby ate I began cleaning up camp. Usually we eat an on the go breakfast and are out of campsites by 7:00 a.m. at the latest, eager to get to the site of our days adventures! This camping trip was very different! We left the campsite around 9:00 a.m. after our leisurely  breakfast and a couple of feedings for Jack. Camping with an infant reminded me a lot of camping with my family as a child and I was rather happy with the change of pace!
Overall we couldn't have been more pleased with how well this first camping trip went! We were both pretty intimidated by the idea of camping with an infant but we were determined to do it! The weather, the campsite, and Jack's mood all worked out shockingly well. The drive home was a period of reflection for us as our beautiful baby boy snoozed away and we found ourselves with big grins on our faces as we discussed how unbelievably well the whole weekend went. We know they won't all go so well and are just trying to enjoy the moment of how well things have gone thus far.
For more photos check out our Facebook Page!
We did go for a beautiful hike on Sunday. Check it out – Bean Creek Bain