Our baby boy, Jack, is now 4 weeks old! We took him out for his first hike when he was 2 weeks old, but we didn't get far, as I was still recovering and needed to take things pretty slow. When he was 3 weeks old we took him, along with a set of his grandparents, to Mount Rainier National Park, we drove to Paradise and did the very short paved trail up to Myrtle Falls. Now that he is 4 weeks old and I am pretty much completely healed up from the birth we decided to try a real hike!
Heather Lake is boasted as a family friendly hike that is great to take kids on. At just under 5 miles and with 1,034 feet of elevation gain it was going to be the most significant hike I had done in almost 3 months! We headed out early and arrived at the trailhead at 9:30 a.m. The parking lot was already filling up but we managed to snag a spot. The cadence of our days on the trail is vastly different now that we have a baby. In the past we would've shot out of the car and sped directly onto the trail. Now, we arrive at the trailhead and Jack needs to eat. I nurse in the front seat of our car, I bring along our Boppy to make nursing in the car as comfortable as possible.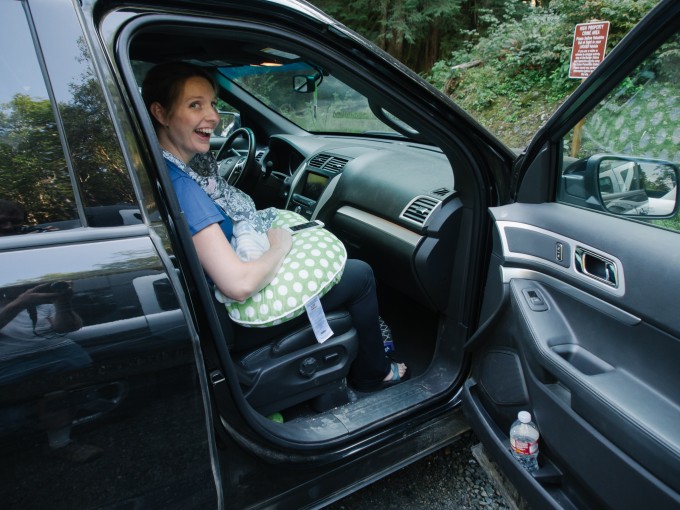 Nursing is followed by a diaper change out of the back of our Explorer.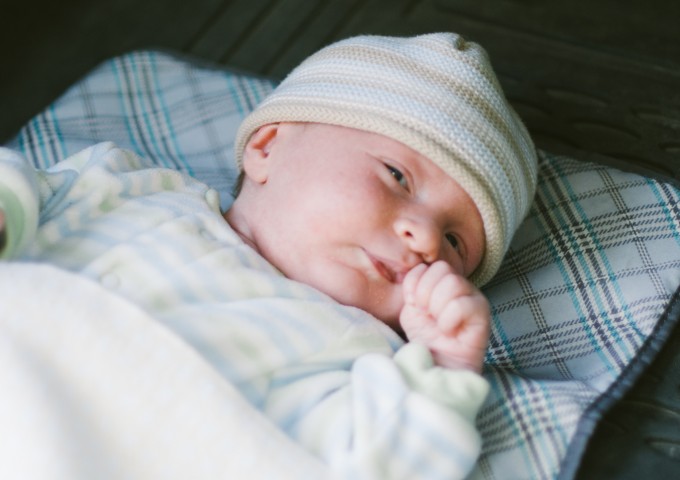 Many people stop to ooh and aah over our little hiker and we find ourselves being far more social then we ever were before on the trail!
After all that is done we begin to gear up for the hike. Bobby took on the task of carrying Jack in the Baby Bjorn.
Babies need to be at least 20 inches before being able to snuggle up in it. Thankfully we have a baby who was born tall at 22 inches long, and at last measurement had already managed to grow an additional 3/4 of an inch. He definitely has hiking legs on him! Bobby and I each carried a small day pack, Bobby had the food and hiking essentials. I was carrying a pack for the first time since my 2nd trimester began and it felt pretty good, although my pack doesn't quite fit me yet… I had the baby essentials as well as additional layers for myself. I was also tasked with some of Bobby's normal jobs, I was the photographer and Latigo wrangler.
After half an hour spent at the trailhead preparing to head in we finally set out!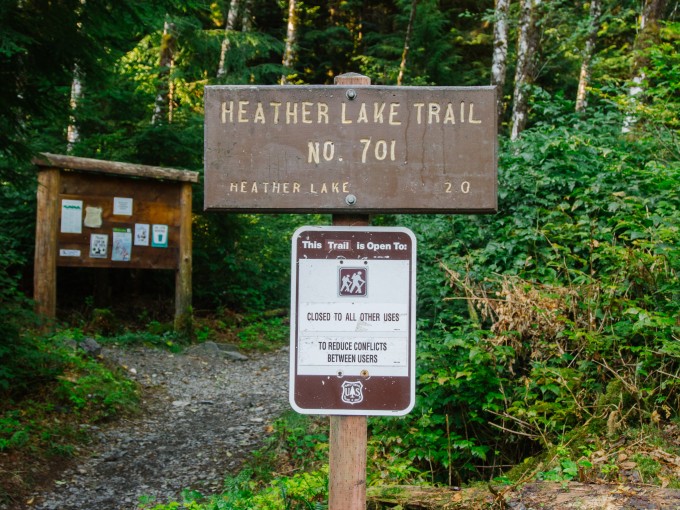 The day was sunny, but thankfully the majority of the hike is in a forest with a dense canopy that kept us in the shade for almost the entire hike. Since newborns can't wear sunscreen hiking in full sun has become virtually impossible. One of our new hiking essentials is an umbrella. Not for rain, but for sun protection for Jack.
The trail begins by switchbacking up at a steady and manageable incline. It is surprising to hear that young children can accomplish this as it was more difficult than we had expected. We did see many children on the trail managing to make it! There were many large steps that began to tire the legs quickly and gave our knees a run for their money on the way down!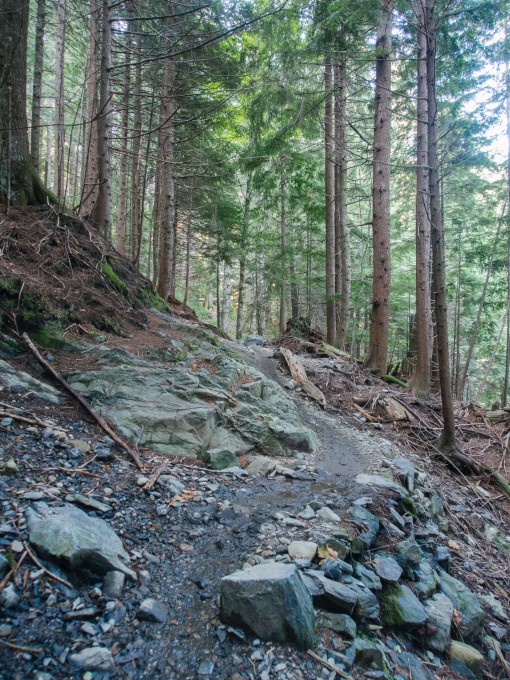 The trail was very rocky, rooty, and often wet. There are many places for dogs to stop and get drinks. Watch your step on some of the larger boulders along the trail when they are wet, as they get fairly slippery. Walking with a baby attached to your chest makes you walk with a whole new sense of caution and safety. Bobby definitely took things a bit slower then normal.
The forest we were in was once a magnificent old growth cedar forest that was logged many years ago. A few mighty old trees still stand guard but it is primarily a younger forest now. The giant stumps of the behemoth trees that once stood here were scattered throughout the forest.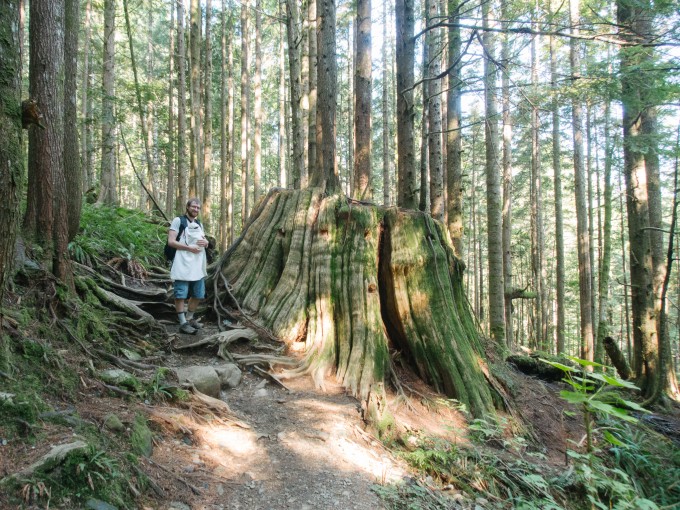 My goal was to make it to the turnaround point of the hike, Heather Lake, before Jack needed to feed again. That gave us about 1.5 hours to make it there. We made it with 10 minutes to spare! Heather Lake is incredibly beautiful and well worth the effort!
Jack had been amazing on the hike in as long as we kept moving. If we stopped for too long he would wake up and protest at our laziness and we would continue on. The lake was noisy with all the activity of the numerous groups scattered around the lake. We found a secluded spot and stopped for a rest and lunch for everyone.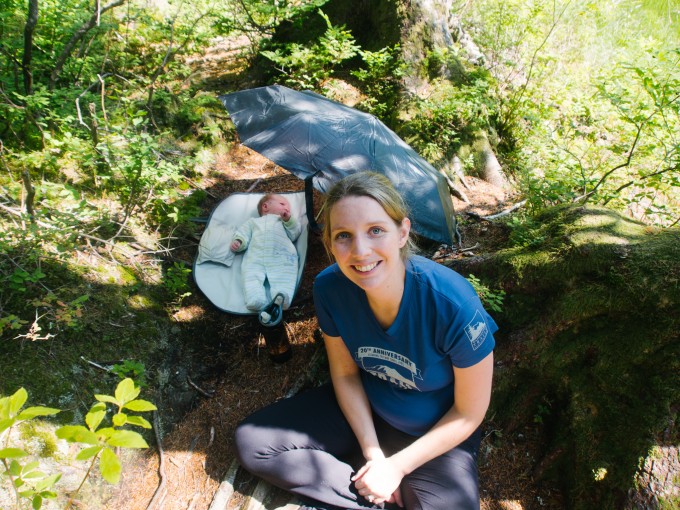 While I nursed Bobby took Latigo for a quick dip in the lake.
We relaxed by the lake for about 1/2 an hour before heading back to the car.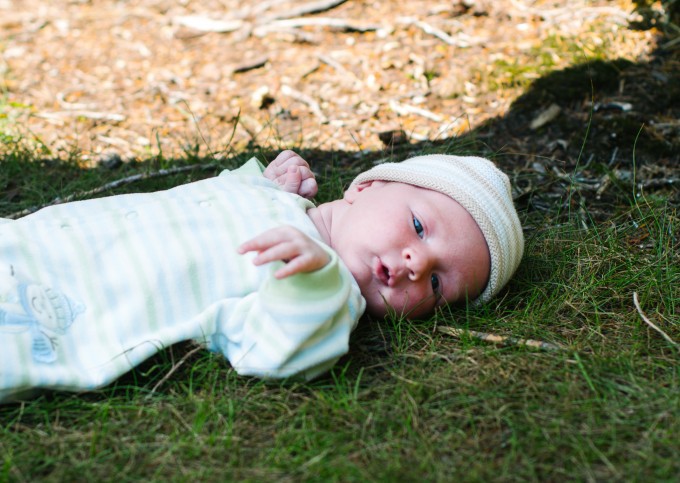 Overall this was a great day hike! We saw lots of families with kids of all ages out having fun and enjoying the beautiful day and the beautiful surroundings. The trail is very popular and passed a lot of groups as we headed back down. The parking lot was overflowing by the time we got to the car and people were waiting anxiously for a spot to open up.
Hiking with a baby presents many new challenges for us but is also very enjoyable and much more manageable then we had expected! We can't wait for all the adventures to come in Jack's life!
For additional pictures check out our Facebook Page!