My friend Paul and I headed down to Mount Rainier National Park to take advantage of a rare clear November day. The forecast was for cold weather but we knew the views would be great and some snow had fallen the day before so we hoped for some good turns on our skis and splitboard. The park didn't open the road to Paradise on Saturday which is super inconvenient for those who tried to ski then but really amazing for us since it meant opportunities for first tracks.
Note: I broke my camera last weekend so all of this post's photos are from our cell phones. Hopefully I'll have my repaired camera back soon!
We pulled into Longmire at 9:40am to find the gate locked. They were still plowing the road up to Paradise and we were told at the entrance that the gate should be opening at 10am. We passed the time at Longmire by getting our gear all packed and ready so we could get started right away once up at Paradise. Everyone at Longmire was getting their skis all ready. Some people even already had their ski boots on. We saw one guy who had his left ski boot on but a normal shoe on his right foot so he could still drive his car.
At 10:30 the gate opened and the parking lot was jammed with cars trying to jockey for position. Still, the 12 mile drive from Longmire to Paradise went quickly enough. The road was a little icy but the park service did a great job of salting and sanding so our Explorer only had to activate four wheel drive once or twice. Our excitement level increased with every opening that gave us a view of Mount Rainier unobstructed by any clouds. Snow could be seen blowing in the wind off of the ridges in the Tatoosh range which was a precursor to what conditions we were going to find during our tour.
Once at Paradise we unloaded our ski gear with everyone else in the lot. The parking lot was super icy so we had to be careful to not fall on our butts in our ski boots. Luckily, we were able to skin right from the lot which was a welcome change of pace from last weekend's multi-mile hike at Heliotrope Ridge.
After checking our avalanche beacons, we got in line and followed everyone up the well set skin track through the meadows. The snow was really wind affected. Lower sections of the trail were 1-2 feet deep powder while the ridges were icy and packed down. There were also a lot of rocks visible which made us nervous about taking gouges to our ski bases on the way out.
From the very start we were in awe of the views of Mount Rainier. Soon enough we were able to look behind us and have amazing views of Mount Adams, Mount St. Helens, Mount Hood and the rest of the South Cascades.
I was nervous about the climb up to Panorama Point. When I came to Paradise last winter we decided against going up after watching several unprepared hikers slide uncontrollably back down the steep slope. Paul and I stood at the base of the slope discussing our strategy. We both agreed we'd give it a shot and if we were uncomfortable we'd turn back. The first skiers had set a nice switchbacking skin track but it was quickly disintegrating as other's slid sideways on the icy sections. I put on my ski crampons and had great traction heading straight up. Paul threw his skis onto his backpack and kicked steps into the ice and quickly passed me. About 2/3 of the way up I decided to follow in Paul's footsteps and carry my board since I was getting nervous with the angle. It was definitely an interesting experience being up on that slope surrounded by other skiers and trusting that none of them were going to fall and take me out.
Setting out for the day we didn't have any definite plans. I threw out the idea of heading all the way up to Camp Muir at 10,188 feet so we were traveling in that general direction. We were stoked to have made it to Panorama Point but were a little unsure of what to do next. Some of the skiers who were heading up past Panorama Point were quickly turning back and a large contingent were dropping into a nearby bowl. We were afraid that everyone else knew something that we didn't and decided to not head towards Camp Muir and to enjoy the slopes below us. Camp Muir will just have to wait for another trip! I read later that the slopes above us were really icy so I'm glad we made the decision we did.
We transitioned on top of Panorama Point and skied the bowl below us. We found about 6″ of powder atop a firm base which made for some really fun turns. Today was Paul's first day out for the season so this run was good for him to get his ski head back on. We both felt a lot more confident about the day after this run since we knew there was some good snow out there despite the icy sections we had found on the ridges. Temps were variable too. On top of Panorama Point we were getting pretty cold and hammered with wind. But sheltered in the bowl we were a lot more comfortable.
Eager for more we followed a skin track up to ski a neighboring bowl. To try and get a longer run we found ourselves scrambling up a rocky section, but ran out of places to go and had to make an awkward transition and drop in attempting to avoid the rocks.
Here's a video from that awkward, rocky drop in:
It was getting close to our designated turn around time so we set to the task of figuring out how get back to the parking lot. This is when we realized our dumb mistake of the day. Since we'd been playing it by ear we never made a plan for where we were going. Neither of us were familiar with the terrain we were in. Nervous about getting out, we spent some time looking over the map and deciphering the various ski tracks around us.
We were both getting a little scared after looking down a few drainages that were too steep for us and were seriously lacking snow coverage. Somehow other people were able to ski down them before us. Luckily on the map we were able to find a much mellower slope nearby. We were soon on our way towards it and came across a group of snowboarders who were having the same discussion as us about trying to figure out how to get down. We finally figured out exactly which route to follow and had a fun run dropping down to the creek along with the other boarders.
From there it was a quick traverse across the creek basin. Soon I was actually recognizing my surroundings. We had brought my parents here with Jack when he was about a month old to see Myrtle Falls. Suddenly we were coming across a small wooden bridge 10-15 feet above the creek which was pretty spooky to snowboard across since the snow was even with the handrails. I totally wiped out due to fear but luckily managed to not plunge into the water below.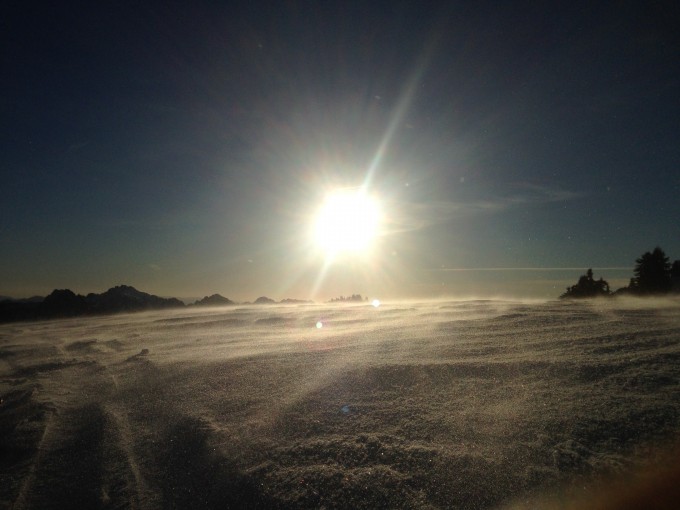 Back at the car we couldn't stop smiling and talking about how awesome and perfect the day was. I can't wait until the next time I get to snowboard here. On a clear day there's nothing quite like it. Next time I'll be sure to have a much better plan for the day along with back up plans in case conditions aren't right. Luckily everything worked out for us today and it even added a little bit of extra fun having to figure out where to go on the fly. But it wouldn't have been nearly as much fun had we gotten lost or in terrain that was above our skill level.