Biking has become a new family-favorite activity for us. We've had a fun summer and fall searching for our favorite, nearby bike trails. According to Explore Minnesota there are 4,000 miles of paved biking trails in this remarkable state of ours. It's going to take us a long time to ride all of them, but for now we've selected our top 3 parks for biking with kids in the western Twin Cities metro area.
All of these parks rank high for families because of the amenities they offer. The trailheads all have ample parking, various privy options, dumpsters, and drinking fountains available. The trails are in remarkable condition with pitstops along the way that have a mix of pit toilets, picnic areas, and/or playgrounds available. Taking a family bike ride, in and of itself, is an enjoyable way to spend a morning, but at these parks the options are endless and you could easily make a day of all the activities that are offered. Families may even consider going so far as to make a weekend trip out of it and stay at the campgrounds at these parks.
Lake Rebecca
With 8.1 miles of paved biking trails and 13.25 miles of single track mountain bike trails Lake Rebecca Park Reserve in Rockford, MN is a cyclists dream destination and a great place for families. This park also boasts a seriously amazing outdoor play space for kids.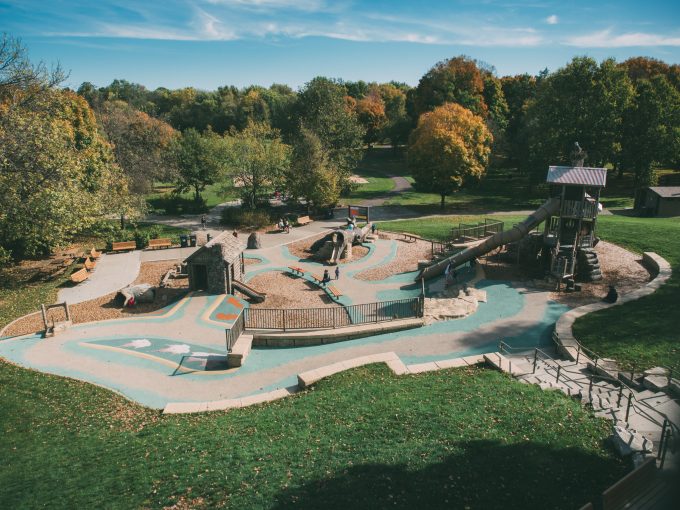 We spent an entire day at this park biking, mountain biking, picnicking, and exploring the park with cousins! All the kids (ages 1-10) had a wonderful time playing at this amazing play space. Our favorite activity was finding all the 'hidden' animals throughout the park and identifying the animal tracks in the cement.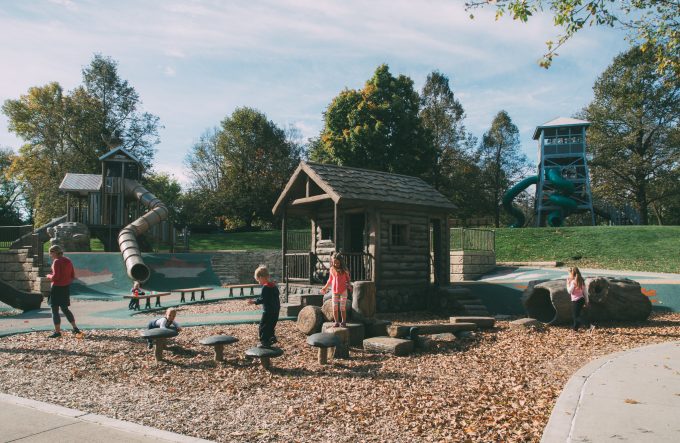 Jack had an awesome time shredding a 1.3 mile easy single track trail on his Woom2 pedal bike. He took some gnarly falls, but after a brief cry and need for kisses he proclaimed he was ready to keep on biking. The trail snaked its way through deciduous forests with leaves coating the trail and then into a classic Minnesota prairie witch cicadas serenading riders along the way.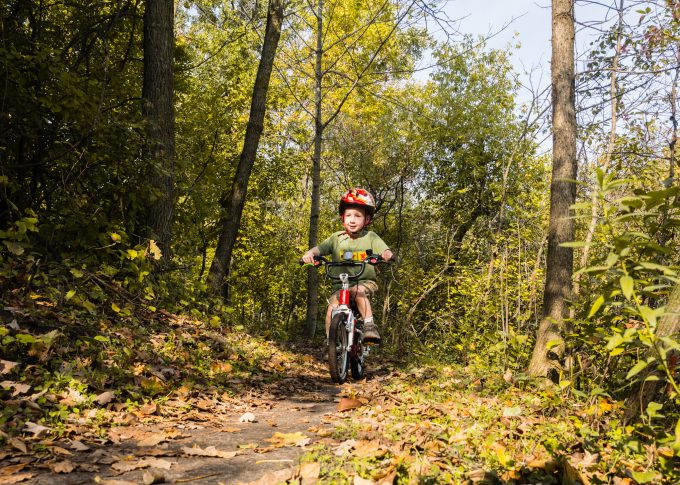 The paved trail around Lake Rebecca was a beautiful 6.5 miles with 269 feet of total elevation gain. The trail was in excellent shape with steep hills and several picnic areas along the way. This trail goes through some seriously beautiful forests that took my breath away.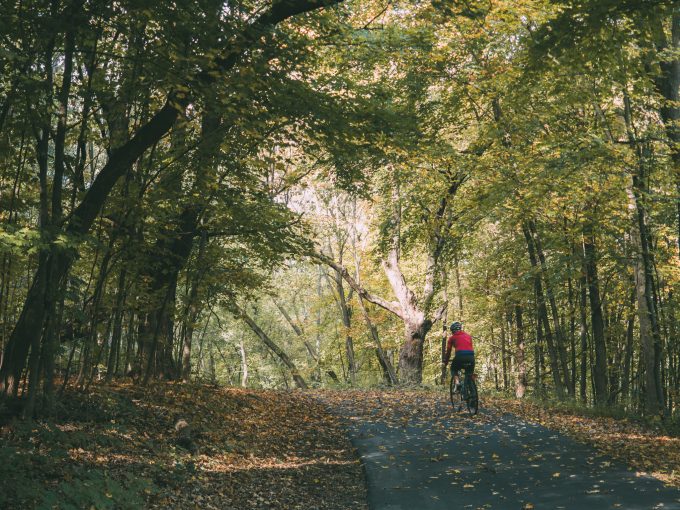 Baker Park
Biking in the summer months can be enjoyed utilizing the 12.5 miles of paved trails at picturesque Baker Park in Maple Plain, MN and 4 miles of specialized fat-tire bike trails allow for cycling fun in the winter months as well.
We greatly enjoyed our 6.5 mile cycle around Lake Katrina on a warm September morning. Leaves coated the trail as it wound through gorgeous forests. Occasional views of the lake made this trip especially enjoyable.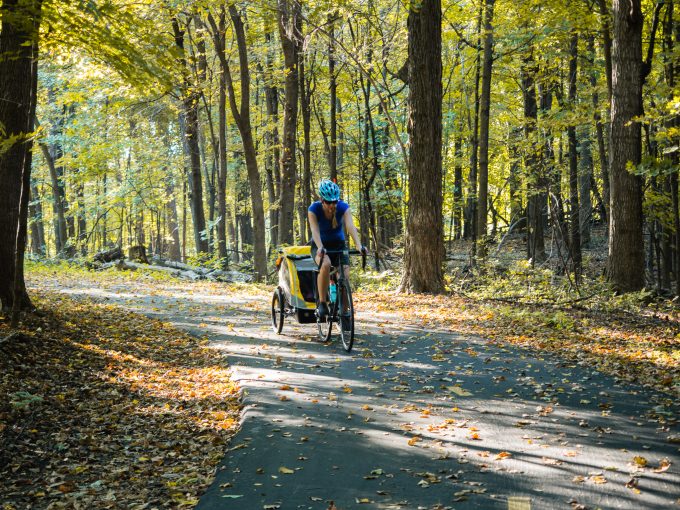 The trail was steep and had lots of hills which made for an interesting and difficult ride. We endured over 200 feet of elevation gain during our trek.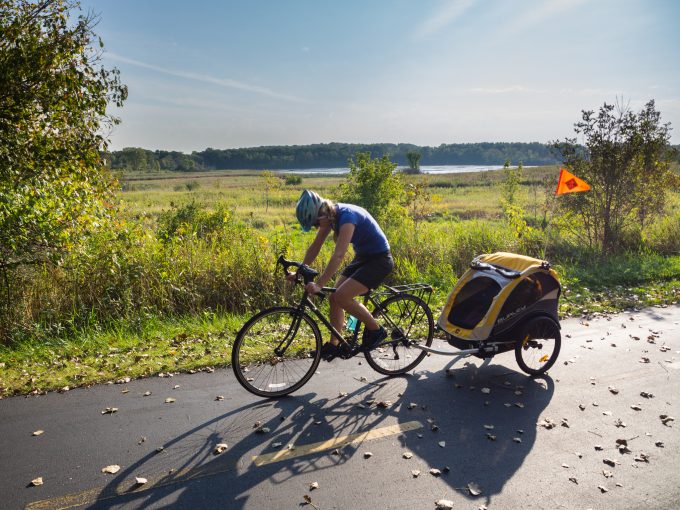 Carver Park Reserve
We have a special love for Carver Park since it is the closest to our house and our most frequently visited park, but seriously these bike trails are beyond amazing. They are in pristine condition and take you through beautiful landscapes. Our 11.3 mile trip was pretty intense with 563 feet of elevation gain. However, this trail can be made as short or as long as you'd like depending on where you park and which loop you chose to do.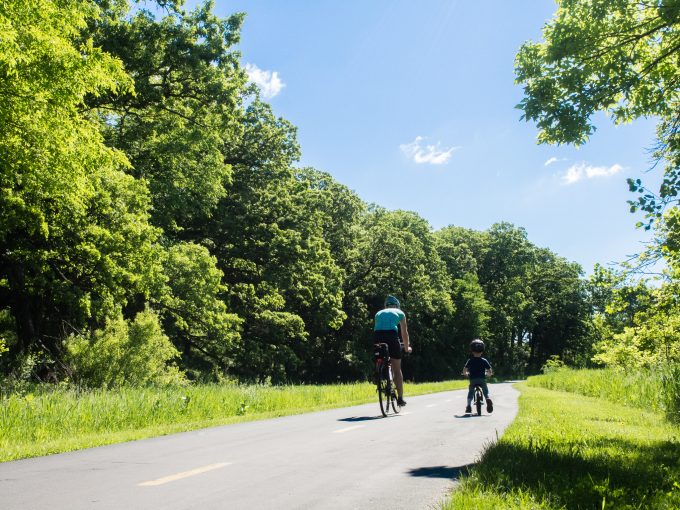 We opted to add on mileage by checking out a beautiful overlook and a missed turn that led us to the campground rather than the loop meant we did some backtracking.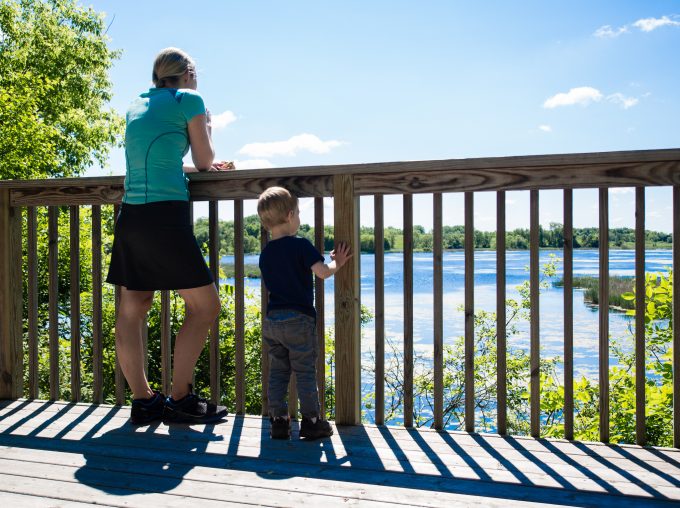 Carver Park also has the amazing, Lowry Nature Center, that offers many great children's programs. Not to mention the amazing outdoor play space where kids can explore a Beaver's lodge and swivel down a pretty intense slide.
All of these parks offer remarkable bicycling opportunities and they are a tiny sampling of all the options out there. Find a park that's near to you and explore all the amazing and beautiful things they have to offer.
Where's your favorite place to bike?