Camping is one of my favorite things to do. It brings back many happy memories of my childhood and the numerous camping adventures we would take that would define my summer holidays. Our family vacations involved cramming my parents, six kids, enough gear to house and feed all of us, bikes for each person, and sometimes a canoe into our fifteen passenger van with a homemade trailer for the bikes and canoe attached behind us. The back seat of the van had been removed and was replaced with a large wooden storage box that my Dad had custom built that had special compartments sized perfectly to hold our cooler, a picnic basket, bins of food, the camping box he had built that would be my mother's "kitchen" for the duration of our camping excursion, and suitcases filled with clothes, swimwear, and shoes. My parents sat in front with two kids to each of the three bench seats behind them. A head count was taken each time we got in the car to ensure that nobody had been accidentally left behind and we would head to one of the many Minnesota State Parks. We had a spacious four room tent where my parents would reside in one section and then three girls to two of the other rooms. The fourth room was reserved for shoes. Bike trips and short hiking excursions were the daily activities we would squeeze in in between meals. Having six girls in one campsite made for a rowdy crew at times and I look back on fondness with my dad hollering at us and telling us that, "Nobody came to the state park to hear the Conlin girls scream." My parents taught us from an early age the importance of treating the outdoors with the respect that it was due. Late night trips to the privies included lessons in flashlight etiquette. Roasting marshmallows around the late evening campfires were always accompanied by singing and stories. My sisters and I were taught many folk songs as children and we would sing, often in two to three part harmony around the flickering flames.
These cherished memories have me anticipating the first car camping trip of the summer with great anticipation. I have been itching to get out our REI Half Dome tent for weeks but trips home and other obligations had us waiting until last weekend when we were pleased to discover we had absolutely nothing to do! Saturday morning dawned bright and already a little warm. With temperatures expected to reach into the high 80s to low 90s we began checking the weather in different parts of the state. The east side of the Cascades were predicting even higher temperatures in the 100s but across the sound along the Pacific Ocean the temperatures were in the mid 70s. The temperature wasn't the only thing drawing us to the ocean. The fact that we have lived in Seattle for over a year and both of us had yet to see the Pacific Ocean was another reason we were anxious to head west!
We drove 2.5 hours to the city of Ocean Shores located right on the coast. We were able to drive our Explorer right onto the sandy beach along with many other cars. People were everywhere flying kites, building sand castles, sunning themselves, picnicking, or enjoying a horseback ride along the shore for $20. We had stopped at Subway for a sandwich to go and got out our REI camping chairs and enjoyed lunch in the sun, listening to the waves lap at the shore, the shrieks of delight from children getting their toes wet, and laughter from a family taking photos in the shallow waves.
Latigo was politely waiting, if a little bit more anxiously than normal, for us to finish our lunch so he could go frolicking in the water!
Playing with him on the beach was one of the most delightfully fun activities I have done in awhile! We ran, played a rousing game of fetch that included almost losing the ball in the waves numerous times, and watching with disgust as Latigo drank the saltwater.
Thoroughly soaked and sandy we headed back to the car and decided to try and find a campsite for the night.
Bobby had found a campground by simply looking at the previously downloaded map of the area on our wonderful GPS app GAIA. Without much information other than its location we headed there hoping a site would be open. It was located about 40 miles from Ocean Shores and was situated within the Olympic National Forest. After close to 15 miles on a gravel and pothole speckled road we arrived at the campground and our jaws dropped. Campbell Tree Grove Campground is an incredibly scenic campground with old growth Western red cedar, Western hemlock, and douglas fir trees that stood more than 300 feet tall around us and are estimated to be more than 500 years old. With a thick undergrowth of the next generation of trees already hard at work the screening between campsites was ridiculously thick. We were pleased to discover that several campsites were open, we opted for a secluded site where we had no visual contact with anyone around us and a pit toilet was nearby.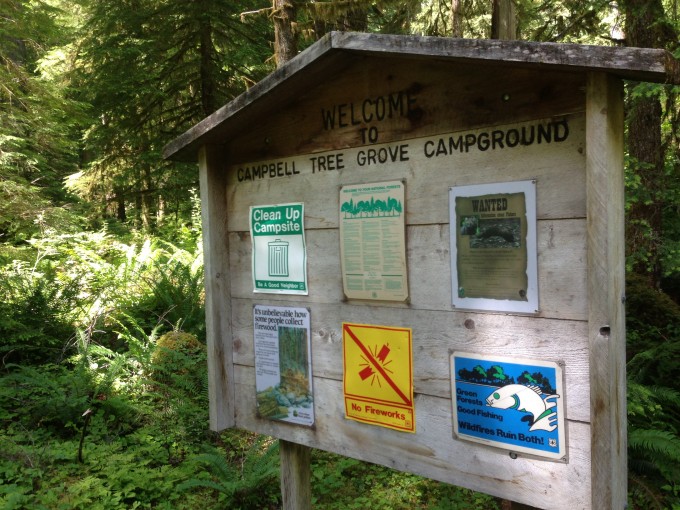 Garbage cans are located throughout the campground. The campground has no water which wasn't an issue because we had brought along our Reliance Aqua-tainer that holds 7 gallons of water that we had filled up before leaving home. I would recommend always filling up some sort of water storage unit before leaving home. We have brought empty ones thinking we would be able to find a spot to fill it up along the way and have found that that can be somewhat stressful and not as easy as you may expect. One of the most amazing aspects of the campground was the price, it was free! All you need is a Northwest Forest Pass for your car.
We set up camp and decided we had earned a rest! We relaxed in our campsite reading and then retiring to the tent for an afternoon nap before making dinner.
Brats and potatoes were on the menu for dinner.
As we cooked, dusk descended along with the mosquitos and we huddled close to the fire, not for the warmth, but for the protection from the swarms. We really need to buy some bug repellent…
S'mores were a necessity for the maiden car camping trip of 2013!
After dinner and dishes it was time for my favorite part of camping. Sitting around the campfire and reconnecting. So often the hustle and bustle of our daily lives causes us to lose focus. When camping you are surrounded by only the sounds of the wind in the trees, the chirping of birds, the soft rush of water from the nearby river. There aren't email messages blazing on all the electronics around you. To do lists aren't getting any longer. All that needs to be done is to be with the ones you love most in the world. The long and meaningful conversations Bobby and I always have when seated around the fire never cease to amaze me. We talk about our hopes, fears, frustrations, dreams, memories, and how incredibly blessed we feel every single day of our lives. Camping makes you simplify it, helps you to realize that you can live, survive, and even thrive with the most basic items. Everything you need to survive can be so easily whittled down to almost nothing. Everyday worries fade away as the flames die and the hot embers of the fire pulse that deep orange/red. We fall asleep easily, nothing weighing on our minds, and the primal smell of campfire embedded in our hair and skin. We slept without the rain fly on, not fearing the rain, and wanting to gaze at the stars above through the canopy of the great trees that played sentry to our home for the night. We slept like the dead. Waking only when the need to pee arose, for all three of us. Sleep came again quickly and we slept until past eight. A breakfast of strawberry and cream oatmeal and freshly sliced peaches around the campfire prepared us for the day ahead. I didn't want to leave the campground. I didn't want the peace we had found there to be disturbed and destroyed by the flurry of activities that awaited us back home. I wanted to freeze time. We still had a day of adventure ahead of us and hours before we would find ourselves back in the city. So, camp was cleaned and stored back in the explorer.