This was the weekend I overcame a lot of fears on our hike. Usually I really enjoy hiking with a group of friends, but hiking with a baby sets a whole new pace and there are a lot of variables that could alter your plans at any moment. The one other time we had ventured off with a group Jack had an enormous blowout in the parking lot of the trailhead, delaying our departure for about 30 minutes. I decided it was time to get over my fear and we invited some friends to join us for a hike. Bobby gave several options of varying difficulties and lengths and the group agreed upon Annette Lake. At 8 miles with 1400 feet of elevation gain it was the longest hike I had done since we went to Blanca Lake in early October of last year. While this hike has less elevation gain I still knew that, with my body recovering from birthing a giant baby only 3.5 months ago, I would be suffering as we went. I was asking my sisters how long it would take to not get sore or overtired after having a baby because I had thought I would be completely back to 100% by now. That was when I learned the harsh truth, it takes your body a full year to completely recover from having a baby vaginally.   While I have been able to be active since very shortly after Jack's birth I still have aches and pains that I didn't have during and after hiking before I had a baby. I am also still losing the many pounds of baby weight I put on, making clothes and backpacks tricky to fit and wear properly. For those hiking mamas out there who feel like you should be more recovered then you are, remember that we all heal and recover at our own pace and even though I'm out there and being active, it doesn't mean that I'm not feeling the effects of such a major bodily event.
The forecast looked amazing and we continue to experience unnatural sunshine-filled weather here in Seattle and the surrounding areas. Though chilly, with highs in the low 40s the weather couldn't be more perfect to take advantage of and adventure into the woods for some excellent year-end hiking opportunities. Three friends accompanied us on the trail and we arrived at the trailhead just after 11:00 a.m. I attempted to feed Jack in the car before we set off but he is at that age where he is much more interested in all that is occurring around him rather then focus on eating. He ate a little and we headed out, I had a lot of fear that Jack wouldn't last long before screaming and demanding to be fed. The trail begins in a beautiful forest but the sounds of I-90 fill your ears. The trail has a steady and manageable incline that, at first, meanders in and out of a clearcut section of forest that allows power lines passage.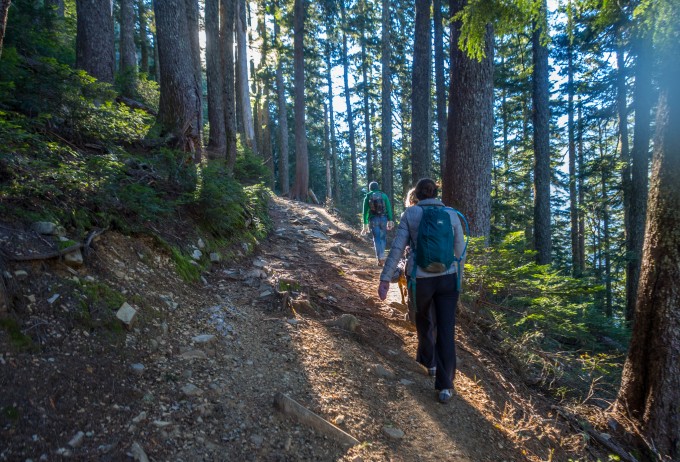 Soon the sounds of the freeway die away and the hike through the thick canopied coniferous forest continues.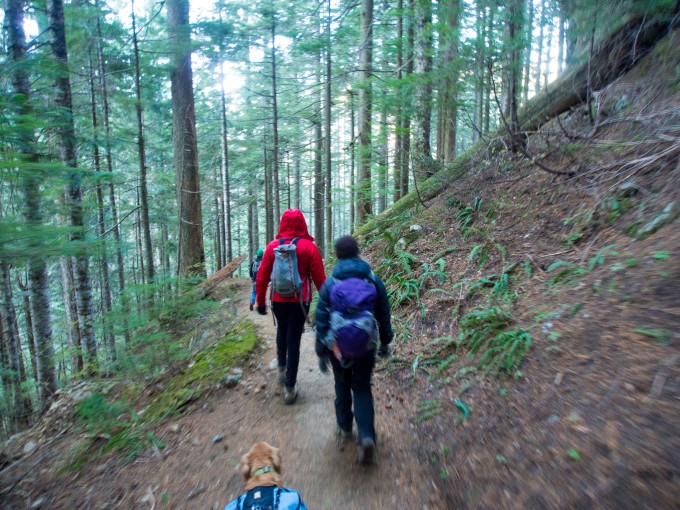 After 2 miles or so you begin emerging into talus fields that afford you some great views of the mountains around you.
There are several small stream crossings that would've been a breeze to cross over had it not been for the ice around them. Be cautious and tread slowly over these little crossings.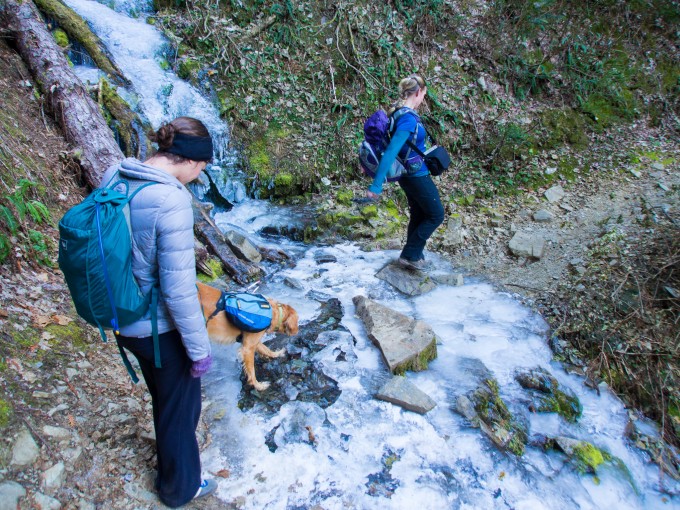 Ice was a common theme throughout the day and we encountered many surprisingly slippery sections along the trail. Though extra equipment (i.e. MICROspikes or crampons) weren't necessary I still urge caution along the trail.
As we emerged from the forest and came upon the lake we also came upon some intense wind that the forested trail had protected us from. The wind had a bite that had us eating our lunches at a campsite near the lakes shore quickly so that we could get back onto and into the forested trail.
Jack did actually make it all the way to the lake before needing to eat again and he ate heartily under the warmth and protection of a large, fleece blanket we had brought along.
This is a very popular trail and despite the chilly temperatures hikers were out in force. I lost count of the number of groups and dogs we passed along the way. The parking area that is available for this hike is enormous and gives you an idea of just how popular this hike is. By the time we got back to the car it was just after 3:30 and there weren't many cars left in the lot. There is a privy at the trailhead but, as always, bring your own teepee.
Overall this hike proved to be a challenge for me but I felt great after successfully completing it. The lake was beautiful and had amazing ice formations around it's shore.
The trail had an easy incline that didn't have me huffing and puffing too hard and allowed all of us to chat easily as we made our way up and then back down again. I would definitely recommend if you are looking for a fun and somewhat challenging hike!
For more photos check out our Facebook Page!