I had read of Carlsbed Caverns in Nevada Barr's mystery novel, Blind Descent. Her descriptions of the caverns intrigued me and had me dreaming of visiting there someday. As we were planning a two week road trip to the southwest, so as to escape the frigid Minnesota winter temperatures, I knew Carlsbad Cavern National Park had to be on our "Must-See" list.
Driving while hauling our newly purchased Lance 1575 travel trailer along with traveling with a rambunctious toddle meant that our daily progress wasn't nearly as fast as we had planned. We were a day behind schedule right off the bat which meant that we didn't actually get to a National Park until day 6 of our trip!
The night before we visited the park we had arrived at Brantley Lake State Park ($14/night), a small desert oasis just outside of Carlsbad, New Mexico and short drive to Carlsbad Cavern and several other parks. Sadly, upon arriving at the campground, which is divided into two sections, a loop of first-come-first-serve sites and a loop of reserved-only sites, the first-come-first-serve sites were completely full! The reserved loop sites have placards on them indicating if they are available for that night and the only sites that appeared to be available didn't have electric hook-ups. As it was 90 degrees with a blazing sun, the idea of no AC in our little box didn't seem all that desirable. We spoke with a woman, camping out of her old minivan and she encouraged us to call the ranger. She informed us that the ranger hadn't yet updated the reserved placards for the day. I made the call to the ranger, who informed me that one site was left in the campground and that she had yet to swap the sign! Relief swept through us and we hastily made camp.
Thankfully, throughout the ordeal Jack had been roaming the campground and playing on the playground located near the shower building. Sadly, the playground was definitely geared to older kids and there wasn't much for him to do. But he had fun despite that.
I made pasta for dinner and managed to not ruin the Texas Toast by cooking it on the stovetop (our little trailer has no oven)!
As I cooked, the sun was setting, Bobby and Jack managed to get out and watch it set over Brantley Lake and the desert that surrounded us.
Following dinner I decided to make my escape and get in some quiet time alone. We both felt as if we'd been going 100 miles an hour for days and were both in desperate need of some space and quiet. I hit the shower building intending on basking in a hot shower. Sadly, the showers were beyond disappointing with a chilly mist instead of a hot soak. My shower was short lived and I returned to the trailer to find Bobby had put Jack down but he was still awake and busy rolling about in an attempt to find the perfect position for sleeping. Jack has given up sleeping in a Pack n Play regardless of it's location on this trip so we have, hopefully temporarily, become a co-sleeping family. He tosses and turns a lot which means whoever sleeps next to him gets a bit of a beating in the night. Bobby, has bravely taken up the task of being next to Jack as co-sleeping still makes me nervous.
Bobby took his turn at the showers while I took up the position of assuring Jack didn't roll himself off the bed. When Bobby returned he decided to map out the rest of the trip. Until this point we had no real plan. We didn't know how this trip would evolve and were, therefore, uncertain of what plans to make. Now, we had a solid idea of our cadence on this trip and what we were capable of when it came to day to day activities. We honed down our plans a lot by eliminating Arizona completely from our itinerary. We figured out what we knew we wanted to see and found camping spots along the way accordingly. Bobby made reservations where he thought we would need them and, most importantly, found us somewhere to stay near Carlsbad for the next two nights. We had hoped to stay 3 nights at the state park but now knew that wasn't possible. They were booked. So, we found the only other thing nearby that wasn't a gross RV park, a KOA. I had always vowed to never stay at one, the steep prices, lack of vegetative screening between sites, and general odd vibe I got from them always put me off in the past. But, as we had no other option I took it gratefully. There are a few nice amenities at a campground like this not available at a state park campground, such as; laundry facilities, cooked BBQ delivered to your site, WiFi, and, if we had a TV, cable TV hookups.
We packed up our site early in the morning, much earlier then normal since we are now in Mountain Time and Jack didn't get the memo, and was therefore up at 6:10 on the dot… We drove the 15 miles over to the KOA to find a site for the next two nights. We arrived at 8:30 and the office didn't open until 9:00. Our late to bed, early to rise son decided that would be the perfect time for a morning nap. We sat and enjoyed the cool air of the desert before the oppressing 90 degrees would swoop in and the burning hot sun would once again begin to bake the landscape.
Soon enough we had a site for the next two nights and got to enjoy setting up the camper while Jack continued to snooze in the car. We packed our daypacks, turned the AC on in the trailer, and left Latigo behind, as dogs aren't allowed in National Parks. This is a definite perk to having a camper along! Had we been tenting it, we wouldn't be able to see National Parks along the way because of their strict guidelines surrounding pets. We learned upon arriving at the park that they do provide a kennel for dogs (for $10/day) to chill out in while you explore the park. But, we were still glad that Latigo was tucked safe in a cool and familiar space.
We drove the 50 minutes to Carlsbad National Park and prepared for our day below ground. Our America the Beautiful pass got us all in without any additional cost (usually $10 per adult 16 and older, children 15 and under are free). Tickets are purchased in the large, well maintained, well staffed visitor center. The rangers questioned us as to whether we were physically capable of making the journey. Generally, there are elevators that can be taken in and out of the caves various levels. However, due to mechanical issues all elevators were out of service (and apparently have been for almost a year…). This didn't phase us in the least and actually had us hoping that this incidence would keep the crowd levels down a bit.
We exited out the backdoors of the visitor center and down a paved path where before we'd gone 100 feet a sign instructed us to stop and check our fitness level.
The paved trails below the surface wind on for 3.75 miles in total and have some fairly steep sections that can be a bit slippery when wet. As we neared the entrance to the cave, a ranger stood waiting to check our tickets and gave us a brief orientation. It was a basic rundown of the rules. Don't touch anything. No outside food or beverages (aside from purified bottled water) are allowed along the path. There aren't bathrooms for the first hour of the descent. Bathrooms are located in the lunchroom area where there will be food available for purchase. No strollers are allowed. Keep your voice low as it travels remarkably well through the cavern and others will hear you 4-5 minutes before they can see you.
The last instruction had us both sweating a little bit. Could we really keep our rowdy 18 month old quiet for 3.75 miles? The answer we would soon discover was, NO! But, in the end we were amazed with just how well Jack did on the whole.
The entrance to the cave is breathtaking in and of itself. If you aren't physically able to descend the complete way at least do a bit of the entrance because it is truly amazing.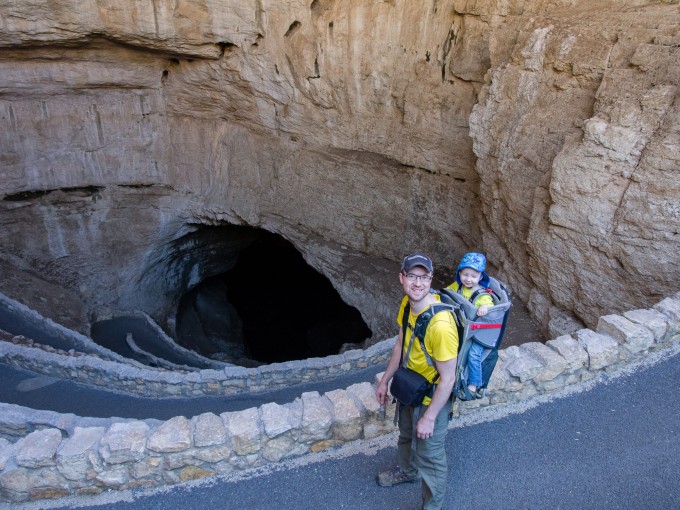 The entrance to the cave and all the switchbacks that lie before us!
There is a large amphitheater located at the entrance for viewers to watch the bat flight from mid-April to late-October, that this area is known for. Thousands of bats summer at the cave, and it was their movements that first led humans to finding the cave itself. No photography is allowed during this ranger-led program.
The trail begins with numerous switchbacks down. The window of sunlight above us continued to shrink as we made our descent. The temperature begins to cool to the constant 56 degrees that the cavern maintains. Soon the light is shutout completely and we found ourselves in semi-darkness as a brand new LED lighting system showed us highlights along the trail, as well as the trail itself.
The new lighting system took a year to install and includes something like 20 miles of wiring. It used to be a single person's job to go around and change the lightbulbs, but when that position was lost at the park, the normal staff had to do their best to keep up with the demand of ever-dying lightbulbs. They couldn't keep up and parts of the cave were going dark. This new system has bulbs that should last 20 years leaving the lighting of the cave somewhat maintenance free for the first time!
The formations that we saw throughout the day are somehow indescribable.
We continually imagined what it would have been like to be the people who discovered the caverns. Jack was just as impressed often exclaiming, "Wow!" and asking for more.
Interpretive signage litters the trail giving information about the caverns formation, what you are seeing, and some names of areas or specific formations. According to our guidebook much of the signage was removed so that the viewers imagination could take over and allow them to name what they were seeing all on their own.
We made our way down to the Green Lake Room which is the last stop before reaching the first junction 1.25 miles in. Here we opted to go towards the restrooms and lunchroom. It was 11:30 and we wanted to avoid Jack getting hangry at all costs so we opted to eat early and stay ahead of schedule. The lunch room is remarkably built up. A cafeteria style spot with pre-made sandwiches, wraps, salads, and yogurt parfaits fill a small cooler. Bottled water and gatorade are also available for purchase. Signs abound in this area reminding you that all trash must be disposed of properly and that food must be consumed in the lunchroom only.
The sole employee was a young woman who I chatted with for awhile as there was no line. Apparently, there is no shortcut for employees when the elevator is out and she has to make the trek on foot. She is on the clock during that time, which only seems fair to me. Food is sent in by "freight" somehow. The thought of which intrigued me and had me picturing a pretty epic dumbwaiter. During peak season the cave is apparently packed and the noise level is extreme. She said that we were receiving a very different, and better, experience than we would have had we come at peak season.
We sat in the dimly lit lunchroom with 6 or so other groups, all talking in hushed voices. Jack, being ecstatic at being free from the backpack, was exclaiming loudly and happily chattering as he ate his lunch. Thankfully, the lunchroom is a fairly closed off area so voices don't travel as far in there. After eating, Jack began running around and singing like a crazy man. The small crowd was definitely a blessing as they all seemed to be enjoying his antics and smiled or giggled as he passed by them.
We decided to let Jack walk a section of the trail, as it had leveled off at this point. The steep grade of the first section is so intense we didn't feel comfortable letting Jack walk for fear of the epic falls he would suffer. Jack chattered happily and was continually exclaiming at all that he saw!
He was somehow very respectful and never touched any other formations which we were sure would be the first thing he would do. He generally kept his hands on the railings that flanked the trail and would occasionally look over the small rock wall that had been built to keep visitors on the trails and out of the caves fragile and dangerous innards.
We were on the trail that led to the "Big Room" the second largest chamber in a cavern just behind one in Borneo. There are sections when the cavern is over 2 stories tall. At first, I was underwhelmed by the size but, further along the trail the size is truly astounding.
The formations found in the room are truly out of this world. Millions of stalactites loom overhead while strangely shaped stalagmites, columns, and numerous other structures littered the floor of the cavern. Shockingly clear waters pooled occasionally making you wonder what would possibly possess somebody to throw a coin into it…
The "Bottomless Pit" (actually only 140 feet deep) had us envisioning a giant worm who dwelled at the bottom.
This loop trail around the Big Room is 1.25 miles long. There is a shortcut that cuts this length in half but we didn't use it. We opted to get the full experience and were glad we did. Jack walked for a solid 1/4 of a mile before asking to back in the backpack.
We had soon returned to the trail junction that leads to three different destinations, back into the Big Room, to the lunchroom, or to the trail that will lead out and back into the daylight. We had seen enough of the cave and knew that the grueling, steep hike out would be tough for Bobby, who had 30+ pounds on his back. Some of the passages through this section of the trail are narrow and short making Bobby's passage all the more difficult with Jack on his back. He had to awkwardly squat-walk while I held my hands protectively over Jack's head and instructed Bobby on his clearance. We were all glad that there were only a few spots like that along the trail! The climb out was as difficult as we were expecting but the constant, cool temperature in the cave was an added bonus as we hiked and gained something like 750 feet of elevation in a 1.25 mile stretch of trail.
Jack was very anxious at this point. He was exhausted but, due to the tight passages in the cavern we couldn't put his sun shade up which allows him something to rest his head on as he sleeps. He couldn't get comfortable, and could, therefore, not sleep. He wanted to get out and walk but the steep incline, that was often slippery, wouldn't be safe for him so it took a lot of convincing and suffering through a few toddler outbursts but we were soon back into the daylight and unloading our little explorer in the blazing 90 degree sunny day. He walked most of the way back to the visitor center before being asked to be carried once again and charmed several passersby.
We spoke with one gentlemen who said that, 60 years ago when he visited the caverns it was a very different experience. There were no handrails along the sides of the trails and every so often they would shut off the lights so that visitors could get an idea of how truly dark it is down in the cavern. Bobby and I had been talking as we were walking about how we wished they would do just that so we could experience it. We later learned that, supposedly, they stopped shutting off the lights after a man suffered a heart attack during one of the blackouts. 
We treated ourselves to some ice cream at the large restaurant housed within the visitor center and perused the large gift shop therein before getting back in the car to head out. Jack was asleep within a minute and, though we had wanted to stop at some of the roadside "Exhibit Areas" offered by the park, not to mention the kitchy-looking town at the base of the park, we opted to let our babe sleep.
Carlsbad Caverns was truly a remarkable experience that I won't ever forget. Being underground for just 3 hours had us marveling at the people who explore and/or work in underground environments. We can't imagine doing anything like that and we were beyond excited to see the sun!
We had a quiet evening at the campground. Jack happily played on the playground, despite the intense wind, he thrillingly chased birds and bunnies around the campground, and as we were preparing our charcoal to cook dinner, he excitedly chased the smoke trying very hard to catch it! I attempted my first-ever dutch oven cooking and was remarkably successful! I started off easy with some Grand's Biscuits but I hope to work my way up to more complex meals!
We look forward to what adventures still lie ahead of us on this trip and are doing our best to embrace it all, the good and the bad, and simply enjoy this precious time we are having together.
For more photos check out our Facebook Page!