The 12 mph wind continued to howl through the halls of our resort yesterday. That combined with the intense cloud coverage and it proved to be a rather chilly day.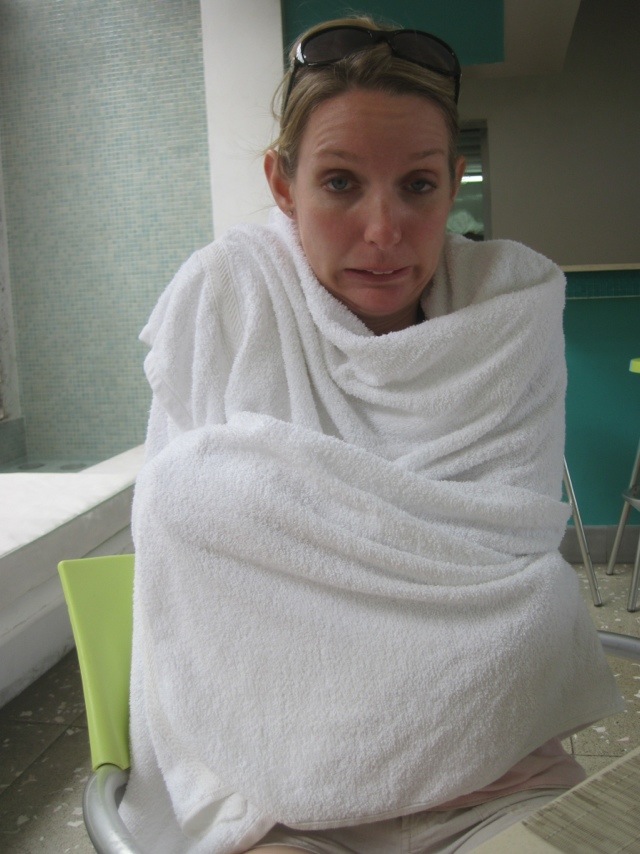 After receiving our continental breakfast in bed at 8:00 we took a stroll around the grounds of the resort to try and familiarize ourselves with the area.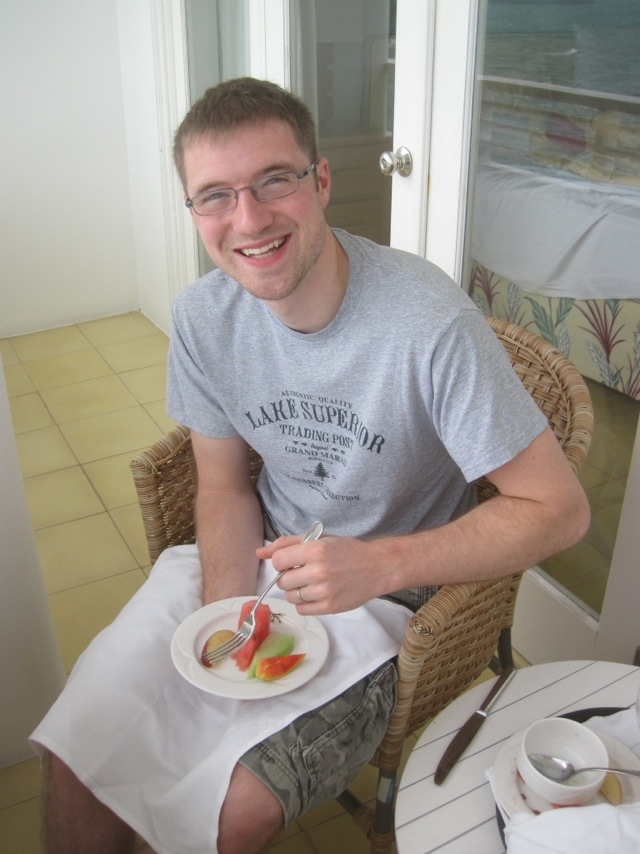 We visited the reservations desk where we made reservations for dinner at the two high-end restaurants that require advanced notice and we booked two seats on the Catamaran cruise for Saturday (Although if the wind continues we probably won't be able to do it). Next we visited the "Scuba Hut" Bobby is very interested in learning to scuba but is also fairly apprehensive. I personally have no desire to learn to scuba, I find the idea terrifying. We wanted to learn more about what the class is like and found ourselves in the company of yet another incredibly friendly and helpful Couples staff member named Darrel. The class is very non-intimidating, seeing as you start your training in a four foot pool! If you don't feel comfortable at that point, you can simply leave the class. After that the class transitions to the ocean where you do a small 20 foot dive. Bobby knew immediately that he wanted to sign up! He and Darrel somehow managed to convince me to sign up as well… As Darrel said, if nothing else I can try it in the pool and if I feel uncomfortable I'll still be able to go on the boat with Bobby and sit and wait for him while he dives. We signed up for the Monday morning class, again if the weather continues to blow us over there will be no class.
At 10:00 we met in the lobby to attend the "Resort Orientation". We were greeted warmly by the Event Coordinator, Kevin (Again, unbelievably kind and helpful). We found the orientation not only really entertaining and fun but also phenomenally helpful. I would highly recommend to anybody visiting a Couples resort to attend any sort of orientation that is offered!
Because of the wind, all water sports were cancelled for the day and we had missed the one resort included excursion that left at 9:00 a.m. We checked the board that contains the days activities and decided to go on the shopping excursion that left the resort at 3:00 p.m. It usually isn't offered on Thursdays but because of the uncooperative weather it was added last minute. We spent our late morning and early afternoon laying out on the beach with cool drinks from the bar and tasty snacks from the veggie bar (apricot chips with humus and fish pate). The sun continued to only make rare appearances that we tried hard not to waste!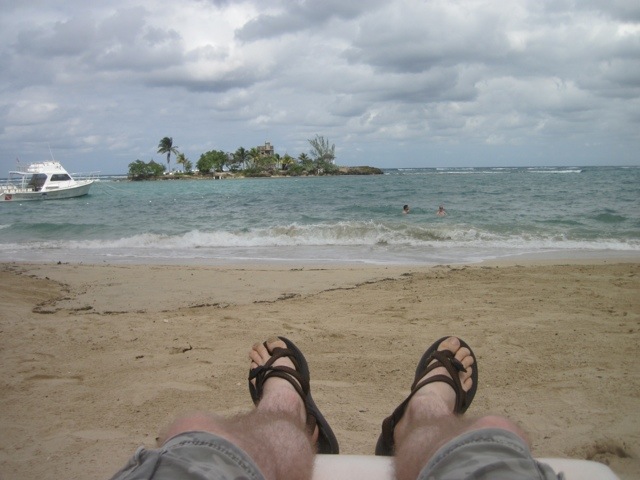 Where to begin for the shopping excursion…. A few descriptive words and phrases perhaps? Like, disappointing, scary, and too long. It was a short bus ride into the town of Ocho Rios where we were dropped off in front of a single shop called, "Gem Palace". Upon arrival we were told that that was the store the resort "approved and recommended". We went into the tiny store where lots of shiny and cheap looking jewelry surrounded us. At the back of the store was a chincy little gift shop where we did find a few select items to purchase. We were given a total of two hours for shopping and the store was no larger than a gas station convenience store… We left the store and decided to check out the other stores and the nearby market. Big mistake! We weren't five feet from the door of the Gem Palace when we were accosted by the first of many people trying to sell us their "handmade" wares. After saying no to whatever craft they were selling they would then offer to sell us marajuana. After saying no to that they would then accuse us of being racist and afraid of black people in very aggressive tones. Bobby was especially uncomfortable in this atmosphere and it became my responsibility to lead the way, while continually saying no to questions and accusations.
We walked along both sides of the road twice, stopping at a few shops voluntarily and a few that we were "convinced" to visit by overly zealous and pushy sellers. We made it back to the bus after less than an hour and found four other couples also waiting. We got back on the bus and spent the remainder of the time waiting for two couples who shopped until beyond the allotted two hour time frame. While on the bus we greatly enjoyed the people watching and witnessed several drug deals. We were glad we went, simply to experience what the town was like but don't think we'll be going "shopping" again on this trip. The resort shopping excursions take you to one of three locations and we do wonder if this one is their least popular. All in all we made it back to the resort unharmed and unscathed!
In the evening we went to the resort's casual Verandah Restaurant which offered an array of Jamaican specialties. It was delicious! I had the best pork chop of my life, fabulous jerk chicken bruschetta, a surprisingly tasty fish soup, a wonderful island salad, and an amazing plantain dessert and scrumptious strawberry sorbet. Overall I was pretty sad when the meal was over. The waitress informed me that the next time I went I could order two of everything! One thing I especially liked about the restaurant was the portion sizes! They were small so you were able to enjoy a variety of island delicacies!
In the late evening we made our way to the main stage to hear live music. It was a fairly decent band doing a variety of covers (from Eric Clapton to Lionel Richie). After a bit of dancing we headed to bed! Now we just have to wait to see what adventures tomorrow brings…