We are incredibly fortunate that some wonderful people have stepped up offering help, guidance, friendship, and companionship as we have planned for The Arrowhead Traverse. Some of those people have opted in to joining us on this crazy adventure. Our early shake-down trips taught us that in order to successfully complete this trip we would need extra help and we've been blown away by our friends' willingness to go above and beyond to help us.
Documentarians – Kris and Ruth Lencowski
We are excited to have Kris and Ruth Lencowski joining us on all parts of this trip, documenting our highs and lows while creating a realistic preview of what an extended trip in the woods with babies along is truly like.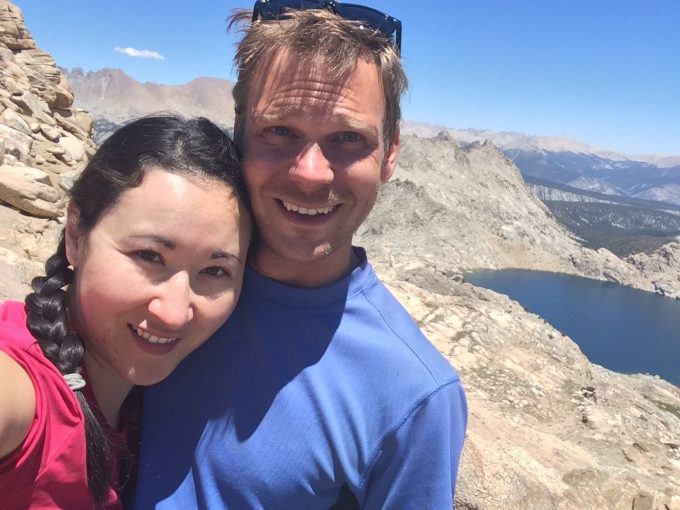 Kristopher Lencowski is an avid outdoor adventurer and filmmaker. Along with earning an MFA in Directing from Brown, and directing short films, such as The Urn, which premiered at the Asian American Film Festival and What Lingers, which premiered at the Los Angeles Shorts Fest, he's also an avid backpacker, having backpacked in the Olympics, Yosemite, Death Valley, Yellowstone, and many more. Kris has worked on the directing team for the Jim Henson Company and has edited numerous projects including the web series Sweet Nothings. He's also a theater director, having worked in Minnesota, Rhode Island and Los Angeles. He's recently returned to Minnesota with his wife, Ruth, and their trail dog, Jasper, and is thrilled to be joining his longtime friend from Tomahawk staff, Bobby, on this exciting journey with his family.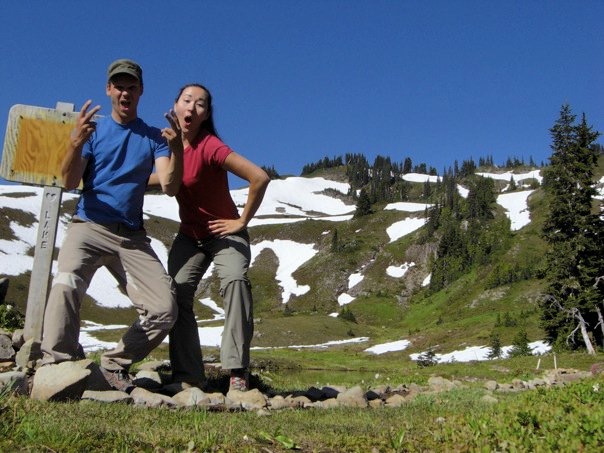 Ruth Lencowski is an actor, writer and producer as well as a lover of the outdoors. She has been on many adventures backpacking across this beautiful country with her husband, Kristopher. They met getting their MFAs at Brown University and have been creating films and plays together ever since. She has produced, written and acted in short films that have been in the Asian American Film Festival and the Los Angeles Shorts Fest. Her produced screenplays include, Screwed and The Dress. She has also been the production manager for Manhattan Film Institute where 25 short films are produced in two weeks over the summer. She is excited to be a part of creating this documentary with Bobby, Maura, and their beautiful family.
Adventure Au Pair/Canoe Instructor – Alyce Kuenzli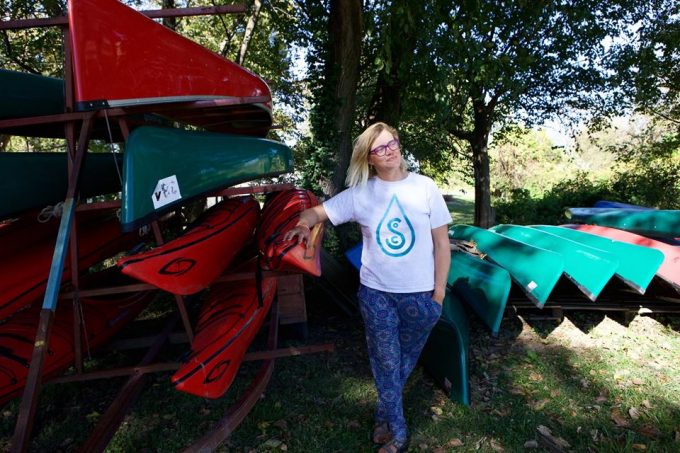 Alyce Kuenzli has canoed countless miles across the United States and Canada. A Minnesota native, she spent much of her childhood in the woods, building forts, jumping across the creek, and playing imaginative games of pirates. At 16, Alyce went on her first canoe expedition, with YMCA Camp Menogyn, in the BWCAW. She was hooked and spent the next three summers going on progressively longer expeditions in Canada, concluding with a 40-day trip on the Back River. These expeditions built Alyce's confidence and inspired her to continue exploring all over the world. She spent a college semester in Patagonia, Chile with the National Outdoor Leadership School, mountaineering, sea-kayaking, and hiking. After graduating from Beloit College with a degree in Education and Youth Studies, Alyce became an instructor with the Voyageur Outward Bound School, in Ely, MN. In the fall of 2014 she canoed the Mississippi River, source-to-sea, paddling over 2,300 miles in three months. In 2016 Alyce, along with Viki Carpenter and Lisa Pugh, became the first all female-group to canoe the 4th longest River System in the world, the Jefferson-Missouri-Mississippi Rivers. Calling the expedition Source of Confidence, the goal was to inspire girls and women to take positive risks, in order to build confidence. Upon returning to Minnesota in December 2016, Alyce and Viki have been doing the work to transform Source of Confidence into a non-profit, with the mission of supporting girls and women in navigating their own paths to confidence. Check out their website for more information: www.sourceofconfidence.com. Alyce is also one of only a handful of people to have paddled both the Mississippi and Missouri rivers, from source-to-sea. She currently lives in Minneapolis MN, where she is a Teaching Artist with Upstream Arts and planning her next expedition, a 2019 source-to-sea descent of the Allegheny-Ohio-Mississippi Rivers.
We are so excited to have Alyce join us on the canoe segment of our journey through the BWCA. Her expertise and vast knowledge of canoeing, not to mention the amazing rapport she has with our kids, will be invaluable as we navigate the longest canoe trip we've ever done.
Fussy Baby Wrangler – Grandpa Mike Marko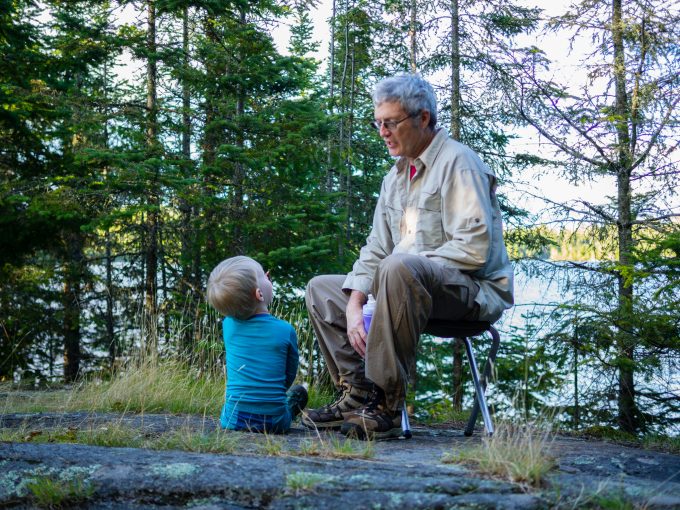 Bobby's parents have been an incredible support to us as we've planned and plotted out this trip. They often play the role of Devil's Advocate and their questions and concerns have been very helpful throughout our planning process. They make us stop and think, don't allow us to get ahead of ourselves, and keep our feet firmly planted on the ground.
Grandpa Mike grew up camping on his family vacations alongside his 3 younger siblings. While his mother encouraged him to join Scouting, the idea of having to earn merit badges did not appeal to young Mike. Ultimately, his regrets over those missed opportunities as a youth inspired Mike to enforce upon his two young sons the importance of Scouting. He was involved in their troop as Committee Chairman for several years, made sure both boys achieved the rank of Eagle, and offered them trips to the BWCA, to Philmont Scout Ranch in New Mexico, and annual weeklong summer stays at Tomahawk Scout Reservation in Wisconsin.
Mike just recently retired after having worked the last 45 years of his life and has very kindly, and excitedly, agreed to join us on the canoe portion of the trip and be one member of the two-man crew bringing us our resupply along the Border Route Trail.
Resupply Guy – Dennis Mirovsky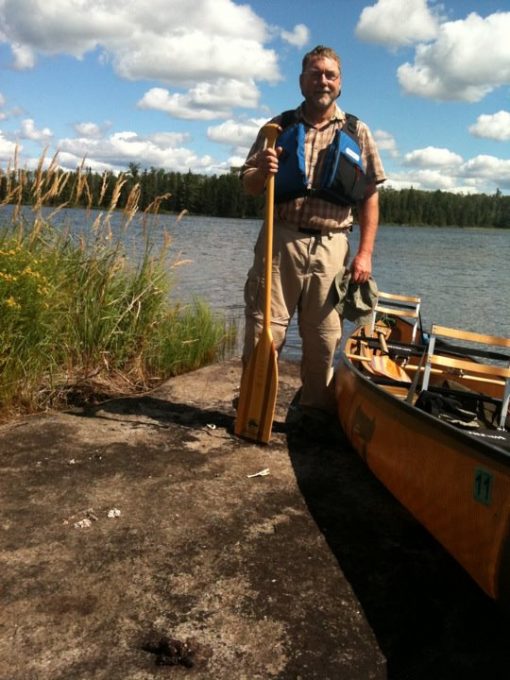 Dennis is an old Marko family friend who was Bobby's Scoutmaster for many years, and remains a close friend. He has been involved with Scouting since 1968, when he joined his first troop at the age of 11 in New York. Dennis moved to MN while in high school and joined the Explorer Post Sponsored by the US Fish and Wildlife Service at Ft. Snelling. During college he was a Scoutmaster of a troop for developmentally disabled scouts. After a brief hiatus from scouting he become involved again when his son, Noah, joined Cub Scouts and has been actively involved since. He has taken Scouts to Philmont Scout Reservation in New Mexico and sailing at Seabase in the Florida Keys.
Dennis' love for the outdoors took him to Canyonlands National Park with the Student Conservation Association where he did backcountry trail maintenance. He's also hiked through three National Parks in England, The Peak District, the Lake District, and the Yorkshire Dales.
Canoeing is one of his favorite recreational activities and he has embarked on numerous treks including the Adirondacks with his older brother, trips to the BWCA with his younger brother and his wife Karen in summer, fall, and even winter trips too. Now his annual trip to the BWCA are the highlight of his summers, where he and his seven friends, 'The Knuckleheads', get in some much-needed backcountry time.  
Dennis began his career as a teacher but left teaching 30 years ago to become a carpenter/remodeler/cabinetmaker. He owns his own business, Waxwing Woodworking alongside his son-in-law, John. His work is unbelievably beautiful and not only has Dennis agreed to paddle in our resupply while we are backpacking the Border Route Trail, he and John will also be busy at our home, remodeling our kitchen and main living space while we're gone. 
Chauffeurs – Matt, Erin, Lucas, and Evelyn Folsom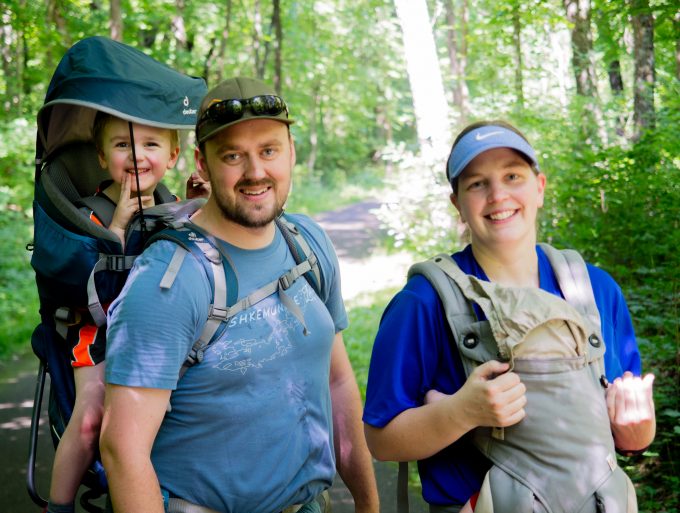 Matt and Erin are both Tomahawk Scout Reservation Alums and are a fellow adventure-loving family. Matt is the owner and founder of Palisade Gear, a company that makes excellent trekking poles. The Folsom family are responsible for our first-ever trip to the BWCA as a family. They took their young son, Lucas, on his first trip last year and it was so successful that it inspired us to give it a go and we found a new passion and love for canoe camping.
Matt and Erin enjoy camping, canoeing, and hiking with their toddler son, Lucas, and baby girl, Evie. Lucas enjoys trains, being chased, stories about trains, digging in the dirt, and making train sounds. Evie is a laid back lady who enjoys milk, naps, making everybody giggle with her amazing smile and hilarious coos. They are taking up the mantle of moving our truck from the beginning to the end of the Border Route Trail. Lucas will also serve as Jack's BFF while we camp with them on our last night on the trail before completing this journey.
Special Thanks
There are so many people who have helped and supported us along the way as we've planned for this trek. We'd like to give a special thanks to our families Grandma Brenda, Grandpa Bud, Grandma Sue, Aunt Sue, the Phillips family, Aunt Katie, the Healy family, the Westlund family, and the Gorski family for all their moral support.
A huge shout out to Nick Millette and his wonderful family who will be watching our Latigo while we're gone!
Thanks to Glenn and Barb Warloff for opening their house in Babbitt, MN up to us for a rest day.
Thanks to Keith Bergeron for allowing us to be one of his first guests in the motel he's renovating in Grand Marais, MN: The Basecamp Bungalows.
Thanks to Dave and Amy Freemen for reviewing our canoe route and offering expedition advice.