Rain was predicted for the weekend but that doesn't generally stop us from seeking adventure! We set off Friday night for Icicle Creek Canyon.
It's one of our favorite spots in the State of WA and we haven't camped here since early spring. We aren't the only ones who enjoy this area and the campgrounds are generally packed every single weekend. We hoped that because it was the weekend after Labor Day and the gloomy weather report would keep the crowds away and we would be able to secure a site at the popular Eightmile Campground. There are five campgrounds along the Icicle Creek road along with numerous dispersed camping sites. However, on Thursday, there was a mudslide and the road was closed just after Bridge Creek Campground at the trailhead for the Fourth of July Creek hike, about 2.5 miles up the road from Eightmile Campground. This made much of the camping inaccessible.
We arrived after dark to the campground and were pleased to see that there were several open sites. Because it was so dark, we managed to get lost on the winding roads of the campground and it was difficult to tell if sites were desirable or not. We hoped for the best and chose a site that we felt had more low growing vegetation that would provide ample screening between the somewhat close sites when compared to some of the other available sites we had passed by. In the dark it seemed relatively private and we hoped that we would have the same opinion come morning!
Eightmile Campground has 45 sites for tents or RVs up to 45 feet in length and one group site that can accommodate up to 70 people. Sites are $19 a night (in the Guidebook, Pacific Northwest Camping, it claims that the sites are only $15 a night, this is in error). We found the price pretty steep but decided a stay in a campground might be a welcome change to dispersed camping without access to water or a bathroom. The price seemed expensive considering the campground only had pit toilets, we both feel that if you're paying close to $20 a night the facility should have a real bathroom. But oh well!
There were several campground hosts which was a little confusing until we figured out that one of them was the "Area Manager" so we assumed they took responsibility for some of the surrounding campgrounds. While the other took responsibility for Eightmile Campground. The Area Manager was next to us in a large RV and a little cabin and the Campground Host was behind us, we were surrounded! The only bummer about being that close to two hosts was the noise of their generators during the day. Thankfully, we either didn't notice, or they don't run them at night.
Saturday morning we awoke to a light drizzle. It was a gloomy day with low hanging clouds engulfing the surrounding peaks. We were pleased to see that our site was relatively private when compared to the other sites in the campground. We could see neighbors on all sides, but we didn't feel too exposed.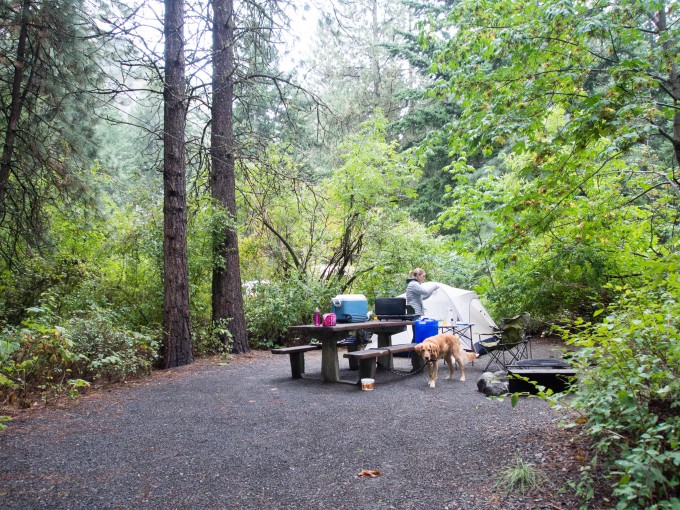 We made banana pancakes and hot cocoa for breakfast.
After cleaning up our dishes we decided to go for a walk down the road a ways. We wanted to check out the mudslide and Bobby wanted to investigate some of the climbing nearby. The rain would prevent us from climbing that day but we hoped the weather would break for Sunday and climbing would be possible. The walk up the road to the mudslide was longer then we expected and a steady drizzle accompanied us the whole way. But we did encounter two small bucks on the side of the road who showed less fear then we expected. In fact they seemed just as interested in Latigo as he was in them. Eventually Latigo's incessant whining scared them away and they disappeared into the mist. The short walk we had planned on taking had actually turned into a 5 mile walk!
We got back to the campsite and decided a trip into the nearby town of Leavenworth would make for a fun rainy day activity! We found lunch, purchased a couple of beautiful photographs from a local artist at the small art show that was taking place in the town center, and got some chocolate covered gummy bears for dessert! The weather continued to clear throughout the day and the crowds continued to grow in the small Bavarian-themed village.
We headed back to the campground hoping the weather had also cleared in the canyon. Sadly, it wasn't, the slight drizzle had persisted.
We had a lazy day in the campsite of reading, napping, setting up a tarp to protect us from the rain, and munching on chips and homemade guacamole! For dinner we made bean and veggie burritos, one of our favorite meals even when we're not camping! As with just about everything else, they tasted better having been cooked over a fire!
We crawled into our tent after dark and read aloud from the book we've been reading together while camping throughout the summer. We fell asleep with hopes that the next day would bring fairer weather.
Indeed it did! We arose around 7:00 a.m. and were greeted with clear blue skies! The mountaintops that had been hiding throughout the day yesterday were out in all their glory! We made breakfast, homemade dehydrated hash browns, eggs, and sausage and hot cocoa.
We packed up our climbing gear and headed for an easy crag that was only 1/4 of a mile from the campground and accessible by a trail down by the river. We went to 8-Mile Rock where Bobby climbed Classic Crack (5.8), Mickey Mantle (5.7), and Deception Crack (5.9).
I haven't been climbing since January, and that was in a gym. It's been more than a year since I've climbed outside and I'm not gonna lie, I don't miss it. I was happy to belay Bobby and be his encourager. I gave a meager attempt at the 5.7 but found myself much happier on the ground!
Other climbers had already begun to flock to the popular spot and the temperature was already beginning to rise so we decided to call it a day. We returned to our campsite and broke camp. We were on the road by 11:00 ready to make the 2+ hour drive back to Seattle. We stopped at one of many fruit stands along the way and got 10 pounds of apples with plans of making pie and applesauce!
We stopped at Lake Easton State Park to have a picnic for lunch! We supped on Tuna Salad sandwiches with fresh tomatoes we had bought at the fruit stand and we polished off the guacamole! It was a glorious day on the shores of the shimmering lake! It was the perfect ending to a wonderfully lazy weekend of camping, climbing, and walking!