Knowing that we wanted to hike in the parklands of Mount Baker's southwest flank we decided to camp on Baker Lake Road (Forest Road #11). There are 7 campgrounds along this road, not to mention several pullout sites along the road. We knew there were campsites at the trailhead of Park Butte Lookout where we would be hiking, but we also knew that that hiking area is popular and assumed they would be taken. We were right.
We began our search for a site at the first campground along Baker Lake Road, Horseshoe Cove. The campground has 38 tent/trailer sites and 3 group camps, 25 of the sites are reservable while others are on a first-come, first-served basis. We were immediately greeted with a "Campground Full" sign and turned around.
Next we turned into Bay View North/South Campground, which turned out to be a group camp. Both sites are reservable for a steep fee of $75 a night and both were taken.
Thus far all the pull off sites along the road had been taken. We were beginning to get nervous…
We pulled into Panorama Point Campground next and found that it's nine sites were full. We pulled back onto Baker Lake Road.
Next came the largest campground we saw along the road, Swift Creek Campground. It was once a resort but has been turned into a campground with around 50 campsites. There was no "Campground Full" sign and we suddenly had a small ray of hope. The campground was bustling with children and families going to and from the nearby beach along Baker Lake. We found a site that was vacant but had a tag on it, however, the tag indicated that the site was to be vacated that day. It was past noon and we assumed that the previous night's occupants had already packed up and moved on. We backed our Explorer in and set out to pay the fee of $18 for the night and claim it as our home for the night. It was pretty private when compared to the more open sites around it and we were considering ourselves lucky that we had found it.
We approached the fee box and were soon greeted by the campground host. We first discussed the burn ban that we had thought was in effect for the entire state of Washington and were, therefore, surprised to see so many campers with campfires going. He informed us that that ban was for state land only and seeing as the campgrounds we had been in throughout the day were all on federal land the ban didn't apply to them. We were happy to be wrong about the ban seeing as I had brought along burgers to grill and they wouldn't have been nearly as delicious having been cooked over our Coleman camp stove.
He inquired as to what site we had found that was open and when we told him site #40 was unoccupied he informed us that it was in fact taken. A large church group had claimed a number of sites the night before in anticipation of a large group coming up that day. They had until 2:00 p.m. to decide if they wanted it for that night, and until they decided we couldn't occupy it. We asked if he knew of any open sites and he gave us the sad news that the rest of the campground was full. Our endeavor to find a campsite for the night seemed doomed to failure. Then he offered us a small ray of sunshine. The campground across the road may have a couple of open sites. Apparently a group of families had reserved and occupied three of the sites the previous evening but the persistent rain that had plagued the area that morning had the many children in the group wanting to go home. He said that he wasn't sure if they had actually left, seeing as how the weather had since cleared, but that we should check it out.
We went across the road to Park Creek Campground with hope burning in our hearts. We found that among the 12 sites in the campground, not only were the three sites he had mentioned open but a fourth, and more private site was also available. We pulled into site #1 and paid the fee of $12 per night and claimed the site as our own. This is a quiet, more primitive campground with Park Creek babbling nearby and old growth Douglas fir and western hemlock gracing the canopy. The campground does have trash receptacles and well cared for pit toilet.
Bobby made camp while I set about making sandwiches for a late lunch.
As we supped we discussed whether or not to attempt the hike we had planned that day or to wait until the morning and set off early. It was late, already past 1:00 p.m. and we were worried about completing the hike before nightfall. The weather was so picturesque, despite the weather forecast of thunderstorms for the weekend, that we opted to do the hike that day in the hopes that the weather would stay cooperative and it wouldn't take us so long that we would be hiking in the dark. It turned out that we couldn't have had better weather for the hike and were greatly rewarded with some spectacular views of Mount Baker on our hike to Park Butte Lookout. We were also able to complete the 8+ mile hike well before nightfall.
We returned to the campsite just after 7:00 p.m. and were more than ready for dinner. Bobby built a fire using the firewood bundle we had purchased from the campground host for $6 while I set up my camp kitchen and prepared the other parts of the meal. We ate delicious cheeseburgers topped with fried onions, avocado, and tomato with chips and guacamole, baked beans, and potato salad on the side.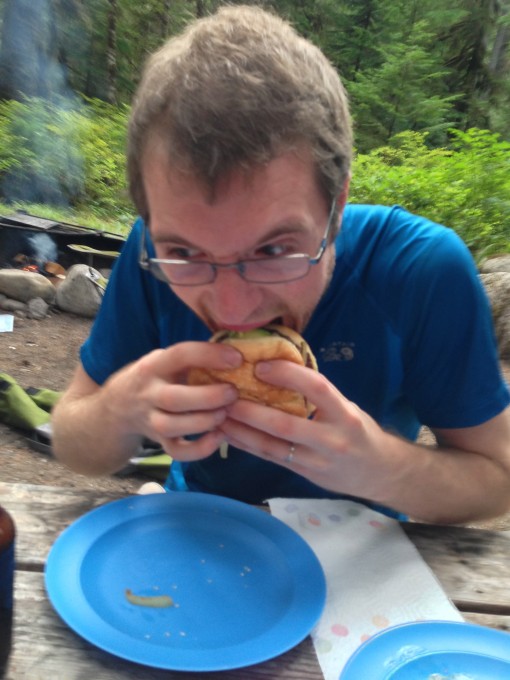 We were so full we didn't have room for our traditional camp dessert of S'mores. Instead we crawled into the tent early to read before drifting off to sleep. As we settled in for our nights sleep the rain started.
The storm lasted throughout the night and into the morning. Breakfast was supposed to be pancakes and sausage but we hadn't brought a tarp to put over the cooking area so we opted to pack up our soaking wet camp and head to town for breakfast at a cafe.
This is an incredibly popular area to camp. Though there are a plethora of options I would still highly recommend making a reservation before heading to this area to camp. Had we had better weather on Sunday we would've enjoyed a morning on Baker Lake before heading back to the city, but alas it wasn't to be. There is another campground further up the road from where we stopped, Shannon Creek, that has 19 sites which is the last option along the road.