For our 3 day backpacking trip to the Norse Peak Wilderness at the end of July 2013 we decided it was time to invest in a Bear Vault Solo. On previous multi day trips we had used a stuff sack and some rope to MacGyver a hanging bear bag. We never had much confidence in them and decided that the added weight of the Bear Vault Solo (2 lbs 1 oz) would be worth it.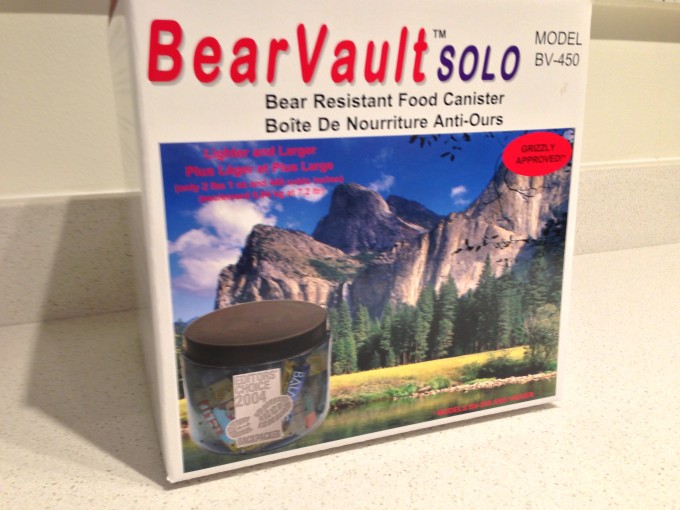 We had read online reviews of the Bear Vault Solo that had complained about how difficult it is to open. The instructions for opening the canister are on the lid and it is extremely straight forward and not complicated in any way. In the morning when we would retrieve it, the morning dew and our cold hands made it difficult but we always got it open without too much of an incident!
The Bear Vault Solo claims to have a 4 day capacity… I believe this to be a bit of an exaggeration. We were just able to fit 10 tortillas, two breakfasts, two lunches, one dinner, and snacks for two people (all the meals were Mountain House or Backpackers Pantry freeze-dried meals) and it barely fit. We had to do a lot of squishing. Latigo's kibble (about 6 cups for the three meals he would need) wasn't able to fit and we had to fashion a bear bag for a tree using his backpack and his leash as a rope…. Thankfully it wasn't disturbed and on our second night we had eaten enough that his food was able to fit no problem.
Bobby carried the canister, which fit snugly at the base of his Gregory Baltoro 65 liter pack. If going on a longer trip we would most likely invest in the Bear Vault BV500 for the added storage capacity and probably a larger backpack to accommodate for the larger canister. However, for the weekend trips we generally take, I believe we made a good choice in the $66.95 Bear Vault Solo.