Being native Minnesotans it's almost embarrassing to admit that neither Bobby or myself had ever been to the Boundary Waters Canoe Area (BWCA) before this year. A couple of my sisters had gone on trips up there when they were younger and I had some friends that frequented the area. Bobby's Dad has been visiting the BWCA for over 20 years, first with members of the Boy Scout Troop he was an adult leader for. Then, after their boys were grown, a group of Scout Dads continued to venture up to the wilderness area annually.
After moving back to Minnesota, blogging about our trips, and giving clinics on various kid-friendly outdoor adventure topics at Midwest Mountaineering people began asking us if we had ever taken Jack, our 2 year old son, on trips up to the canoe area. In all honesty, I'm not a water person. I wasn't raised on the water like so many Minnesotans I know and I am actually a little uncomfortable swimming in lakes. It's not that I'm a bad swimmer, but, ok this is a little embarrassing, I'm afraid of fish. As a child one nibbled on my leg while swimming in a lake and I've never exactly gotten over it. I'm a good, strong swimmer but I prefer clear water where I can see what is lurking beneath.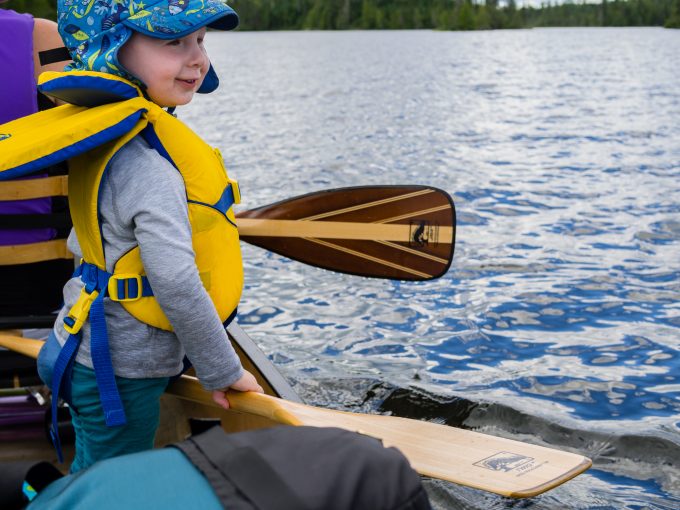 For Bobby, he has always been more of a backpacking, rock climbing, mountain biking, land-lover. He too, never really had a desire to go to the BWCA. However, being one of only 3 wilderness areas in the state, upon our return to the land of 10,000 lakes he began to get the BWCA itch. With over a million acres of wilderness containing over 1200 miles of canoe routes it's hard to ignore.
This summer I have enjoyed the woes and wonders of my second pregnancy which meant that backpacking was out for us for the summer. But, I've been yearning to have a wilderness experience. So, I finally decided that a trip to the BWCA would be a smashing idea! Some friends of ours had had a successful trip with their two-year-old son along and I was inspired by their story and wanted to give it a try myself! (Thanks Matt and Erin!)
We began reading guidebooks, blogs, forums, asking questions of our friends who are regular visitors to the BWCA and got lots of gear and advice from Bobby's dad, Mike. He was extremely helpful in lending us everything we'd need from the canoe to portage packs to paddles. He had several paddles for us to chose from that he has acquired over the years and all were Bending Branches paddles. The few times I had canoed when growing up we just had the cheapest plastic paddles, but these wooden paddles were beautiful to look at, smooth under my hand, and made me feel like a voyageur. They are so lightweight and the slight bend in the paddle really gives you a lot of extra oomph over a straight paddle.
The paddle I had on that first trip into the BWCA on Kawishiwi Lake was slightly too long for me and Bobby's was slightly too short. We knew after that first magical trip to the wilderness by canoe that we would return many many times and that we'd be needing paddles of our own that were sized properly.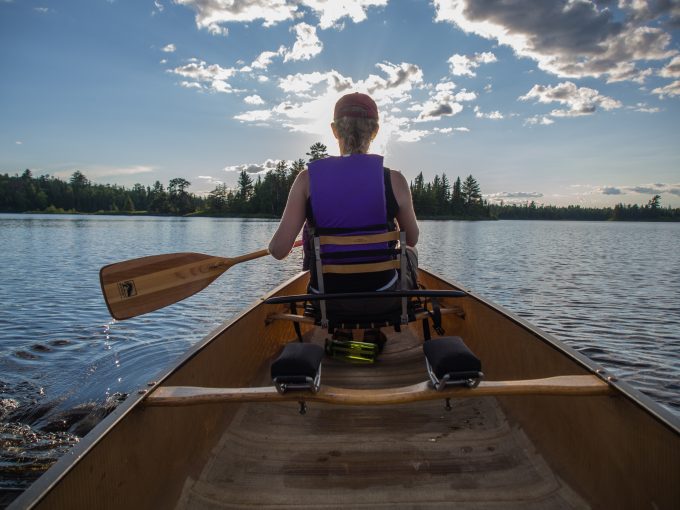 We turned to Bending Branches for several reasons when looking to get paddles of our own. First off, the guy we know who is passionate about researching the best gear out there, who attends clinics by some of the most experienced BWCA explorers, and who loves to pass on his knowledge highly recommended Bending Branches to us. That was Bobby's dad.
Secondly, it's a local midwestern company. They are headquartered in Osceola, WI where all the paddles are handmade, and have been since 1982. We love having local companies to support that make the highest quality of products, who supports our local outdoor industry, and is passionate about protecting our wilderness.
Thirdly, they are breathtakingly gorgeous. Seriously, it's hard not to look at these paddles without saying, "Oooooo!" and wanting to touch them.
For ourselves, we chose to get the Java 11 paddles ($149.95). Typically Bobby needs to have the very best of everything when it comes to gear so he was originally leaning towards Bending Branches's top of the line paddle with a carbon shaft – the Sunburst 11 ($224.95). Knowing that we are new to canoeing and not expert paddlers we decided to save money, but still get a wonderful, premium paddle. The Java is very lightweight at just 19 ounces and has a Rockgard edge that protects the wood from those pesky rocks. Additionally, the paddle's blade is covered in a 2oz fiberglass wrap to protect the wood. It has an 11 degree bend from the shaft to the blade (hence the 11 in the name) to allow the blade to pass through the water more squarely throughout your stroke which provides more forward momentum than a straight shaft. One important detail–there is a proper way to hold a bent paddle. It's embarrassing to admit, but we held the paddles backwards for our first trip! Make sure the blade is bent forward towards the bow of the boat, not backwards.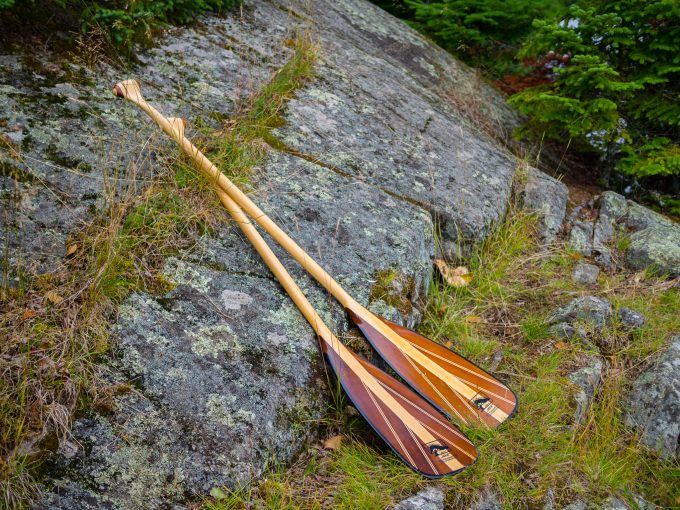 Bending Branches has your kiddos covered too! Their one-sized Twig paddle for kids is beyond adorable.
While you may think that $59.95 is a little much to spend on a paddle for a 2 year old believe me when I say you won't be sorry. Most kids, and our Jack is no exception, want to be like the adults around them. They want to help. Giving them their own paddle entertains them and makes them think that they are helping. It is a must on any canoe trip with a young child! It's 42″ long so it's big enough that he'll be able to grow into it for several seasons to come as he gets older and begins to paddle himself. Plus, it's only 14oz so it's easy for him to hold onto and we don't have to worry about him dropping it into the lake, since it floats! Just like our bigger paddles, it also has a Rockgard tip so it can deal with the abuse a toddler is sure to put it through (we still try to stop him from shoveling rocks with it as he's prone to do!).
Bending Branches paddles have now become a Marko family tradition and it was so fun to get to go on a short trip to the BWCA with Grandma and Grandpa and for all of us to have a Bending Branches paddle of our very own!
We hope to continue making regular treks, not only to the BWCA, but all around with our canoe and can't wait for all the adventures that lie ahead of us on the water! Who knows, maybe I'll even become brave and swim in a lake again!
Disclaimer: While Bending Branches generously provided us with our paddles to make this review possible, all thoughts and opinions are our own. If we didn't believe in their products, we wouldn't partner with them.