This past summer we tried our hand at canoe camping and we were absolutely hooked after our first trip! Taking young children out on the water always intimidated me, but we wanted to have a wilderness experience with our son. Being pregnant with our second baby all summer, backpacking was not an option for us. So, we took the plunge and headed north to the Boundary Waters Canoe Area (BWCA). After that initial trip we knew we would be planning a lifetime of trips together as a family.
During the two trips we made to the BWCA this summer we borrowed Bobby's Dad's canoe. After coming to the agreement that canoe camping was something we knew we wanted to do more of we immediately began researching canoes and shopping for the perfect one for our growing family.
The canoe we used this past summer is 17.5 feet and it worked well with two adults, one toddler, and a whole lot of gear. Our daughter was born at the end of October so we now need to plan for two kids, more gear, and our 80 lb golden retriever, Latigo. We knew we would be needing a bigger canoe. We also like to buy locally made, handcrafted items so we did our research and discovered that Northstar Canoes are made about 60 miles from our home, in Princeton, MN. Coincidentally, it's also really close to where Bobby grew up!
Northstar Canoes was founded by Ted Bell and Bear Paulsen in April 2013. Prior to Northstar Canoes the duo operated Bell Canoe Works. We were fortunate enough to get an up close and personal view of the canoes by getting a tour of their workshop.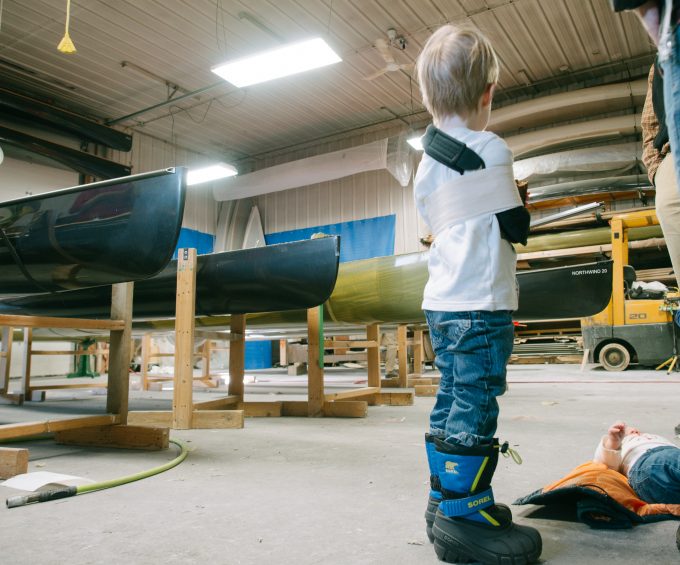 The care with which these boats are created is remarkable. The kindness of the workers, their extreme attention to detail, and the obvious pride they take in every boat they build is truly astounding.
Ted and Bear run a small operation that creates a couple of boats every day. They offer 12 different models, six solo and six tandem. The size of boat varies from single canoes and a canoe/kayak hybrid to the enormous Northwind 20 (20′ 5″) that can have up to 4 seats.
After much debate between the Northwind 18 and 20 we opted for the 20 as our canoe.
This canoe will be perfect for these early trips with two kids along and all the gear that a baby and toddler need. As our kids grow we won't need to worry about getting a new, or second, canoe. We can simply add a fourth seat somewhere down the road when Rowan is old enough.
The Northwind 20 may come in at slightly over 50 pounds but when Bobby gave it a test run on his shoulders he was greatly surprised by how light it felt.
The difficulty of portaging a canoe of this size is that if there's any wind it could be more difficult to handle as it'll act like a giant kite. But, we have heard from others that this length of boat glides like a dream in the water and that the added storage space is perfect when traveling with small children.
One of the most fascinating things to learn while taking the tour of the shop is the fact that all the canoes are made of fabric. Aramid (Kevlar) starts off as a lightweight, flexible fabric! This may not be news to you, but it definitely was to me!
The material is then fitted into a mold that was made using a wooden canoe as a template. The Aramid is then impregnated with a lamination and reinforced with foam core.
When selecting a gunwale trim option you can choose between wood or aluminum. The wooden gunwale is exceptionally beautiful, but does require a little more maintenance on the owner's part. The aluminum is less maintenance, lighter, and slightly cheaper. Since the kids take up all of our free time we decided the low maintenance aluminum was the way to go for us even though the ash was gorgeous.
One of my favorite parts of the canoe are the beautiful wooden seats (made of either ash or walnut). While not made by Northstar Canoes, they are handmade by a family-operated shop just north in Canada.
Northstar also offers a variety of color options for your boat. We chose the black carbon fiber finish as opposed to their more common, yellow/black finish. While the carbon fiber does make the canoe slightly heavier (and more expensive) the additional durability of the carbon fiber material is well worth it, in our opinion!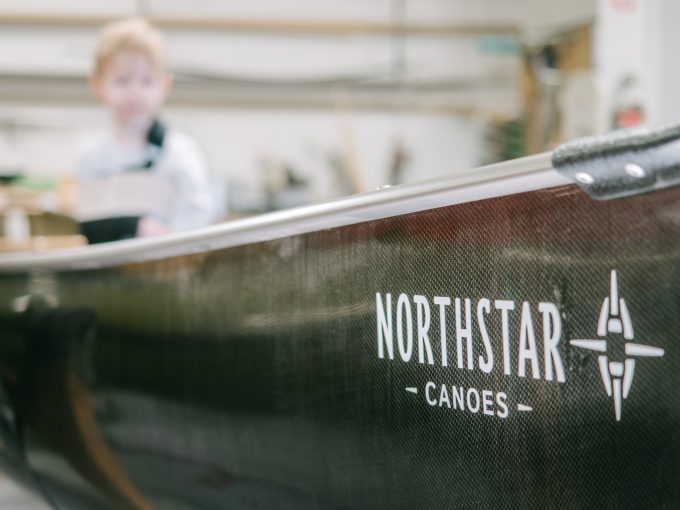 It was definitely hard to pick up our new canoe in subzero temperatures and having to explain to Jack multiple times that we wouldn't be canoeing just yet, due to the water being frozen. He has been asking me daily since we brought the canoe home, "Where 'new? Water frozen?" Don't worry little man spring and summer and water-filled adventures are just around the corner!
If you're interested in a Northstar Canoe there are a couple of shops near the Twin Cities which sell them:
Check out their full list of retailers and outfitters for outside of the Twin Cities.
Let us know in the comments what your favorite canoe is and why you picked it!