The holiday season is in full swing and we've put together a list of age-appropriate outdoor gifts for kiddos ranging in age from infancy to early elementary.
This post contains affiliate links to stores where you can buy some of the products. With affiliate links you pay the same price for the products as you always would, but we receive a small commission on the purchase to help maintain our website.
Infants
Base Layers
Any adventuring parent will tell you about the importance of a good set (or two) of base layers for the littlest adventurer on the trip. However, options are limited and prices are high. We always ask for base layers for our kid's birthday and Christmas gifts. Grandma and Grandpa love to spoil their grandkids and what better way than to give them pricey, adorable clothing that will be featured in photos all year long! Our top pick for base layers is Wee Woolies, a Canadian company that makes ridiculously adorable base layers from merino wool.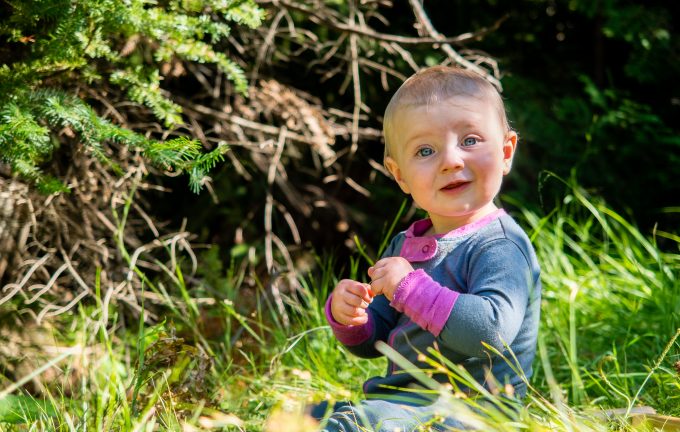 Sun Hat
A solid sun hat is a must for any adventuring baby. Especially when they are at that vulnerable no-sunscreen age.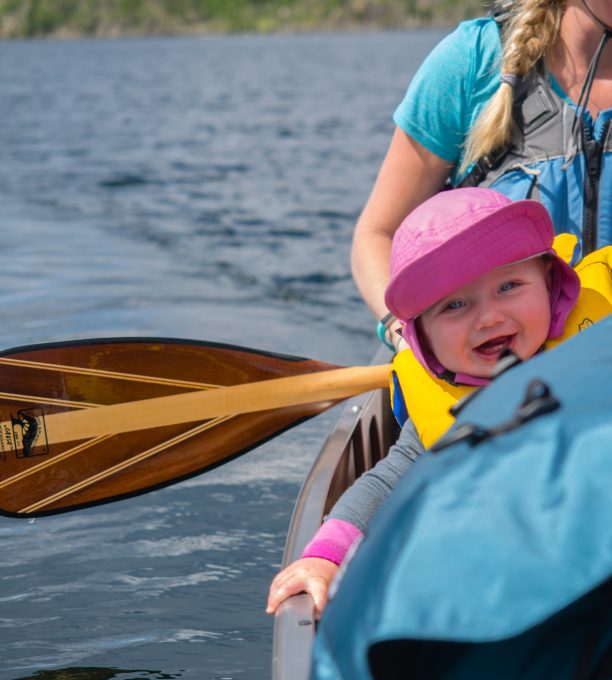 Even beyond that as you move into toddler and preschool years having a sunhat can mitigate lots of arguments. Our kids both know that their options are a hat or sunscreen. Since Jack doesn't have the patience for sunscreen he always opts for the hat. Rowan is a bit more independent and will frequently opt for the more difficult, sunscreening path. Either way having a reliable sun hat that grows with a child is very important. We spend a bit more here on the Sunday Afternoons Kids Explorer Cap but, we know these hats are super adjustable and grow easily with your child's head. They lasted over two years for both of our kids.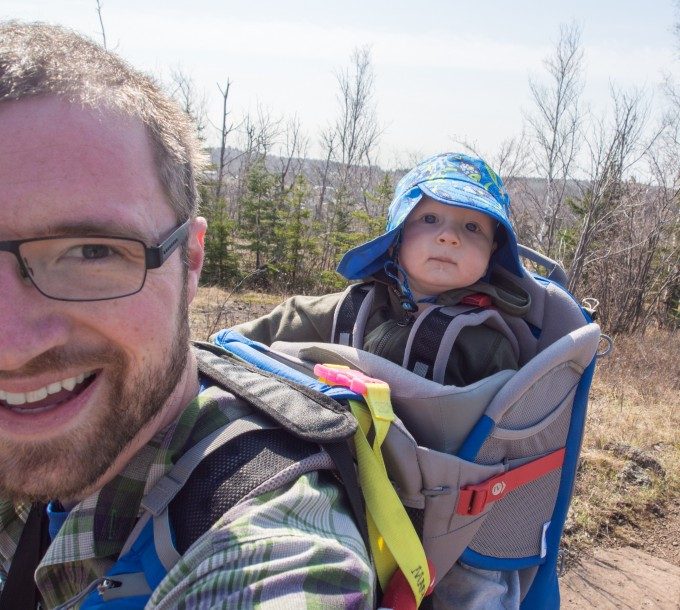 Snowsuit
If it's your goal this winter to continue getting outdoors but you have a newborn and aren't sure how you are going to accomplish that goal if, like us, you live in a less than warm climate having a really warm snowsuit for baby will make this goal completely achievable. We adore our Patagonia Hi-Loft Bunting and are enjoying our fifth season with this puffy piece of pure warmth and joy.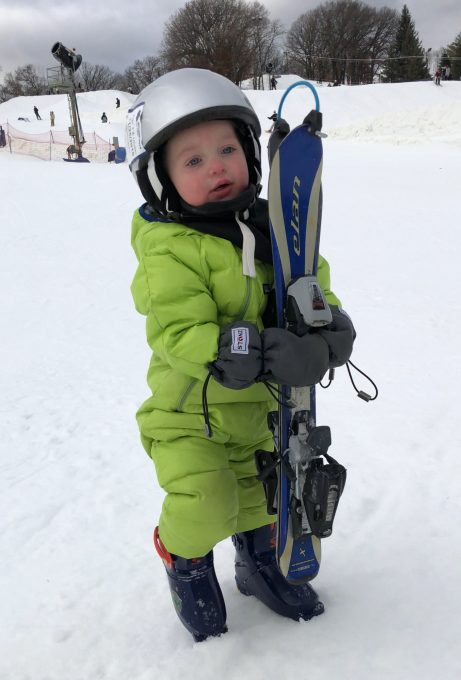 Not only has it kept our kiddos warm while hiking in a soft carrier, backpack carrier, and hiking on their own it also keeps them warm while skiing. We were so sad when Jack outgrew it but Rowan was thrilled when it was passed on to her as she is our freeze baby. This suit has been around the country, through the desert, the mountains, and so much more and yet years later it still looks brand new. We highly recommend getting the 18-24 month size as it is easily adjustable and fits our tall kiddos well into their third year. It was a little ridiculous when she was just one but she looked so adorable we didn't care, and she was warm!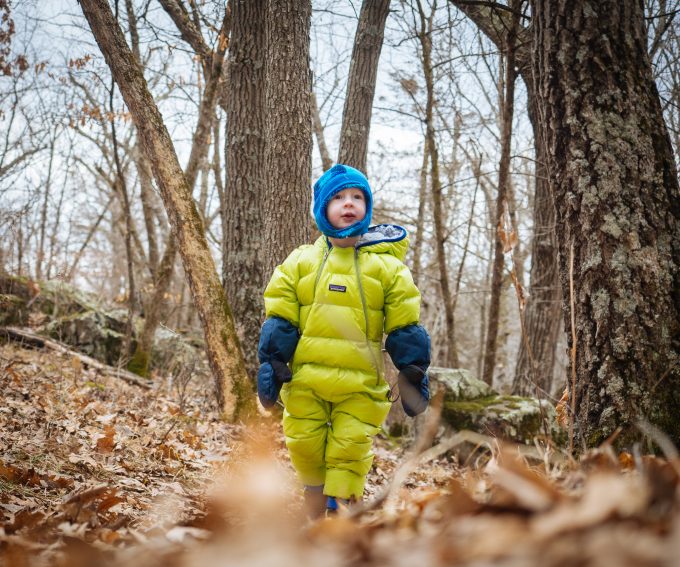 Toddler
Camp Chair
So, we got suckered into buying Jack an adorable mini Helinox camp chair before a trip into the Boundary Waters a few seasons ago. We were annoyed that he kept stealing our camp chairs and this one was so tiny and adorable we bought it from the wonderful Piragis store in Ely, MN and spent a ridiculous amount of money that we are still embarrassed about to this day. They are cheaper online, there are numerous knock-off brands but seriously this chair is wonderful and adorable and we are getting one for our Rowan for this Christmas as she was rather jealous of her big brother's chair on our last BWCA trip.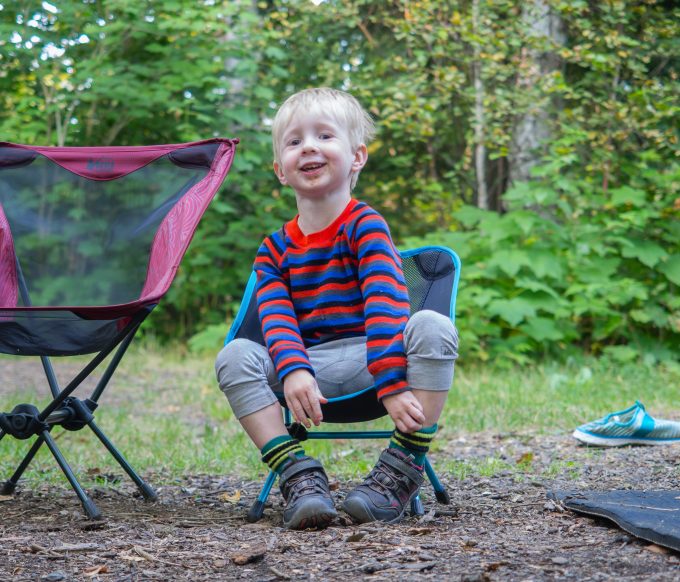 Ecology Identification Cards
These waterproof, tear-proof, Rowan-proof Identification Cards are available at most all visitor centers around the country. They aid in identifying everything from plants to fish to local wildlife. Rowan loves carrying these on hikes, "IDing" objects around her, and can be a great way to keep her calm in the carrier. It's also a great way to learn about a new or different ecosystem you are exploring while traveling and a good way to prep a small child for an upcoming trip to a new spot.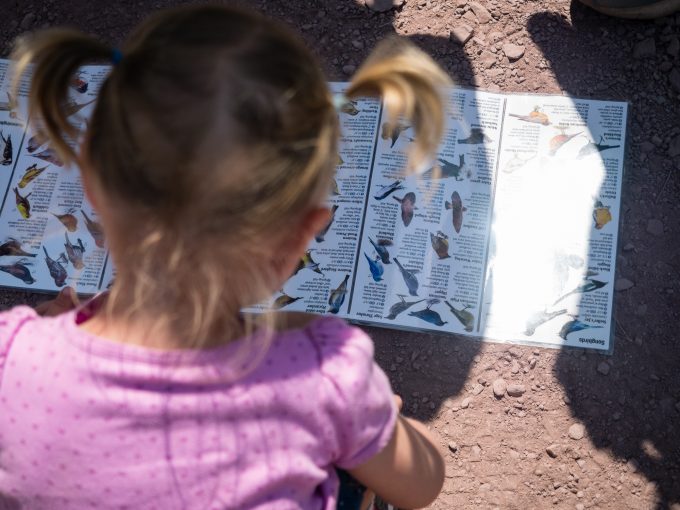 Spork
Toddlers love nothing more than being just like the grownups. Giving them their own, mini camping spork helps make them feel like an adult and they love it. Jack loves his so much he even wants to wash it after he uses it! These make the perfect stocking stuffer for any age.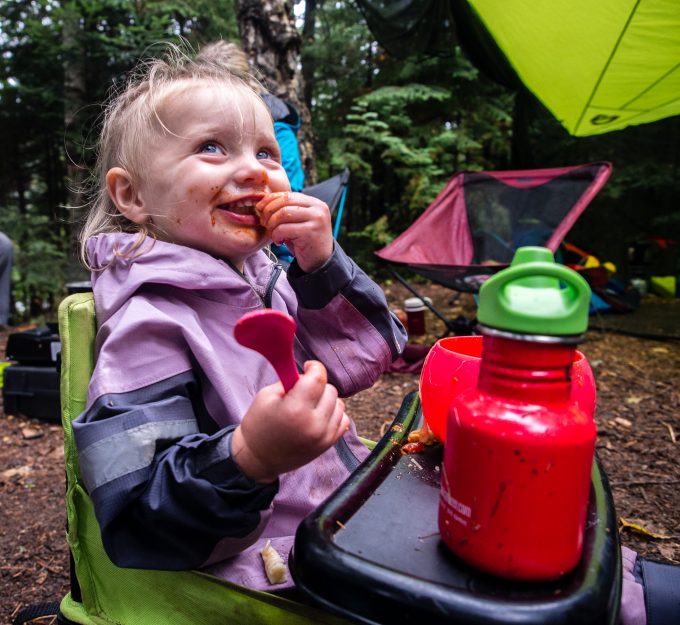 Squishy Bowls
Outfitting your toddler with a solid mess kit will make mealtimes all that much more enjoyable when out camping in the woods. We love our squishy bowl set and Jack and Rowan both look forward to using theirs on every camping trip. They are lightweight, compact, and, did I mention, super squishy? When packing for a backwoods trip with a family; size and weight can be major factors and this is one small way to mitigate that problem.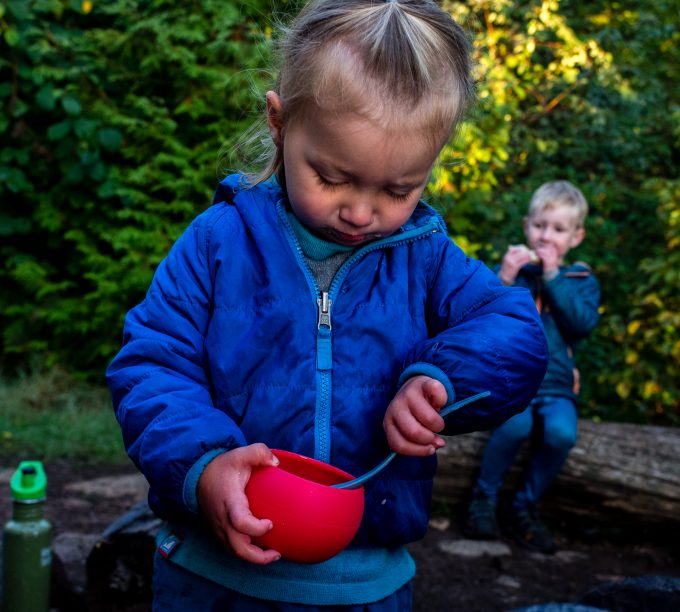 Preschooler
Binoculars
Grandpa Mike gave Jack a set of cheap binoculars for a recent trip into the Boundary Waters and they have not only become a favorite when in the woods but also when playing "camping" or "exploring" while at home. This is a cheap, easy form of entertainment for many ages.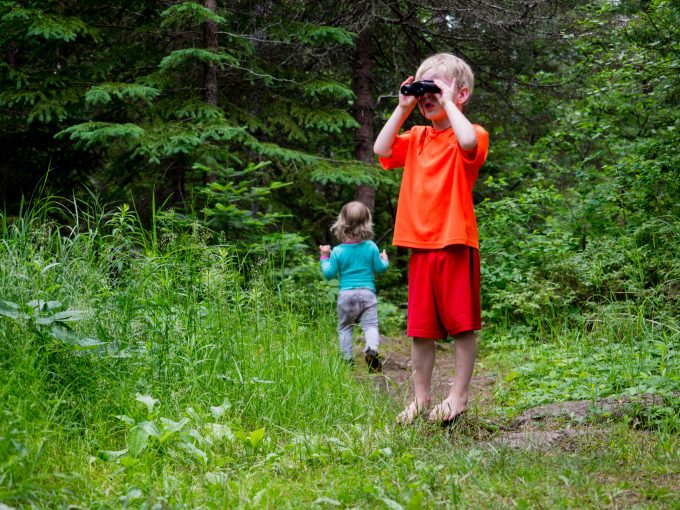 Backpack
Preschoolers are reaching that magical age of being able to carry a little bit of their own weight. On a hike we now give Jack (age 4) his own small backpack to carry with his water bottles and snacks. It usually gets heavier throughout the hike as he adds sticks and rocks to his outer pockets (don't worry we always leave them there in the end). The smaller the pack the better because, inevitably the adult along will end up carrying it. We love Deuter's small kid backpacks with adorable designs and small capacity they make the perfect gift for the adventurous hiking preschooler.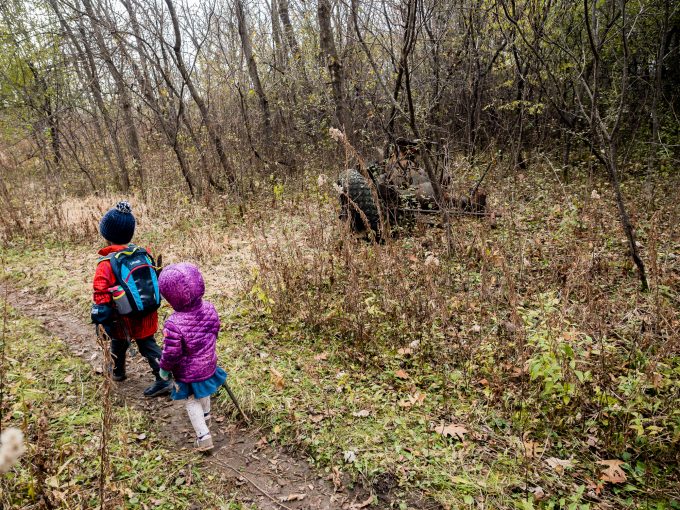 MtnGLO
Anybody else have a preschooler who has an overactive imagination which then leads to an intense fear of the dark?!? WE DO!!! Jack's room is basically lit to daylight levels at night with twinkle lights and a nightlight. Why should our tent be any different?!? The MtnGLO LED Tent and Camping Lights by Big Agnes make worries about the dark while camping a thing of the past. They string merrily inside your tent, have two levels of brightness and a long lasting battery which makes them our new go-to camping tent accessory. It also makes late-night diaper changes or searches for lost pacifiers or lovies all that much easier without needing to scramble for a headlamp and inevitably shining your beam into everybody's faces while trying to be quiet and subtle.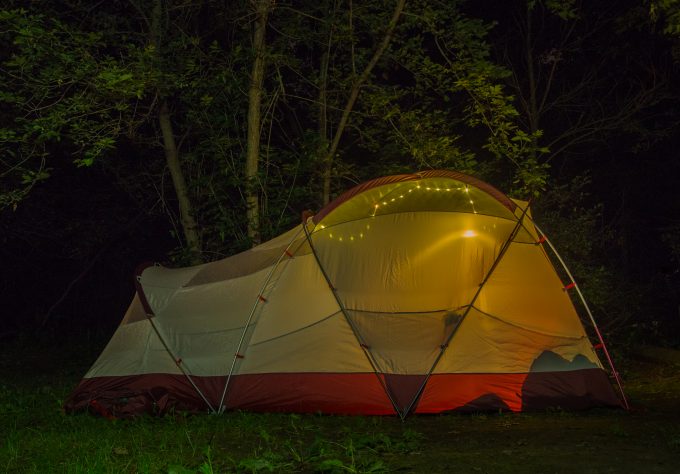 Elementary
Trekking Poles
An elementary-aged student is capable of so much more and should be trusted to do more exploring with longer, more difficult hikes. This past summer, while hiking with nieces and nephews in Glacier National Park who were of the elementary/middle school ages it was amazing to watch them hike that much better when they had at least one trekking pole in hand. I think it must make them feel more daring or cooler or something but we defeated some serious cases of the wines with the simple action of handing kids a trekking pole.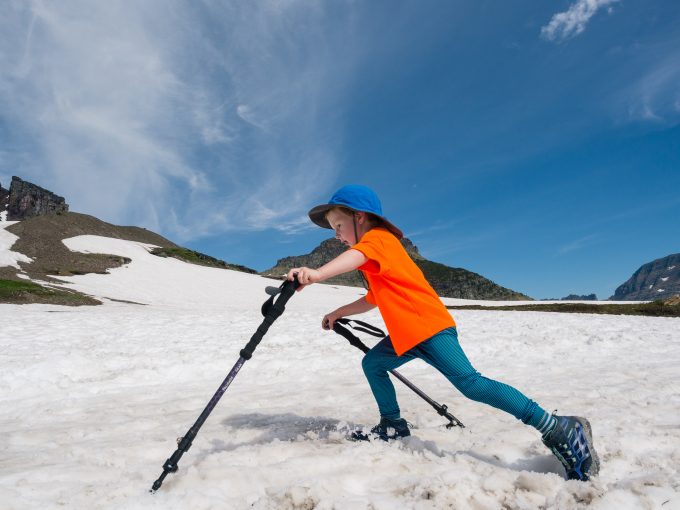 Headlamp
I imagine the days when we'll have a child who is capable of getting out of the tent all on their own in the dead of a chilly night and go pee. A headlamp gives them the freedom and the opportunity to do just that. Also, headlamps are just plain fun to mess around with at a sleep over!
Knife
One of the magical things about camping is the skillset and tools that kids learn how to utilize that they wouldn't normally get in a more urban setting. Handing a child a saw, a knife, or an axe is scary but necessary for their education into becoming a functioning member of society with a unique and broad set of skills. Trusting them to be cautious and responsible with a pocket knife is just one small way to help a child know that they are growing up.