Often times it is fear that takes the lead in our decision making process. Sometimes the fears are legitimate, others are irrational but in the end fear, uncertainty, lack of confidence, and lack of support will lead to missed opportunities. I have succumbed to a fear of backpacking with kids for the last 2.5 years. This is embarrassing to admit out loud but, I haven't gone backpacking in 4 years. FOUR YEARS! For four years I haven't gotten to do my favorite outdoor activity. And why? Fear. I was pregnant, we had a newborn, there was a missile test (seriously), I was pregnant again, the weather didn't look good enough, we had another newborn. It seems like I became the queen of excuses, full of reasons not to do it. Finally, at long last we went on a backpacking trip. It was short, it was sweet, it was difficult, and it was amazing!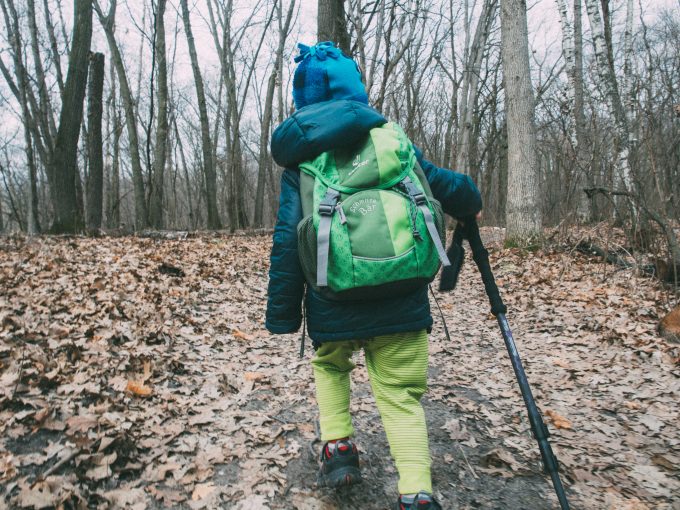 The last time I went backpacking we had just begun the process of trying for our first baby. Four long years later and we have two beautiful children, Jack (2.5 years old) and Rowan (5 months). This backpacking trip was the shortest we've ever done. We walked a whole 0.8 miles to our beautiful campsite in Lake Maria State Park! It took us 38 minutes. Jack walked the entire distance himself, with his backpack, and his trusty trekking pole!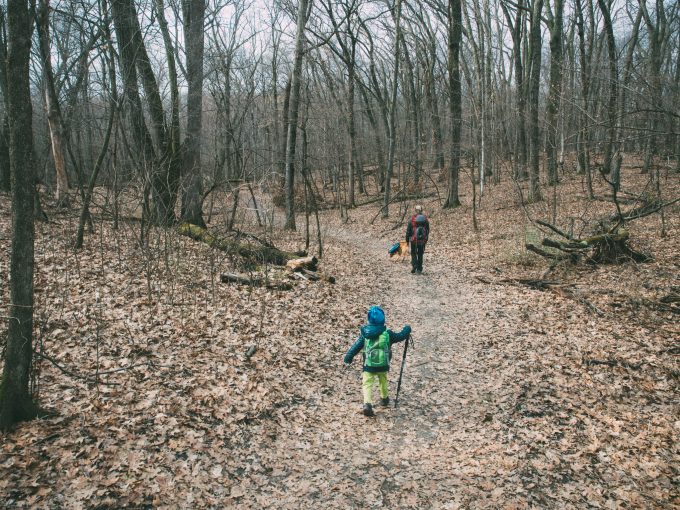 He helped me pack his backpack before we left to go "backpack hiking" (as he calls it). Inside there was a lightweight book, a car, a tiny teddy bear, and a Larabar (Jack's favorite snack). We made it lightweight enough where it was zero burden to him and would be zero burden to us when he would inevitably tire of it and ask us to carry it for him. Jack loves his "packpack" and often asks for it whether we're hiking or not! I wasn't surprised though that in the morning, after sleeping in the tent and exploring for hours he had zero desire to put his pack back on.
Rowan was on my front in my new LILLEBaby Airflow that I am completely obsessed with! I seriously adore this carrier, after having tried what feels like dozens of carriers I have found one that is truly comfortable for me! The lumbar support in the back, the attention to detail, the functionality of it, the breathability, it's all just so amazing! I really can't speak highly enough of this wonderful carrier!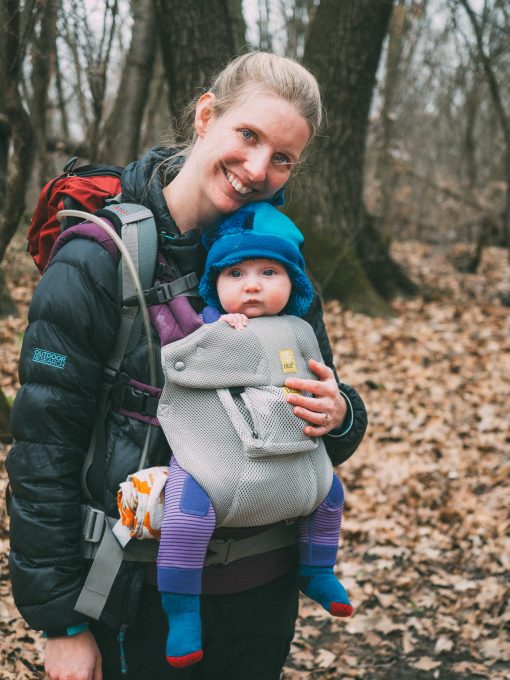 It was my first time wearing a baby in the front and a full-sized pack on my back. It's tricky to do but still doable. It was hard for me to get my hipbelt on my pack tight enough to take the weight of the pack off my shoulders so I'll have to work on it. We are dreaming of creating a front carrier that can simply link into the backpack so two hipbelts aren't necessary, one day!
We each carried a 65 liter pack and definitely had room to spare when just packing for an overnight. Bobby carried most of our gear in his pack (tent, sleep systems, first aid kit, additional layers, stove, utensils, and emergency supplies) while I carried food, extra water, headlamp, emergency blanket, and the raingear. Usually your biggest weight concern during a backpacking trip is food. For an overnight where we only needed to worry about dinner and breakfast our food weight was minimal. We did have the extra weight of bottles and formula for Rowan, who is bottle fed.
Check out our packing list for this trip
The trails in this small state park are wide, with lots of ruts, and mud to cross. But, it is well signed and I can only imagine how picturesque (and buggy) this park must be in the summertime after leafout!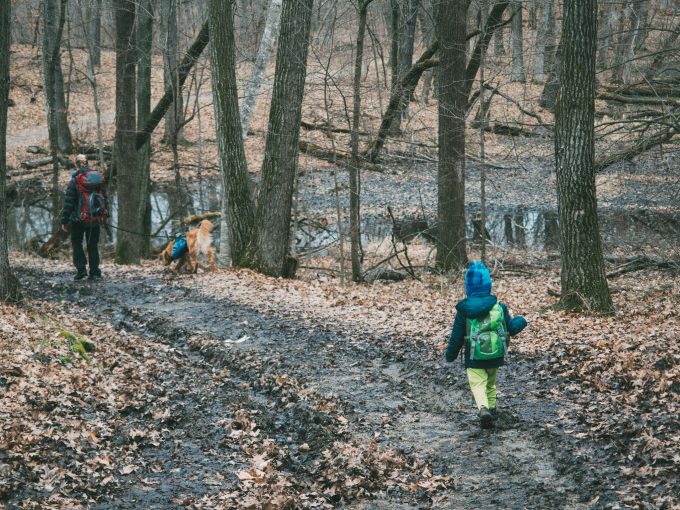 Lake Maria is a relatively small state park at only 1,756 acres but it has 17 backpacking sites, 2 group campsites, and 3 camper cabins that you have to hike in to. All sites must be reserved ahead of time either by phone or online. There is an $8.50 reservation fee, however, if you are reserving the site the same day there is no reservation fee. This is the perfect park for families looking to take their first backpacking trip together. The short distance makes it a great destination for a trial run or a quick overnight. A test run will help you work through the kinks, figure out logistics and gear, and give you the confidence you may need to tackle a longer trek.
Each campsite is equipped with a picnic table, a fire ring (why would you carry firewood in?), a tent pad, and a latrine. We chose site B2 after consulting Campsite Reports which stated that though it was near to a road the noise wasn't bothersome, the road wasn't in view, and the peninsula the site is situated on makes it the most picturesque in the park. That site was so right! It was gorgeous! We quickly noticed that a beaver had definitely been in the area recently and soon found its nearby dam. We got an evening and morning show from the beaver family as they swam around and got to hear the unique sound of their tail slaps.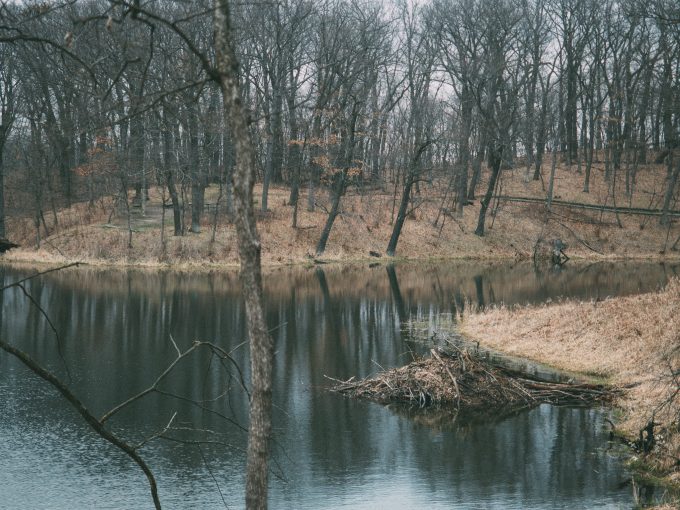 When planning meals for a backpacking trip I do love the ease of rehydrating a pre-made meal, especially when trekking with children and needing meals to be fast, easy, and tasty. Every season we buy a big variety box of Mountain House meals to have handy for trips. We're excited because they just introduced two new Tex-mex inspired meals: the Chicken Fajita Bowl and Spicy Southwest Breakfast Hash. We tried out these new flavors on our backpacking trip to see if they are good enough to be added to our normal backpacking meal rotation.
For dinner we had the Chicken Fajita Bowls and ate them out of tortilla shells. I had also brought along a peanut butter and jelly sandwich for Jack, as he is a picky eater and we had never tried that variety before. He happily ate a couple of bites from the tortilla before he declared that he was ready for his sandwich. We liked the new flavor and will definitely have it again, it's a nice addition to the Mountain House menu. As with all dehydrated meals, make sure you stir them up really well and let them cook long enough. Ours could've used a little more cooking time than we allotted for.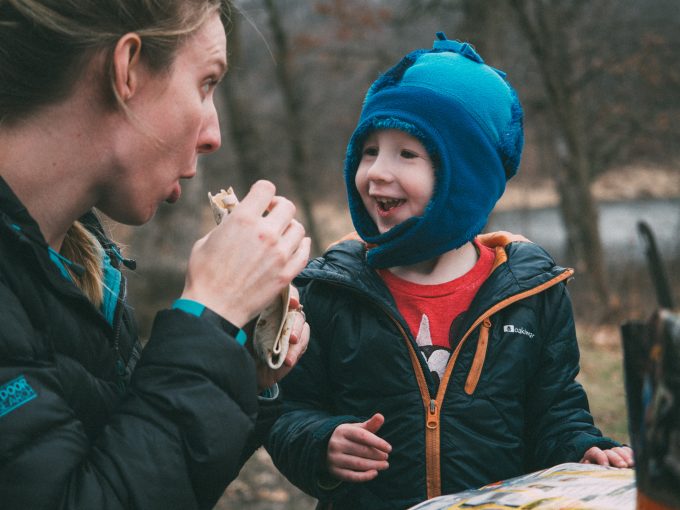 For breakfast the next day, we enjoyed the delicious new Spicy Southwest Breakfast Hash! We again filled tortillas and were easily able to split the bag between the two of us and actually had some leftover because the meals were so hearty. Had Jack been willing to try something new in the morning there would have definitely been enough for all three of us. As it happened Jack chose to eat his favorite Larabars and an apple for breakfast instead.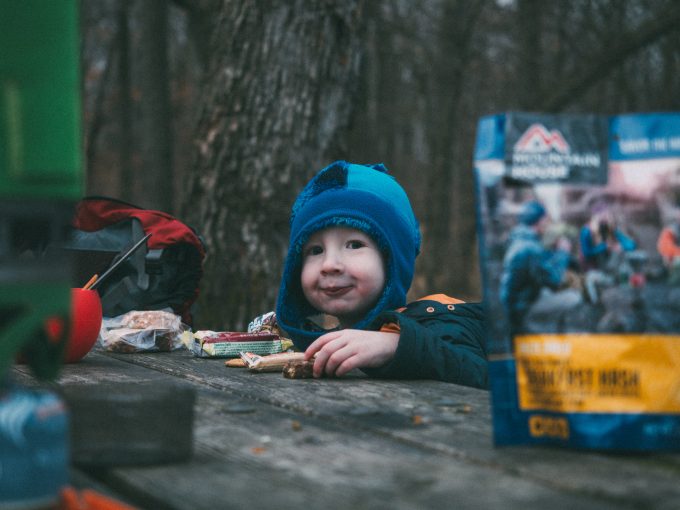 The breakfast did have a ton of flavor and a nice kick to it that helped us wake up after what seemed like almost no sleep at all… We began the night on three Exped Syn Mat Hyperlite MW sleeping pads. At one pound these mats are great not only for their compact pack size and weight, but the fact that they are wider than normal sleeping pads which means you can easily fit small children on them next to you. We tested this theory when our golden retriever popped one of the sleeping pads at 10:00 p.m. and we had to cram all 4 of us onto two pads. It was a chilly night so the close quarters just helped keep us warm and we all did fit!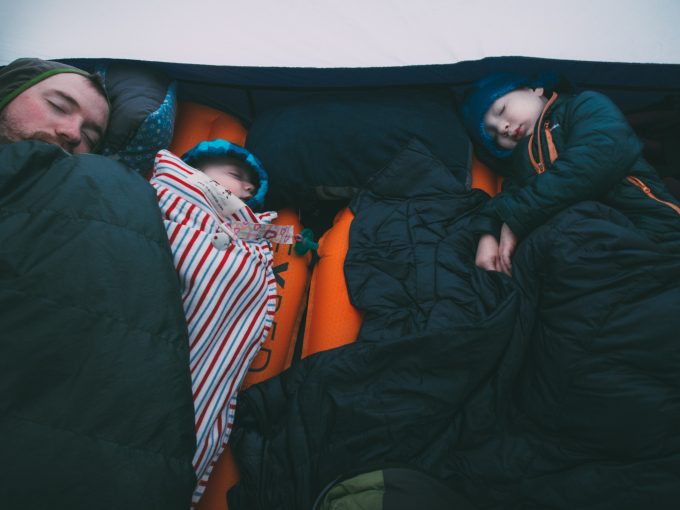 Sleeping when camping with kids is never an easy task. I think we all switched places at least twice, Jack refused to sleep until the sun set and kept waking his sister with his tent shenanigans. Rowan was up smiling and cooing for sections of the night for no apparent reason, although she was probably a little too warm in all her layers… Layering is the key to successful body temperature control. And we definitely made sure to do that with both kiddos on this trip as it got into the low 40s at night. They were both in Wee Woolie base layers, Smartwool socks, fleece PJs, and then Rowan had a Columbia bunting, and a Merino Kids Sleep Sack on. Jack had his Oakiwear down jacket, fleece hat, and his down blanket from Costco for bedding. Both kids were plenty warm throughout the night.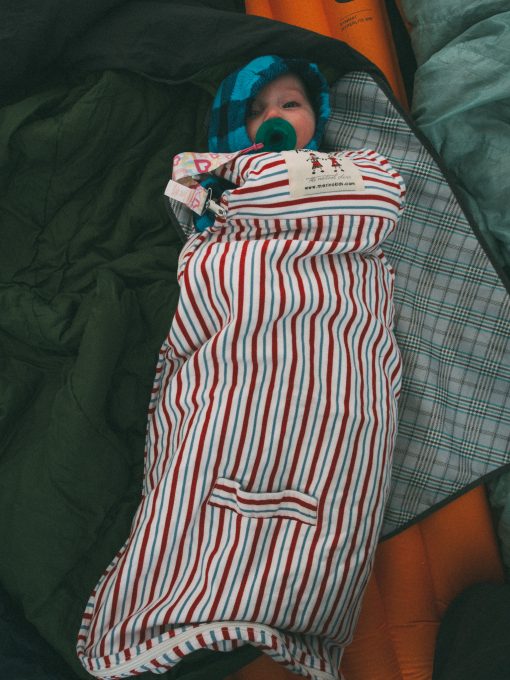 Despite the lack of sleep for us parents it was so wonderful to get out and have a night in a tent with our two kiddos by our sides. This was Rowan's first camping trip and honestly, looking back, it was a great time for all of us. We got to enjoy a solid 14 hours of tantrum-free time with Jack, who only lost it as we were telling him it was time to get in the truck. It got us excited about all the trips to come this summer and all the fun these two crazy siblings will have as they go through life together.