Throughout this winter season in the beautiful Cascade Mountains, venturing out on many hiking/snowshoe outings, it has become clear to us that the most important piece of gear to bring with us are the Outdoor Research Crocodile Gaiters that we purchased at the beginning of the season. While a pricier option than some of the other gaiters out there, we have had no regrets with our decision. We have hiked through the rain, traversed through streams, snowshoed in slush and deep snow and these have proven to be satisfactorily waterproof. It is no surprise to me that this exceptional piece of outdoor adventure gear has averaged a customer review rating of 4.5 stars on Amazon.com and 5 stars on Backcountry.com. According to the product description on backcountry.com the Outdoor Research Crocodile Gaiters, are the "Winner of Backpacker Magazine's 1999 Editor's Choice Gold Award…"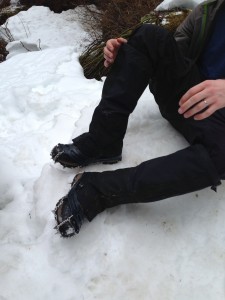 When initially researching the Gaiter options available to us at our local REI store we were at once impressed by the obviously higher-quality materials the Outdoor Research Crocodile Gaiters were made with when compared with some of the other more affordable options. Primarily, we were impressed with the material chosen to create the bottom attachment of the gaiter. Unlike other gaiter bottom attachment instep straps which are made up of varying materials, depending on the brand, like replaceable webbing. The Outdoor Research Crocodile Gaiter bottom attachment instep strap is made with urethane-coated nylon. Since this portion of the gaiter is strapped on the underside of the boot I would only want to get a gaiter with an instep strap that is going to be able to standup to a lot of use and abuse.  And since urethane-coated nylon is often used in other outdoor waterproof gear that need to withstand a great deal of wear and tear, such as tent rain flies or pack covers it seemed like a good, strong choice for the instep strap of a waterproof gaiter.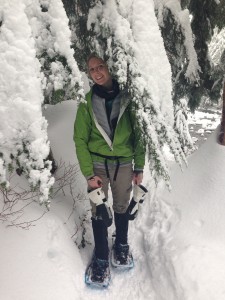 The material that makes up the gaitor is Gore-Tex, a waterproof material that has existed since 1976. I always like investing in a product that comes with a good guarantee and Gore-Tex provides just that. According to the Gore-Tex website they offer a guarantee of satisfaction, "If you are not completely satisfied with the waterproofness, windproofness, or breathability of your GORE-TEX® product, then we will repair it, replace it, or refund your purchase price. No matter which of our trusted customers makes the product, if it has the GORE-TEX® label on it, we have certified that it is durably waterproof, windproof and breathable for its intended use."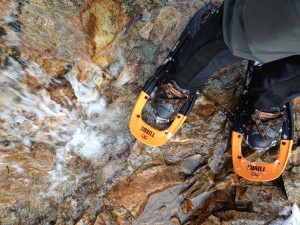 As of yet, this product has yet to let us down. The only negative comment I can think of is that during more taxing hikes the gaiters lack of breathability can become a tad uncomfortable at times. However, I would take mildly sweaty ankles over soaking wet ankles any day!