At 6.25 miles and 1350 feet in elevation gain, Lake 22 seemed a beautiful first hike with more than 1,000 feet in elevation gain for us to attempt. We were joined on this incredibly picturesque hike by our friends, Jason and Stacy.
The turnaround point is the climax of the hike, a little more than 2 miles in, where you are greeted by an unbelievable natural wonder. The beautiful Lake 22 sits before you as Mount Pilchuck's north face surrounds 2/3 of the water.
When we went, there was still snow covering up the 1.2 mile trail that circumnavigates the lake, but that didn't stop this quintet from walking it. Be wary that we were walking at the base of avalanche shoots and had the danger been high we wouldn't have done it.
As we walked along, the snow covered trail became angled to such a degree that having a 70 lb dog pulling you along at the end of a 6 foot leash was becoming hazardous. The pups intense enthusiasm was dangerously pulling Bobby down the slippery slope. We decided it would be safest for everyone involved to let Latigo off leash. He was so excited to be off leash he actually started herding us! He would run and jump and roll in the snow, he was having the time of his life. He continued to make us nervous by going awkwardly close to the edge of the lake below us. However, we were always able to call him back. Until, that is, he decided to finally ignore our calls and leapt right into the frigid waters. Because of the angled bank he couldn't get out despite his best efforts. Jason was closest and got to him first. He slid down onto his butt, dug his heels into the snow, grabbed Latigo by the collar and pulled him back up onto the shore. It was incredible and we were very grateful that Jason, himself, didn't fall into the water. After that Latigo got put back onto his leash and we continued along our hike.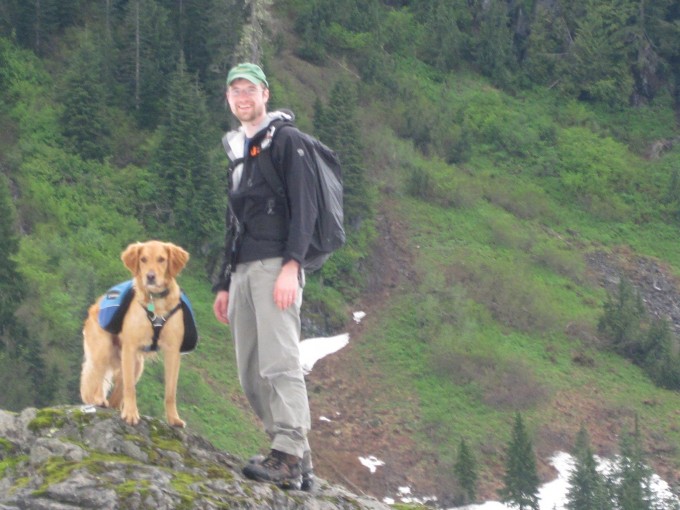 This hike is a popular one and we met many other groups along the trail. I think we picked an excellent time of year to do this. While the trail around Lake 22 was covered in snow, making it difficult to walk on, it also offered a sense of serenity to the already picture perfect landscape that surrounded us. There was still some snow on the trail leading up to the lake, it wasn't much and it was only near the turnaround spot. The length and elevation gain were perfectly proportioned to give us just enough of a challenge that we weren't exhausted but pleasantly tired.