Last week we hiked up to a peak. This week we decided to hit another hike on Bobby's bucket list, Blanca Lake.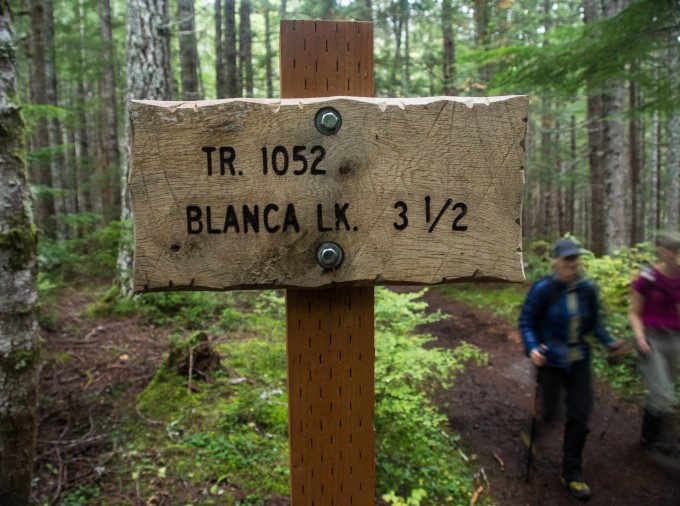 It's a tough trek with over 3000 feet of elevation gain but the spectacular setting you find yourself in after a lot of hard work makes the difficult hike well worth it! We headed out Saturday morning with our friends, Jason and Stacey.
The drive to the trailhead from Seattle is a 2+ hour journey. The access to the trailhead includes a half an hour on gravel roads that were fairly potholed so be sure to keep that in mind when planning your own trip.
The trailhead wasn't too busy, just a few other cars were there and another group was gearing up as we arrived. There is a privy at the trailhead but it was closed. Whether it was closed because it was the end of the season or because of the government shutdown we weren't sure. The hike starts off at 1900 feet and takes you through a forest with little understory growth due to the thick canopy above. Switchbacks and elevation gain are the theme for this hike and it started almost immediately! All told I believe there is something like 37 switchbacks that must be tackled in order to reach your highpoint of the day at 4600 feet.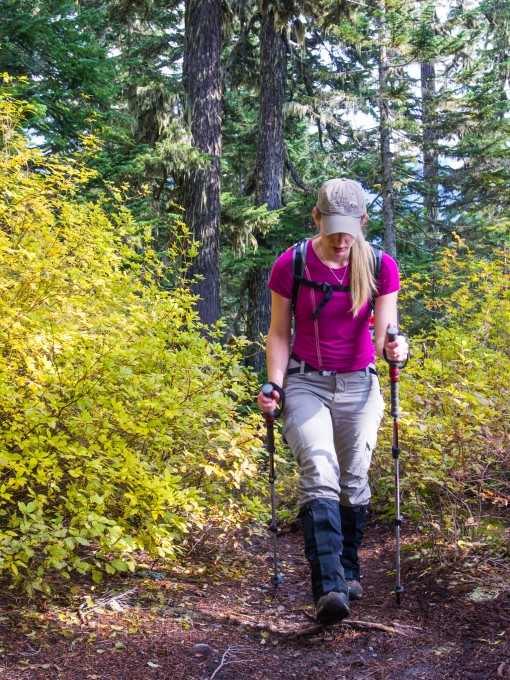 The understory thickened as we ascended the mountain side and we were occasionally rewarded with peekaboo viewpoints scattered along the trail. It was just enough to keep us huffing and puffing our way up, but I did find myself wishing that there was more in the way of views as we made the journey. We hit snowy patches just before our highpoint.
We did bring MicroSpikes along and snow baskets for our trekking poles but didn't need either. We had worn our gaiters because of previous trip reports warnings, we anticipated a soggy trail but we really didn't need them. The snow was only present along a very brief stretch of trail that was easily passed without any extra assistance. The view from the highpoint was wonderful!
Little did I know that the view we would see at the end of the hike would be even more awe-inspiring. I had chosen not to read about, nor look at any of the pictures of this hike before setting off for the day. I wanted to be surprised!
After reaching the highpoint of the day the trail begins to descend. You pass Virgin Lake, a small lake, before continuing to descend a total of 600 feet down for .5 mile over rooty and rough terrain.
You soon find yourself at the endpoint of the day, BLANCA LAKE! I feel that all caps are required to drive home the spectacular sight that BLANCA LAKE provides you!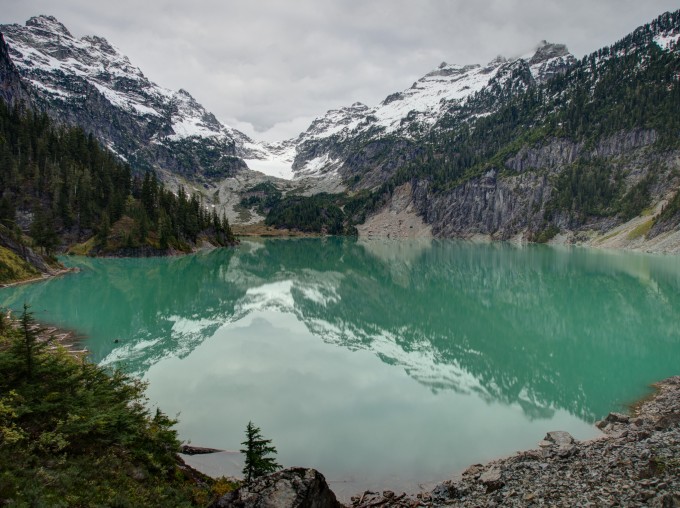 A stunning blue/green lake with a glacier and snowcapped peaks as the back drop. Never in my life have I seen anything as beautiful as the glorious waters of this picture-perfect lake! The tremendous effort you put into this hike is completely worth it for the beauty that awaits you at the end! Supposedly there is a trail that leads around the west side of the lake. We were unable to find it but were more then happy to sit on old driftwood logs and take in the unparalleled beauty around us. We munched on some well earned snacks, snapped some great pictures, and were soon chilled enough to keep moving.
This hike takes you through two wilderness areas! Never before have Bobby and I traveled through two wilderness areas in one day, we were pretty excited! You first pass through the newest wilderness area (created in 2006), The Wild Sky Wilderness.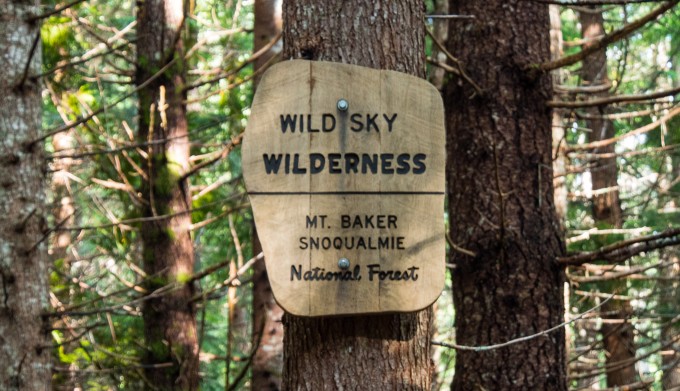 Followed by entering the Henry M. Jackson Wilderness.
Overall I couldn't more highly recommend doing this incredibly scenic hike! Make the effort, push through the pain, and take plenty of time to relax and enjoy the breathtaking beauty of the glorious endpoint at BLANCA LAKE!