When Bobby first posed the idea of camping my immediate and emphatic response was a resounding NO! As I continued to reflect upon the idea of camping it soon hit me that no matter where I am or what I'm doing, at 30 weeks pregnant, I am generally uncomfortable. Sleeping has become a chore even in the comfort of my own bed. So, why not go camping? Camping is one of my all time favorite activities, maybe I'd sleep better in a tent then I was in my own bed!
We left early Saturday morning with Latigo and Beth, a Portuguese Water Dog we were dog sitting for the weekend, and headed for Leavenworth, one of our favorite mountain communities in the Cascades. It takes a little over two hours to get to Leavenworth from Seattle and we arrived just after 10:00 a.m. The town of Leavenworth is known for it's Bavarian theme, Christmas lighting festival, and spectacular Oktoberfest celebrations. Throughout the year there is almost always some sort of activity or event on the weekends to continually draw in the tourists. As we arrived in town we saw that this weekend was no different, the main street of the town was blocked off to accommodate the May Day celebration that was going to occur. There was a choir from a college in Puyallup performing at the town center under the large gazebo, a parade that was to occur at noon, a may pole dance was scheduled after the parade, and there were several bounce houses and a rock climbing wall for the kiddos to enjoy between the main activities.
We had arrived pretty early so we were able to find a parking spot on the street not too far away from the town center. There is ample parking in Leavenworth but if you arrive too late you'll find yourself paying for the luxury of a spot because the street parking fills up quickly. After the long car ride I needed to stretch out and do some walking. We walked up and down main street a couple of times with our lovely canine companions in tow. The sun shone down and warmed us quickly. I stopped in one of the most popular shops in Leavenworth, Kris Kringle, a two story store filled with Christmas decor. I was hoping to get our baby boy a stocking for his first Christmas. I easily found the perfect one, made my purchase, and headed back out into the sunshine to join Bobby and the dogs.
It was past 11:00 by this point and we stopped to grab some lunch at our favorite purveyor of Bratwursts. The seating is all outdoors, and the little stand is open year round. The dogs gratefully took up shaded spots under the table while we munched on the delicious brats, soft pretzel, and freshly squeezed lemonade. As we left the little establishment people were already eagerly lining the main street in anticipation of the parade that would begin shortly. We found a nice spot under a large tree and I settled in with the dogs while Bobby went to get us some delicious ice cream for dessert!
The parade began at noon and it was absolutely wonderful!
After the parade I was in desperate need of a nap. We headed out of town and down to Icicle Canyon, a rock climbing and camping mecca situated just outside of town. We found a perfect spot at Lower Johnny Creek Campground and began the process of setting up camp.
Johnny Creek Campground is beautifully situated on the Icicle Creek, it has a lower and upper campground that offer 56 single sites and 9 double sites. The fee for the lower campground for a single site was $19. There was running water, a dumpster, and pit toilets that were well cared for by the friendly campground hosts, who live at the upper campground. The sites had fairly good screening and were well maintained. The site we chose had obviously been raked clean that day and the fire pit wasn't too full of ashes. The picnic table was immovable but clean and sturdy.
I soon learned that I was pretty much useless in helping Bobby. I laid like a slug on top of the picnic table in the site while Bobby set about getting the camp prepared. I tried to get up at one point to help him and he scolded me and told me to lay back down. I have suffered from pretty bad back pain throughout the pregnancy and laying flat on my back is one of the few things that makes me feel better.
Bobby soon had the tent up, the ridiculously large queen sized air mattress inflated and the mountain of pillows I had brought along all set up for me to take an afternoon nap in. We tried at first, leaving the rainfly off the tent in order to enjoy the sunshine, but the sun was really hot and we were boiling. Bobby put the rainfly on and I was soon fast asleep.
After a wonderfully refreshing nap we went exploring down by Icicle Creek, our campsite was situated just above it. We stopped for some baby bump shots!
Bobby also found a sweet downed log that he couldn't resist climbing on!
Our evening was spent reading in the campsite and playing with the dogs.
As the sun set the temperature dropped dramatically and we were soon donning all the layers we had brought along with us. Sadly, with all the base layers I had on, my puffy jacket wouldn't zip up over my belly! Bobby valiantly offered me his and he said he would take mine. Who knew mine would look so feminine on him!
After a dinner of noodle salad, baked beans, watermelon, and chocolate chip cookies, Bobby took the dogs for an evening constitutional while I laid down in the tent. He came back with harrowing tales of encountering a strange looking rabbit, getting lost among a maze of forest roads that eventually had him trespassing on private property, and encountering a black bear! Thankfully the bear didn't bother him, even though Latigo really wanted to play with him!
I did my nightly yoga and physical therapy that helps make my back feel better before bed, while Bobby returned to the creek to get additional shots of the water at twilight.
We settled in for what would be a long cold night in the Cascades. I awoke early, stiff from head to toe and ready to get moving. We decided to pack camp and head for the hike we had chosen before leaving home. We drove the 1/2 hour or so to nearby Lake Wenatchee, where there is a short, 2 mile hike, Hidden Lake Trail.  There was a privy at the trailhead but it looked like it hadn't been maintained in quite awhile. There was no toilet paper and the small garbage receptacle was overflowing with stinky, rotten garbage. We were there so early we found ourselves completely alone. We let the dogs enjoy the trail free of their leashes and they went nuts!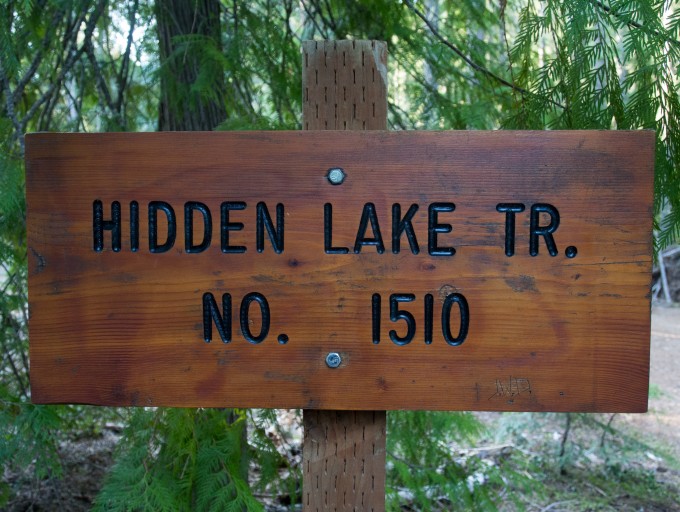 The trail had a gentle, meandering feel to it, with little elevation gain. There were a couple of blowdowns, but they were easily traversed over and there wasn't any water or mud on the trail. It was only slightly rocky and never challenging for me to do at 7 months pregnant!
There were a few scattered wildflowers near the trailhead and we learned, upon returning home that the one we had found was somewhat of a rare orchid, the Calypso.
We reached Hidden Lake after almost a mile and Latigo immediately dove into the cold waters.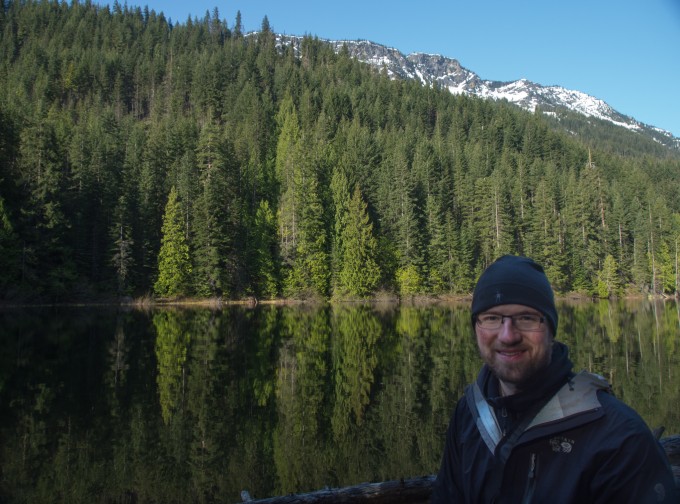 Having leashed the dogs, because we encountered another hiker, we headed back to the car. As we were about to pull out of the lot the other hiker we had seen at the lake emerged from the trail and flagged us down. He requested a ride back to his nearby campsite. After clearing out space for him the backseat we went on our way to the Glacier View Campground that is located at the very south end of Lake Wenatchee. The campground was free to use because it wasn't yet officially open and several campers had made their homes there for the night. We said our farewells to the beret-clad hiker and went on our way, beginning the long drive back to Seattle.
Overall, it was a wonderful weekend, relaxing yet fun enough to completely tire me out! I'm so glad I didn't let my pregnancy woes keep me from enjoying a great weekend in the sun! I am also incredibly grateful for a kind, caring, and understanding husband who took such great and tender care of me all weekend long!