Last week, we compiled a list of the 7 Best Frozen Waterfalls within 90 minutes of the Twin Cities. We have only been to one so far, but all 7 are on our bucket list for this winter. This weekend we checked off two more from the list.
The weather was looking somewhat warm this past Sunday so we decided to drive the hour and fifteen minutes south to Mankato, MN where Minnemishinona and Minneopa Falls are located. We visited Minnemishinona Falls first. At 42 feet this waterfall is an impressive sight, especially in winter time. However, the site itself is tiny and you sort of feel like you're trespassing as you park in the postage stamp parking lot. Up until 2007 you would've been trespassing as the land was privately held until that time, when it was sold to the county. The falls are located just 150 feet from the parking area and can be viewed from a large bridge.
The falls were so close to our parked truck that we didn't bother putting either kiddo in a carrier, nor did we put on our microspikes for traction. The bridge was snow and ice covered but the sidewalk leading up to it was clear. Jack had a great time climbing on the rocks around the parking and and small picnic area. No other facilities are available at this park.
Our time at Minnemishinona Falls was spent mostly in the truck feeding Rowan and we were soon on our way to the second waterfall on our list, Minneopa Falls, a breathtaking two-step falls located within Minneopa State Park. It's located on the other side of the Minnesota River from Minnemishinona Falls. When we first arrived at the parking area area it was completely empty. As we were about to make the short walk to the falls another car had pulled in, and by the time we were loading up to leave, about an hour later, there were at least a dozen cars. This is definitely a popular spot to view a truly remarkable sight! The park does have a restroom building that was closed for the winter along with a large picnic area and pavilion.
We were surprised by how much running water there was at the falls and the sound of the rushing water beneath the ice was tantalizing to listen to. Jack enjoyed the smaller, upper falls more because there were, "BUBBLES!"
There are some dodgy, ice and snow covered stairs that lead hikers down into the river valley. Signs warn of the dangers of walking to the base of the falls, but trekking down isn't prohibited. Just be cautious and aware of the ever-changing conditions of the waterfall area.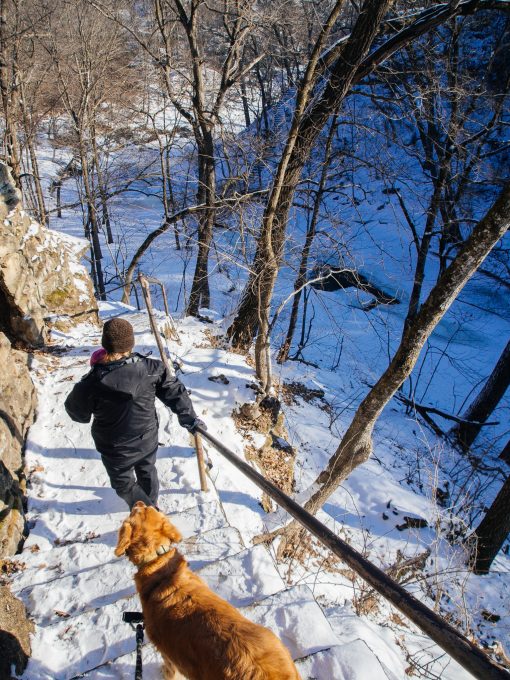 I was grateful for my Microspikes and the rickety handrail to ensure our safety as we trekked down. The trail to the base of the falls is a social trail that occasionally meanders onto the frozen creek. Again, use caution if you chose to venture that way. Be aware of melting and thin ice.
The base of the falls was amazing and so incredibly beautiful to behold. There were small caves carved out of the rock that seemed to capture Jack's imagination much more then the falls themselves. He informed us that bears live in the caves but were, "sleeping and snoring right now". Jack wanted to get down out of his pack and explore on his own two feet but we wouldn't let him. There was open water, ice, and large holes, just too many hazards for us to feel confident in his safety if left to his own explorative spirit.
We met some other hikers while we were exploring and they graciously offered to take a family photo after we had snapped one for them. This was our first family photo when off adventuring so we are very grateful!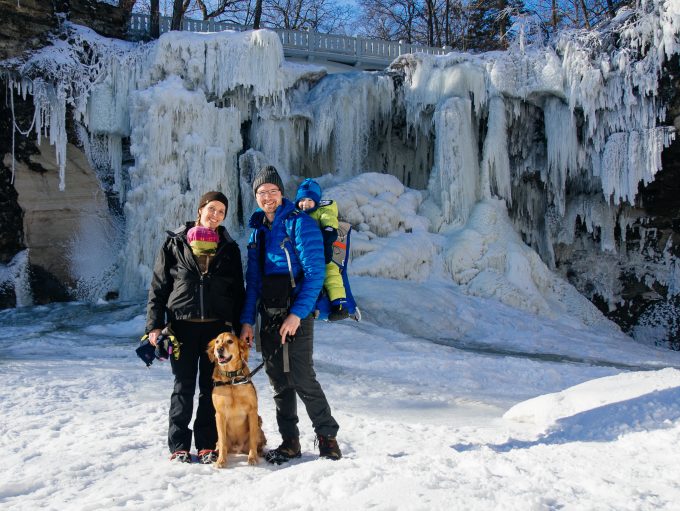 There is a loop trail that is currently closed due to an erosion problem so we returned the way we had come and set off back towards the truck. Once we were back up top we let Jack out of his pack and gave him some much needed exploration time.
Whenever it's time to leave a park it is generally hard to get Jack into the truck. However, with the promise of an exciting drive through a bison pasture Jack was anxious to load up! This park seriously has a road you can drive on that takes you through a pasture filled with bison! We didn't have a chance to drive the whole road as Rowan was screaming her head off and clearly needed to eat. But, we did get to see the herd before turning around and heading out.
We definitely spent more time in the truck than we did outside on this particular day of adventuring, but we saw a lot! We explored an area of our state we had never visited before, saw two beautiful frozen waterfalls, a herd of buffalo, and got to enjoy some rare winter sunshine and warmer temps! Having a babe in the winter makes us eternally grateful for the occasional warmer day!