On October 25th we welcomed our daughter, Rowan Margaret, into our family. We could not have been more excited to have her join our family. Unfortunately, my postpartum recovery took much longer then anticipated. Physically I was fine within a couple of weeks, mentally was a whole other issue. I was struggling in every respect. I was convinced that it was simply my hormones trying to balance out after having given birth. Bobby was convinced something else was going on, and held my hand while taking me to see my midwife and discuss the possibility of Postpartum Depression and Anxiety. I was put on meds that day for anxiety and referred to a therapist who specializes in Perinatal and Reproductive Mood and Anxiety Disorders.
At the height of my anxiety I couldn't see how to get through a single hour of a day with two children. The idea of gearing up and heading out on an adventure was beyond my comprehension. I was paralyzed by my anxieties.
I would say that, for me, the hardest part of PPD was my complete loss of confidence. I felt like I had no clue how to be a mother, a wife, a partner, a daughter, a friend, a sister, a human being, and most importantly, myself. I was completely lost, confused, and terrified. Terrified by the intrusive thoughts, by my complete lack of control, by the overwhelming feeling of helplessness that had consumed me. I felt that I should know my daughter better. I felt that I should've been able to anticipate her, know exactly what she needed, prevent her from crying, help her sleep better at night. In short, I forgot that she was an infant and that all these issues are synonymous with a newborn. I blamed myself for every little thing that wasn't going right.
Tears flowed daily. Often while driving to and from my parents house where I spent every single day because I was terrified to be alone with my own children. I cried while driving there, ashamed that I wasn't able to care for them by myself. I cried while leaving there, terrified at the prospect of arriving home too early, before Bobby was done with work and having to deal with them on my own and sad to be leaving the immeasurable comfort of my parents home.
Weeks and weeks of living in a fog, surviving hour to hour and holding back buckets of tears things began to slowly change. A combination of meds, wonderful conversations with my sisters, mother, friends, husband, and therapist, not to mention loads and loads of sleep (thanks to Bobby who took on nighttime duty with Rowan) I finally started to feel more like myself.
It has been a family tradition that we hike on New Years Day for the last 5 years. Neither Bobby or myself had even mentioned the possibility of a hike thinking it would be too cold or that the idea of it would completely overwhelm me. Much to my surprise I was excited at the prospect of taking the kids, BOTH of them, out on a hike. Bobby was definitely surprised when I asked where we would go hiking, but happily found a great location for us.
He chose Nerstrand Big Woods State Park as our destination. With a little over an hour drive to the park, we had a full day ahead of us which meant a lot of planning and preparation on my part. Rowan doesn't nurse. She's what they call a "Lazy Eater". So, I pump for her and she drinks bottles. To make things more complicated, she requires her bottles to be warm or she doesn't take them well. Warming a bottle while on the go can be tricky but we've worked out a pretty sweet system. I boil water before leaving home and then, depending upon the length of our outing I fill a thermos. If Rowan will only need to eat once while we're out and about I pack our soup thermos. This is the perfect size for a one time use and heats bottles nicely. If going out for an extended period of time, knowing Rowan will require multiple bottles while we're out I fill our large thermos with boiling water before leaving home and then fill the cap of the thermos with water and put the bottle in.
Preparing for a hike with kids along is always a little tricky at the trailhead. Having a busy toddler, a newborn, and sub-zero temperatures and things get a whole lot more interesting. Bobby took the task of wrangling Jack while I dealt with Rowan. Bobby got Jack layered up in the bed of the truck while I fed Rowan and then got her changed and layered using the center console of our Ford F150.
I normally frown on people who have big trucks idling in parking lots, but we left the truck on to keep our baby girl nice and warm as we prepared her for the hike. Soon enough she was bundled up and ready to go on her first big hike.
Before we had left home I had prepped Jack for the plan of the day. I asked him if he would want to walk himself or ride in his Osprey Poco carrier and he got really excited at the prospect of riding in his pack. He hasn't ridden in his pack in months, always wanting to walk and do things by himself. When we arrived at the park we were sure he would change his mind, but to our surprise he insisted on riding in his pack!
Finding the trail took a little bit of doing but once we were on it we were amazed to see how well-trodden the path was. The trail was also completely covered in a sheet of ice. We found ourselves very grateful that Jack was in the pack because there was no way he could've walked successfully on his own with that sheer sheet of ice coating everything. Bobby and I both had MicroSpikes which made our trek very easy.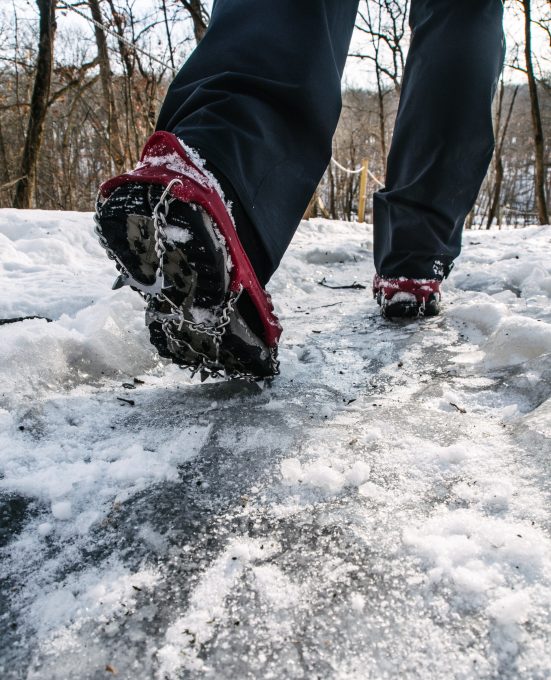 When babywearing on trails it's really important to feel confident in yourself and your equipment. Having good traction devices in the winter is a must. Trekking poles would've made it even safer, but we forgot ours at home…
Most of the trail follows the Prairie Creek. It was exciting to ask Jack what he was hearing as we walked along. As we got closer and closer to the waterfall his excitement grew as the sound of rushing water increased in intensity. After a short .5 mile walk we arrived at the partially frozen Hidden Falls.
Despite the iciness Jack wanted to get out of the pack and explore. He was cautious when moving and didn't mind holding hands when needed (thankfully!). There was some exposed water and the ice was clearly thin in spots so I was anxious about having him explore too much on his own.
This park has a great system of trails that allows you to chose the length of your adventure by adding on sections of trails. We had originally planned for a longer hike but Jack wanted to stay and play at the falls for longer than we had anticipated.
We trekked over the frozen concrete blocks that make a small bridge over the river up above the falls to explore the other side of the falls a bit.
While Jack and Bobby explored the base of the falls Rowan and I checked things out top side!
Lunch time was approaching and Rowan would be needing a bottle soon so we decided to head back to the truck and look for some lunch in Northfield. One of our favorite places to lunch with kids is Culvers. It's very clean, the food is pretty good, and the reward of ice cream after a trek is great for all members of an adventure group!
This day couldn't really have gone better. The weather, the kids, and even the adults cooperated. It did so many amazing things for my heart and soul. Getting outside has always been a way that I have revitalized myself and having a baby at the beginning of a long MN winter has definitely made getting outside a lot trickier. I am grateful we had this opportunity to get out and will be holding on to the memories made and sunshine absorbed as we endure another cold snap here in the land of 10,000 lakes. Hopefully, the weather will break again soon and we'll get out some more!