Lots of snowfall in the Cascades made for some pretty high avalanche dangers this weekend. So, we decided to make the longer trek over the mountain pass and into the more arid areas of Eastern Washington. We decided to make a weekend of our adventure seeing as we were looking at a 3+ hour drive for a hike that was free of snow and a bit warmer. Finding a spot that was open and had camping available was a little tricky, but Bobby succeeded in finding the perfect spot. Potholes State Park is a popular destination for boaters, with over 6,000-feet of freshwater shoreline located on the Potholes Reservoir.
Seeing as it was a little chilly this weekend, temperatures never got over 40 degrees, we were the only tent campers among the 61 available tent sites the park has. There was one conversion van camper located in one of the 60 utility hookup sites a little ways away. There was a set of pit toilets open in the tent campground and the ADA bathrooms and showers were open, heated, and lit at night. It was the first time in a long time that we would be camping in an area that had actual restrooms available! The water taps in the campground had been shut off so we were glad we had prepared ahead of time by filling our 7-gallon Aquatainer before leaving home.
We chose a campsite near the open bathrooms and went about setting up camp. Being 19 weeks pregnant, sleeping has already become difficult for me with lots of back pain, so I had been apprehensive about camping… Bobby had listened to my concerns and packed our Eddie Bauer queen sized air mattress to give me some extra comfort while sleeping in a tent! Camping while pregnant you can definitely bring along some extra luxuries without feeling too guilty!
It just fit in our Kelty Two-Person tent that we reserve for our car camping trips. We had also brought along a ridiculous number of pillows and extra blankets. Ah the luxuries of car camping!
After setting up camp we ventured off on a short walk around the small (640 acre) state park. We found a short loop trail and did some exploring.
We had bought two bundles of firewood at a grocery store before reaching the park, and were glad we did. We didn't see any sign that it was sold at the park. We huddled around the fire and read as the sun set. We grilled brats for dinner as the temperature continued to drop.
We turned in early due to the cold as the embers of our fire began to die down. We read aloud to one another as we huddled in our sleeping bags and found comfortable positions for the night. We stayed surprisingly warm in the temperatures that reached below freezing. Latigo got cold in the night and began to pace, I covered him with half of my blanket and he settled down nicely. However, waking up cold myself a little bit later I realized that he had somehow managed to take my whole blanket from me! What a blanket hog!
We awoke before the sun was up and we heard the sound of what we thought was rain pattering against the tent. I emerged from the tent to find that it was actually a light snowfall. The heated bathroom was a godsend on that cold morning! Bobby got a fire going while I boiled water for oatmeal and cocoa. We ate as the sun rose.
We packed camp and headed to the hike we had chosen before leaving home that was about an hour from the park. We chose to hike the North Slope of the White Bluffs. Located along the Columbia River and within a National Wildlife Refuge it was a deserted spot with little elevation gain and lots of critters to encounter along the trail. We saw Canadian Geese, along with many other species of birds that we were unable to identify, and we encountered a small herd of mule deer. Latigo's nose was definitely in over drive during this hike! We had the trail completely to ourselves, it's been awhile since we haven't encountered other hikers along a trail. Coyotes live in the area and we are pretty sure that we were privy to hearing them call back and forth to one another throughout the morning.
The beautiful desert landscape around us was enchanting despite the dormancy of the plant life due to the winter temperatures.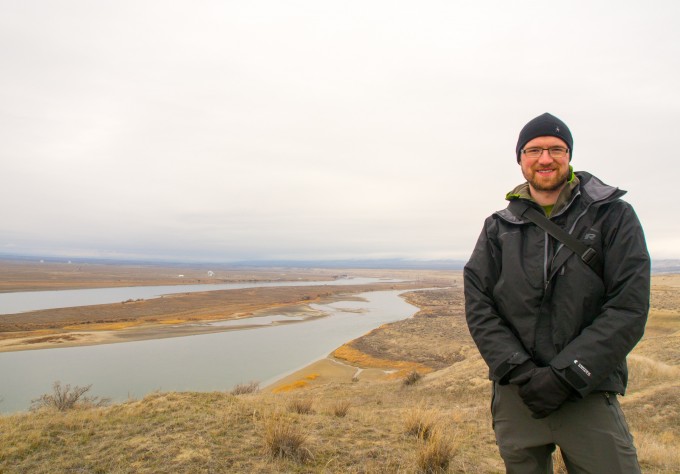 We would love to return to this spot in spring and bear witness to the flowers that must bedazzle the cream and orange cliffs.
This area has a veritable maze of trails that you can follow. Most are in such disrepair that we can only assume that they are mostly wildlife trails. However, even the trail that we are fairly certain was the proper hiking trail had no signage and wasn't in the greatest shape and was sometimes difficult to follow because of the sandy ground cover. Finding the trail initially was difficult as the directions from the Washington Trails Association website weren't the greatest. We parked down by the boat launch, as the instructions indicated we should. We ended up walking back up along the road for about 1/4 of a mile before we finally saw any evidence of a trail. When driving into the area there is a small horseshoe shaped turn off on the right with some room to park your car. That is where you should park seeing as the trail leads directly away from it.
We headed up and hiked about 2.5 miles in along the top of the ridge before turning around.
We followed a trail that took us down closer to the water for our trek back.
We had thought it would be fun to walk along what looked like the sandy shores of the beaches along the river. When we got down, however, we discovered that the beaches were part sand but mostly clay and the sticky goo we were in, sucked at our shoes and had us sinking in. We quickly ventured back to more solid ground near the base of the cliffs. The damage had been done and our boots, and Latigo's paws, were weighted down with muddy clay.
We followed trails that disappeared and reappeared with regularity all the way back to the car.
Overall this was a perfect hike that got us safely away from the dangers of avalanches. Also, you can make it as long or as short as you like which I always like!
Potholes State Park at EveryTrail