Our first ever trip into the Boundary Waters Canoe Area Wilderness (BWCA) was back in 2016 over the long 4th of July weekend. We had idyllic weather with a sandy beach campsite and spent the weekend swimming, paddling, and having a blast.
Since that first eden-esque trip we have made it a family tradition to head into the BWCA every 4th of July. This past year the weather definitely didn't cooperate and we learned many invaluable lessons while out.
As we put in at the popular Lake One public boat launch we enjoyed sun and warm weather. Rowan instantly had many admirers and wowed many with the fact that this was not her first visit to this pristine wilderness area. This was her third trip into the most visited wilderness area in the nation.
In many ways though, this felt like her first trip to us as parents. Last summer, she was a babe in arms. We had a designated duffer who's only job was to sit in the canoe with her. She learned to crawl while on our 2017 4th of July trip to Clearwater Lake but hadn't been in since our long 6 day traverse along a 50-mile section of the Voyageur Highway route last summer. Now she's a walking, busy, daring toddler who often doesn't follow directions and has a strong will and a scream to match.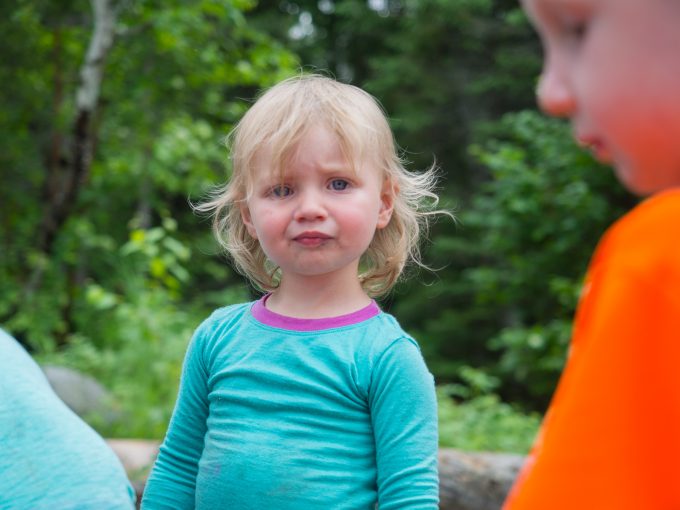 We had no duffer for her on this trip. Grandma and Grandpa were along but they were in their own canoe. We still haven't installed the 4th seat on our Northstar Northwind 20 canoe so we brought out our trusty Ikea stool for her to sit on. We were filled with worry about her and this trip, I had stuffed my lifejacket pockets full with dumdum suckers, smartees, and her favorite chocolate brownie cliff bars. She had her tiny paddle, (courtesy of Grandpa Mike) a water bottle by her side, and a small pouch of toys.
After tossing her tiny paddle in the water multiple times and me missing it once and needing to backtrack to get it we tethered it to the boat with some rope. After another attempted tossing of the paddle, foiled by the rope, she quickly lost interest in her paddle and moved on to wanting snacks. She amazed me with her willingness to sit on her stool, leaning over the edge of the canoe to submerse her hands into the water, and awkwardly roamed around the back of the boat. She occassionally attempted to sit in my lap, leaving Bobby the arduous task of attempting to steer our beast of a canoe from the bow of the boat.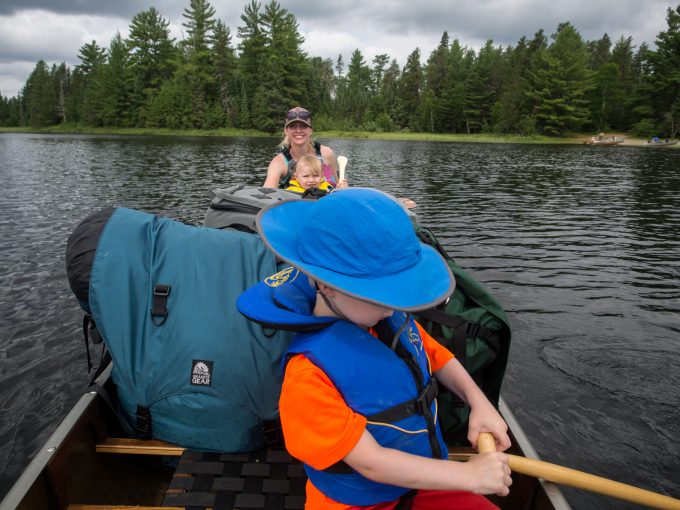 It was remarkable how much Jack and Rowan could throw off the balance of the boat when they would both lean over the edge on the same side! Bobby and I would both alter our positions in the boat appropriately when they would shift to counteract any possible tipping situations.
By far the highlight of the paddle in was watching a mama duck and her many ducklings on the side of a rock.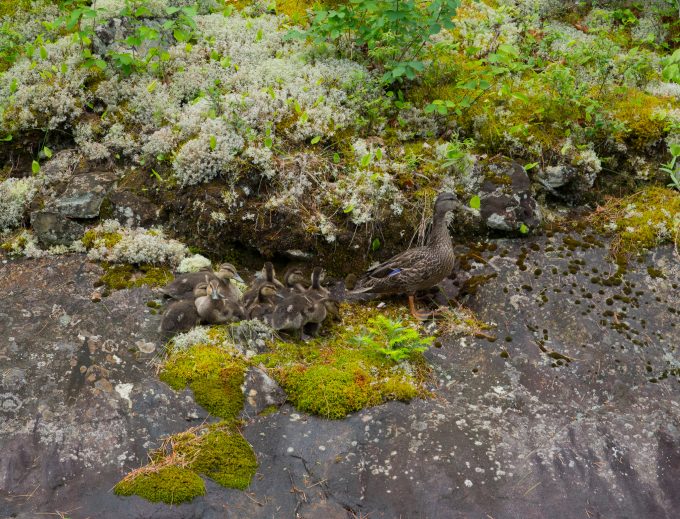 We opted for the first campsite on Lake One, it was available and Rowan was reaching the end of her patience with the boat, after about an hour on the water. We had taken our time, meandering along and paddling against the wind.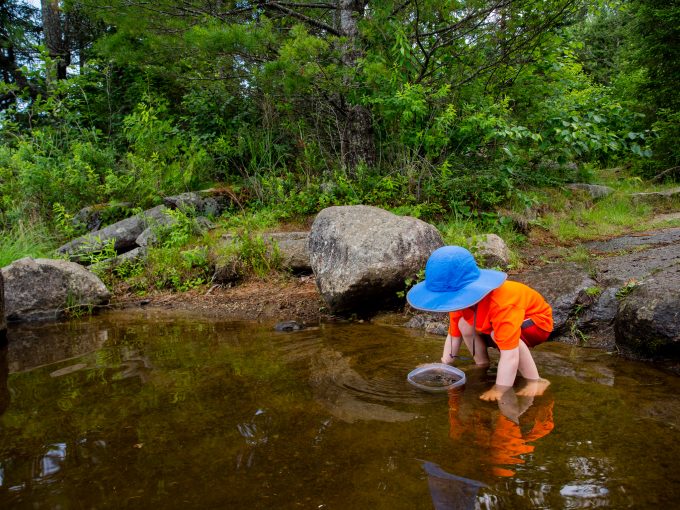 The campsite was large, with a good bit of shoreline and water access for the kids to play. There had been large storm fronts in the area the day before and the long trek to the privy was made longer by the muddy, rocky trail.
Our day in camp was spent pleasantly eating lunch, napping, playing in the water, playing with rope, looking through binoculars, and having wonderful quality time with Grandma and Grandpa.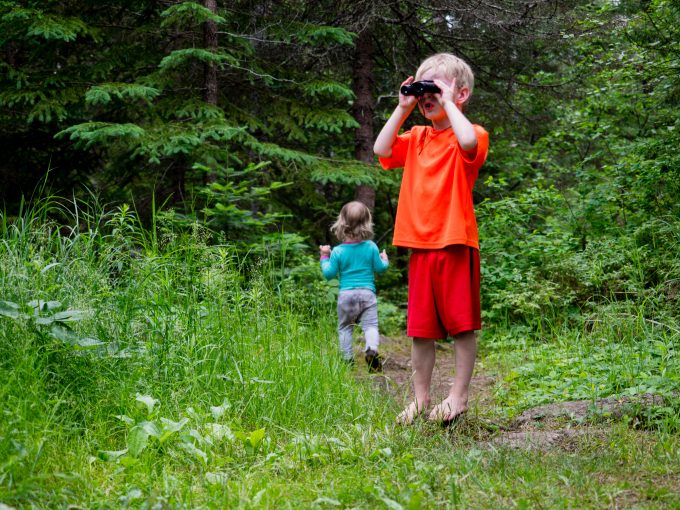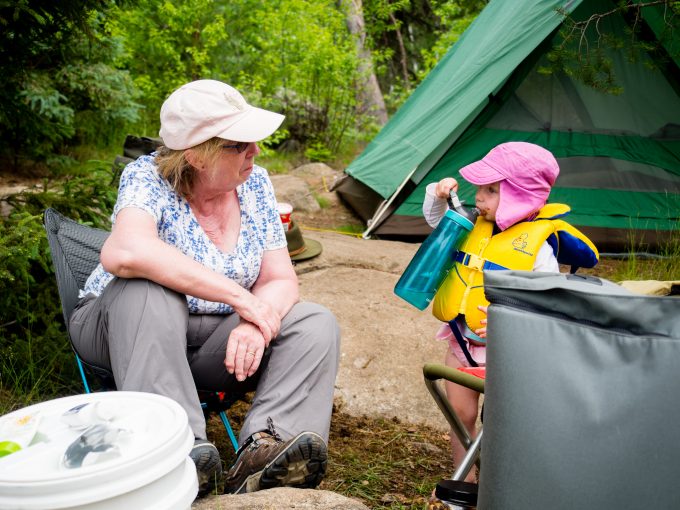 We made a meal of rice and beans and flautas with sour cream, cheese, and salsa as toppings. I buy pre-made flautas at Costco, freeze before leaving and then cook them over the fire using a Fry Bake pan. We had to have our traditional, and much loved, 'smores for dessert. We realized it would be Rowan's first-ever 'smore! She immediately ditched the graham cracker and marshmallow (by pawning them off on Grandma) and went straight for the Hershey's chocolate in the center.
Following dinner the kiddos both opted for skinny dipping in the lake. I love encouraging this as it is a good opportunity for babies in diapers to get a break from a sweaty, inevitably, dirt-filled diaper. Rashes can happen quickly when out in the woods for multiple days so when a water source is available I encourage naked swim time to allow a good cleanse of private areas. Bobby soon noticed something on Jack's toe that he assumed was a pebble but it was actually a very small leech. I am terrified of leeches so, while keeping my distance and attempting to stay calm, I hollered out that it was no big deal and all we needed to do was pour some salt on it (thank you Cradle to Canoe for teaching me that trick!). Grandpa still had his salt shaker handy from dinner and the leech was soon off. By managing to stay calm and all of us treating the situation lightly Jack thought the whole ordeal was silly and quickly forgot about it. Just a good reminder to always have some salt on you!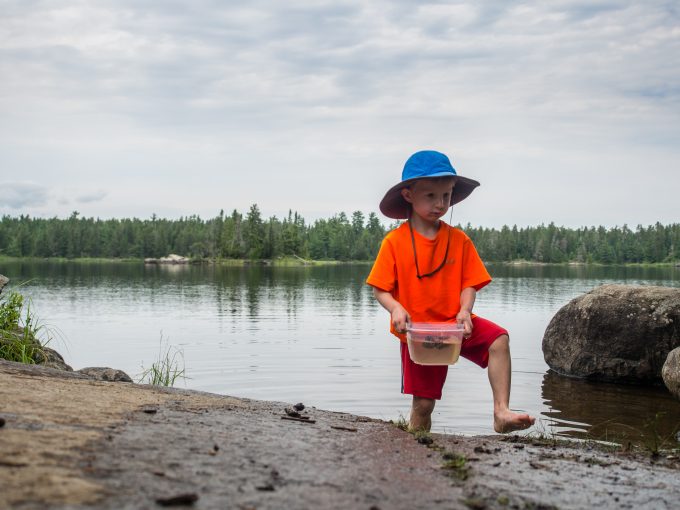 It was soon that dreaded time of day, time to hang the bear bag. Jack loves to help and we all struggle and muddle through the difficult and frustrating task of lifting our over-packed and heavy food and smellable bags the required 12 feet off the ground. It took a couple of hours, several different ropes, multiple angles, and oddly very few bug bites to finally find success.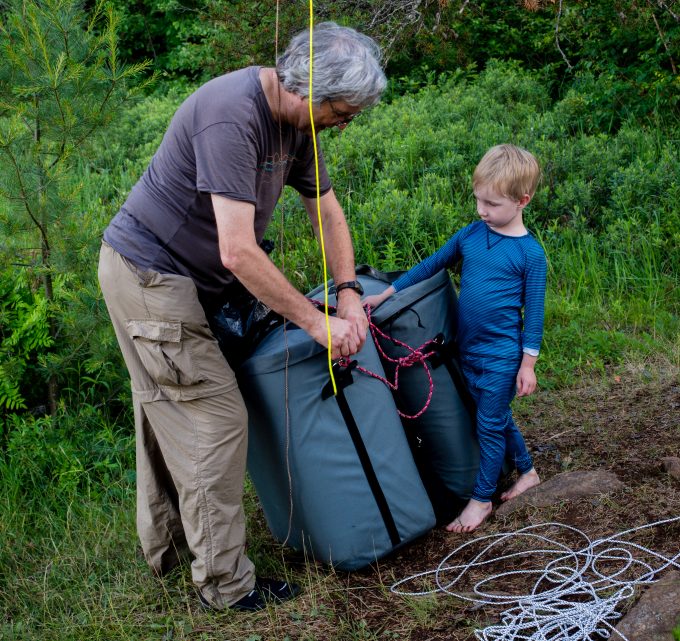 Bedtime was shockingly easy and soon enough both kiddos were fast asleep. We were fortified and looking forward to the next three days of our trip.
The following morning was beautiful, like only a new day celebrated in the northwoods of Minnesota can be. We ate breakfast sandwiches while listening to the occasional Loon call. Jack and Rowan enjoyed their first tastes of Grandpa's favorite camping beverage, Tang!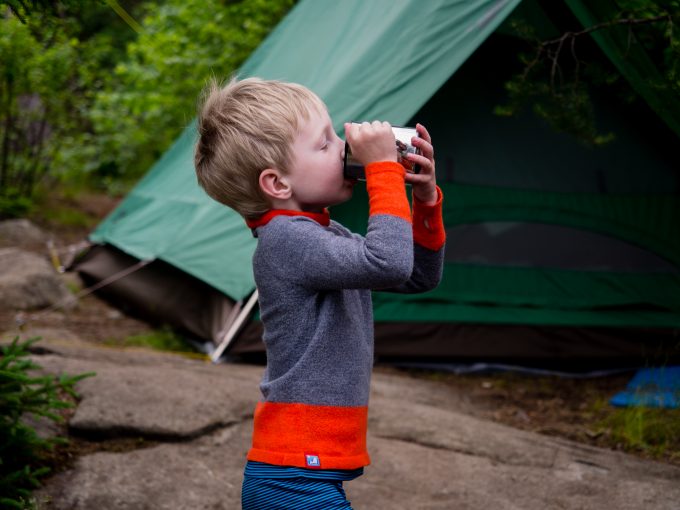 Then it started to rain. We moved all stray items of gear into our 12×12 Nemo Bugout screen tent ready to wait it out. We knew, heading into this trip, that the weather forecasts were dicey at best. We agreed as a group to give it a go but if things turned sour we would pack it in. The rain was soft and steady at first and the kids enjoyed the coloring and activity books I had brought along (Because of the weather forecast I had packed more toys than normal knowing they may be necessary as we waited for storms to pass). We also played cars and toys and kept waiting. The rain steadily increased in intensity and soon we were working at preventing the rain from coming into our floorless shelter. As we waited and waited the kids became antsy. I was hesitant to let them play in the rain because I knew getting them clean and dry would be difficult if the weather continued to be poor. I pulled out the emergency tablets and they were soon watching some of their favorite shows that I had downloaded from Netflix before leaving home. Rowan got fussy and eventually fell asleep in my arms, something that hasn't happened in almost a year. We laid her down and began digging out lunch.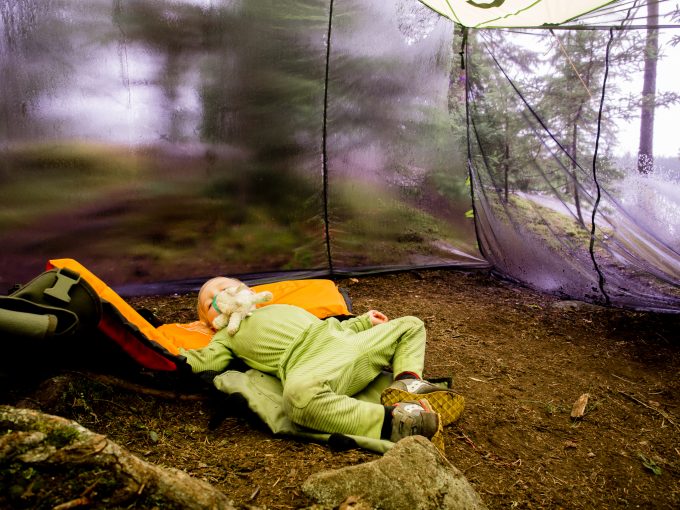 The rain began to downpour and the noise of it was so intense that Jack could no longer hear his movie. We had eaten lunch at this point and I decided to bring Jack to our tent for a nap, leaving Rowan asleep atop our PFDs. Jack fell asleep quickly lulled by the rain and the exhaustion from a late bedtime the previous night's bear-bag-hanging-antics had caused. I lay awake working crosswords and began to watch as the water level around our tent continued to rise. I left Jack sleeping and reported to Bobby that there was a solid 2 inches of water around our whole tent.
This is when we began to wonder and worry. The sky was full on cloudy with no break in sight. I made the trek to the privy to check the small trail's conditions. Most of it was underwater and required some rock-hopping techniques. I slipped and almost fell. I knew Grandma would have a hard time making it back to the privy should she require it. I reported conditions back to the main camp and after much debate we agreed we should pack up and head out. We were only a couple of miles from our put-in so the paddle out would be miserable, but not long. Our tents were heavy from the rain and we let the kids splash and play in the giant puddle that had become our campsite as we worked furiously to get packed up as fast as possible. I had bundled them up in base layers, wool, winter coats, and rainsuits as they giggled away in the seemingly endless deluge of rain.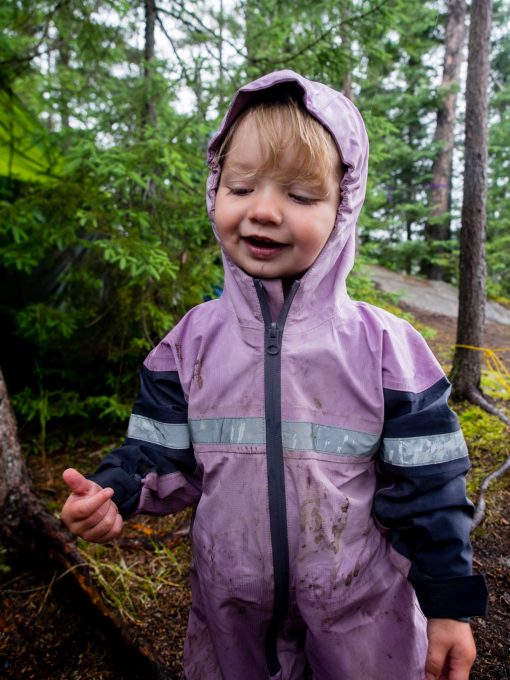 The paddle out in wind and rain was, of course, made more exciting by missing our turn and traveling too far. We had all hidden our phones away because of the rain and nobody had thought to keep one handy for GPS usage. We were able to easily dig one out and were soon on the right way out.
By the time we were reaching the end of our 45 minute paddle Jack was providing us with a continuous chorus of "I'm chilly. I'm chilly. I'm chilly…." Rowan was surprisingly cooperative as long as she had the correct flavor of DumDum in her mouth at all times.
I changed the kids out of their wet clothes in the bed of our truck and found that they had completely soaked through every single layer they were wearing. I got them into clean, dry clothes and into the cab of the truck with the heat on high. It was a mere 57 degrees and I was definitely concerned about hypothermia. They were soon happily warm and snacking while the truck was loaded and the canoes secured.
Since the weekend had gone completely awry we decided not to let it get us down and managed to snag two rooms at the Grand Ely Lodge and enjoyed a fun, relaxing long weekend. But, that's a tale for another post.