The past two days here have been extraordinarily lazy for us! Saturday morning we woke up to rain and more strong winds. The beach and both pools were completely deserted. It was as if there was nobody at the resort. We hunkered down in our room and watched some TV. The sun decided to make an appearance after lunch so we went for a dip in the main pool and hung out in the sun for awhile. In the afternoon we boarded a very full bus to go on the Catamaran Cruise.
The Catamaran Cruise is included in your stay and sails every Saturday and Wednesday. Reservations are required, and I highly recommend that you make any required reservations as quickly as possible because activities and restaurants fill up fast! The bus ride took us back into the town center of Ocho Rios to a rundown hotel called the "Sea Side" where the boat was docked. Normally the boat comes to the dock at Couples but because of the wind alternate plans were made for safety. Seeing this broken down hotel made us immensely grateful for our beautiful resort!
There were 66 people on the giant sailboat and plenty of Rum Punch to go around. I even partook in a glass and found it refreshing and tasty! I limited myself to only one glass unlike the majority of the other cruisers who seemed to have an endless thirst. Loud nineties music was blasted from speakers on the boat and we sailed head on into the waves.
We were lucky to be far enough back where we were only occasionally sprinkled from the waves. Those at the very front of the boat were not as lucky and soon found themselves completely drenched! They took it in good spirits and laughter and squeals of delight echoed from our boat. It was amazing to watch the crew of the boat carry trays of drinks and hop around hoisting and lowering the sail as needed while we struggled to even stand while the boat was in motion.
We sailed for about an hour and then went into a cove, anchored, and were given a half an hour to swim. Because of my fear of marine life and because it was so windy I was cold without being wet I didn't feel a need to jump in. Bobby boldly did and treaded water for about ten minutes.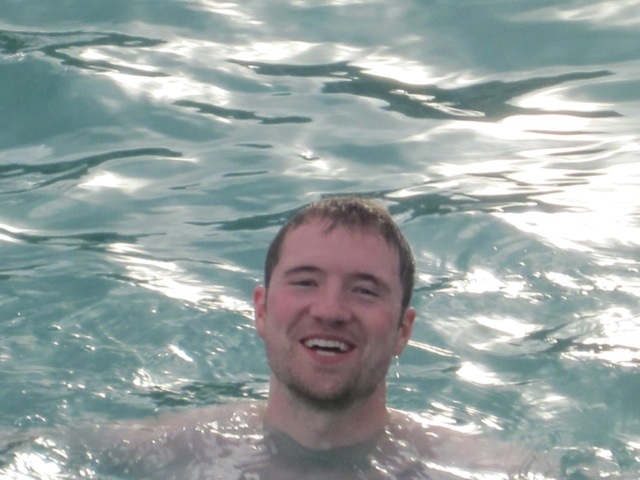 They had a number of life jackets and noodles for people to use to simply float about (The water was about 14 feet deep where we were). They were all gone by the time Bobby decided to leap in. On the ride back to the dock the crew got the whole boat up and dancing, laughing, and smiling. Overall the experience was wonderful, memorable, and exciting! We tipped our hosts and headed back to the resort.
Saturday nights at the resort is one of two theme nights. On Saturday all restaurants are closed except for the buffet, where it is larger than normal boasting a large selection of international cuisine. The options ranged from Chicken Tikka Masala to Spaghetti to Sushi and everything in the middle. At first I was rather disheartened when the usual spot for desserts was taken up by a selection of sushi and desserts were nowhere to be seen. I asked a nearby couple if they knew where the desserts might be hiding and they informed me that the desserts were given their own room at the nearby poolside grill. Bobby and I trekked over there and a wondrous sight greeted us! A whole room of desserts with a giant ice sculpture as its center piece! I felt giddy. Bobby gave me the honor of filling up a plate with everything and anything that looked delicious and we split what was on it!
Bobby had been developing a cold over the last couple of days and tonight it hit his body hard. He was exhausted so after our delectable desserts we headed back up to the room and he was asleep before 9:00.
On Sunday we woke up with no idea of what we were going to do! Because of the early hour Bobby had gone to bed the previous night we were up earlier than normal and decided to participate in the Dunn's River Falls excursion that is included in your package. The bus departs at 9:00 a.m. so we had just enough time for a quick breakfast and a stop at the resorts gift shop where I purchased the most styling pair of shoes around, Water Shoes!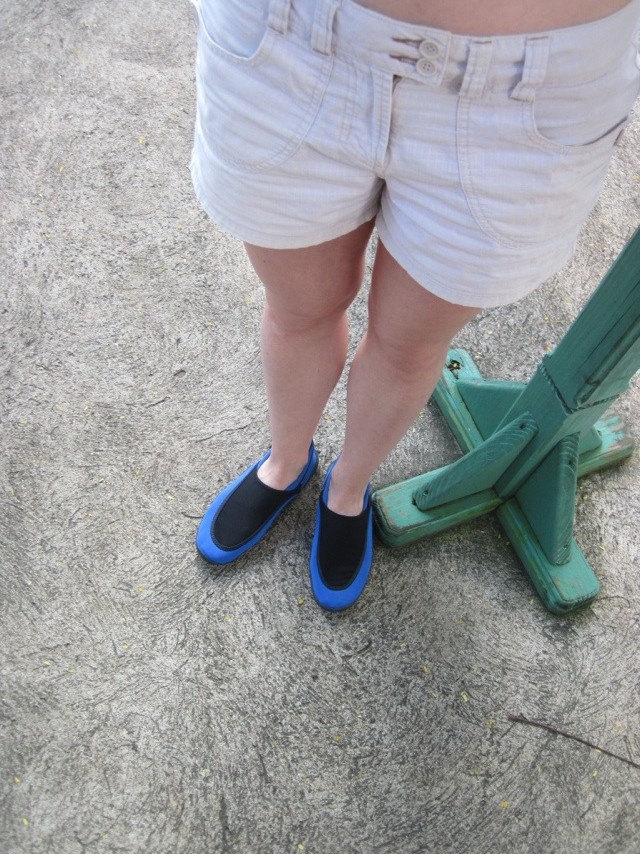 We had been told by several other couples who had already experienced Dunn's River Falls and various staff members that these shoes were invaluable while climbing the falls. We had been told that you could rent them for $5 along the way but, honestly, the idea of rental shoes where people aren't wearing socks, freaks me out! So we bought a pair for $15. Bobby decided that his Chacos would suffice in the climb. I was foolish and only packed my backless Chacos that do not stay on my feet well.
We boarded a bus, met our kind guides and found ourselves at the base of 900 feet of cascading falls. These falls are world famous and have been featured in several films (Cocktail and a James Bond movie).
You form a human chain with your companions holding hands. They make sure that all men are holding on to their own wives and another man's wife. The going is not nearly as treacherous as we expected. The rocks had a surprising amount of grip on them and weren't at all slimy! Thankfully we had a waterproof camera along that a guide took and shot many photos of us!
They also had a "professional" photographer taking photos that you could then purchase and a videographer that you could buy a DVD from for a mere $40! The videographer was amazing and kept everyone's energy up throughout the whole climb! I don't know if I have every said "Ya Man!" so many times in such a short time period as I did during the climb! Overall, the staff were outstandingly helpful, fun, and energetic and we showed our appreciation with a large tip at the end!
After the climb you can exit straight out and go to the bus or you can journey through a small craft market. We were immediately set upon by merchants trying to lure us to there shops. We went to the market and bought a beautiful conch, something we had been looking to acquire on this trip. He originally wanted $20 for it, which I said was far too much and was able to talk him down to a mere $8! Bobby was so proud of my bartering abilities!
That evening we had reservations at the Bayside Restaurant, the Asian restaurant at the resort. It is incredibly picturesque being set directly above the water in thatched covered huts! The appetizers, soup, and salad were all delicious. Sadly, our main course of Pad Thai was bitterly disappointing with very little flavor. We were challenged with eating the whole meal with chopsticks and I think we did fairly well considering! They do offer you utensils but we decided to live dangerously! It was another early evening for us, as Bobby's cold had him feeling pretty miserable. Although, before turning in we did stop at the Piano Bar where there are historical photographs of the original owners of the resort with their celebrity guests in the 1950s. Celebrity guests included Louis Armstrong, Debbie Reynolds, and Walt Disney (just to name a few)! We also learned that Couples Tower Isle was the first "All Inclusive Resort".