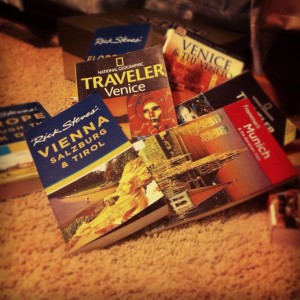 Plane tickets have been bought! Planning has begun for our latest adventure! In August of 2012 we will be crossing the big blue once again and head back into Europe. Our 18 day trip will start as we land at the Munich International Airport. From there we plan on visiting Salzburg, Berchtessgaden, Fussen, the Dolomites, Venice, Innsbruck, and back to Munich. This trip is vastly different from anything we've done in the past. Rather then spending long periods of time in one location, we will be hopping all about Europe with four being the maximum number of nights we plan on spending in any one location. We also plan on renting a car, an adventure in and of itself, that we are both excited and anxious to experience. Packing light is the theme of this trip and Bobby is busily stalking outdoor suppliers websites for deals on compression sacks, a lightweight stuff-able pack, as well as lightweight and quick drying pants, shirts, and socks. We plan on only bringing our backpacking packs on this trip. I'm even proclaiming that the packs must be 30 pounds or lighter! (We'll see how that goes!) On our trip to France we found ourselves continually overwhelmed by the weight and size of our luggage and have vowed to change our ways!
What are we most excited about for this trip?!?!
Bobby is incredibly excited for what he is calling, "The Adventure of a Lifetime". In this months edition of climbing magazine a reader wrote in to tell the magazine about an incredible mountain guide in the Dolomites, Alberto De Guili. We are planning a two day trip to him where he will guide us up "2 of the most beautiful via ferrata in the Dolomites around Passo Falzarego". When he heard about Bobby's passion for climbing crags he also said he would take Bobby climbing at the local crag! He seems like an incredible person and is highly recommended!



http://www.albertodegiuli.com/ Going with a guide should be pretty amazing and something we've never done before. A bonus to using a guide is that there's no need to bring our own gear! In France we had an incredibly heavy pack filled with climbing gear… It wasn't fun and we're grateful that there won't be needing that here!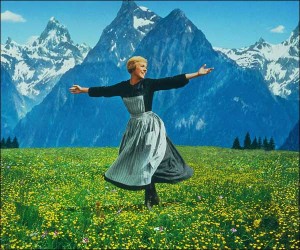 I am most excited about fulfilling a childhood dream, going on the Sound of Music Tour in Salzburg! I know it's a tourist trap and that the movie is incredibly historically inaccurate (as Rick Steve's is quick to point out in his guidebook, what a Debbie Downer!) but as someone who has had a lifelong love of the movie, and someone who makes Bobby suffer through watching it several times a year, I am phenomenally excited!
Booking and planning this trip is proving to be the biggest challenge I have yet to undertake! When I exclaim frustration to Bobby he is always quick to give valuable advice that generally sounds like this, "I'm sure you'll figure something out." He's oh so helpful… Trying to figure out dates, accommodations, tickets, and other reservations out is overwhelming, challenging, and wonderfully fun!
The websites I've found most helpful are:
www.booking.com for hotel reservations. We try to avoid hotels when we can but we find them nice and comfortable for our first and last days of the trip. I like being extremely close to the airport and having no stress. Trying to find our apartment on our first day in Paris was terrifying, overwhelming, and exhausting! Booking.com has great rates and offers many no fee cancelations. I like booking cheap rooms as quickly as possible before rates go up but, I also like the flexibility this site offers.
For stays of three nights or more I use www.homeaway.com Bobby and I are big proponents of renting apartments! The savings are phenomenal when compared to a hotel! Also, the experience itself is so vastly different and more positive it is well worth it. Apartments are, generally off the beaten path, giving you a much more personal and local perspective of where you're staying. The trick for this trip is finding apartments with daily (rather than weekly) rates and parking available!
We used www.tripadvisor.com for the first time to search for airfare after it was recommended to me by my sister and I found it very helpful! We once again discovered that Icelandair had the best prices for our trip! And we are very happy to be flying with them again!
Rick Steves recommended using www.autoeurope.com for car rental and I have found it very helpful. We were initially going to fly out of a different airport from Munich and discovered that the "drop fee" for the rental car at a different location was almost as much as the car rental and so decided to fly in and out of the same airport! A bonus to this site is fully refundable reservations! Which we've already used once (after we discovered the steep fee). A few notes about renting/driving in Europe: You need an International Driving Permit (IDP) for many countries and most of the cars have manual transmissions! International permits can be obtained easily and for a nominal fee of $15 and can be obtained at your local AAA.