Bobby was under the impression that the tourism booths opened at 9:00 in the morning. So, he thought it would be best if we got up a little early and got there close to the opening time to find out if the strike was still going on. After forcing ourselves to get out of bed a little after 8:00 we made our way to the booth and found it closed. Turns out they don't open until 10:00 in the morning…
After looking over our remaining itineraries for Paris we decided to head to the Musee de Orsay, hoping that it would be open. The morning was brisk and sunny, so we decided to walk the mile and a half along the Seine. The walk was pleasant and allowed us views of the many bridges we had yet to see along the Seine.
When we finally made it to the museum we were pleased to see that it was open and there were no strikers to be found! Using our trusty Museum Pass we bypassed the ticket buying line and the regular 8 Euro entrance fee and headed inside! The museum is a converted train station that houses works by Monet, Manet, Van Gogh, Cezanne, Renoir and many others. We had downloaded Rick Steve's audio guide to the Orsay before leaving home and therefor didn't have to pay 6 Euros for the audio guide the museum offers. Rick's guide was informative but sadly a little out of date with directions on where certain paintings could be found. A large portion of the museum is currently under renovation and the paintings have been moved around (this was mentioned in Rick Steve's guidebook). Hunting around for the paintings was, at times, challenging but allowed us to see many works that weren't included in his audio guide. During our time there I came to understand that I really adore impressionist art!
It was soon time for lunch and before I could melt down we made our way to the restaurant inside the museum. It was pricy but the location was perfect for our sore legs, feet, and backs (not to mention the menu was in English and all the waiters/waitresses spoke English well!). The food was better than expected and served promptly! However, it still wasn't worth the price they were charging. After lunch we decided we'd had enough of the museum. We made our way through the gift shop and into the blaring afternoon sun shining over Paris. We got out our itineraries and map to decide what to do with ourselves for the afternoon. Still left on our itineraries were, shopping along the Champs-Elysees, a visit to Montmarte, tour the Louvre, and a day trip to Versailles. We agreed that some shopping and strolling along the Champs-Elysees would be the perfect afternoon activity and it was only a short walk away! To get to Champs-Elysees we had to walk through a large park, the Jardin Des Tuileries. The park was a hopping place where we watched as photo shoots and commercials were being made!
Champs-Elysees was not at all what we were expecting, we both thought that it would be filled with small boutiques and have a personal feel. We were very wrong! Department stores lined the enormous street, many of them were stores we could go to at home (The Gap, H&M, and Nike, just to mention a few). We would learn later that only tourists and the ultra rich who live in that area shop along the Champs-Elysees, which explained a lot! We much prefer strolling along the smaller neighborhood streets of Paris and peering into the windows of the tiny boutiques with interesting and unique items!
However, I must admit we did stop into a medium sized store and I purchased an adorable pink tank top! We were exhausted after our early rise and long walks, so we found the nearest metro and headed to the apartment early! Along the way we picked up more fruit from a small stand for an afternoon snack!
Our day ended with a most wonderful experience! In Rick Steve's guidebook he highly recommended a Deau Chevaux Car Tour, especially their nighttime tour of Paris. Although pricy (90 Euros for an hour plus 10% tip) we decided to give it a try! Our driver/guide picked us up and dropped us off, in the tiny 2CV, directly in front of our apartment, he spoke English impeccably, was charming, and rather good-looking! The tour was very fast paced but it was very fun to see many of the sights we had already visited and those we were planning on seeing.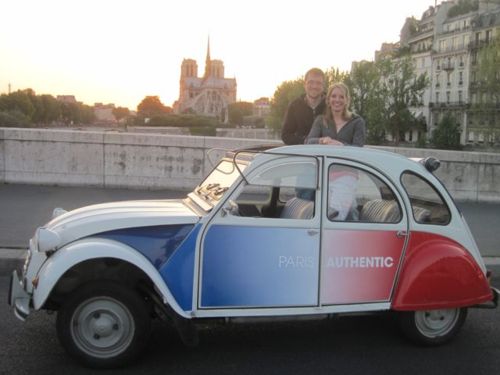 During the tour we often found ourselves wondering if there were any driving ordinances in the city and, if so, how often were they enforced. However, neither one of us ever felt unsafe or in danger during any part of the tour. You can ask them to take you to see specific sights, but we just had him take us wherever he would like. We stopped for photos, which he took, at major sights, discussed the history of the city and sights, and enjoyed pleasant conversation!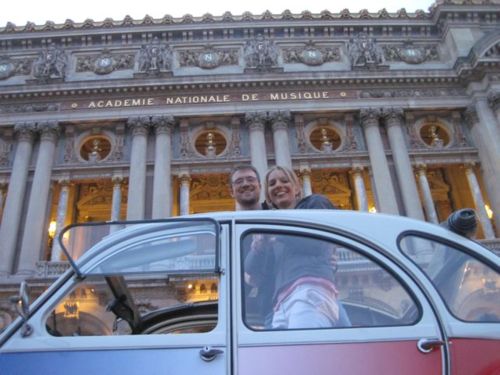 We both agreed that the conversation with a Parisian was a welcome distraction!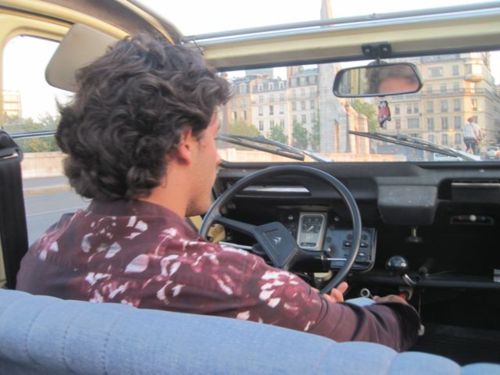 We would both highly recommend this tour to anybody visiting Paris! My only regret was booking the tour for 9:00 p.m. while it was still mostly light outside, if I were to do it again, I would schedule it for later. For more information their website is www.parisauthentic.com.