We have lived in Seattle for 11 months now and in that time we have had several family members make the journey out here for a visit. Spending time with those closest to us in the state that we now call home has been wonderful. It gives us the opportunity to do all the touristy things we don't usually do on a day to day basis. My top ten favorite places to show visitors in this rainy city and surrounding areas are as follows.
The iconic bustling market located in the heart of downtown, a stones throw from the Sound is a must-see! It isn't just the appeal of watching fish being thrown that brings us to the market whenever we have visitors in town. The wonderful thing about this market is that every visit is unique and brings new discoveries and favorite spots! In January we were there with Bobby's parents and his brother and decided to stop for lunch and sample some of the more fishy cuisine. Little did we know that the restaurant we chose, Lowell's, had played host to the stars of Sleepless in Seattle for a scene in the movie. In March during my parents visit we discovered the famed gum wall as well as a local artist stand where my parents purchased a delightful painting of the houseboats on Lake Union. I love to buy fresh bouquets of flowers at the market, the price is always right and the blooms are beautiful! I'm also a big fan of pastries and I have managed to find two separate bakeries that satisfy my desires, whether I'm in the mood for a chocolate croissant or a bavarian cream filled chocolate glazed doughnut! Whether you're searching for a snack, a meal, a souvenir to commemorate your trip, artwork, or groceries you'll find just what you were looking for at the market.
A little personal bias comes to play here. We were REI buffs when we lived in Minnesota and in moving to Seattle, the headquarters of the mecca of outdoor supplies, our love has only increased. It also helps that we live a few short blocks away from the gargantuan flagship store! The plethora of equipment available can be daunting, but, for adventurers like ourselves it makes for a convenient quick stop before heading for the mountains for that last minute gear need. Bringing my 2 year old niece there was especially fun because of the wonderful play place they have on the second floor.
She initially had a great time walking the small track they have for testing out a new pair of shoes and when she realized that there was also a play place it definitely made her day! With a snack shop that serves delicious smoothies steps from the play place it made a nice spot for a good sit and sip as Madeline enjoyed the tree house structure that was well padded making us adults feel confident about the safety of our curly haired wonder! The surrounding grounds of the store could almost be considered a destination in and of itself. The lush forest landscape that engulfs the front of the store has a waterfall and a mountain bike test trail. The small forest oasis found in the heart of a bustling metropolis is a gem.
3. Houseboats on Lake Union
Living in South Lake Union has many advantages, one of which is our close proximity to Lake Union and the communities that float upon it's surface. Being from MN where houseboats are rare, walking around Lake Union and seeing quaint neighborhoods of floating homes on a lake is something that we remember for a long time! My parents were duly intrigued by the homes and greatly enjoyed seeing the varied and innovative architecture.
Bobby's mom is a librarian in Minnesota so when his family visited in January of 2013 a trip to the Seattle Central Library was definitely on the docket for "must-dos"! My expectations were low, how interesting can a library really be I had thought. Sure, the building looks pretty cool from the outside but, the inside can't be that exceptional. How wrong I was! We spent over an hour exploring the remarkable building! One highlight was going to the top floor and being able to look down the ten stories on the first floor from on high. It was incredible! We roamed, enjoying the endless windows and rows of books. I would highly recommend touring the facility, it is a particularly good rainy day activity!
5. Cinerama
I am a movie buff and I greatly enjoy testing out all movie theaters in my area. Cinerama is by far my favorite movie theater of all time!  It has 808 seats and a 30 foot high screen. Snacks aren't outrageously expensive and they offer the unique option of chocolate covered popcorn! The staff are the friendliest movie theater employees I have ever encountered. Because the theater only contains one screen only one movie is shown at a time so they play the audio of the movie in the bathroom allowing you to not miss a beat! If ever visiting the city and you need a break from touring or the rain is pounding down and dampening your spirits head to the theater for a cinematic experience you won't soon forget!
6. Gas Works Park/Fremont Troll
Gas Works Park is maintained by the City of Seattle Parks and Recreation department and offers spectacular views of Lake Union with Downtown Seattle Looming just beyond. It's always windy up on the hill where views are the most spectacular and is a popular kite flying spot. Another highlight of the park is the play area that was once an exhauster-compressor building when the site was home to a plant that converted coal to gas. Now it is a maze of colorful machinery that is a great spot for exploring.
The Fremont Troll is nearby and is worth a quick stop and photo op if you can find a place to park! Can you spot the actual VW Bug in the picture?!?
7. Space Needle/International Fountain/Monorail
While we have never been to the top of the Space Needle, roaming about the base and the surrounding grounds is rather enjoyable! City Center offers a wide variety of activities including a Children's Museum, theaters, a skate park, the Pacific Science Center, and much more.
Frequent fairs and other gatherings are common in the grounds and fun snacks from fair like trucks are usually available! On our last trip in March we discovered a small stand selling chocolate dipped fruit on a stick!
Within the  City Center is the International Fountain where at the top of every hour a choreographed fountain show takes place. During the rest of the hour the fountain is running and on warm days (even on cold days) children and adults alike take pleasure in running through the water or playing games of cat and mouse with the ever-changing spray pattern of the fountain. People watching while munching on a snack is a great way to take a respite from the rigors of sightseeing!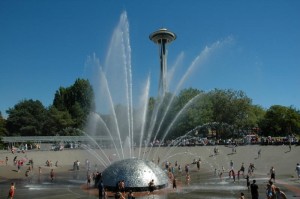 The monorail leaves from City Center every ten minutes and the ride into the heart of downtown Seattle takes about two minutes. It's a fun and quick ride!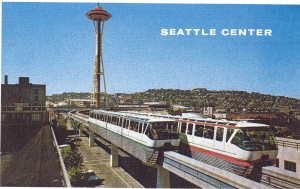 This large and really fun zoo is conveniently located just a few miles from our house. The variety of animals and expansive grounds make it a great destination for the day! While there for more than six hours with my two young nieces and two young cousins in October of 2012 we didn't even come close to seeing all the animals. My niece, Madeline, is especially fond of hippos so much of our time was spent watching, the surprisingly active hippos!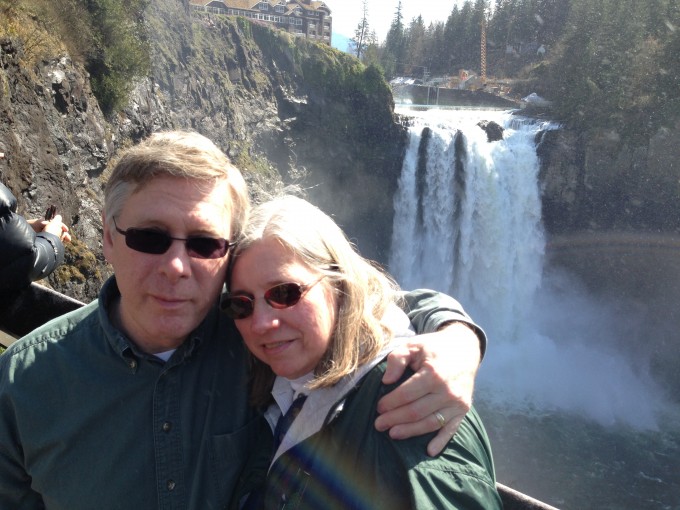 For a short day trip I would highly recommend heading to the town of Snoqulamie, a short 30 mile drive outside Seattle. There you will find the picturesque Snoqualmie Falls. It's easily accessible and makes an excellent backdrop for some great photo ops! You might want to bring a light rain jacket, the spray of the falls will get you a little damp. At the end of my parents last visit in March they remarked on how the falls was the highlight of their trip!
10. Leavenworth
If you're looking for a long day trip, or possibly, an overnight trip I would say Leavenworth is a great destination!
It's about a 2.5 hour drive from Seattle. The charming Bavarian themed town proves to be an agreeable destination for all ages!
The beer and brat stands are a must visit and the small shops that line the streets make for a fun day of shopping for knick knacks! We have been to Leavenworth in Summer, Fall, and Winter. All seasons have proven to be picturesque and always full of events. In Summer we braved the heat and supped on ice cream and lemonade and attended the well-known production of The Sound of Music that takes place in an outdoor theater with the Cascade Mountains as a backdrop.
In Fall we drank German beer and munched on brats while attending Oktoberfest and dealt with the crowds that went with it.
In winter we witnessed the renowned Christmas lights festival while sipping on hot apple cider and listening to Christmas carols.
The town is always bustling and activities are never hard to find! With nearby rock climbing and beautiful hiking/snowshoeing trails we often find ourselves in town for dinner after a long day enjoying the outdoors.
Seattle has numerous tourist activities and sites to partake of and visit. Every time we have visitors we discover something new! I'm sure, that as time goes by, this list will be updated and, most likely, expanded beyond only the top ten. Of course, the surrounding mountain ranges offer incredible vistas, hikes, backpacking, wildlife viewing, snowshoeing, snowboarding, kayaking, or rock climbing (among others) recreational activities that I'm not sure I could ever narrow it down to a top ten! Not to mention all that the rest of Washington has to offer!