It was time to plan one last vacation before baby comes in July! Due to our busy spring schedule we decided to plan a winter getaway earlier in the pregnancy. We left cold and rainy Seattle behind and flew south to Los Angeles. We found a great deal on airfare using our favorite go-to trip planning site, Trip Advisor.  Finding a hotel proved to be a little more difficult and we ended up spending quite a bit more then we normally do. We decided to throw caution to the wind and live it up one last time, booking ourselves into the Shore Hotel, located across the street from the ocean and steps away from the famous Santa Monica Pier. It is ranked the number one hotel in Santa Monica on Trip Advisor. We hoped it would be the perfect jumping off point for the oceanside adventure we hoped for!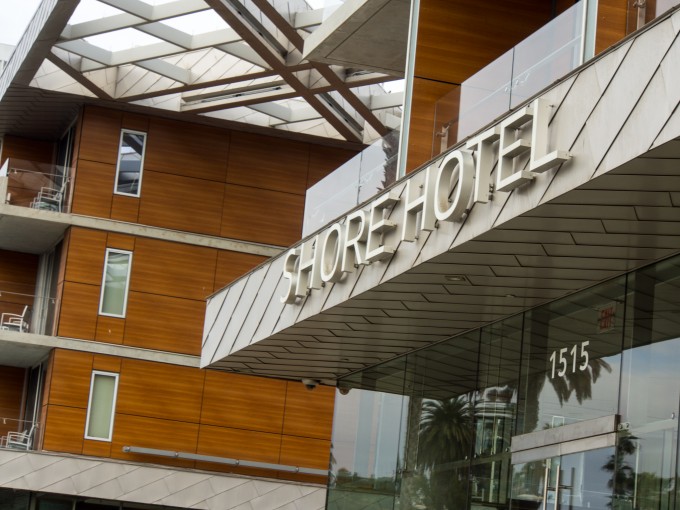 Our flight landed at LAX just before 9:00 a.m. We caught a taxi and began the 8.5 mile journey to Santa Monica. Though the distance was short the length of the trip was not. We found ourselves amidst the morning traffic that Los Angeles is so famous for. We arrived at the hotel just after 10:00 a.m. and were staggered at the amount of cash we parted with as we paid the cabby for his services. Knowing it was far too early to check into our hotel we approached the front desk hoping to have them hold our suitcase while we did some exploring. The gentleman who helped us happened to be the manager and offered us a free upgrade to an ocean view room because the room we were supposed to have wasn't available yet. So, he let us check in hours early and gave us a free upgrade! Who could argue with that?!? The only snag was that our credit card put an immediate hold on when we attempted to use it…. We keep forgetting to alert our credit card company to our travels. After a lengthy stint on hold Bobby finally got the hold lifted and we checked in. Complimentary glasses of Champagne or Sparkling Cider are given at check in. As we entered our beautiful room we toasted each other and the long weekend ahead of us with cider!
DAY ONE: SANTA MONICA
After a quick respite in the room, we decided to go find some lunch. I kicked off my socks, slipped on my Toms, dug my sunglasses out and we headed out into the sunshine! Our hotel was very conveniently located just blocks from the charming 3rd Avenue Promenade shopping area so we headed there in search of sustenance. Chipotle was one of the first things we spotted and while it seemed kind of lame to eat at a chain restaurant, it also happens to be the food I have been craving most while pregnant, so it worked out perfectly! We sat in the small patio area and watched the small crowds go by. We were rather surprised by how few people were out and about on a sunny Friday afternoon.
After lunch we did some window shopping and then headed back towards the ocean. We explored the paths with beautiful plants situated above the beaches. We meandered along the paths for awhile before reaching a pedestrian bridge that crossed over the Pacific Coast Highway that barred our way to the beach. Once on the beach we strolled along the sand for a bit before heading to the paved pathway that was very popular with walkers, joggers, skateboarders, bicyclists, and rollerbladers.
We soon found ourselves exploring the small carnival area on the Santa Monica Pier. There were some tourists here, but again the crowds just weren't that bad, which we found rather surprising.
We hadn't been exploring long when fatigue set in for both of us. The day had started before dawn, in order to catch our early morning flight and we were ready for a nap! We headed back to the hotel for an afternoon siesta. Later in the day we ventured out to a grocery store to get snacks, and breakfast foods. We got an early supper and caught a bit of the sunset!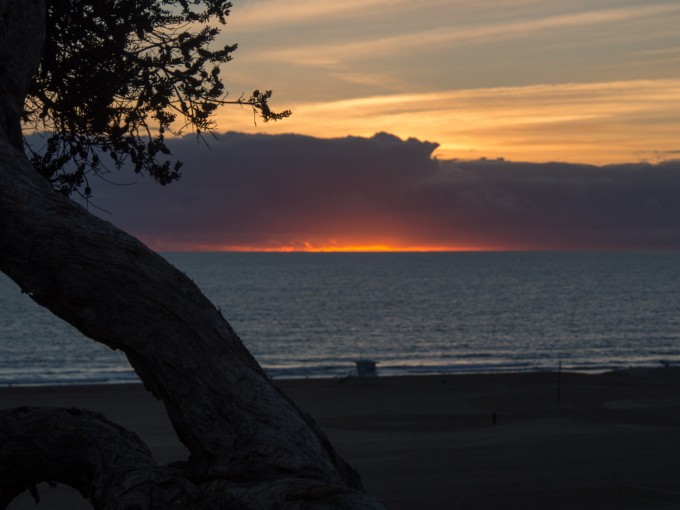 Our evening was spent trying very hard to stay awake to watch the opening ceremonies of the Olympics. We didn't make it through, I'm sad to say…
DAY TWO: HOLLYWOOD AND RODEO DRIVE
The following morning dawned a bit cloudy but still warmer and far more pleasant then the weather in Seattle, where we learned it was snowing! We decided to catch a bus to Hollywood. We did no planning for this trip whatsoever. Our list of must-sees was short. I wanted to see the hand and foot prints in front of the Chinese Theater, the stars on the Hollywood Walk of Fame, and Rodeo Drive. Bobby wanted to see a skate park that has been featured in several skateboarding videos. Every day Bobby would do reconnaissance and plan our day while I sat by, thankful to not have to do the planning and willing to go pretty much anywhere!
The bus ride to Hollywood was long, over an hour, but at $1.50 per person it was far more economical then a taxi! Thankfully, our stop to get off was conveniently located in front of a Jamba Juice so we stopped for a mid-morning snack before walking to the Chinese Theater. Seeing the handprints and the stars on the Hollywood Walk of Fame was really fun! The crowds were thick here and the hawkers trying to get you to join their bus tours were obnoxiously persistent.
Shopping was never in short supply and we soon found ourselves in yet another outdoor shopping area. While uninterested in the stores, we were interested in the view of the Hollywood sign we got at the top floor of the mall.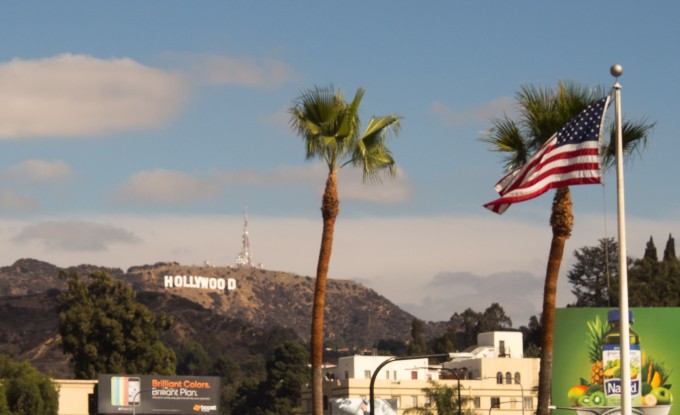 After exploring for a bit longer we decided to catch the bus and take it to Rodeo Drive were we decided we would find some lunch. We enjoyed window shopping along the glitzy and famous street. We felt like complete scrubs in our attire that would be considered perfectly acceptable in downtown Seattle. We were surrounded by some of the fanciest cars I have ever seen! Not to mention some of the most dolled up women I have ever seen!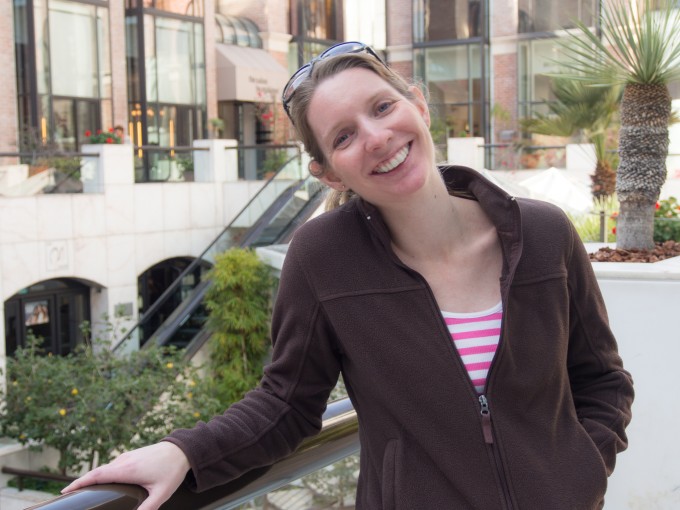 DAY THREE: VENICE
We decided we would walk the 2.4 miles from our hotel to Venice Beach. There's a paved path the whole way there along the beach with lots to see and do in between! We first walked through Muscle Beach where Bobby showed off his muscles by playing on the outdoor gym equipment.
The boardwalk on Venice Beach is filled with an eclectic group of artists selling their wares at booths. After walking the length of the boardwalk we settled on buying some photographs from a local artist who was as colorful as some of his pictures! Apparently he was an extra in a movie a couple of decades ago, which he was incredibly proud of!
The skatepark Bobby had been hoping to see was there and was hoping with skaters young and old, talented, and not so talented. It definitely made Bobby ache for his skateboard that was busy gathering dust in rainy Seattle.
We walked along the pier and snacked on apples and graham crackers watching a group of surfers float in the rather still waters of the ocean. We weren't totally sure if the surfing is usually good here or if these guys just enjoyed really quiet waters…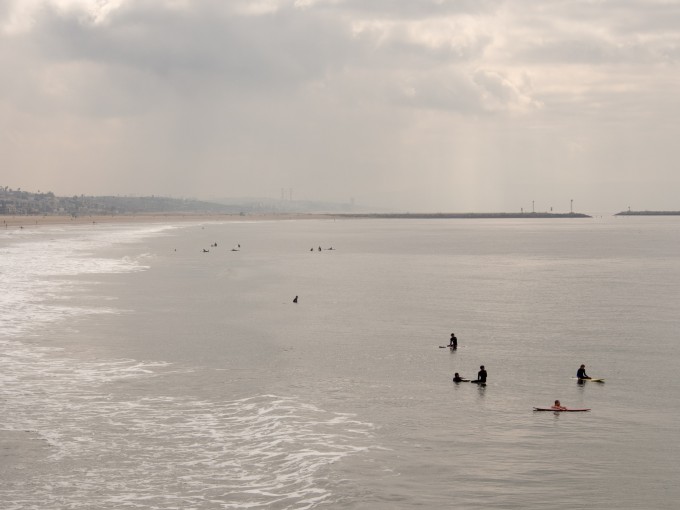 We walked away from the ocean and towards the Venice Canal Historic District just a few blocks away. This charming and expensive neighborhood felt like a movie set in such a picture perfect setting. We saw two photo shoots as we explored the area.
We found lunch along Abbot Kinney Road, which according to GQ magazine, is the coolest block in America. Lots of high priced stores, and several appealing restaurants. We chose one that didn't have an enormous crowd outside waiting to be seated for Sunday brunch and were pleasantly surprised at the tastiness of the food! We walked along the road and back to the ocean path that would lead us back to our hotel. Along the way we found a section of the beach set up with dozens of slack lines and watched as some guys did some pretty sweet tricks! Bobby joined in on the fun!
We watched the sunset on the beach and celebrated reaching the 17th week in the pregnancy!
DAY FOUR: HIKE IN TOPANGA CANYON
The final day of our trip ended up being one of our favorites. We met up with our friends, Kris and Ruth, who live in LA and we ventured out of the city and into the picturesque area of Topanga Canyon for a short hike.
Overall, this vacation couldn't have been more fun! We saw so many fun and unexpected things, spent some incredible quality time together, met up with old friends, and hiked in a beautiful desert setting. It was hard to leave the sunshine behind and return home to chilly, rainy Seattle. Latigo was happy to see us though!