We were vacationing for a week in Squamish, British Columbia and decided that a day trip to Whistler (a short 45 minute drive away) would be really fun! We had been to Whistler once before back in November of 2013. We had found out we were pregnant with Jack less then a week before we were set to leave. That vacation was to be a long weekend of snowboarding with friends, being newly pregnant, and not a very talented snowboarder, I was advised by my midwives not to participate. So, my last trip to Whistler was spent in a lovely suite with Latigo, feeling nauseous and pretty bummed that I missed out on all the mountain-top fun.
Summer time in Whistler is far different than winter but the town is bustling with tourists, mountain bikers seeking some thrills on the legendary trails of Whistler, and the odd snowboarder and skier out enjoying some turns on the glaciers. It's an odd mix of people roaming around the cobblestone pathways of the mountainside village. Large groups of tourists ooze slowly through the streets while children in full mountain bike protective gear walk their bikes between and around them. Families of tourists and avid hikers, anxious to explore the easily accessible alpine trails, window shop and sit at the numerous bars, restaurants, and cafes that fill the village, and the odd snowboarders and skiers in snow pants and face-masks look incredibly out of place on a hot 90+ degree day.
We had arrived to the town early, around 8:00 a.m., not realizing that the lifts don't open right away… We went to buy our tickets and even the counters weren't open yet. We would have to wait until 10:00 a.m. before being able to pay our $54.95 (CAD) per person gondola ticket fee (Jack was free, children 6 & under are). The ticket is a bit pricey, there's no doubt about it, but, overall it's a pretty good deal. The gondola goes up to Whistler Mountain and the Roundhouse Lodge. From there you can take the open-air chairlift to the summit of Whistler Mountain or you can take the Peak 2 Peak Gondola over to neighboring Blackcomb Mountain. From Blackcomb you can take an open-air chairlift up to 7th Heaven. Once you are up the mountain you can take any of the chairlifts and the Peak 2 Peak as many times as you'd like but, once you come back down the mountain your lift ticket is expired. With access to over 50 kilometers (31 miles) of hiking, running and interpretive walking trails and restaurant options up top, we knew we would be set to spend an entire day on the mountain! Note that we only took Jack on Gondolas. We weren't comfortable taking him on the chairlifts.
While we waited for things to open up we roamed around the town and Jack got to play on a fun playground they have in the city center.
With the gondola finally open we joined the swarms of people heading towards the ticketing and loading area. Jack's first ride in the gondola went surprisingly well.
He had napped very early and very briefly in the car on the way up to Whistler but hadn't slept since then. We chatted with the couple we had been seated with in the car as Jack happily sat in his backpack looking around. When we finally finished the 20+ minute ride up it was 10:30. An awkward time to start any real hike since we hadn't packed lunches and had planned to eat on the mountain. We decided to do a very short and somewhat underwhelming loop. The lodge, other chairlifts, gondolas, and roads with trucks driving on them were always in sight and we were beginning to wonder if we made a mistake in spending such a great amount of money to simply walk around some ski slopes.
We were all getting hungry and a little fussy so we headed over to the Roundhouse Lodge for an early lunch at 11:00 a.m. Since we were the first ones in line at the cafeteria style restaurant we had our pick of seats in the large open-air seating area and enjoyed breathtaking views while eating our surprisingly delicious lunch! The cafeteria had several options; asian dumplings, freshly made sandwiches, antipasto platers, a grill, and fish and chips options. By the end of lunch Jack was becoming increasingly fussy and we were becoming more and more aware of his desperate need for a nap.
We hate to push him beyond his limits but also had spent a pretty penny to come up the mountain and weren't willing to head back just yet. We decided to risk another trip in a gondola on the Peak 2 Peak over to Blackcomb Mountain. We had a trail picked out that we wanted to hike on that side. The trip over went surprisingly well as we chatted with our car companions and Jack happily gnawed on Bobby's MSR dromedary bag spigot.
By the time we had disembarked from the car and were about 10 feet into the trail Jack was fast asleep.
Our goal for the day was to reach Blackcomb Lake. The signage at Whistle is amazing and helps you decide which hike is best for you by giving you the distance, elevation gain, and estimated time it will take you. The last gondola down the mountain is at 5:00 p.m. and at every trail sign there is also a reminder of that. They make it extremely user friendly and easy to navigate. Trail maps are available in several locations and provide you with a good tool to have at your disposal. Blackcomb Lake was only 3.8 miles round trip and was a nice easy hike for our sore legs after having hiked the Stawamus Chief the day before. At the very beginning of the trail you have to cross a section of snow-covered trail that is in use by snowboarders and skiers. Look up the slope before you attempt to cross so you don't collide with anybody!
There were many people out on the trail and we chatted with a few as we made our way along the trail. We met a family visiting from Edina, MN and talked with a local guy who was incredibly nice and welcoming. We saw a few young children out on the trail enduring the heat of the day and hiking along with their parents. The weather on the mountain was amazing. It was still fairly hot, as it was in the valley, but there was a wonderful, cool breeze that felt like Mother Nature was helping us with some natural AC! The hike was amazing and far away from the hustle and bustle of the lodge areas. A few signs that marked the various ski routes were the only thing that disturbed the peace and serenity that we found on the trails along Blackcomb Mountain.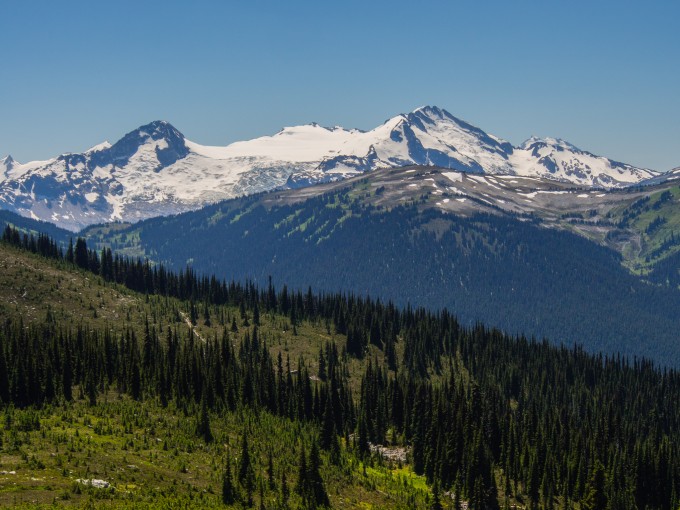 We couldn't believe how clean, well cared for, well constructed, and well signed the hiking trails were. They are doing a remarkable job in making this a beautiful and easy experience for all their visitors. It was so awesome to be able to get such breathtaking alpine views with basically no effort. We were feeling very spoiled and very fortunate that we were able to have such a great experience. We reached Blackcomb Lake and joined a small crowd of people enjoying the scenery.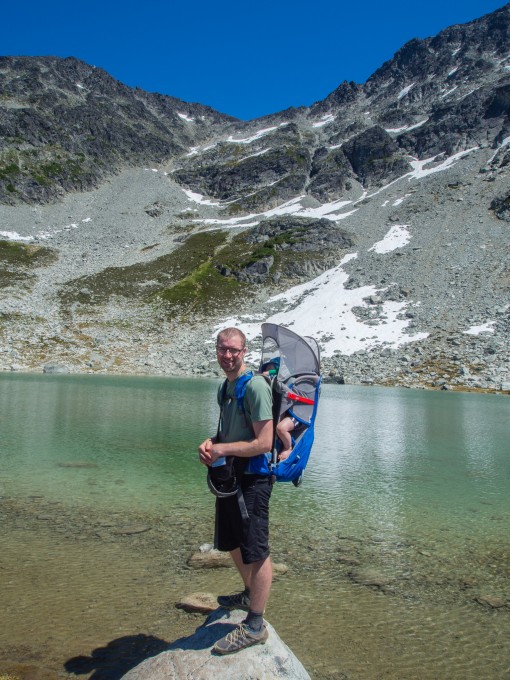 We decided to return back to the lodge by a slightly different trail and got to enjoy a scenic section of trail that ran along a small, babbling brook.
As we neared the end of the trail Jack began to stir and finally woke up. He had taken an epic hour and half nap in the backpack and we couldn't have been happier. We returned to the lodge after checking out an area of the mountain that Bobby had snowboarded on during our trip in 2013 and took the Peak 2 Peak gondola back over to Whistler Mountain. Jack had a bottle and we decided we were definitely done for the day.
We headed back down to the village, found some delicious ice cream for an afternoon treat (we even let Jack have his first taste of ice cream as a reward for being such an amazing traveler!), and then found the car and headed the 36 miles back to our VRBO in Squamish. We couldn't get over what a remarkable day we had had at Whistler. Jack was a trooper for a long day outside! We all got a little sunburned despite our constant application of sunscreen but we all slept incredibly well the night after a day filled with so much exploration!
For more photos check out our Facebook page!