Interstate State Park used to be our weekend hangout where we climbed the crags along the scenic bluffs towering above the St Croix River. The river bisects the park creating a park that spans two states, Minnesota and Wisconsin. We haven't visited in awhile as we now live over an hour away, but we were craving elevation gain, scenic views, and a brief escape from reality.
We drove to the Wisconsin side and chose not to follow a "trail" per se but opted instead to follow the climbers trails we have walked so many times before. It felt strange to revisit a place we spent so many hours at in our first year together almost ten years ago now. Memories flew by me like snapshots as we trekked along the rocky paths. The views seemed so different now. Maybe because we were visiting in winter, which we had never done before, or maybe it was my new perspective as a wife and mother of two children.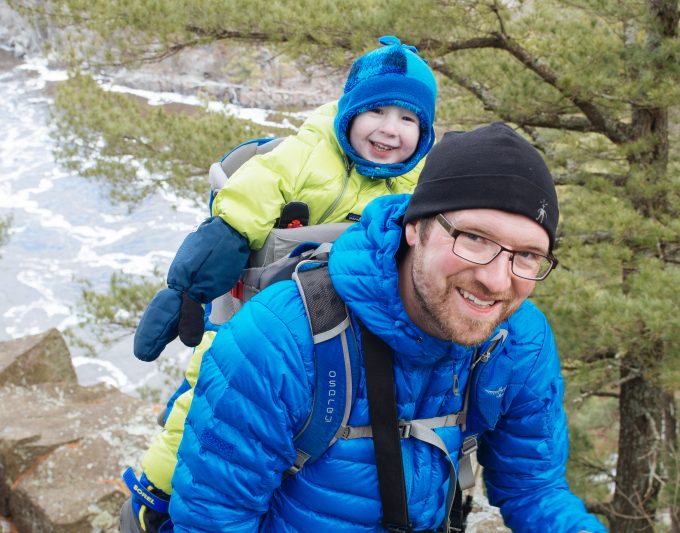 The paths were relatively clear of snow with only the occasional patch of ice that needed to be avoided. Jack chattered away from his birds-eye view in his Osprey Poco while Rowan slept soundly and snuggly against my chest in her Onya Outback. The temps were mild, in the low 30s, but the wind howled through sections of the trail that were more exposed. We found remnants of what appeared to be an old CCC cabin near the waters edge and watched ice break along the rocky shore.
It was exciting to hike, even a short trail that had a few technical and almost scrambling moments. It had us excited about trying more challenging, longer hikes when summer finally returns.
As we hiked (and in between answering questions from our inquisitive Jack) we discussed the summer. We both agree that we want and need a mountainous setting. What would be our big adventure? What is at the top of our bucket list? What can we do? What should we do? How? When? Where? We're still working on answering all these questions, but it feels good to be plotting and planning. It feels amazing to dream the big dreams. To wonder to ourselves if we could really do something major this summer with two kids along. It felt good. It got us excited. It's often difficult for me to feel excited about the future, but as we walked and explored I felt that thrill of wanting to seek the next adventure on the horizon.
After a little over an hour of hiking the rocky trails Jack wanted to get out and explore on his own. I was glad he finally wanted to explore as he has been much more cautious since his illness and injury, but it is also a harrowing experience for an anxious Momma to let a toddler run free on a rocky trail with bluffs nearby. A momma who sees twisted ankles on the rocks hidden beneath the thick layer of leaves, a cracked skull on every rock, a misstep near a bluffs edge resulting in the unthinkable. We stayed close and our pace slowed as we followed Jack's lead.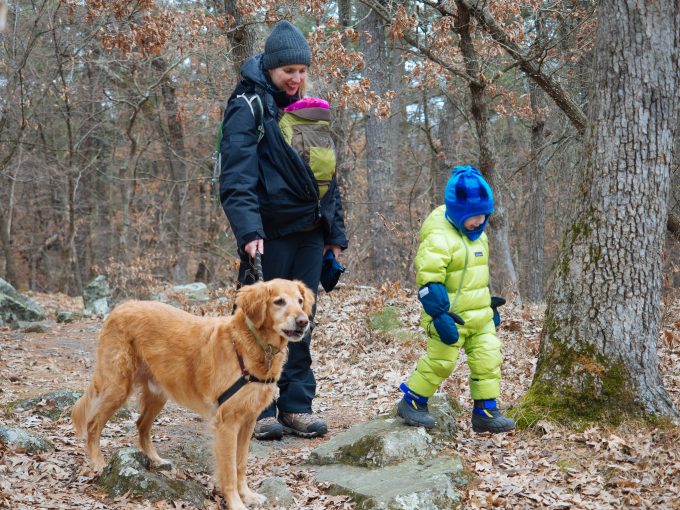 It was great to see him explore. To see him be silly. To see him smile that Jack-smile of his.
It was gloriously frustrating as he wanted to examine the mud on his boots, my boots, Bobby's boots. All the while unknowingly getting his bum muddy too!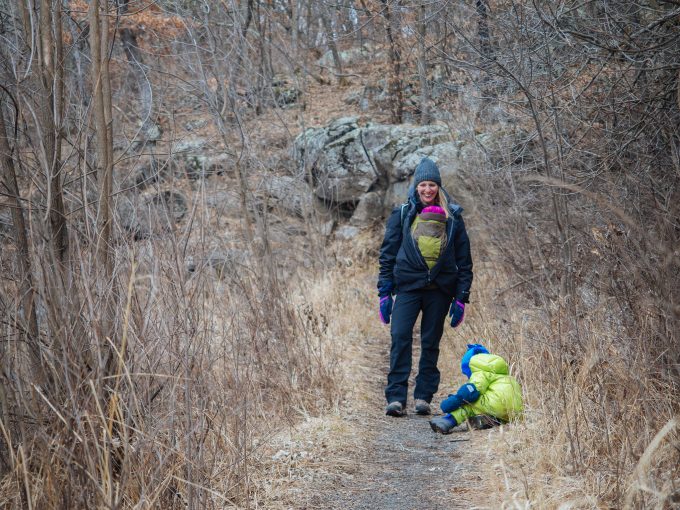 It was ridiculously hilarious as he navigated rockier sections of the trail on his hands and knees, and eventually sliding down rocky steps in the trail on his tummy. Patagonia should definitely hire this kid as a product durability tester!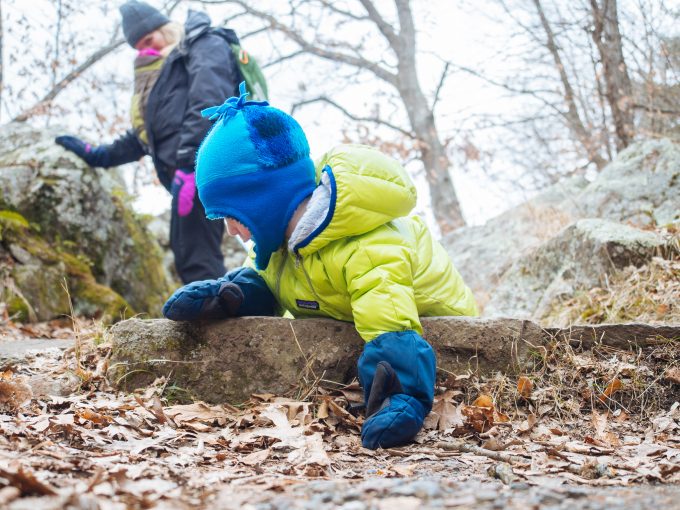 The last 1/2 mile of the trail was by far the easiest of the day, but Jack was walking it with us which meant it was our longest and most memorable section of trail in a long time. The ability of a toddler to force us to slow down and take the time to really look at your surroundings is a blessing we can often forget about. I get so caught up in the schedule of the day. The list of tasks I need to accomplish. All the stupid crap that I think is so important and then Jack reminds me how much more important time spent together exploring and adventuring is.