This summer we are planning a huge trip in Northern Minnesota throughout August that will have three parts to it. A biking portion, a canoe portion, and a backpacking portion. Our plan is to bike around 65 miles of the completed portion of the Mesabi Trail, Canoe 40-odd miles in the Boundary Waters Canoe Area Wilderness (BWCA) along the border route, and backpack the 65 mile Border Route Trail. We're calling our route The Arrowhead Traverse.
So, as we are beginning to realize the scope of this undertaking we are taking stock of our gear. What do we have? What do we need? What would we like? The list is lengthy and the costs associated our sometimes eye-bulgingly steep. But, while this is the first trip of it's ilk, we know it won't be the last. We know that the gear we invest in for this trip will be with our family for years to come. Some of the gear we need to buy includes, but is not limited to, a backpacking tent large enough for the four of us, ultra light sleeping pads, an additional portage bag, a cooler portage bag, lightweight camp chairs, ultra lightweight backpacking stove, personal locator beacon (PLB), a new, easier to use water purifier, and lastly new bike rigs for the whole family.
Thus far we have only done one quick overnight of backpacking as a family of four. It went exceedingly well, but our 8lb, bulky tent weighed heavily in Bobby's pack. Our backpacking tent research has been extensive and almost a year in the making. Our trusty spreadsheet has every little detail of every family-sized ultralight tent option out there. Bobby has laid awake at night thinking, reconsidering, questioning, and always coming up with what we know what would be the most ideal tent, but the cost is so exorbitant we couldn't possibly justify it. In the end I found a great deal in Backcountry.com's recent sale on the Big Agnes Copper Spur 3. It isn't the roomiest or lightest tent we considered, but considering the price and the fact that it has two big vestibules for extra storage we think it's a good compromise. We'll post a full review once we put it through its paces.
We had invested in 3 Exped Symat HL Medium Wide sleeping pads over the winter during one of REI's sales. Sadly, on that first quick overnight one was punctured and we are now faced with the option of buying another or opting for a double wide mat that would probably be more conducive to co-sleeping with two kiddos. We found that rolling up 3 separate sleeping pads in the morning took a lot of extra time so a double wide mat should speed up that chore.
We have one behemoth of a portage bag from Granite Gear but know that with a trip of this length (planning 6 days of paddling) we are going to need additional packing space. The portage cooler bag is also high on my list of priorities. This is a long stretch of time to have two kiddos on a rehydration diet so if I can spoil them on the canoe portion with more fresh meal options I would really really like to. We are looking to either Kondos Outdoors, Cooke Custom Sewing or Granite Gear for those options.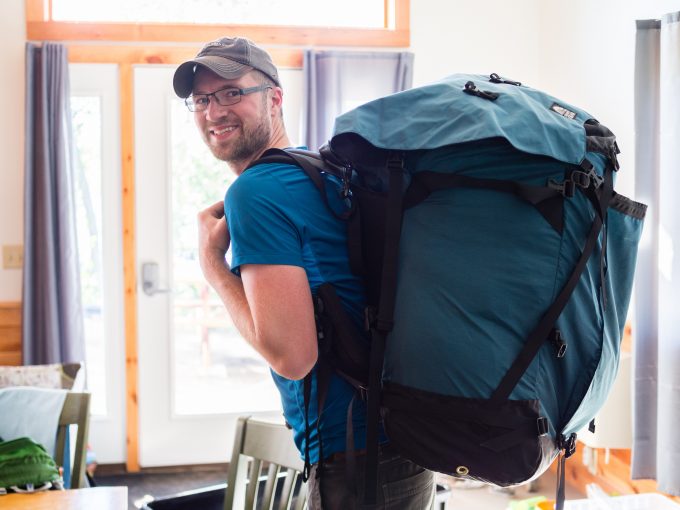 Lightweight camp chairs will be our luxury item during the backpacking section. Six days of backpacking 8-13 miles a day with 50+ pounds of gear and kids draped on your body in some fashion is going to be grueling work. A backrest at the end of a long day on the trail will be worth the extra pound! Thankfully, REI's anniversary sale is coming up and their brand of ultralight chairs will be 25% off!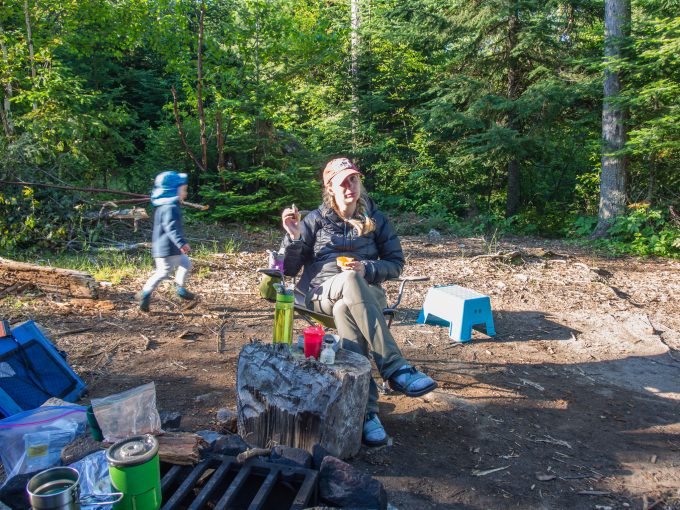 We decided early on that a PLB should become a staple in our packing list. We have a lot of anxious family members who are dubious of our safety when off on big treks with the kids. Bobby has been known to go out at night, climb the nearest mountain in the hopes of finding cell service, and sending out messages letting Grandmas back home know we're safe. Having a way to communicate our location and status (even one-way communication) will help to ease a lot of the fear of our family. Also, we will be able to receive weather reports, and heaven forbid something did happen, we can call for help regardless of location. All in all a hefty but worthwhile investment for our adventure-loving family. We'll likely spring for the Garmin inReach Explorer as it offers two-way communication, shares our location to family back home, and doubles as a GPS device.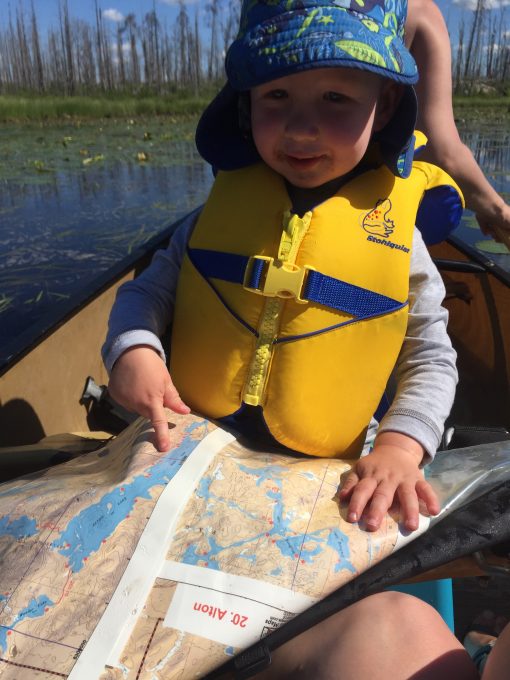 I bought my MSR ceramic water filter when I was 19 years old and headed out for my first adventure in the Bob Marshall Wilderness in Montana. Twelve years later and we've finally decided that it's time for an upgrade! Don't get me wrong, it's still going strong, but we've found that in the lakes in the Boundary Waters we have to clean the filter after every single use. In the mountain streams in the Sierras and Cascades where we used it before it could pump dozens of liters before needing to be cleaned. We're still investigating our options here. We do also have a Sawyer Mini and Steripen that we've used in the past, but at least for the canoeing section of the trip we'd like something that can filter large quantities of water faster.
We have never done much biking and, I admit it, I have always been a debbie-downer when it comes to said activity. I grew up with a father who loves to bike and even braved biking from St Paul, MN to Duluth, MN (160 miles) with two of his teenage daughters along (I was not one of them.). I have never been a person who likes to go fast. I don't tend to speed too badly while driving, on the rare occasion that I snowboard I am one of the slowest on the slopes (seriously three year olds zip by me), I'll take a lazy day on a calm lake versus white water rapids when canoeing, and when hiking I generally bring up the rear. I like to mosey. I like to get caught up in my own day dreams. I love to watch the world around me.
Knowing that I will need to bike 30-40 miles a day for two consecutive days on this trip had me anxious. It also had me asking Bobby if maybe we could invest in a new bike for me. I love the sparkly, purple Diamondback bike my parents bought for me back when I was 16, but 15 years later and I decided it might be time for an upgrade. We met a very knowledgeable and enthusiastic REI employee who found the perfect bike for me. It's a 2017 Co-op Cycles ADV 1.1 Bike and I am seriously in love. I have taken to heading out solo after long days with the kids and burn off all my anxiety. I have gone faster on this bike then I have ever gone before! It's so much fun! Bobby has some serious bike-envy so we will be upgrading his bike as well. I lovingly bought him his current bike when we were first married and it was as much as we could afford at the time, he's due for an upgrade!
We bought a bike trailer for the kids at a garage sale last summer for $8. Needless to say it's pretty old, fairly well used, and not the most conducive to long distance riding. So, we are dealing with the agonizingly steep cost and investing in a Burley D'lite Bike Trailer. We plan on having both kids in the trailer, Rowan will be in the infant sling. We are fully aware that many Americans don't believe in children under one year of age being in trailers, but it is common practice in Europe, and it seems to be the perfect solution for our family especially with a trailer that has a suspension like the Burley.
Jack loves to ride his balance bike and we know he'll want to ride some of the Mesabi Trail on his own. He's just about ready for a pedal bike so we'll be getting him a Woom 2 for his birthday. The Woom 2 looks to be the perfect step up from a balance bike so we're really excited to see what he's capable of on it. When he's too tired to bike we'll put the bike on the back of the Burley trailer which will mean we'll be carrying some extra weight, but it'll be worth it to keep him interested and engaged on those big mileage days.
We are in intense prep and train mode. It is our goal to get outside every day whether by foot, bike, or canoe as we prepare for our 20 day adventure that is sure to test our limits in every respect. Stay tuned for more posts on prep!