With only 65 days left until our departure for our big Arrowhead Traverse journey we are in all out prep mode. From gear planning, to logistical figuring, to preparing our bodies both mentally and physically for all that we are sure to deal with while on this expedition. We know that being in peak physical shape, having a strong and solid relationship, and being properly schooled in certain areas are all going to be vital to the success of this long trek.
Physical Fitness:
This is HUGE for both of us. A lot of this trip's odds for success can only be achieved if Bobby and I are in the best physical shape of our lives. During the trip we will be either pedaling 30-40 miles a day, backpacking 6-13 miles, or paddling 6-8 miles a day, for 20 days (We will have rest days interspersed throughout the trip).
In the last four years my body has been through a lot. I have been in full on baby-making mode. I have gained and lost close to 50 pounds, twice, I went from a B-cup to a D, to a C, back to a D, and finally seem to have resettled into a B, my rump grew a pant-size after Jack was born and has yet to get any smaller, and while my arms are super-toned from hauling close to 50 pounds of kids around on a daily basis my legs are weak and need lots of work. Also, my once solid abs are now a mushy mess that need some serious toning.
Our plan is to hike, bike, or paddle every day until our departure date. Often times we are getting a hike done in the morning and a bike ride in the afternoon. Paddling is trickier as it is a little more weather-dependent and involves more prep and travel time. But, we are doing our best to sneak in some practice there.
Hiking
For hiking we have both kids in an Osprey Poco carrier. I carry Rowan in the Osprey Poco Plus while Bobby has Jack in an Osprey Poco Premium.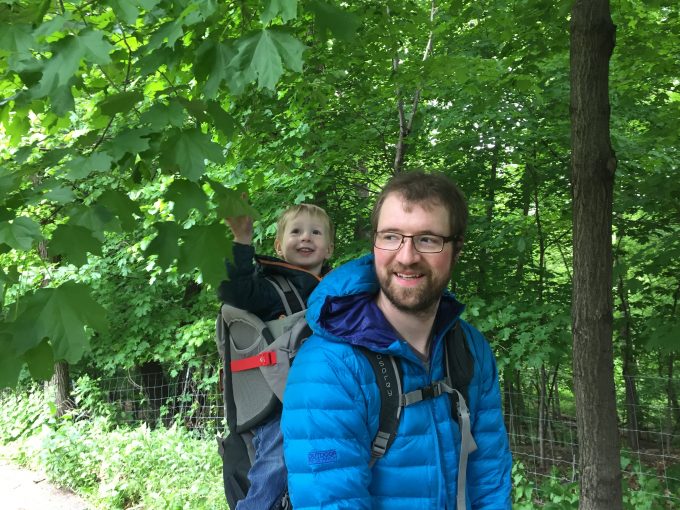 During the week our practice "hikes" are currently 1-3 mile walks through our neighborhood.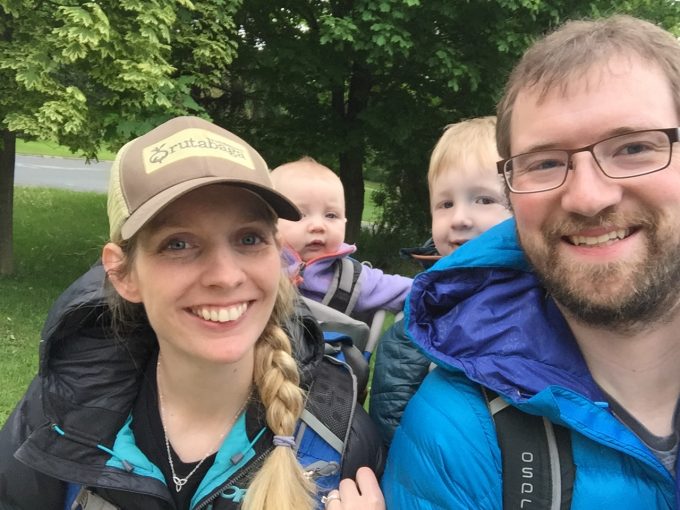 On the weekends we get in longer, more rugged hikes when we have the time to drive or are on other adventures.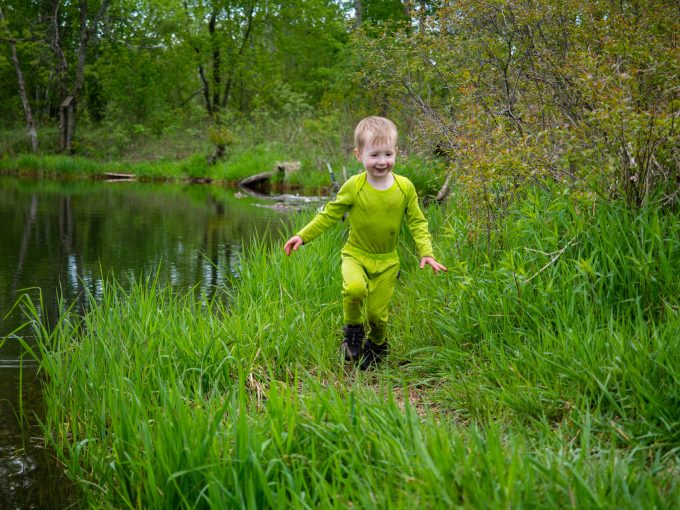 As my strength and stamina (not to mention our ability to get out the door in a timely manner) increases, so too, will our mileage. We currently have empty packs, aside from our kiddos so we will also begin to add gear and weight as our training continues. It is my goal to be hiking/walking 5 miles a day with 35-40 pounds on my back. While Bobby will be aiming for 50 pounds on his back.
Biking
Biking has become my favorite activity when it comes to training and I love trying to get a 7-10 mile ride in every day if I can manage it. I will sometimes go after Bobby is off work or, if I can sneak away during afternoon nap time for a quick ride, I do (one of the benefits of Bobby working from home is that he can listen to a monitor just as easily as I can!).
We also got to spend last weekend in a camper cabin at True North Basecamp in Crosby, MN which is in the heart of the Cuyuna Lakes area, known for it's mountain biking trails and many lakes. We were able to cycle almost 12 miles on the Cuyuna Lakes State Bike Trail. We recently got new bikes for ourselves and a new Burley Cub Trailer for the kids.  So it was definitely a fun ride as we began getting used to our new setups.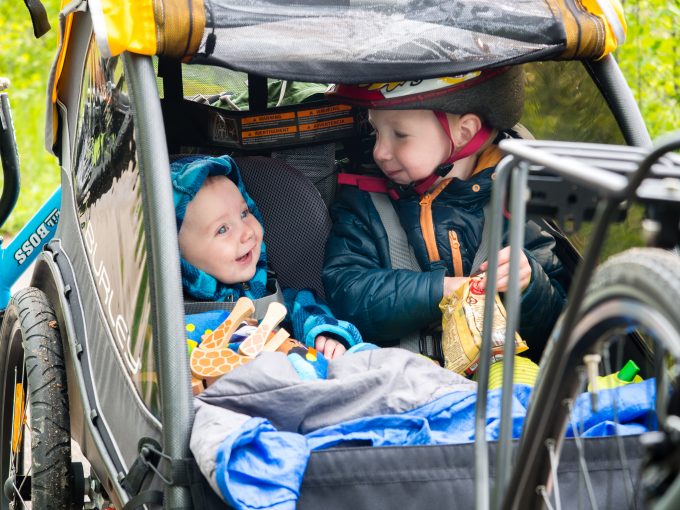 Jack will undoubtedly insist on biking sections of the Mesabi trail with us, so he got some great practice in, not only on the paved trail, but also an awesome run on a mountain bike trail in this outdoor recreation mecca!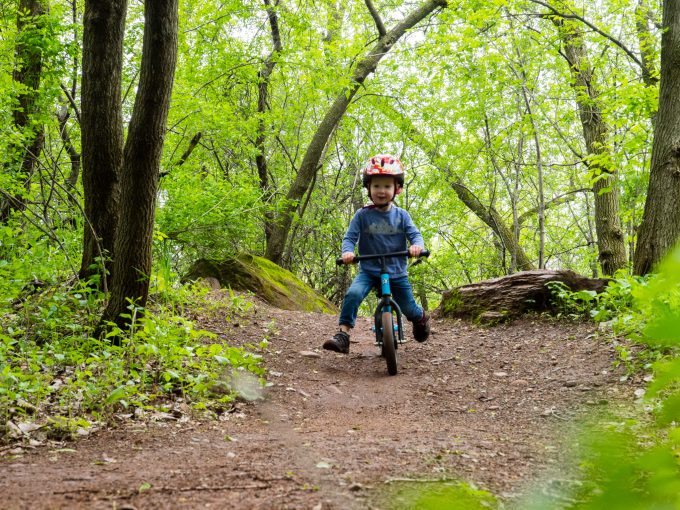 It will be my goal to be riding 15-20 miles a day as the trip draws closer.
Canoeing
As I stated previously training ourselves for the canoe portion will be tricky. I am hopeful that the stamina we build up from our hiking and biking will increase our ab strength and allow us to be stronger, smoother paddlers. Also, training in-home with canoeing-specific exercises is part of our regiment. That being said, we do also hope to hit the water on at least a weekly basis. We are thankful to live in the Minnetonka area where lakes and public boat access aren't difficult to find!
We just got out on a lake for the first time with our new Northstar Northwind 20 canoe with both kids and it was so fun! The cabins at True North Basecamp are steps from a rocky beach with access to the small lake, Armour Mine No. 2. It was windy, slightly drizzling, and cold (45 degrees) but Jack has been asking almost daily since winter began if the ice was off the lakes yet and can we please "new" (ergo: canoe). The whole drive up he excitedly watched the canoe through the sun roof and when I told him we could only canoe if he took a really good nap in the car his eyes immediately shut and he actually fell asleep! So, there was no way we weren't going to go canoeing despite whatever weather we were going to encounter. Rowan thoroughly enjoyed her time in the boat until it was time for her to eat and then we learned just how fast we can paddle the large 20 foot canoe back to shore!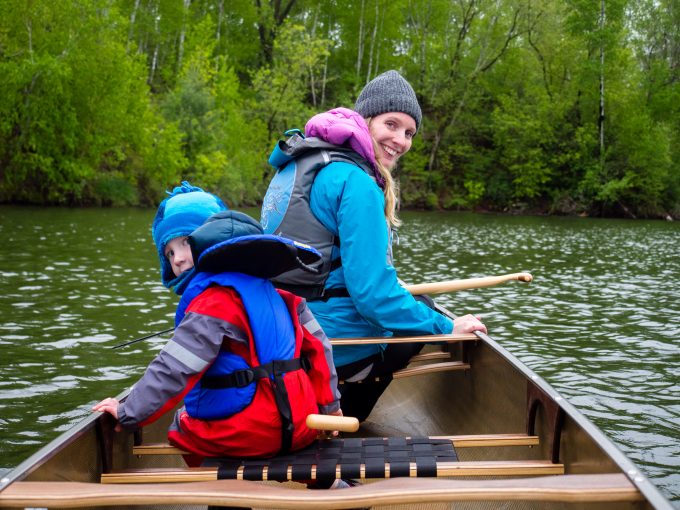 It is our hope to be completely comfortable and confident in the boat with both kiddos. We still need to figure out logistics and seating arrangements with the two kids so finding a solution that works for all four of us is key.
Relationship Goals
We recently went to a presentation by the women, Alyce, Lisa, and Vicki, from Source of Confidence who were the first all-female expedition crew to successful canoe the longest river system in North America. It was a grueling 4,000 mile, 7 month journey but they learned a lot about how to stay friends and how to deal with the "uncomfortables" while on their trek. We are taking their sage advice to heart and are doing our best to have an open line of communication with one another about our fears, worries, excitements, opinions, and needs.
The last major trek we undertook was 4 years ago when we hiked the 122 mile Kerry Way in Ireland. We didn't have children yet and still tempers often ran short but, we learned how to pick each other up and improve bad situations so hopefully those skills will serve us well on this adventure!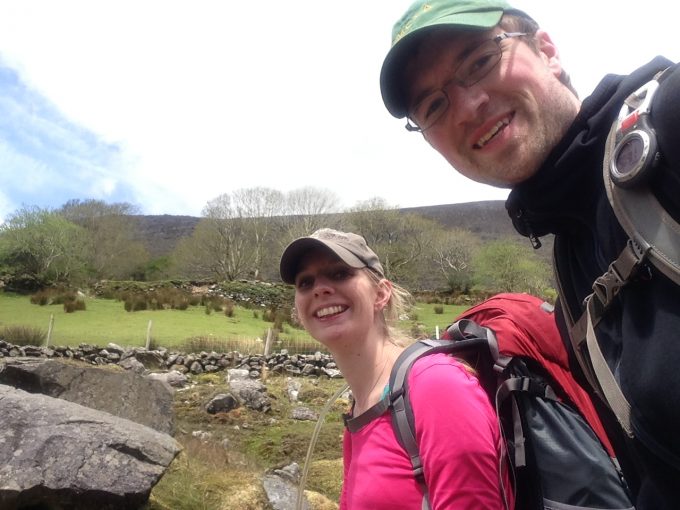 I know that for me, especially, this trip is going to be challenging because I value and cherish alone time during the day. Not having that time to myself, not getting any sort of a break from the kids, and being in potentially high-stress, physically demanding situations is sure to test our relationship and my own mental stability. We will be physically exhausted and yet will need to continue to parent, be spouses, and care for our own needs. Talking with those who have gone before and getting their insight has been huge. I've also been toying with the idea of reaching out to my therapist and possibly getting in a few sessions before the trip just so I know how to deal with my postpartum depression and anxiety during the trip.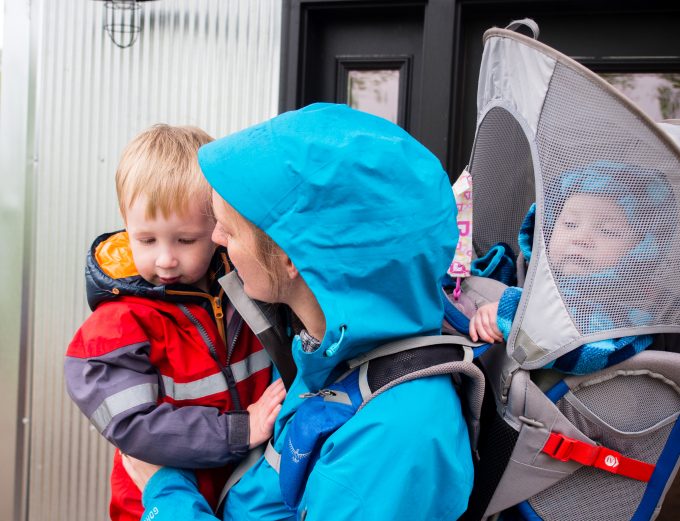 Skill-Set Improvement
We are very confident about certain aspects of the trip but know that there are other areas where we are more uncertain. We also know that there is always room for improvement and more to learn.
First off we have talked for years about taking the National Outdoor Leadership School's First Aid Wilderness Course and decided to finally take the plunge, spend the ridiculous amount of money, and enroll at the course offered at our local REI. Going into the backcountry for an extended period of time with a baby and a toddler it seems like the responsible and smart thing to do. We want to be sure we are knowledgable and know what to do should an injury or illness hit any of us while out exploring. We probably should've taken the class long ago but I'm glad we're doing it now.
I would like to take a Map and Compass course, as I generally rely on Bobby and/or GPS for that and I would like to be knowledgable and prepared should anything terrible happen.
We are also going to be taking some paddling lessons from the wonderful Alyce from Source of Confidence. Having paddled two major river systems in North America we know we chose wisely for someone to help us with our, somewhat, lacking paddling skills. We are anxious to become more efficient and less snippety with each other when out on the water.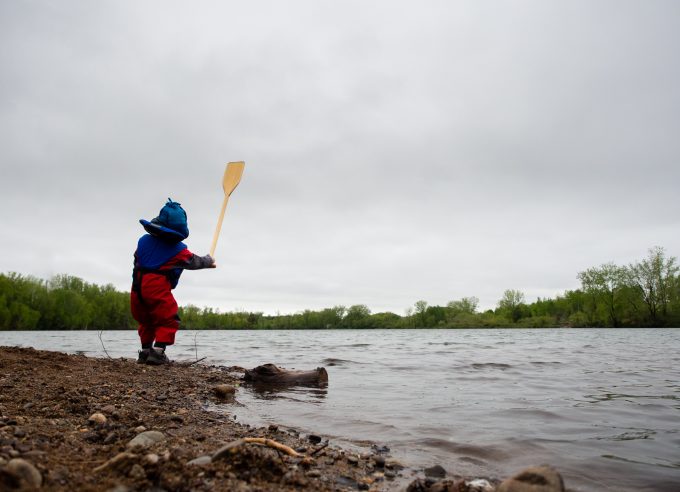 Overall, we have a lot of training to do, a lot of talking to do, and a whole lot of learning to do. We definitely have our work cut out for ourselves over the next couple of months before go-time but we are so excited for all the adventures we have planned until we set out. Camping, backpacking, and canoeing trips with friends and family are quickly filling up our calendar and we couldn't be happier as we know each trip and experience will bring with it new lessons learned and more experience gained!