Where does the baby go? Doesn't your toddler just jump out of the boat? We get these questions frequently when speaking about taking our two children on canoe trips. They are now seasoned veterans of the Boundary Waters Canoe Area Wilderness (BWCA) and after multiple trips with both children, in a variety of seating arrangements we have finally come up with the a seating arrangement that works for us! The sad news is, that since last summer, and the last open water we saw, our children continued to grow and develop so our once crawling baby is now a terror of a running toddler. This year we will be starting from scratch and figuring out what works best for our family this year.
First, some background on our beloved canoe. It's a Northstar, Northwind 20 canoe made right here in Minnesota by a small, dedicated group of canoe-building gurus. This beast is 20 feet 5 inches long and weighs in at a mere 54 pounds. It stays so lightweight by the Aramid (kevlar) fabric that is used to make it. To learn more about this canoe check out our visit to the workshop last year.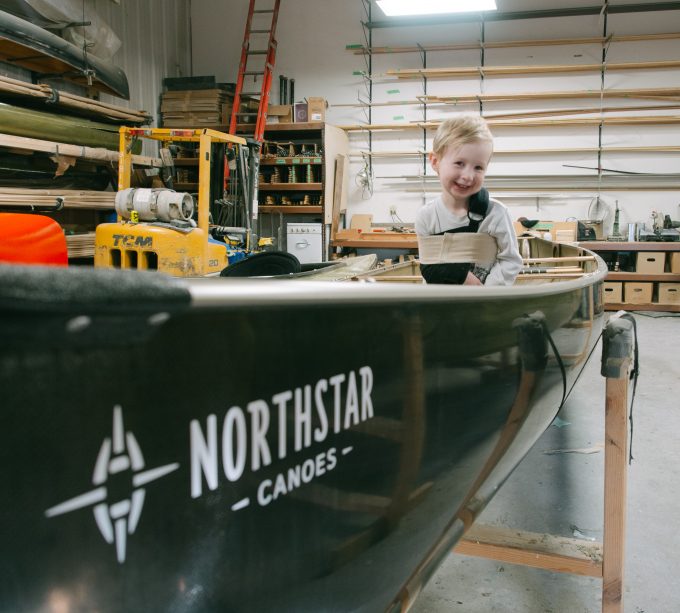 Because this beautiful canoe has 4 seats and a 1000 pound load capacity we can easily fit (and have) 3 adults and 2 children (occasionally we add in an extra child and it's no problem).
We currently don't have the 4th seat mounted for this canoe. I (Maura) stern the boat so we left the rear seat, closest to mine, out for the time being. In place of that we have a Northstar Knee Bed 40″x52″ which provides added insulation from the cold. Atop the Knee Bed is our designated "duffer", usually Grandpa Mike. He joins along on many of our trips to help with the baby of the group. He holds Rowan, enduring her screaming and fidgeting but, has the benefit of enjoying one of his favorite places, the BWCA, with his grandchildren along.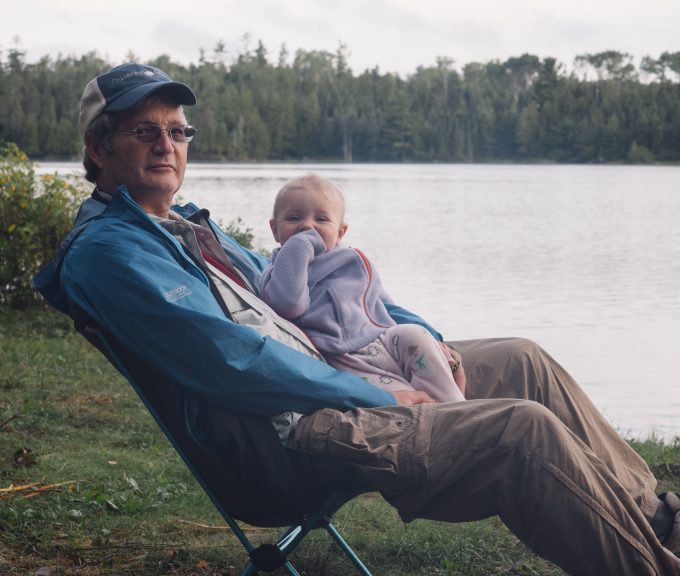 Sitting up in a baby-sized life jacket is difficult for the strongest of babies. It rides up, around their neck and makes them fairly uncomfortable. Thus, Rowan needed to be held all last summer and we had ample volunteers wanting to join us and help out. We are always strong proponents of bringing along friends or family for extra help and extra fun! We attempted a canoe trip with just us and the two kids, propping Rowan up between Bobby's legs but it just didn't work. Everybody was miserable and our trip was cut super short.
A great resource for parents who are looking to canoe with their children is Cradle to Canoe by Rolf and Debra Kraiker. This book offers multiple seating solutions for babies and toddlers, including the use of a laundry basket to sit baby in. We thought about using things like a Bumbo chair or even our framed carrier but the worry is, not having them in anything that they are clipped in or wedged to, should the boat capsize they need to be buoyant and float. A laundry basket is a great way of keeping them contained and safe while in the canoe.
Jack, on the other hand has been sitting solo on his canoe seat for the last two years. Before we had our Northwind 20 we borrowed Grandpa's boat, which didn't have a middle seat. We found that IKEA has an awesome stool for $8 that was the perfect height and super stable legs to provide Jack with the perfect seat. On Jack's inaugural canoe ride we were sure he would jump right out of the canoe, due to his penchant for physically astounding antics and dislike of sitting still. Much to our surprise he sat, and continues to sit, like a true gentleman while in the canoe. He looks around, watches the birds, and simply loves being on the water.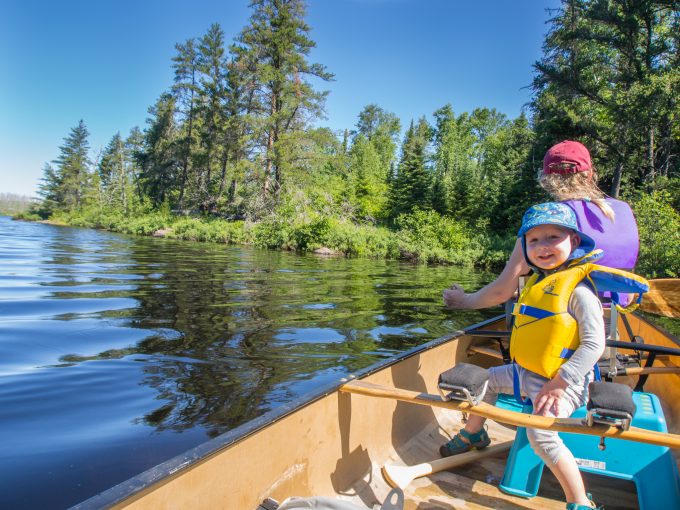 We give Jack his own paddle to "help" us. Toddlers and preschoolers love to "help" out in any way they can. He is often going against the flow and occasionally drops his Bending Branches Twig paddle into the water. Thankfully, they float and are easily retrievable. Some parents opt to tether the paddle to the boat but I feel the added rope would cause frustration when tangled up, thereby increasing the likelihood of a mid-trip meltdown. It's easy enough to turn around and grab it if need be.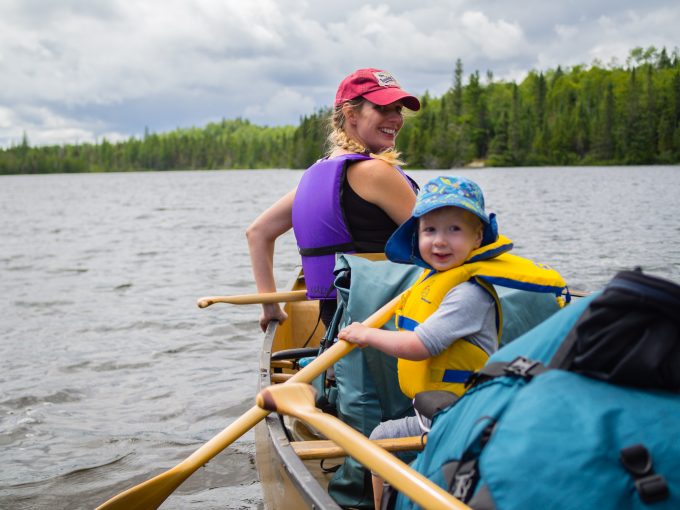 One downside of canoeing, on lakes especially, is the complete lack of shade. This can be tricky if you plan on spending any length of time in the canoe with kids. We recommend long pants and long sleeves for kids that are a non-cotton, breathable material. We love Wee Woolies for summer time adventures. They are expensive, so be sure to ask for them as gifts for your kids! Having a solid sunhat is another way to keep skin safe from that blazing summer sun. Sunday Afternoon makes an amazing Explorer's hat for toddlers and a wider brimmed, bucket hat, for older children. The chin straps work great for windy days and pesky baby hands frantically trying to get that hat off within the first second of having it on. The hats also work great for keeping biting insects at bay.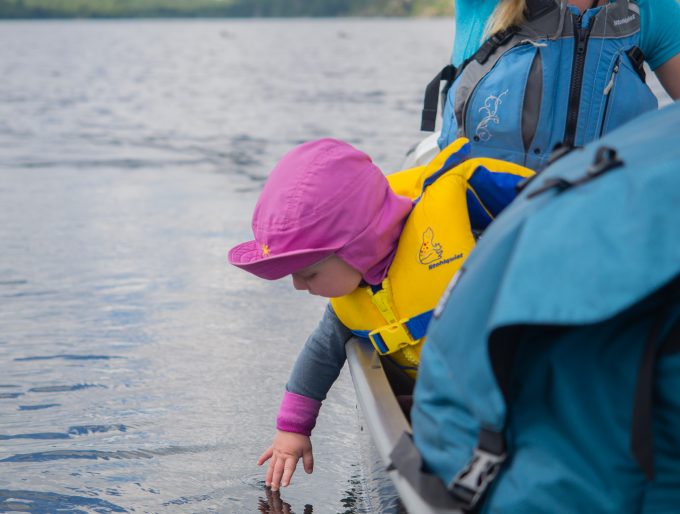 Another sun protection tool that we love is the umbrella! We use this on hikes and canoe trips with infants that may be too young for sunscreen. We don't invest in a super expensive umbrella, just something simple and compact from Target works great! Just ignore the odd looks you get. If you have an infant that can sleep on the bottom of the canoe, or in the laundry basket this is a great item to set over them to keep the sun off, but a breeze coming.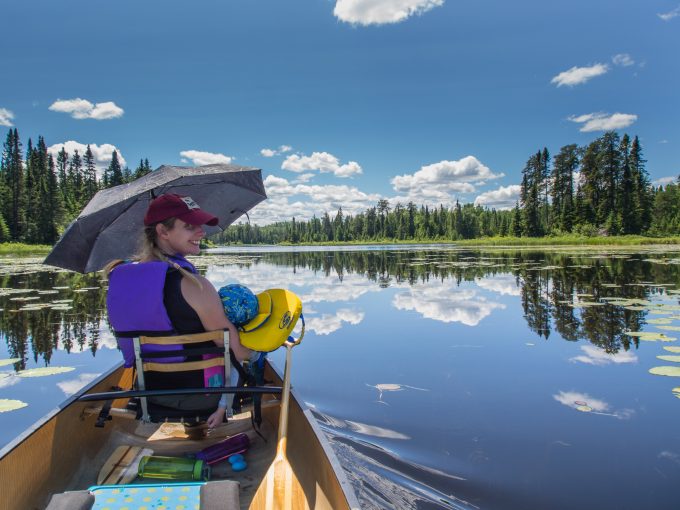 We don't bring many toys into the wilderness but we do bring one or two matchbox cars for playing with in the bottom of the canoe. We keep them in a small hipster pouch from Onya that can be attached to the seat. Don't be afraid to let your children lean over and touch the water. Thankfully their lifejackets have a handle on the back to help hold them in when necessary but this is such a great way for them to explore what they are seeing.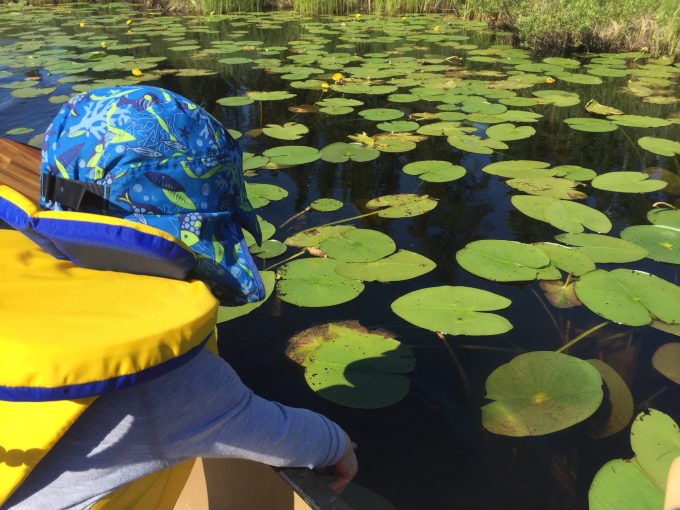 Keeping snacks, treats, and water readily at hand is vital for the success of any canoe trip with toddlers along. I love my Stohlquist life jacket because of the large-sized pockets it has. Within them I can hold bars, fruit snacks, and, my personal favorite special treat, DumDum suckers.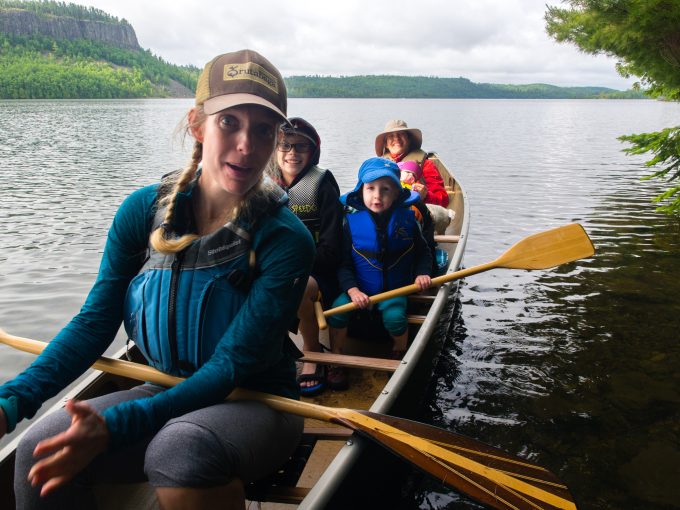 Having an array of fun, sing-along songs in your arsenal is another great way to keep spirits up when canoeing with babies and toddlers. Remembering that, for the most part, they are just sitting there, hanging out. Keeping them engaged and interested with fun activities is a great way to make the trip a successful one. We play lots of games, observe what is around us and what we can hear. We talk about where we are on the map and have kids "help" us navigate by looking at the map. For longer trips, portages are actually a great way to break up the day. It gives kids the opportunity to get out, stretch their legs, get some energy out, and a change of scenery is always good.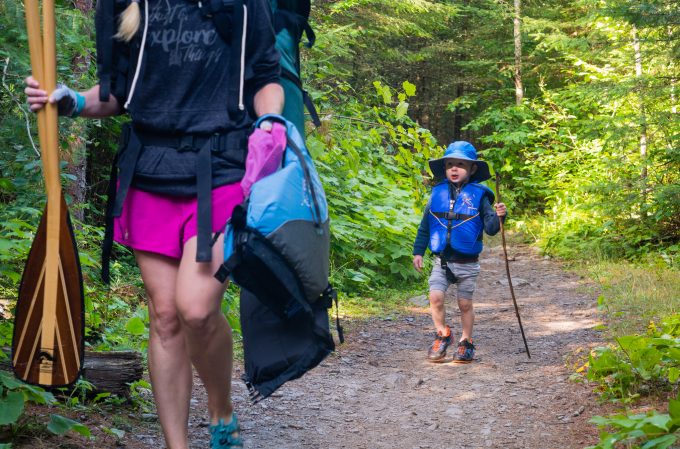 Napping in the canoe is totally doable! We have had remarkable success with this. I don't know if it's just the luck of the draw that we got with our kids, in terms of sleeping habits, or if it's the combination of the quiet, the fresh air, and the steady, constant motion of the boat that lulls them to sleep but it works wonders.
Our biggest piece of advice to those families who want to give canoe camping a try with their young ones is, do it! Find a lake with rentals and easy access. Plan for a half an hour and just see how it goes. You might be pleasantly surprised by what you experience, I know we were! Canoeing is such a great way, especially in Minnesota, to find a wilderness experience with your family without too much effort.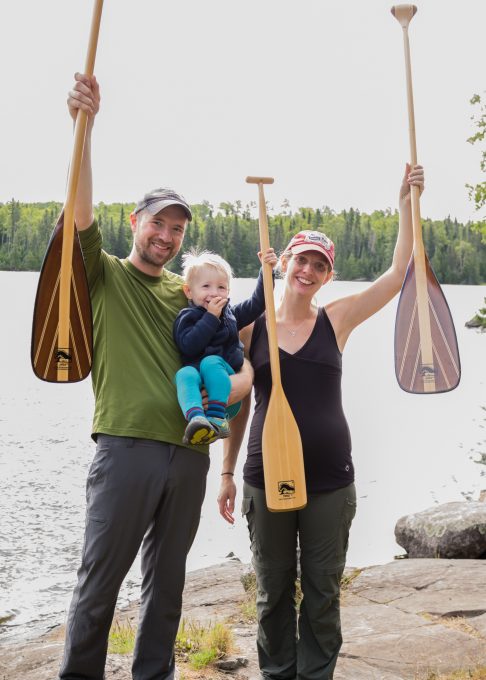 Free downloadable packing lists
Canoe camping with infants packing list
Canoe camping with children packing list