Before Jack came along we had a rather hard time fitting all of our gear and our trusty adventure companion, Latigo, into our Ford Explorer. We had picked up a Yakima Rocket Box many years ago and it has served us faithfully. With the addition of a baby into our lives and adventures the Rocket Box is no longer cutting it. Finding adequate space in the car for gear, baby, and dog stuff while still having enough room for all of us to be comfortable was becoming a huge issue. We would cram the Rocket Box full, take up half of the back of the car (and Latigo's space), and use what available room there was in the backseat around Jack's carseat for all of our stuff. It was frustrating to not be able to sit in the back with Jack on longer trips and to feel like the car was always complete chaos. Finding specific items while out was difficult and the car was a complete wreck after adventures. We decided to test out a SPACE Trailer on a recent adventure and we were not disappointed! Packing took me maybe ten minutes. No game of Jenga, no pulling everything out two or three times in an attempt to pack smarter. I just laid everything in the trailer and then shut the removable, weather-resistant canopy and was done!
It was amazing that while I was packing I didn't feel like I had to pick and choose what to bring with us. I knew we had plenty of cargo space and was able to bring along pretty much everything! Extra toys for Jack, extra pillows for us so we could camp in luxury, and plenty of clothes, toiletries, and extra snacks that I would normally cut back on for a camping trip. I even considered bringing along the stroller simply because I had the room! I didn't because it wouldn't have been used but it was great to know that I could have!
This is a short little trailer that some may have difficulty backing up. I spent two years working as a Forestry Technician driving a large pickup with a wood chip box on the back and a chipper towed behind it. So, luckily, I've had ample experience backing up shorter trailers. For those that don't know, the shorter the trailer the trickier it is to back up. I struggled initially at backing it up, simply because it has been several years since I'd backed up any trailer. I soon found my groove and had no issues. However, when I was struggling during a trip to Gooseberry State Park here in MN I was getting really flustered and frustrated. Bobby reminded me of how lightweight the trailer is (only 550 lbs) and that we could just unhook it and move it. He was right! It was a breeze to disconnect, move, and hook back up. It took a lot less time then I had originally taken in my epic fail of trying to back up! The SPACE Wheel Jack worked amazing and I was so glad we had it on the tongue of the trailer!
Our only critique of the product was that 20 or so miles along dirt roads did result in a small amount of dust getting inside along the front section of the trailer. However, we drove through rain and the trailer sat out in the weather and nothing got wet. We were also amazed that it didn't affect our gas mileage at all! I was sure we would lose some fuel efficiency but I was very happy to be proven wrong! Plus there's no added road noise like you get with boxes on top of your car. The bars on top are a bit wider then the trailer itself (depending upon what length you get) so it was important to remember that as we drove. The bars will come in very handy when we go on biking and canoe adventures in the future! We won't have to figure out how to arrange the top of the car!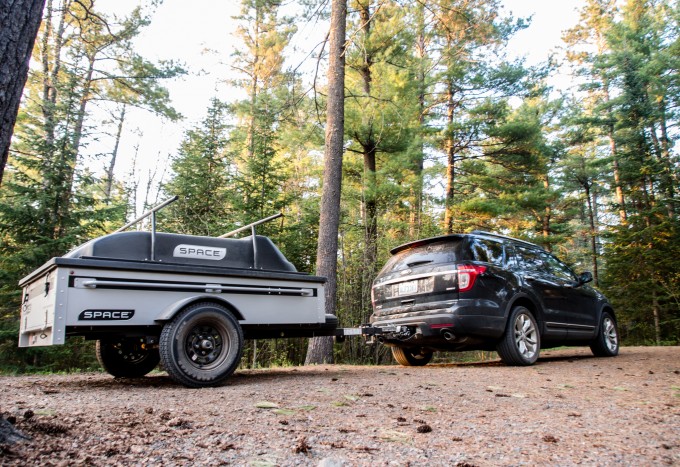 It was so perfect to have along at a trailhead for a hike we did. We had arrived at the trailhead late, right at lunch time, so we stopped and had a picnic before hitting the trail and the tailgate worked as a wonderful kitchen area where I was able to prepare lunch for everybody without dog hair everywhere (like there is in the back of our Explorer).
Overall, purchasing a SPACE Trailer is a pretty hefty investment. Ask yourself, how much easier will this make my life? Is it worth it? For us, the answers are, it will make our lives immensely easier and YES it is sooooo worth it! If you're concerned about having storage space for the trailer, you can store it on end to take up less space. If you aren't sure if SPACE is a good fit for you and you are local to MN consider renting one and trying it out first (which is what we did). Todd at SPACE is awesome, super helpful, very friendly, and a joy to work with! Thanks to him this amazing product is on the market! The trailers can be shipped to anywhere in the lower 48 so check out their website and start enjoying an easy, hassle-free packing process for your next outdoor adventure with the whole crew!