A fellow hiker on the Superior Hiking Trail Facebook Group recommended this hike to us and we were glad we listened and went on this scenic, short trail. At only 2.6 miles and situated between Tofte and Lutsen this made a great day hike for us on a recent trip to the North Shore.
When we arrived at the trailhead it was lunchtime so we decided to have a picnic in the parking lot before hitting the trail. This was made easy by the SPACE Trailer we had rented for the weekend.
The parking lot was massive! It was only half full on a gorgeous, sunny Saturday afternoon. There was a privy, signage, and a small ranger cabin.
We hit the trail taking the loop counterclockwise, per the Superior Hiking Trail guidebook's recommendation. We were so glad we listened to the guidebook. Taking the trail counterclockwise takes you through the more boring sections of the trail first. The views get more and more beautiful as you work your way around the mountain culminating in a beautiful, final view before heading back to the trailhead. This trail was in excellent shape, well maintained, and would be an easy and fun outing for any level of hiker. Boardwalks made for easy passage over the wetter sections of trail.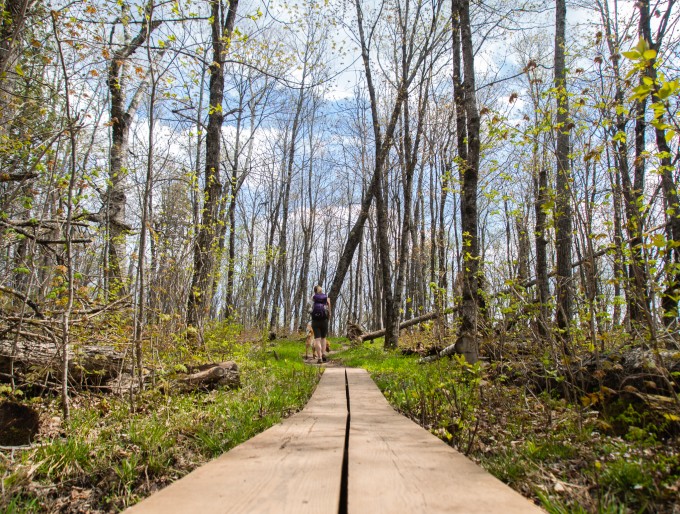 According to the guidebook you are afforded eight scenic viewpoints along this trail. We honestly lost count as we came upon more and more vistas during the loop.
We saw many other groups along the trail and everybody was in high spirits as we enjoyed an abnormally warm and sunny day on a beautiful trail in the North Woods of Minnesota. This trail is short, sweet, and a definite must-do if you're in the area looking for a short day hike with awesome and easy rewards! We hear the trail is especially popular when fall colors are at their peak and we can definitely see why with the views across the Sawtooth Mountains and Lake Superior.