After a successful first night of camping for our 6 week old baby boy, Jack, we drove halfway home and stopped for a hike in the Teanaway. We have been doing easy, family friendly hikes since we found out we were going to be parents last October. Mount Pilchuck was the last hike I had done that had more then 2000 feet of elevation gain and that was almost a year ago! I was eager to get back into the higher elevations so Bobby found a hike of 5 miles with 2000 feet of elevation gain, whose description boasted incredible views of surrounding peaks.
The trailhead is much farther off the beaten path then we were expecting and the drive included many miles on a potholed and washboard gravel road followed by a little over a mile on a horrible brushy road that looked much more like a poorly maintained trail then a road. We were shocked to find six other cars at the trailhead when we arrived at 10:30. We were beginning to think that we were the only people silly enough to endure such roads all for the sake of a trailhead. Clearly we were mistaken.
The trailhead is very basic with only a sign board and trail marker sign. There are no privies and no pay station. There is a wilderness permit station in case you're taking the trail into the Alpine Lakes Wilderness. We saw an array of passes displayed in people's windshields but the proper pass would be the Northwest Forest Pass.
After Jack ate we set off in the blazing sun, Bobby using our newest hiking essential, an umbrella, to keep Jack safe from the sun.
The trail begins along an old road bed, at .5 mile veer right at the first trail junction you come to, following signs for Bean Creek Trail.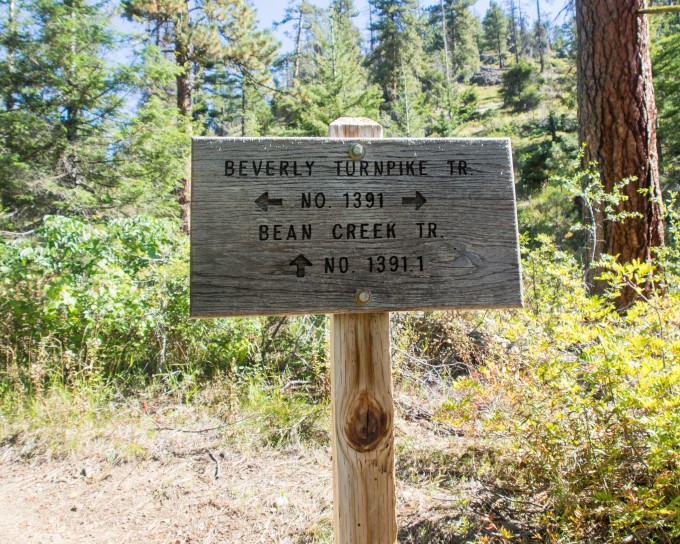 The trails steady incline remains fairly consistent throughout the hike, with intermittent, small periods of more intense upward gains. We were already huffing and puffing our way up, stopping in the shade of the scattered trees for breathers. After turning right you begin to follow alongside Bean Creek. This section of the trail is slightly overgrown and would be ridiculously beautiful in springtime with the myriad of wildflower species blooming. As it happened, we were there too late for the flowers and instead saw a lot of stems of spent flowers with only the occasional late bloomer to gaze at.
.25 miles after the first trail junction you cross Bean Creek.
This creek is fed by snowmelt and can, therefore, be dangerous in springtime at peak flow. Be cautious and aware of possible changing conditions. Being there in September meant low flows and an easy crossing for us.
The trail has a steep incline up and away from the creek bed and into a smattering of trees.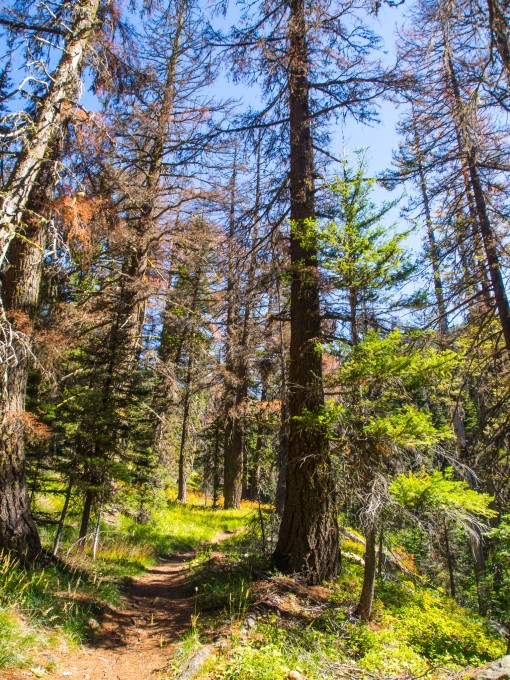 We crossed a dry creek bed that provided spectacular views of an unnamed mountain of rocks (at least our map didn't have a name for it) above that we proclaimed should be called "Jack Mountain". We hadn't been on the trail long, not even for a mile but the incline was getting to both of us. It was just 11:30 but I already wanted lunch. We agreed to push on until we had reached a mile. After our GAIA GPS app informed us we were just past a mile we began searching for a good, flat spot off the side of the trail to lay Jack on that also had rocks and/or logs for Bobby and I to sit upon. It took a bit longer then normal to find a good lunch spot because of our new requirements but we eventually did. Jack relaxed on his changing pad under the shade of the umbrella, kicking his legs happily and making those oh so delightful baby noises. Our little guy sure does love to be outside! He seems to only fuss when he's in the Baby Bjorn and we aren't moving.
We continued along the trail discussing how nice it was to be on the trail and not seeing other hiking parties with great frequency. Because we have been doing so many easy, family friendly hikes we haven't found ourselves out in the woods feeling the great sense of solitude that we so enjoy on our adventures. Today we only encountered one hiking duo. We stopped and chatted about the trail ahead and another trail they had hiked in the area the previous day. They recommended we check out Longs Pass and we bid them farewell as we continued upward and they were headed back down to the trailhead.
We finally reached our next trail junction at 2.25 miles from the trailhead, continue along the spur trail heading towards Bean Creek Basin. We were happy knowing that we were very close to reaching our destination!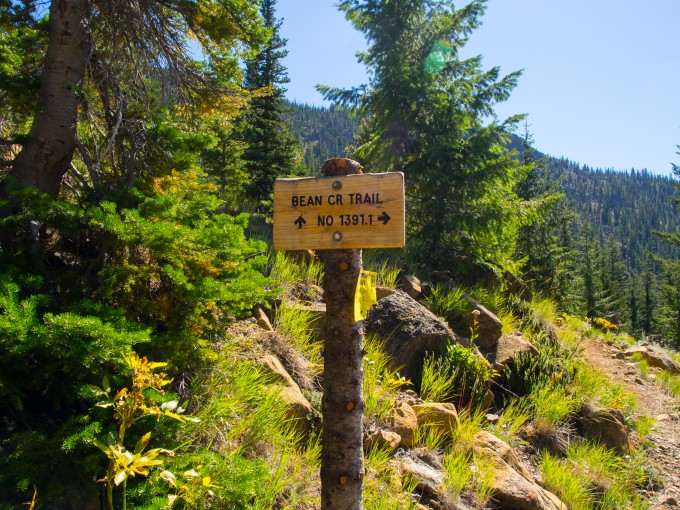 The final push is always the most difficult and I began questioning if I would be able to make it to the campsite in the basin that would be our destination for the day. With lots of positive encouragement from Bobby I managed to make it all the way to the end point! While the scenery was beautiful we were very disappointed that the peaks that the hiking description had promised we would be able to view was incorrect. We would only be able to see the views if we were to brave a scramble up a rocky peak high above us. There was no way we had the energy or the desire to do that. This would be a beautiful destination in springtime with the wildflowers blooming throughout the alpine meadow we found ourselves in.
There were 2 backcountry campsites that didn't seem too overused and would make a wonderful overnight stay. There were no backpackers occupying the sites so I plopped down and fed Jack in the shade while Bobby explored the basin and shot pictures.
Once Jack was finished eating he and I explored the basin a little while Bobby shot a few pictures of our amazing little hiker!
We celebrated reaching our destination with some locally grown peaches that we had purchased at a roadside fruit stand before heading back down the trail.
Overall, I'm not totally sure that the grueling incline of the trail was worth the end destination. We both agreed that had we come in the spring when the flowers were in bloom it most definitely would have been worth it. Or, had we had the energy and the desire to scramble up the nearby peak in order to take in the surrounding views it would've been worth it. We were glad we had gotten out to a more difficult hike and felt an enormous sense of pride at having completed a somewhat more difficult hike then we have in many many months!
For more photos check out our Facebook Page!