Officially into my 8th month of pregnancy meant a pretty low key Memorial Day Weekend at home for us. We did manage to get out one day for a little excursion into the foothills of the Cascades. We headed to Cougar mountain and the Coal Creek Falls trail. A trail that I had actually helped reroute on a Washington Trails Association (WTA) trail crew work party earlier this year! It sure was neat to bring Bobby to a trail that I had helped build! I got to point out a stump that I had helped pull out that was sitting along the side of the trail at one point! If you haven't worked on a WTA trail crew yet I would highly encourage you to give it a try! It is so much fun and a great way to meet lots of amazing outdoorsy minded people!
This is a very popular trailhead located in the Cougar Mountain Regional Wildlife Park there is a veritable maze of trails and trailheads here so be sure to print out a map available form the King County website before heading out. While the trail is well signed, it's always good to have a reference guide! Especially if you end up wandering and exploring other trails in the area. There is a large parking lot at the trailhead but it still fills up quickly. We barely got a spot when we arrived. There are two privies at the trailhead along with garbage cans, a dumpster, a picnic table, and doggie poo bag dispenser.
From the trailhead veer left following the Red Town Trail. The trail starts of the width of a two lane gravel road. The crowds abound before eventually tapering off as hikers pick their various chosen routes for the day. We had a large pack of boy scouts behind us, but at the first trail junction, 0.1 miles in, we veered left, joining the Cave Hole Trail, and soon found ourselves alone on the trail.
The trail gets a bit narrower here but it is still wide enough for a vehicle to get through. The forest around the trail has species ranging from western red cedar to vine maple to alder. The understory is thick with ferns, salmonberry and many species of wildflowers. The forest definitely endured it's share of logging and there were some pretty remarkably large stumps left behind to remind us of what was once there.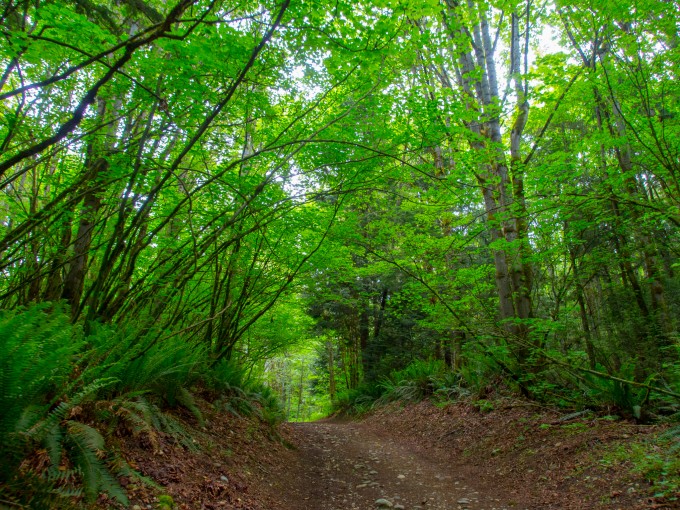 There was also an alarming amount of stinging nettle along the trail, so keep kiddos and pups on the trail!
We did, of course, stumble upon many a slug along the trail!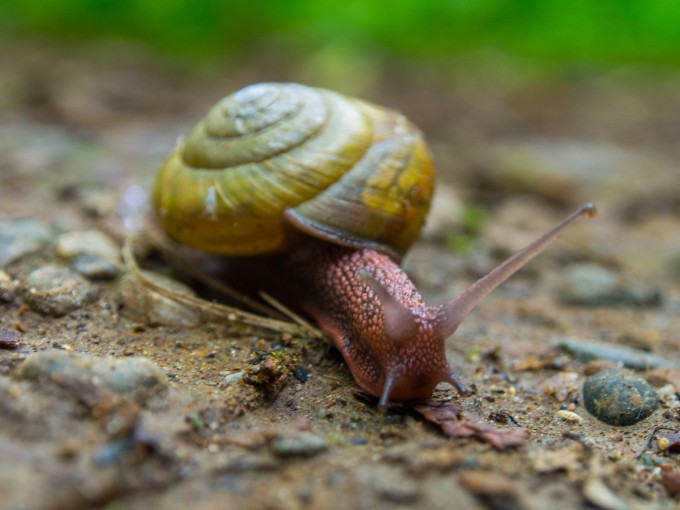 This area was extremely busy for 100 years as the site of some major coal mining. From 1863-1963 Cougar Mountain was filled with miners, busy tunneling 6 miles under the mountain and strip mining the surface, eventually hauling out 11 million tons of bituminous coal. Remnants of the mountains mining past are obvious when you see the large holes in the ground alongside the trail as you walk. These "cave holes" were formed due to the miners underground extractions getting too close to the surface which would eventually lead to cave-ins.  Be sure to stay on the trail so as to avoid some of the deeper and potentially dangerous cave holes. One of the larger holes in the area is rumored to go 518 feet below sea level!
After .2 miles you will encounter another trail junction. Here you have the option of taking a slight detour and join the Red Town trail. We continued along the Cave Hole Trail that would eventually lead us to Coal Creek Falls.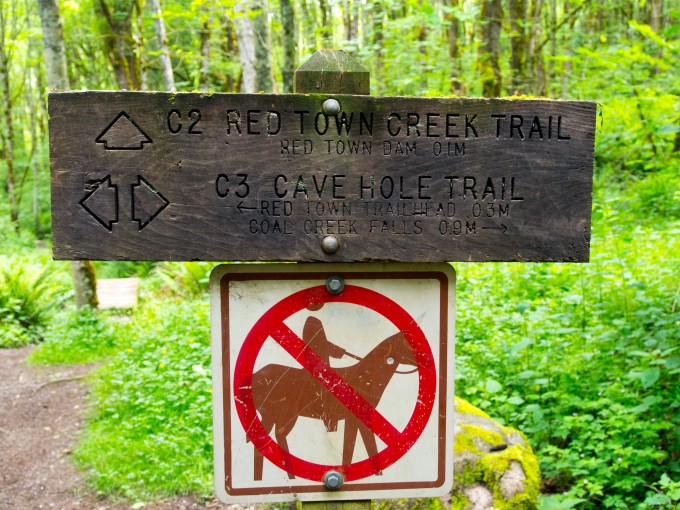 After an additional .4 miles along the Cave Hole trail you'll reach your third trail junction. Here, you will veer to the right  to  begin along the Coal Creek Falls Trail. The trail becomes much more narrow here.
This trail used to be notorious for it's muddy conditions but thanks to a recent reroute completed by WTA our shoes stayed relatively clean. There were still a few patches of mud here and there but nothing obscenely bad. The trail began to descend and we could soon hear the sound of running water from the nearby Coal Creek. After you head down a short set of stairs after a somewhat rugged section of the trail there is just .3 miles to go until you reach the turnaround point of the hike, Coal Creek Falls!
This 28 foot waterfall is fueled by runoff and has it's best flows in the winter. In late May there wasn't a lot of water running but it was still a beautiful site and a great climax to the hike!
From this point you turn around and go back the way you came. Overall a great hike to do while pregnant! We encountered a couple of other small groups along the trail and many of them had young children along.