We moved to washington just a few weeks ago and were eager to go on our first outdoor excursion. Using the Washington Trails Association (WTA) website for the first time we found the Otter and Big Creek Falls – Taylor River hike. At 10 miles it was one of the longest hikes we had ever attempted but, it only had 650 feet of elevation gain. We set off with the hope that this would be an easy introduction to hiking!
Despite the constant and unpleasant drizzle that continued throughout the day we made it through the hike without any problem! There were several river crossings but there were bridges over the major waterways. On the smaller crossings there were ample stones and other materials to allow for safe crossings and we never got our feet wet.
We decided to let Latigo off leash during some of the river crossings for own safety and to make it easier on him. He swam happily across without incident!
This was a popular trail with a lot of people on it. After seeing the two spectacular waterfalls that grace this hike we soon understood its popularity. The views were breathtaking. We took the side 1/4 of a mile side trip to see Otter Falls on the way in. We were glad we did!
We turned around 5 miles in at the concrete bridge, "a remnant of the old road and a developer's dream, a dream that fortunately died. The wide road that was planned into the headwaters of the Taylor River valley never progressed much beyond a logging road, and even that has largely disappeared, leaving this primitive trail." according to the WTA. The bridge gives an amazing viewpoint for Big Creek Falls, your final destination on the hike.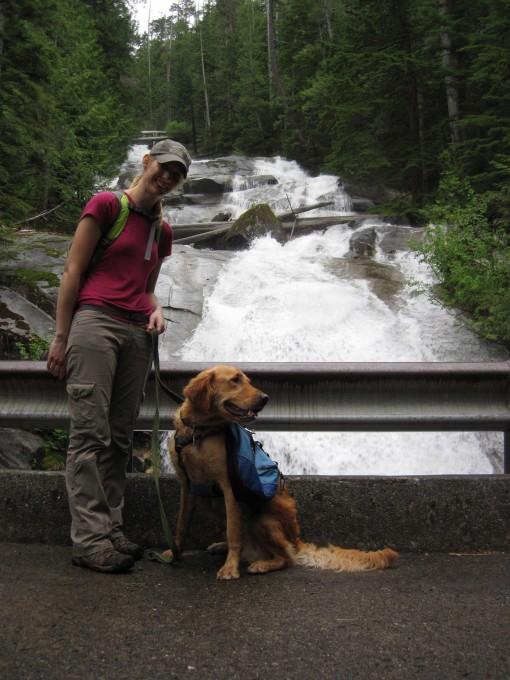 It was a great hike to do on a drizzly day because we weren't missing out on any views.
The waterfalls and surrounding mountains were shrouded in the mystery and beauty that a rainy day offers. Overall this was a great start to the many adventures that lie ahead for us in the beautiful Cascade Mountains!