Bobby and I have decided it's time to move our family back to our roots in Minnesota where Jack can grow up surrounded by the family that loves and misses him so dearly. With only two weekends left in Washington we're choosing our hikes carefully. It had been 16 months since my last peak when Bobby and I began discussing where we should go for our hike this past weekend. I used to be able to hike 20 mile days. Since having Jack anything over 5 miles sounds like a marathon and anything with over 1500 feet of elevation gain may as well be summiting Mount Rainier. My once-daily 4 mile walks that would be completed while cruising at 3-4 miles per hour in any weather conditions have changed to 2 mile walks a couple times a week that are done in an hour on a good day only when it's nice out. So peaks have intimidated me, to say the least. But, I really wanted to bag a peak before we left. With the weather unseasonably warm and with a ridiculous lack of snow in the mountains summitting a peak in February didn't seem too difficult or too dangerous.
Our friends Paul and Marie along with their dog, Beth joined us for a hike up to Beckler Peak. We set off early Sunday morning and the weather couldn't have been more perfect, a blazing sun with highs in the 50s! We were in for a treat! At 7.4 miles and 2263 feet of elevation gain I knew this hike would be a challenge but I was feeling confident that I could do it! We arrived at the trailhead to find the parking lot already half full with hikers gearing up and dogs roaming about in anxious anticipation of the hike that was going to happen. This had to be one of the most picturesque trailheads we'd ever been to. It was seated right on the side of a mountain with breathtaking views of the surrounding mountain range. There was a privy but it was closed up for the season. There were trash receptacles and signage.
We geared up and hit the trail. You begin on an old forest road that has been decommissioned with many large bumps. You cross several small streams and the sides of the trail are littered with uprooted small trees and old logs.
We stopped and enjoyed a break in the sun and a snack before continuing on.
After a mile or so you leave the old road behind and hit a beautifully built trail thanks to the hard working volunteers of WTA! Side note: If you've never participated in a WTA Work Party sign up today! They are incredibly fun and are a great way to learn about all the work and effort that goes into building and maintaining a trail.
The trail narrows and you find yourself plodding through a harvested forest with piles of old logs that weren't deemed good enough for the lumber yard. The sun beat down upon us as we walked along the gently sloping trail and worked up a good sweat in no time. The views along this section of the trail were amazing!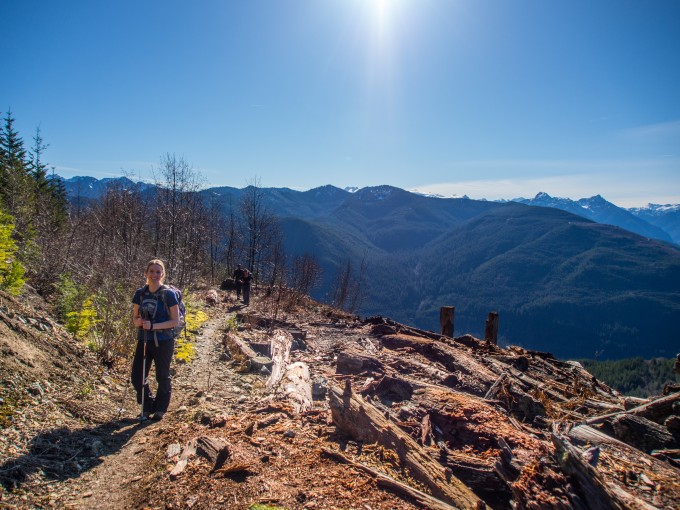 You then enter an old growth forest thankfully left alone by the loggers.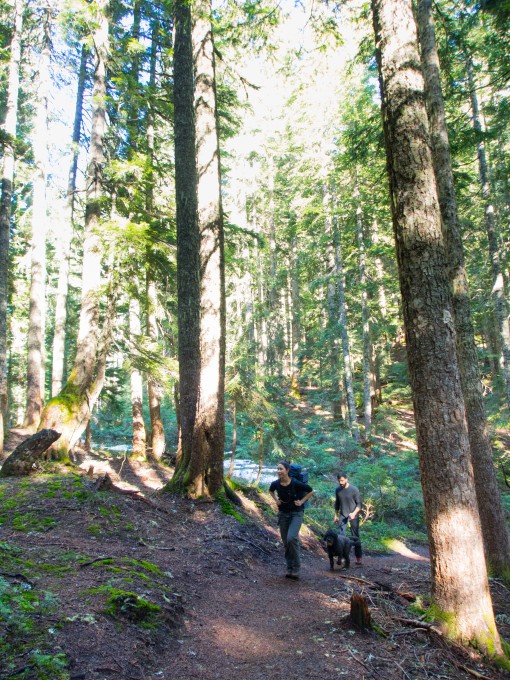 As we hiked through the forest I suddenly noticed a set of trail stairs leading off the path to seemingly nowhere. This trail had clearly been built for a reason and I had to investigate what it was for. Just a short ways off the trail is the site of an old cabin. My imagination ran away with me as I dreamt up several tales of woe and wonder of those that lived there!
The trail continues its gentle incline upwards and it switchbacks up through the thick forrest with occasional hot rays of sunlight streaming in through breaks in the dense canopy. We stopped for lunch when we found a good sitting log and all enjoyed a solid break.
The trail got a bit snowy about a mile before the summit but it was easily passable. There wasn't much so there wasn't any risk of postholing. Bobby and I did use our MicroSpikes on the way down just to make it a bit easier but I don't think they were really necessary. We saw many hikers successfully completing the trail without them. It was nice to have our trekking poles on the snowier sections to help with slips and to prevent falls!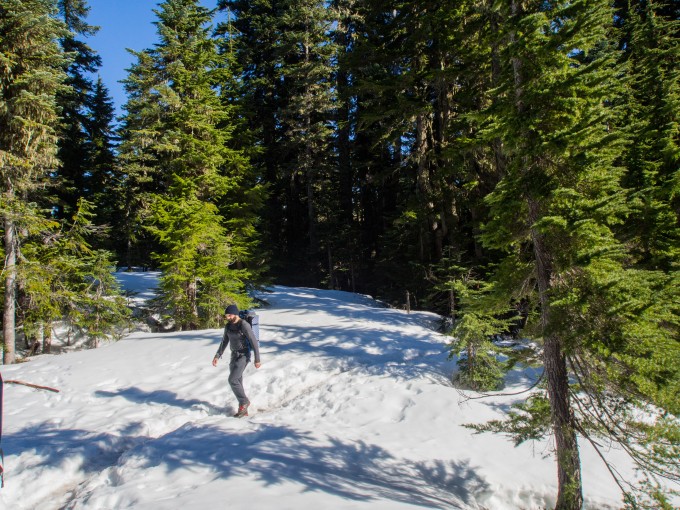 As we got closer to the summit the snowy patches turned into blankets of crunchy snow that had a well worn, easy to follow path. Before we knew it we were at the summit!
I couldn't believe I had made it to the top! My first peak in such a long time after having my body go through some really intense changes in the last year and a half it was so wonderful to feel like my old self again on the trail! My feet and legs were dog tired by the time we returned to the car but I wouldn't trade that soreness for the world! We still can't believe that the weather in February allowed for an easy and completely safe summit of a mountain. It was sad to see how little snow was up there. We kept having to remind ourselves that it was February and not July.
Overall this hike was ridiculously amazing! It was a challenge for me but it was a wonderful challenge! I'm so glad we bagged one last peak before moving back to the midwest where mountains are in pretty short supply!