Darkness surrounded us. Without our headlamps on we couldn't see our hands in front of us let alone the steep, eroded "trail" leading to Mailbox Peak. Staring up into the night sky we could see the the trees melt into blackness. Glimpses of brilliant shining stars would peek from between the forest canopy providing the only reprieve from the blackness. I suddenly became very thankful that I had packed every single AAA battery I could find in the house as backups for our headlamps.
Maura's sister and her family were in town visiting for the weekend to meet our 7 week old son, Jack. My brother-in-law, Luke, had just completed his first Ironman and I'd been plotting some sort of an adventure to take him on. After scrapping hiking the Enchantments due to time constraints I figured Mailbox Peak's proximity to Seattle and low mileage would fit the bill. To fit it into our schedule we'd have to hike at night once all of the children had gone to bed. Maura reminded me that the last time I hiked Mailbox Peak I swore I'd never do it again – and I'm not quite sure why I was drawn to do it now at night. I rationalized it by figuring we might get a chance to see the aurora borealis.
We headed out of town just as the sun was setting over the Olympics. It was a beautiful view from I-5 but as we drove along I-90 the mountains soon faded to meer shadows. After a quick stop at a gas station, for some summit-celebration brews, we were at the trailhead at 9pm. I was a little surprised that there was one other car at the trailhead – I figured we would be the only ones foolish enough to partake in this endeavor.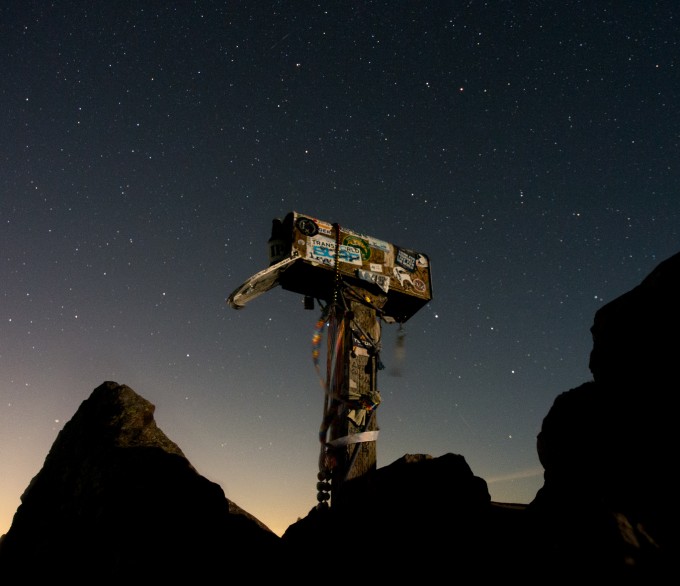 I had thought if we let our eyes adjust enough we'd be able to hike without headlamps. After tripping over the giant concrete barriers gating the trailhead parking lot and then falling over a large rock I scrapped that plan. Soon we started hearing voices ahead and I shouted out "hello". We came upon a small crew of hikers and they started telling us about how terrible the hike is and how their batteries died and they had to hike out in the dark. I figured this was a good introduction to Mailbox Peak for Luke.
Soon enough the steep hike led to a lot of heavy breathing and sweating. There were numerous times where we had to take a moment and stop to try and figure out which way the trail lead. Thankfully I remembered most of the weird junctions in the trail from the last time I hiked it and I could direct us to the most efficient route. About halfway up there are reflective markers on the trees which made it much easier to follow the trail.
After a little over 2 hours we reached the summit. The moon had its high beams on, but, had just risen so we didn't get blinded by it until summiting. Luke and I put on our jackets as it was pretty chilly and windy up there. We enjoyed the views of the surrounding mountains and the lights of the Puget Sound region and took pictures. After about a half hour and plenty of Graham Crackers we started the steep descent. The bone jarring steps downward were punctuated by the fact that you could only see rocks and roots a few feet in front of you.
When we were getting close to being finished with the steep part of the hike we noticed headlamps in the distance. It was about 12:30am so we thought it was really strange that anyone would be heading up. Eventually we got closer to the 4 guys who were hiking up. The first thing they asked is if they were almost to the top. Sorry guys, not even close! After a quick discussion they decided to turn back after we told them the aurora wasn't out. Only half of them had lights and they had a long way to go so I think they made the right decision.
We hurried back to our car and began the drive back to Seattle. To stay awake we head banged to some old Metallica. Fun was had by all except we were super tired the next day and took huge naps in the afternoon to recover.
Now I can say I'll never do Mailbox Peak again. We'll see how long that statement lasts this time. Overall, Mailbox is actually a great night hike due to all of the trail markers – just make sure you have plenty of batteries because a hike out in the dark would be awful.