I awoke early on Saturday morning and decided to wake Bobby up with those seven little words every man wants to hear, "Where do you want to hike today?" He shot up like he'd been awake for hours and immediately started planning where we should go. The day was to dawn bright, sunny, clear, and not too cold. A rare November day that would be picture perfectly beautiful. The North Cascades highway was still open, according to WSDOT, "Avalanches typically close the highway between late November and mid December. Reopening in the spring is usually accomplished by early May." We both feel that the North Cascades is one of the most beautiful spots in Washington and we hadn't been up there since a couple of months before Jack was born. We were anxious to introduce him to such a beautiful part of our state and to take him somewhere he could see snow for the first time! We packed up overnight bags, a duffle bag full of warm clothes, winter hiking gear, chains for our Explorer's tires, extra water, and lots of snacks and hit the road just after 9:00 a.m. 
Our destination for hiking was to be Blue Lake. Normally a three hour drive from our home in Seattle. With a baby in tow and stops for gas and lunch we ended up getting there just before 2:00 p.m. We had been on the road for 5 hours. We were all anxious to get out and stretch our legs. It was chilly at the trailhead and there was a little bit of snow. Blue Lake is just 2.2 miles in but there's 1,050 feet in elevation gain. We knew we'd hit snow. We geared up with our Outdoor Research Crocodile Gaiters, snow baskets on our trekking poles, and MICROSpikes secured in our packs should the need arise. We clad Jack in several layers including his newly purchased Columbia Fleece Snowsuit. Bobby had Jack on his chest in our Onya Baby Cruiser Carrier and zipped up his hooded sweatshirt and winter jacket around him. He was toasty warm in there and when we stopped for a break we discovered he was actually a little sweaty despite the temperature in the mid 30s.
We set off on the trail and found ourselves immersed in a beautiful forest on a well maintained trail with a steady and easy incline. As we made our way up the trail we were afforded incredible views as we would come into clearings that had clearly been created by avalanches. We found ourselves thinking it was a good thing there wasn't much snow at all, otherwise this trial wouldn't be safe to trek along.
The higher we got the more snow we were in. It was actually the perfect amount of snow. There was just enough to make the trail a little difficult and exciting but it wasn't deep enough to be post-holing. We were very glad we had brought along our MICROspikes. They definitely made the snowy/icy portions of the trail much easier to cross.
We made it to Blue Lake just as the sun was shining it's last rays on the tips on the mountains. I stopped to feed Jack on a snowy rock while Bobby tried to take advantage of the amazing light for some great pictures!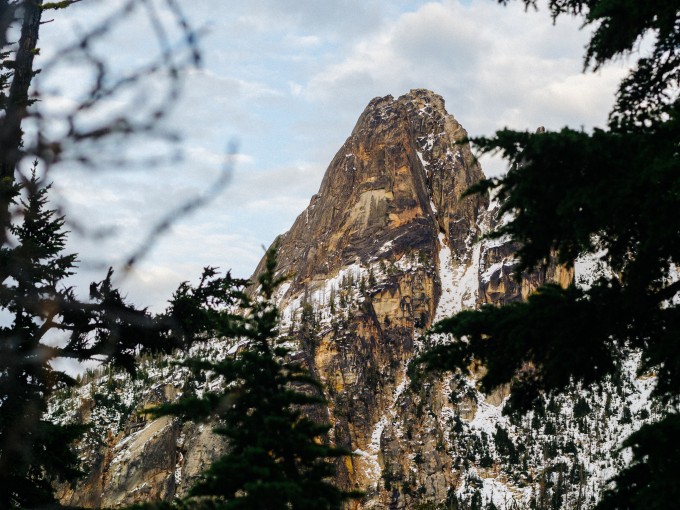 Our baby boy did an amazing job on the trail, as usual, and we had such a fun day being outside!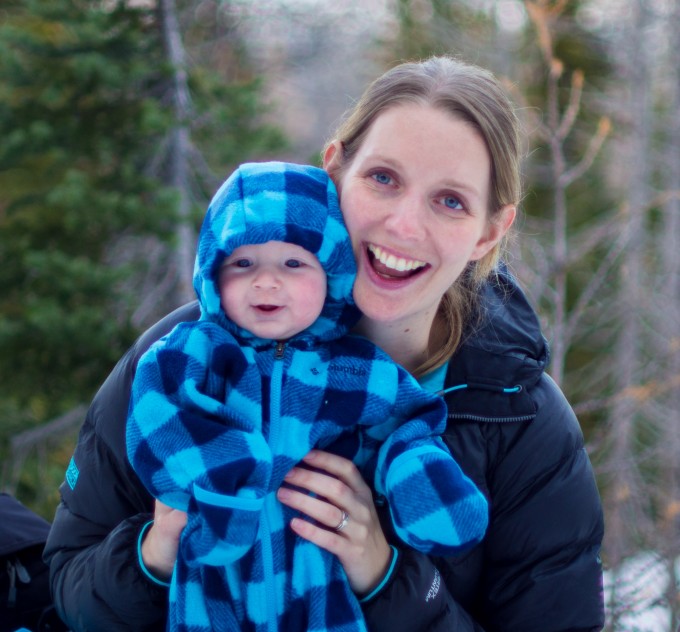 We made our way back down, trying to go quickly so we wouldn't be caught out in the dark. We had, of course, brought along our headlamps, but we knew it would be better if we got back to the car before darkness came. We made it back to the car just in the knick of time!
We passed several other groups along the trail. It was shocking to see several couples hiking in little more then tennis shoes and a thin winter coat. I think that when people see that the trail is only 4.4 miles long they think anybody can do it. Remember, there's elevation gain, there's snow, there are low temperatures, and the possibility of a winter storm hitting at any moment. Please come prepared with proper foot ware, attire, and emergency supplies. Don't forget your Ten Essentials before hitting any trail!
For more photos check out our Facebook Page!