Canyonlands National Park is massively large with 527 square miles of park to explore, divided into 4 distinct districts: The Needles, Island in the Sky, The Maze, and the rivers (the Green River and Colorado River converge within the park). This massive park has no road that connects the entire park together which means visitors generally chose to visit either the north or the south end. We could've spent a week exploring this remarkable park but, we only had two days to discover what this scenic place had to offer.
Our first day was spent in the Island in the Sky District, located at the north end of the park. It's about a 40 minute drive from Moab, through many open range roads (watch out for those cows!). We had a list of four, short hikes we wanted to do but, the kiddos in our group would determine what hikes we would ultimately accomplish. We opted to drive to the southern terminus of the Grand View Point Road to hike to Grand View Point. This short and flat 1 mile trail is spectacular in never-ending views. The trail wasn't safe for Jack or Rowan to do on their own, due to cliffs and major drop-offs. We used the hiking harness Bobby sewed before leaving home and our wonderful Lillebaby Airflow Complete along with our Osprey Poco Premium to keep the kiddos safe. Jack is too heavy to have comfortably in the Poco anymore so, our toddler friendly soft structured carrier works great for him.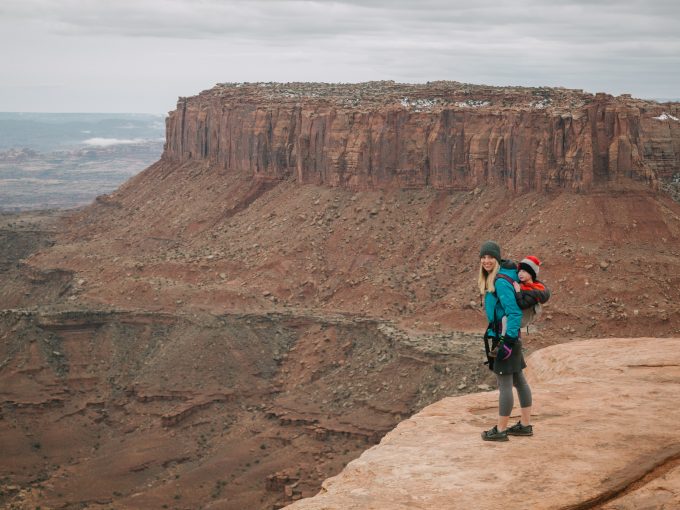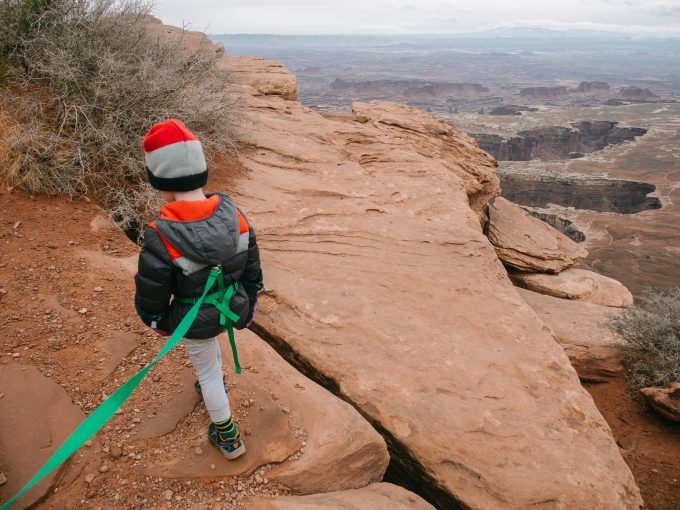 It was a chilly, cloudy morning that made the views even more spectacular. We had been worried that the unforcasted clouds would ruin our day but we couldn't have been more wrong. We felt like we were in a magical land of rock and cloud.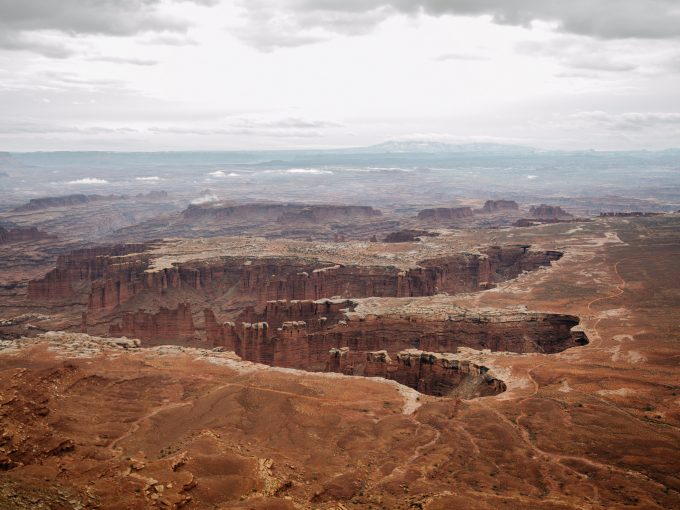 We had a snack while looking out over a view that will be hard to top before turning around and heading back to our truck and the next trail.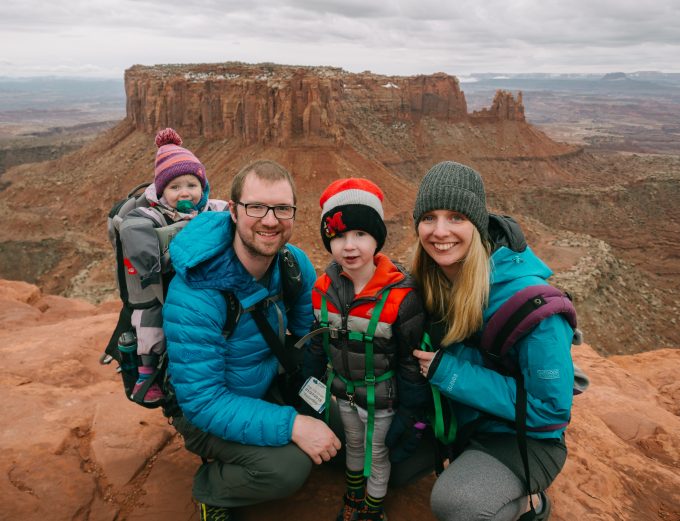 We headed north on Grand View Point Road, towards the exit of the park, and drove the 6 miles to the previously passed Mesa Arch Trail. This trail is so easy, even a baby can do it! Seriously, Rowan insisted on walking this trail ALL on her own! She made it the whole 0.5 mile loop to this stunning, iconic arch.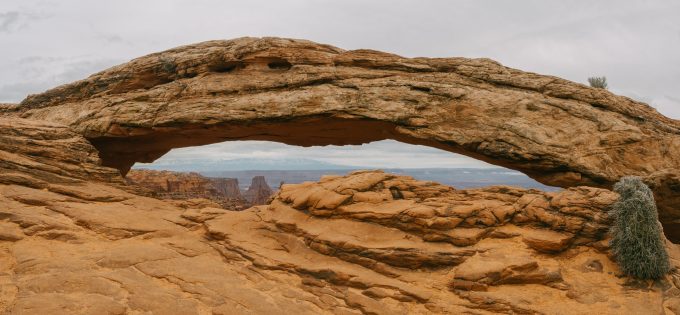 This was one of those moments on the trail that we were grateful for having multiple adults along. We traded off walking the phenomenally slow and painful speed of Rowan while the others kept up with running, jumping Jack. We met a lovely family of Minnesotans on the trail whose grown daughter took to Jack and played endlessly with him in the sand.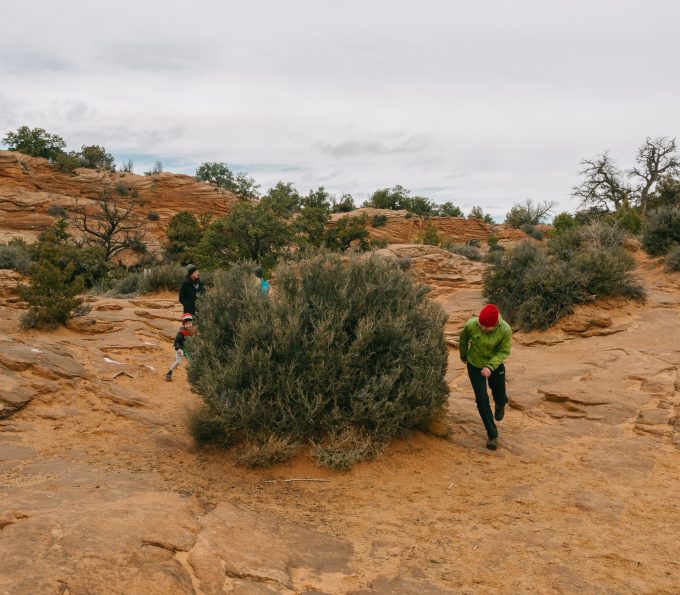 The number of kind and caring people we met on this trip is as numerous as the number of arches and crazy rock formations we saw!
It was time for some lunch but the wind had picked up and we were grateful for the topper on our truck bed. We ate inside, unbothered by the wind and unworried about spills of toddlers. The kids were doing great and we were all excited to do another hike. We drove a little over a mile on Upheaval Dome Road to the trailhead.
Bobby had set a goal of two hikes for the day and we were taking our first steps on the third trail of the day! Aztec Butte is a one mile round trip trek on a sandy trail covered in Cougar tracks. The den of this cat must've been close by and I kept a constant scan of the landscape for any sign. The trail was flat and Jack was walking on his own so I was on heightened alert, knowing that, though cougar and human interactions are rare, children are the most vulnerable member of a crew. We were also making a ton of noise with our two kids and conversation so, we would't be sneaking up on anybody, or anything, anytime soon. Cougars are most active at dusk and before dawn and we were hiking in the early afternoon so, overall we weren't too concerned. If you have worries about cougars and aren't sure how to handle a cougar encounter on the trail, many resources are available.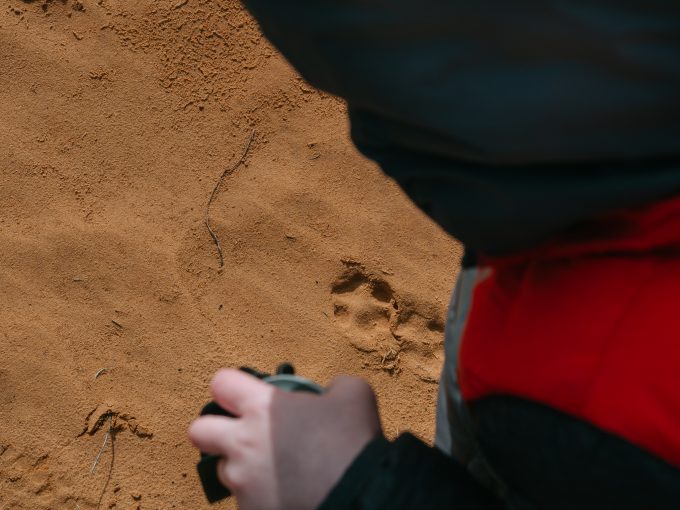 This trail is well signed and a side path leads hikers to a granary, perched on the side of the first butte. A steep climb up a slab of slickrock leads to a view from the butte.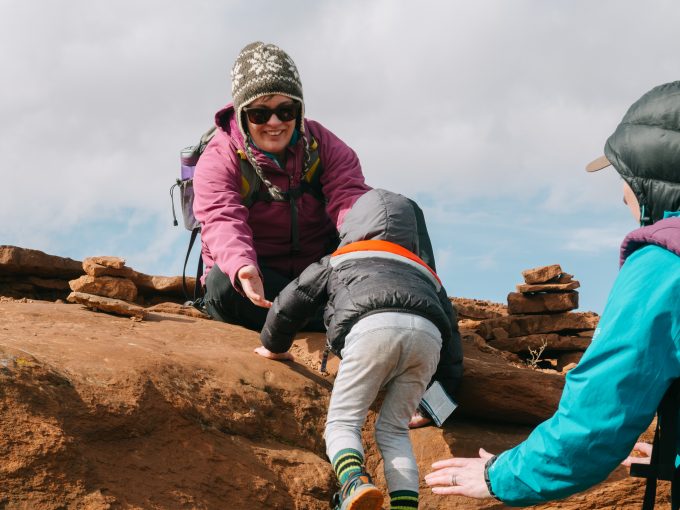 These granaries are well hidden and difficult to see from a distance, unless you know to look for them. A sketchy traverse along a section of sandy, slickrock and you can sit next to these ancient structures. Remember not to touch them, and do not enter.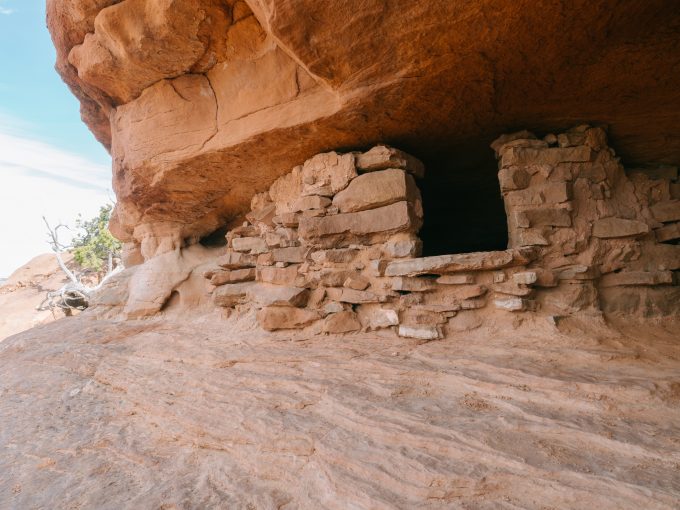 A capstone would've covered these 700 year old small doorways that housed food for traveling tribes. It is remarkable to think that ancient, native peoples could survive in such a harsh environment.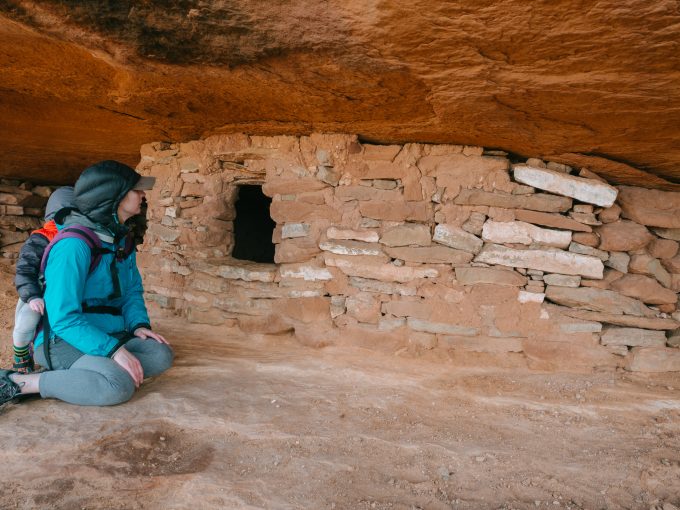 Had we been so inclined, we could've continued along the Aztec Butte trail to the actual butte, the second along the trail, however, previous trip reports had us opting out. Hikers warned of steep, slippery slickrock and a trail that was fairly vertical in assent. With our two small children we decided to call it a day and be happy with what we had seen.
Three hikes done and we were ready for more! We couldn't believe how well the kids, and we, were doing so we continued east on Upheaval Dome Road. for 4 miles to the end of the road and our final trailhead of the day, Upheaval Dome. This hike leads to something totally out of this world. Never before have we seen anything like this on any hike we've done anywhere. There are a couple of theories about how this crazy geological marvel was created so to get a good look at it, and form your own theories, be sure to continue your trek past the first overlook and onto the Crater View Trail for a remarkable vista of this 3 mile wide mystery.

If anybody knows why the rocks have such a greenish hue we would love to know and couldn't find that answer anywhere!
At only 1.6 miles and 300 feet of elevation gain, this isn't a difficult hike, but we were tired and we trudged along this rocky, undulating trail. We marveled at the steps, worn into the sides of the rock and had to check ourselves regularly as losing the trail was easy to do amongst all these rocks.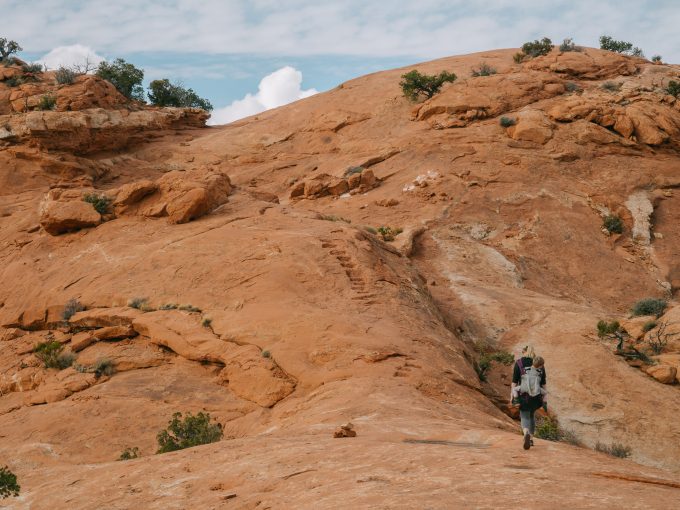 After a full day of hiking Jack was tired, and the trail was definitely not kid-friendly so, I had my 30 pound, chatterbox backpack on the whole time. We played one of our favorite trail games, 'What can you hear?' to give my ears and brain brief reprieves from the endless monologue that Jack bestows upon us throughout the day.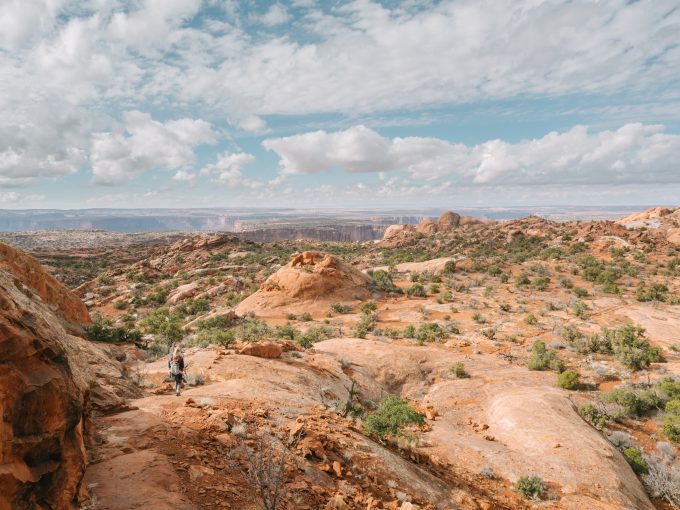 The viewpoint was worth all the effort and we couldn't believe we had done FOUR different hikes in one day! They were all short but were so varied in aesthetics that it felt like a rollercoaster of a beautiful day!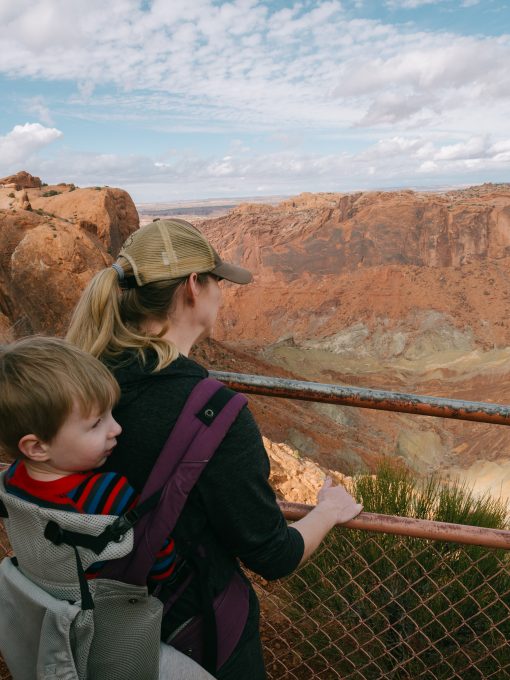 Our bodies were beyond exhausted when we finally made the return trip to the truck and we were ready for some food, rest, and of course Olympics! Seriously, traveling during the Olympics is so fun, we watched way more than we ever would have if we were at home. Go USA curling!