Arches National Park may be my new favorite National Park. The geological formations there truly are out of this world. The sheer number of sites to see and hikes to do is staggering. We spent two weeks living in Moab, UT and exploring this amazing area with our 3.5 year old son, Jack, and 15 month old daughter, Rowan, as well as my sister Katie along for the adventure.
When all was said and done we spent 4 days hiking around Arches National Park. Our top three hikes in this park are varied in difficulty and length. Each one presents a unique view into this special park. We got to have many of these spots to ourselves as we were exploring mid-week and during the off-season.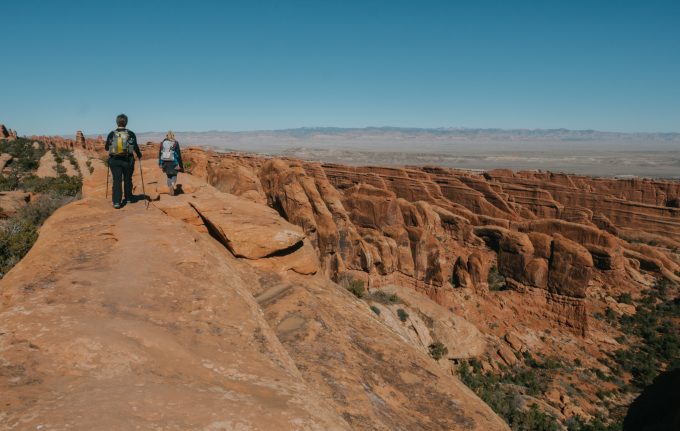 We are big fans of traveling during shoulder seasons. Everything is cheaper, less crowded, and we are not easily scared off by inclement weather. Though our days weren't necessarily filled with sunshine and shorts we didn't let ourselves be held back and explored all the same with layers on and positive, grateful attitudes. Even Jack became fond of saying things like, "It's snowing Mommy but, we don't care! Let's go hiking!"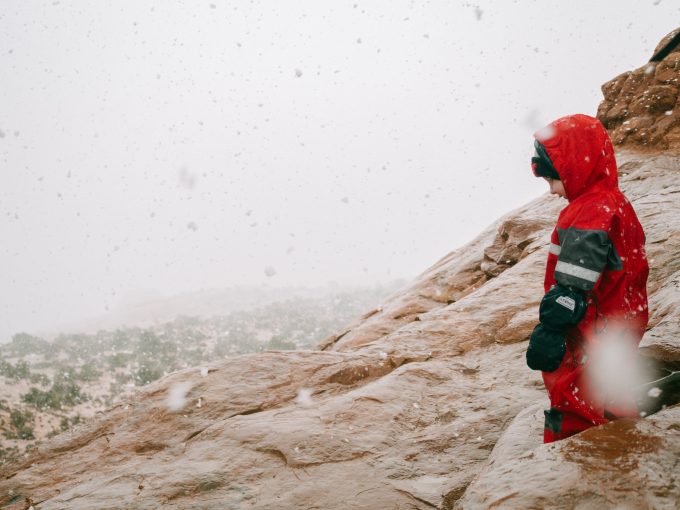 The Windows
Parking Area: End of Windows Road
Miles: 1
Elevation Gain: 140 feet
Difficulty: Easy
This section of the park is the perfect spot to bring young children to, there is a grouping of arches all within a short distance of one another with easy, short trails to follow. The day we were there, chubby snowflakes were blowing about as winds howled through the arches and windows. We laughed and frolicked in the unforeseen, and unexpected, weather as we explored this magical place while only seeing two other hikers.
We opted to explore the lollipop trail with a spur to South Window clockwise first viewing the North Window followed by the South Window and finally Turret Arch.
All told this trail is less then a mile. There is an optional primitive trail leading north that can be taken back to the parking lot if so chosen. There is another trailhead on the north loop of Windows Road where views of Double Arch are also available with minimal effort (.5 mile) but a big payoff. The only downside to these incredibly scenic spots is their popularity. The parking lots fill up quickly and the number of people can be overwhelming.  This was the perfect introduction into what this special place would hold for us in the days to come.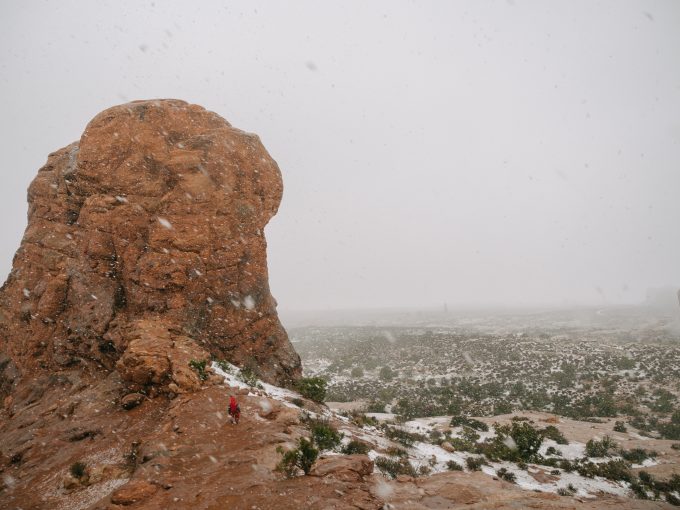 Delicate Arch
Parking Area: Wolfe Ranch
Miles: 3
Elevation Change: 500 feet
Difficulty: Moderate
What a hike! On our second day in Arches we opted for a more strenuous trek up to Delicate Arch. There are two paths that can be taken to two different viewpoints of this iconic arch within the park. There is a short 1/2 mile trail that affords a view of the arch from the south while the longer, more difficult 3 mile hike brings travelers above the arch looking down from the north. In summer months visitors dare to climb around the big bowl that surrounds this arch but in winter be prepared for slippery conditions that may not prove safe for too much exploring.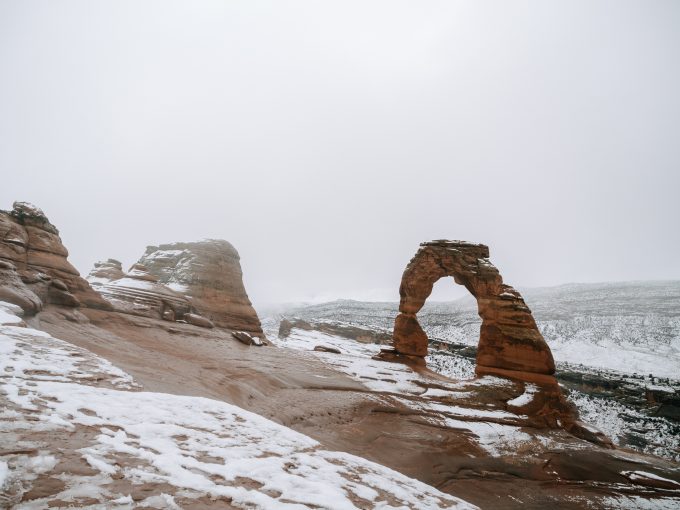 It had snowed the day before so the trail was coated in a snow/slush mixture. It was our first time trudging through orange slush!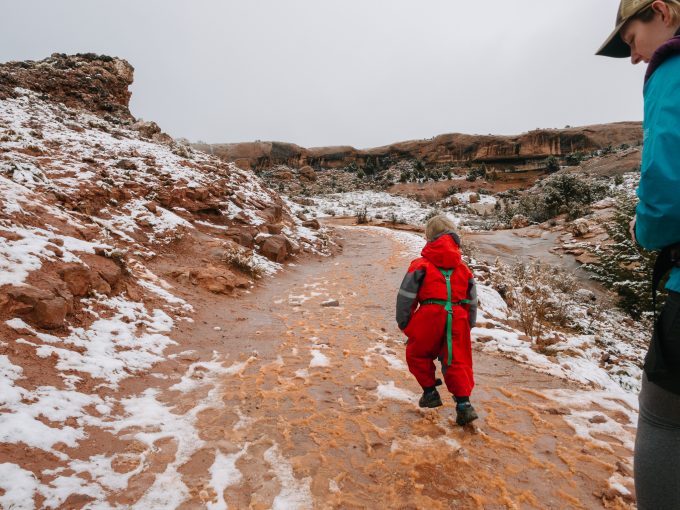 Despite the conditions we were surprised to see several other vehicles at the trailhead parking lot and a school bus. The trailhead has a privy and signage warning hikers of the steep terrain ahead and that high heels would not be appropriate footwear on the trail. We laughed at the outrageousness of that statement before learning, later on, that it was necessary as several women were seen wearing high heels in the parking area.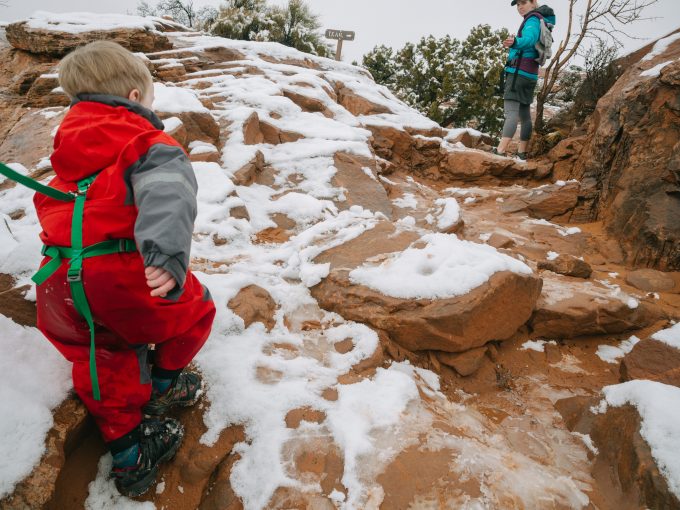 The trail begins flat and wide with bridges for easy stream crossings. There is an old cabin, root cellar, and corrals to view just steps from the parking lot. These remnants are what is left of "Wolfe Ranch", built by John Wesley Wolfe in 1906. A surprising 6 people lived in this tiny cabin!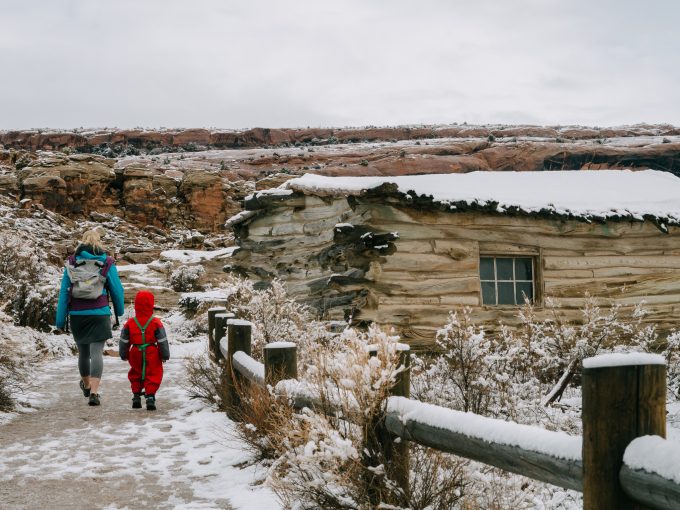 Jack was disappointed that we couldn't go inside but the prospect of "climbing a mountain" appealed to him enough that we were able to move along with little to no tantrum. We opted to take the short detour trail to view petroglyphs, believed to be made by the Ute people in the 1600s, before starting the ascent of the trail to delicate arch.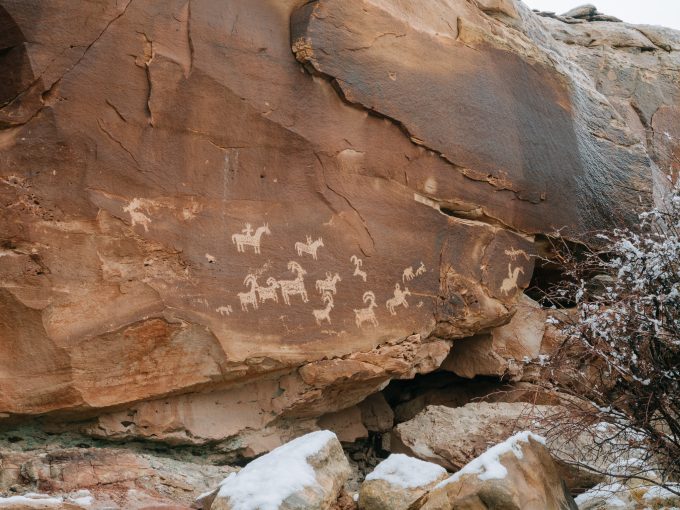 The trail had a slippery slush atop it that was already beginning to melt so there was a remarkable amount of water crossing the trail at various points. Jack began to have a constant, endless round of questions that focused solely on where the water was coming from. Two waterfalls cascaded down the side of a nearby cliff face as the hike steepened and narrowed.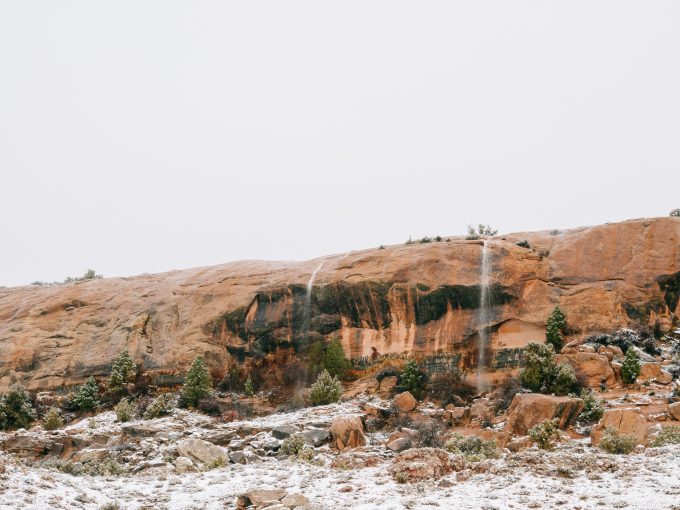 A section of this hike is on rock with occasional signs to assist hikers in way-finding.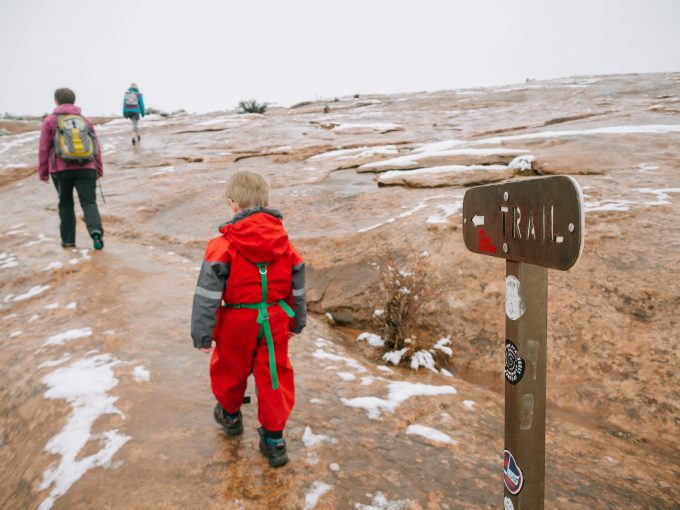 The majority of this hike is easy, breezy, if not a little steep and muddy, however, the end section is pretty harrowing, especially in the snow and ice. A narrow pathway leads hikers to Delicate Arch but the steep, unprotected drop off on one side is not for those afraid of heights. The good thing was there is a tall wall on the opposite side of the trail that affords hikers a solid space to rest hands and give confidence in each step. I do wonder what the trail would be like in summer with no ice or snow but 100s of anxious explorers all vying for this iconic arch.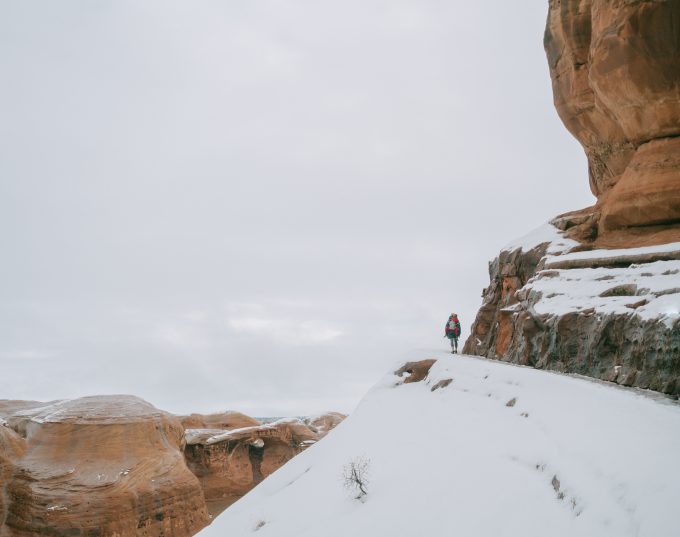 The view of the arch as you exit the sketchy stretch of trail is breathtaking and completely worth the effort given to this hike. We had been promising Jack lunch at the turnaround point when we reached the arch but, we immediately knew that wouldn't be possible when we saw the snow and ice covered rocks and steep drop-offs that surrounded us in that space.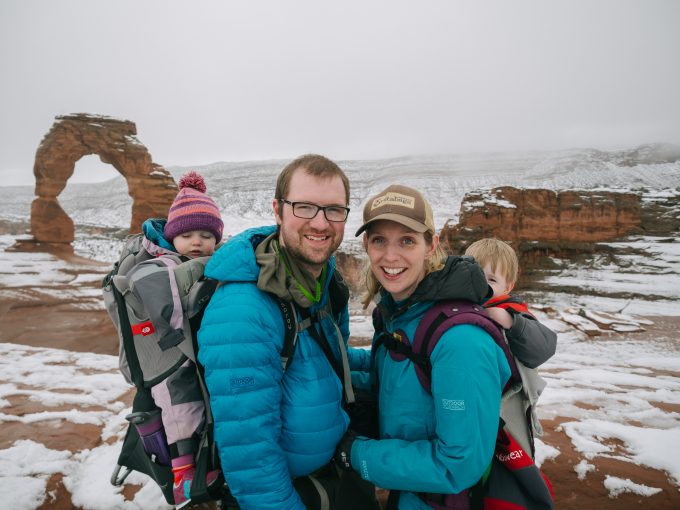 We took in the view and were joined by only a handful of hikers before we ventured down the treacherous stretch of trail.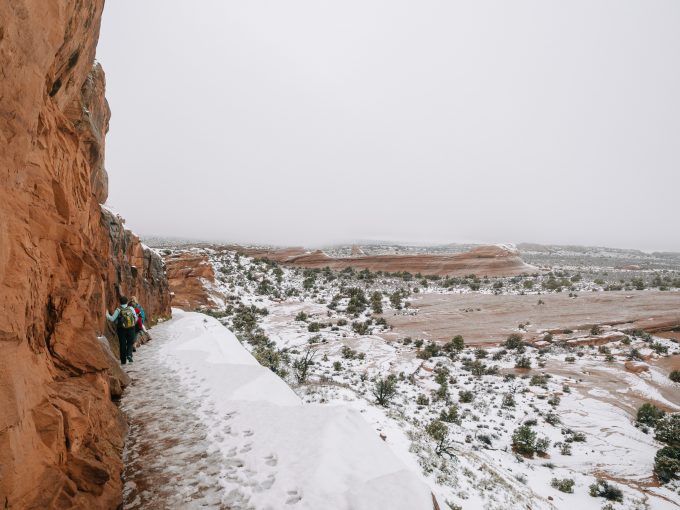 Upon making it safely down the other side we stopped in a slight drizzle and enjoyed our lunch of pb&j. This is an out-and-back hike but it was fascinating to see it change in just a few short hours to no snow, and many of the small stream crossings already gone as the melt had finished. Rowan got a chance to get out of the pack and get her feet dirty in the flatter, sandier sections of trail near the end.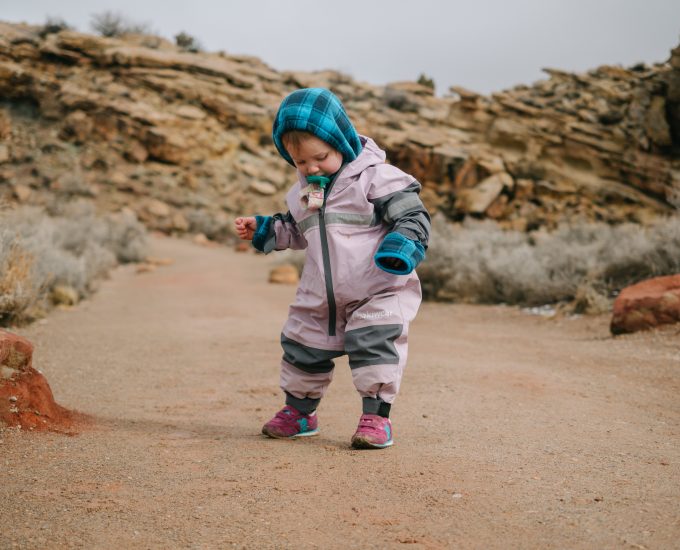 Devil's Garden
Parking Area: Devil's Garden
Miles: 7.2
Elevation Change: 350 feet
Difficulty: Strenuous
After a week of desert hiking in all weather we were emboldened and ready for a big trek. The 7.2 mile loop trail affording views of up to 8 named arches, depending upon which spurs hikers opt to take, was high on our list of hikes to accomplish.
The hike begins on a large, well-maintained, often traveled trail that is incredibly popular. Most hikers view Landscape arch with a short side trip to view Tunnel and Pine Tree Arches to the west. Landscape Arch is worth far more than the two mile effort hikers need to invest in to gaze in wonder at the 306 foot span.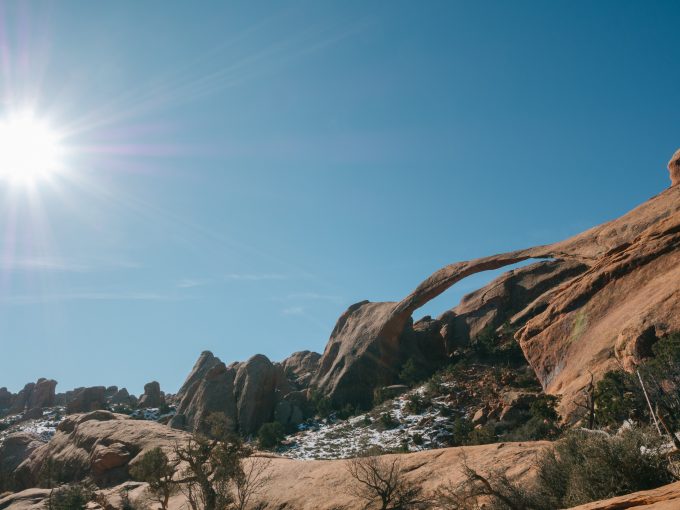 We gazed in wonder, from afar of this spectacular giant arch and imagined what it would've been like to be present during the 1991 rockfall that sent a 73 foot section of rock falling to the ground beneath the arch. Visitors to the park were there and witnessed this force of nature that will, eventually, befall all the arches in the park. Subsequent rockfalls in 1995 had the Park Service closing a trail that used to lead visitors under the arch. Fences now keep foot traffic well away from this fragile formation.
From this point onward the trail is labeled primitive and difficult. Often times National Parks use strong language to discourage wary travelers so we figured this was one such instance. I'm here to tell you that this trail was no joke! Steep drop-offs, scrambling, sliding down steep inclines, and trail-finding were all in store for us on this trail.
We took a spur trail veering east for a view of Navajo Arch. I really like this arch and it might actually be my favorite of all. It seemed like a magical place where trees grow in unlikely places and amazing things will happen. Rowan needed to stretch her legs and this sandy, flat section of the trail was the perfect spot for her to explore on her own.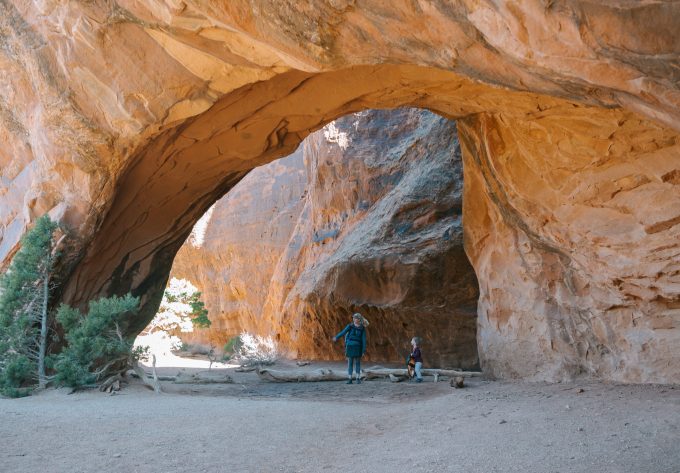 In the morning we were one group of a handful attempting the loop trail but by afternoon the trail was crawling with college-aged people enjoying a rare day of February sunshine at the park during a long weekend.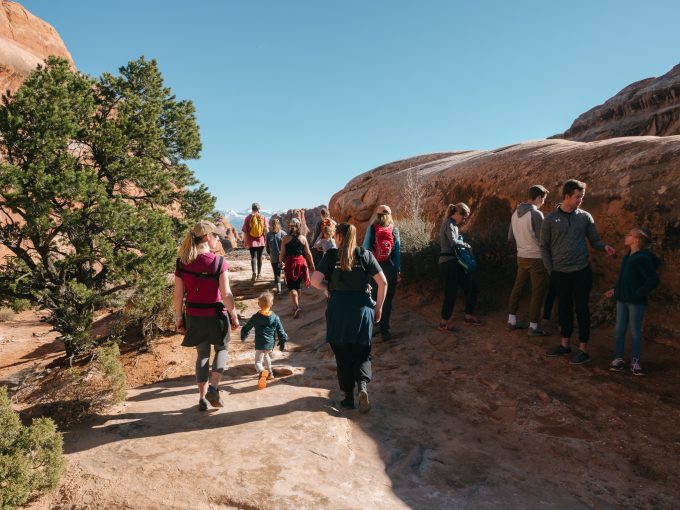 While I don't normally enjoy being around so many other people it did, often come in handy to have kind-hearted people stop and help us and chat with us about what would lie ahead.
We did learn a lesson we have learned time and again, and yet always seem to forget… Don't always trust that the hikers in front of you know the way! We made the silly mistake of following a group down a sketchy boulder, down climb that wasn't on the trail and lead us 1/4 of a mile away from the next arch on the loop, Double O. After consulting with our trusty Gaia GPS app, Bobby quickly realized that we were no longer heading in the correct direction. A consult from a fellow hiker who happened to be passing by and our suspicions were confirmed. We trudged the 1/4 of a mile back to the site of Double O Arch. Rowan was displeased with this delay as it was lunch time and man does that girl get hangry!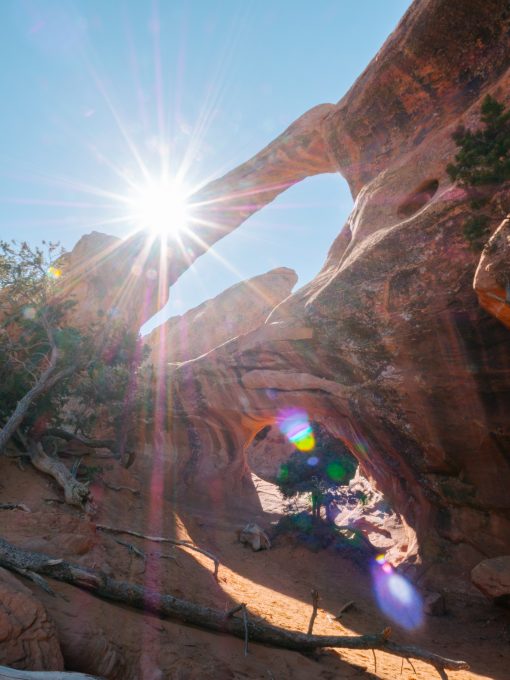 We took a much-needed break at the base of the arches where we ate and played in the sand. We were all feeling good and strong and wanted to do the complete 7.2 mile trail. So, rather then heading back down the path we'd come on we continued on to the "primitive trail". As we neared it two separate hikers warned us that there were some sketchy sections of trail along the way and that neither of them would do it with kids. These groups didn't appear to be outfitted with the best shoes so we laid the blame for their struggles squarely on their lack of proper equipment and cockily continued on the trail assuming we could handle anything this trail would throw at us.
We reached a steep decline and were helped down by a lovely couple but the next decline, near Fin's Canyon would stop us dead in our tracks. We were so freaked out by this section of trail and so disheartened by the fact that after 4.5 miles (well over the halfway mark) that we would need to turn around that we didn't take a single photo. We discussed the section with fellow hikers, who didn't have children and were also nervous by what lay ahead of them. It was a downward sloped section of slick rock with a narrow, foot-wide "path" to tread on. To the right of the "trail" was a steep slide at least 50 feet long. The slick rock was coated in a film of sand making it slippery and footing super sketch. A couple of hikers were opting to take their shoes off in the hopes of having better grip with bare feet. In hindsight, had we taken the Devil's Garden loop counterclockwise and approached this section from the bottom, needing to go up, it would have been no problem whatsoever. Sadly we didn't and we realized that though this 50 foot section was in the way of us completing our loop, the safety of our children always comes first in all that we do. Many people were brave, daring, or silly enough to complete this section of trail, we just weren't. We headed back the way we came disheartened but positive that we had made the correct decision.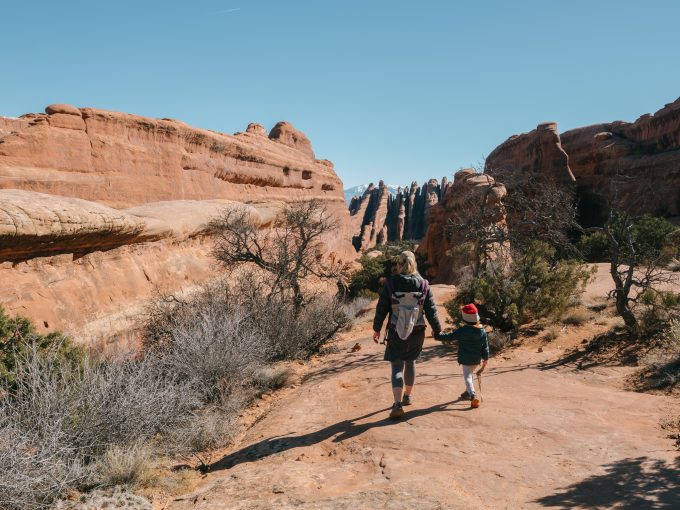 We warned other hikers we met along the way who also had children with them. One new mom opted to hike out with us, allowing her group to continue on, rather than face that section with her 5 month old baby.
This is a truly remarkable trail and I do encourage experienced, prepared, and brave hikers to try it, but to try it counterclockwise! The journey back the way we came was a long one and filled with milling tourists, young adults with music blaring from speakers, and young families all debating whether to continue on or head back.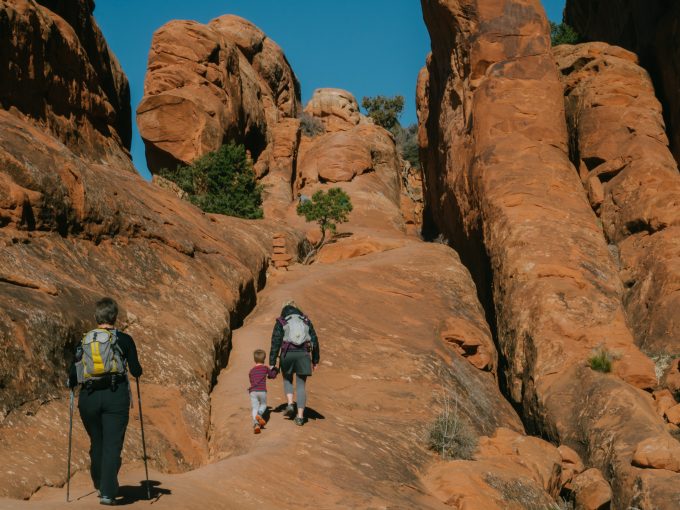 Our day on the trail may not have been successful but we had a ton of fun exploring every nook and cranny of this beautiful place!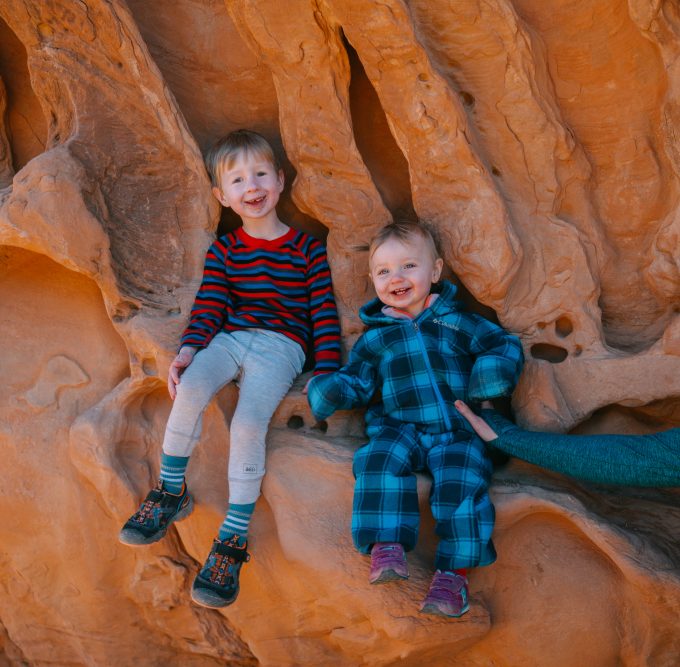 Other hikes to explore
Unfortunately, we didn't have enough time to explore every hike within the park. There's a lot more to see than shown above. Here are some other hikes to consider:
Broken Arch and Sand Dune Arch
An easy 1 mile round-trip hike to two arches. Sand dune arch lives up to its name as the base of the arch is like a giant sand box! Broken arch isn't actually broken, but the rock is creased in a way that makes it appear to be.
Park Avenue
Park Avenue is the first trailhead you'll pass on your way from the visitor center. The trail has two trailheads – one at the south end and one at the north end allowing you to hike it 1 mile one way if you're able to have someone pick you up at the other end. Otherwise the full hike it 2 miles out and back. The trail wanders through some of the iconic towers in Arches like Courthouse Towers and the Three Gossips.
Fiery Furnace
If you have older kids then definitely check out this hike. Children under 5 are not allowed and permits are required for access to this maze of fins and canyons (for an additional fee). It can be difficult to navigate so if you aren't confident in your route-finding abilities then join one of the 2 daily ranger led hikes (March – October, additional fee applies). Due to the popularity of these tours, reservations are recommended from Recreation.gov.