We finished setting up our campsite in the nearby Mineral Park Campground and it was just noon. Time for a hike! We wouldn't be able to hike the following day because Bobby had to be at the airport for a business trip to New York. We had passed the Hidden Lake Lookout trailhead on our way into the campground along the Cascade River Road and decided to backtrack and check it out. We followed a 5 mile rough, steep, and switchbacked forest road that took us up to above 3,000 feet to the trailhead. We had looked at the map of the area before setting out using our GAIA GPS app and could tell that this would be a difficult hike, and with the amount of snow we could see on the peaks around us we knew that the chances of making it all the way to the 6,890 foot summit would be minimal. This hike begins in the Mount Baker-Snoqualmie National Forest but eventually crosses into the Northern Cascades National Park. We were concerned about this because we had Latigo with us and we know that dogs aren't allowed in the National Park. Luckily the trailhead signage indicated that dogs were allowed on the trail up to the lookout.
We knew the day would prove to be interesting considering Bobby had moved our bag of clothes into the tent before leaving the campsite, effectively leaving my socks behind. I had shoved a pair of his socks into his hiking shoes before leaving home so he, luckily, had a pair along. The trailhead was about 40 minutes from our campsite and we didn't want to turn back, so Bobby opted to go sock-less since my feet are more prone to blisters. We brought my Chocos along so that, if need be, Bobby could take the socks for awhile and I could walk in my comfy sandals. With the footwear situation sort of figured out we set off not knowing what to expect from this steep trail.
We passed another couple early on in the hike and wondered why they were carrying ice axes. I couldn't help but notice that they were looking at us strangely. We would soon discover that our lack of gear would prevent us from going very far. We stopped for lunch early on in the trail as it was already early afternoon and we were hungry. We were still in thick forests and were enjoying the shade that it brought with it. The day was hot, in the high 70s and we supped on PB&J on a downed log as Latigo looked at us, drooling, with the hopes of a morsel.
The trail was steep and had many switchbacks through the forest.
We soon emerged into the blazing sun and were faced with spectacular views of the Northern Cascades.
The trail continued it's steep ascent through the valley.
The view became more glorious with every step we took.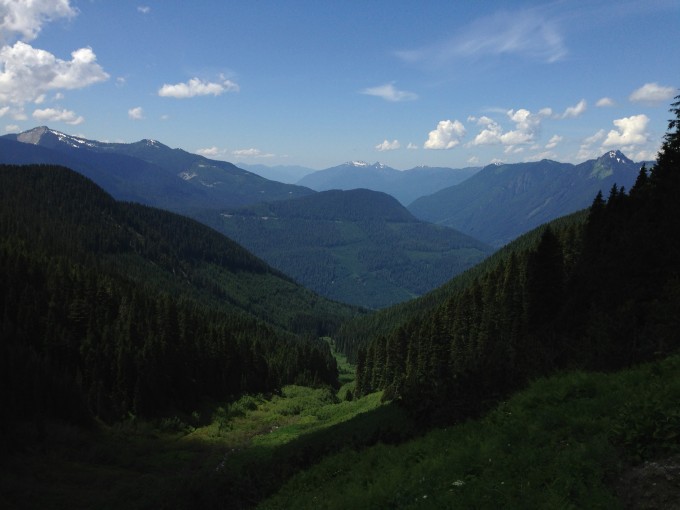 The higher we got the more snow we could see in the distance.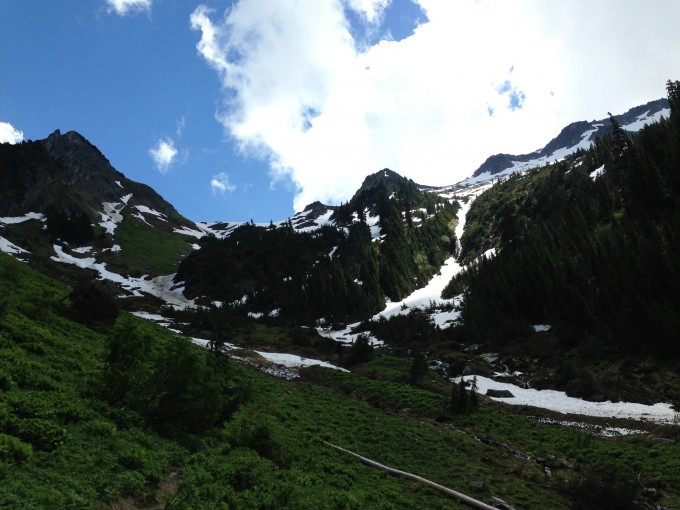 As we neared the snow we watched another couple ahead of us cautiously traverse a snow field on a pretty intense grade.
I knew our journey was about to end. As we neared the snow we heard a strange whistling noise. At first we were worried that another hiker was in trouble and was blowing an emergency whistle. We soon discovered the source, a marmot. It stood proudly on a rock outcropping just above us and seemed to be warning us not to come any closer.
We had seen two marmots fighting earlier. We crossed one minor snow field but were soon faced with the larger field that we had watched the other couple cross. We could still see them in the distance stopped at the snow line. They were donning crampons and getting out their ice axes. We don't even own such equipment and, even if we had it, we aren't trained in their proper use. The end had come for us.
We had only made it two miles in and had only reached an elevation of just above 5,200 feet.
Sad as we were, we decided to sit awhile on a rock and observe our amazing surroundings.
The peaks that graced the skyline were unbelievably picturesque and we soon realized that we could see Mount Baker in the distance. We sat upon a rock sipping the Orange Gatorade we had brought as a treat for ourselves for the summit. Another solo hiker came upon us, he too was properly equipped with crampons and an ice axe.
We discovered, once home and doing some background research on the hike, that the meadow we reached is accessible June through October, while the peak isn't usually accessibly without specialized equipment and training before August. This hike was so beautiful we have agreed that we want to go back later in the season and attempt to summit. For early summer the meadow does make an excellent short, but steep hike with incredible views. This hike would be difficult with children. There were several streams along the trail for our dog to drink from. Some of the trail is on very steep and sometimes eroded mountain sides that had us wanting our trekking poles for additional stability.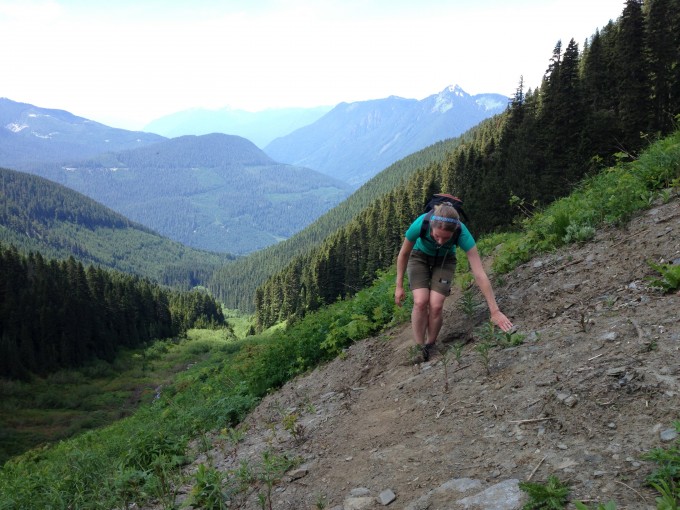 Overall it was an amazing hike that I can't wait to reattempt!