We got a late start on Saturday morning after I inadvertently slept in. We decided to go for a day hike, rather than camp or backpack, seeing as both those activities require a lot of prep work and we were late enough as it was. Bobby had found a hike that was a long drive from home and, despite the 2.5 hours it would take us to get there we decided to go for it. I have always enjoyed long day trips in the car and this would prove to be a fun and lazy day! We had been on the road for almost two hours and it was already past 11:00, we decided it would make the most sense to stop and have lunch on the way. We were in one of my favorite towns in Washington, Roslyn, and we finally had an opportunity to stop at the Cruise In, a small burger joint that has a drive through, a dinning room, and several nice picnic tables for al fresco dinning. I have been wanting to stop here since our first trip to Roslyn over a year ago!
We tied Latigo to one of the picnic tables and went in to order up some lunch, two bacon cheese burgers, an order of onion rings, and a Pepsi to split sounded perfect. We chatted with the owners about Golden Retrievers after they had commented on how pretty Latigo was. Apparently, they too have a Golden and he sits out on the front porch of their house, located across the street. We took our bag of food and headed out into the blazing sun. We supped on some of the most delicious and high quality burgers we've had in awhile. If in Roslyn and hungry I'd say stop in and get a burger, they are delicious! We watered Latigo, making use of the hose the owners had pointed out to us and loaded back up into the car for the last leg of our journey to the trailhead.
We got to the dirt Forest Road 4330 and headed up. Previous trip reports have warned about the poor quality of the road and they weren't exaggerating. Pot holes galore! We were passed by a couple of dirt bikes and thought that the road was more appropriate for them than it was for us. It took us about 15 minutes to get two miles in, where we reached a trailhead. It wasn't our trailhead, we were headed for Cathedral Rock but it was a further 11 miles up the road. We both agreed that, seeing as it was already past 12:00, the long, bumpy ride wasn't worth it. We stopped at the parking area that provided access to two trailheads one was Davis Peak and the other was Paris Creek. We consulted our GIS app GAIA and laughed at how horrendous the Davis Peak trail looked. Nothing but switchbacks! It is an 11 mile trail with 3900 feet of elevation gain. Definitely not what we were looking for that day, or possibly any day!
We were concerned that Paris Creek would be dull, as trails that follow a creek and/or river usually are. But, according to the signage at the trailhead across the street from the parking area, it is a "More Difficult" trial. Our app showed it to be a little bit more than 3 miles in, at which point we would turn around and head back out. We set off on the unknown trail in the hopes that it would provide a view of something exciting at some point.
It was hot and very humid and the trail began a steady climb after a brief section in an overused section of forest. Blueberry and Raspberry bushes lined the trail and we passed a woman busy picking the ripe berries.
She would prove to be the only person we would see for the rest of the day. We began to switchback up and away from the sound of the babbling creek. The sun beat down on us, but after a little over a mile clouds rolled in and we felt a few raindrops. Scattered storms had been predicted for the area in the late afternoon, but it turns out those few drops of rain were all we would encounter. We had both remarked on how rain would've been nice because it may have decreased the horrible humidity we were trudging through. The trail undulated through forests and clear cut areas, the trail was often overgrown in the clearcut areas with low growing shrubs.
We continued to steadily climb until we came to a junction with a forest road, that we walked along for a short time before the trail continues to the right.
A good map is a good idea for this trail, seeing as it is pretty neglected and the few trail signs we saw were broken and in pretty rough shape. This section of the trail was ridiculously overgrown and we were glad that the threatening rain hadn't happened because we would've been soaked from head to toe after having to navigate through the domineering shrubs that were taking over the trail.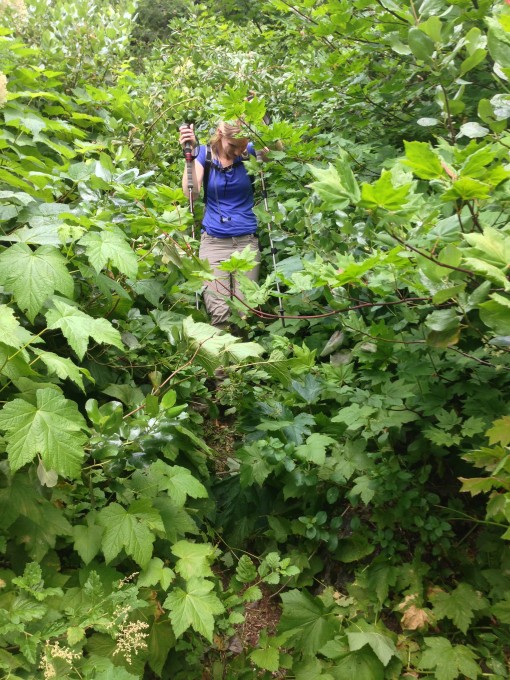 Views of the surrounding mountains were sporadic but still nothing beautiful enough to make the trek worthwhile.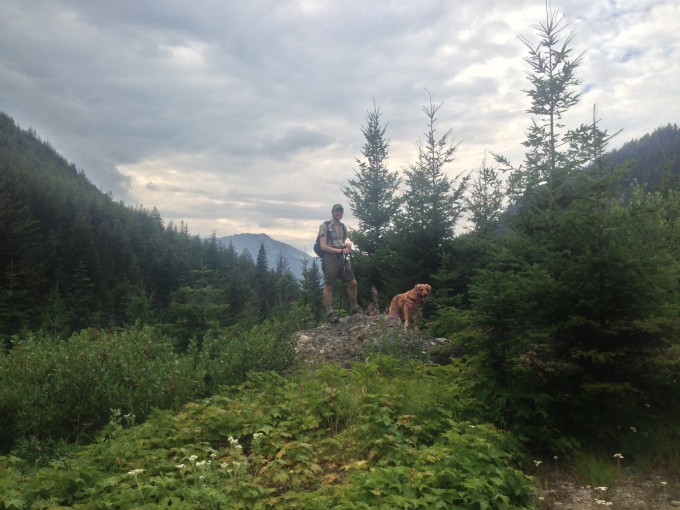 We reached the turnaround point and were thoroughly disappointed. It is a depressing trail junction with no view whatsoever.
We decided to continue along the Jolly Mountain spur trail for a while in the hopes it would offer something amazing.
We trekked along for less than a mile and were greeted with some pretty nice views.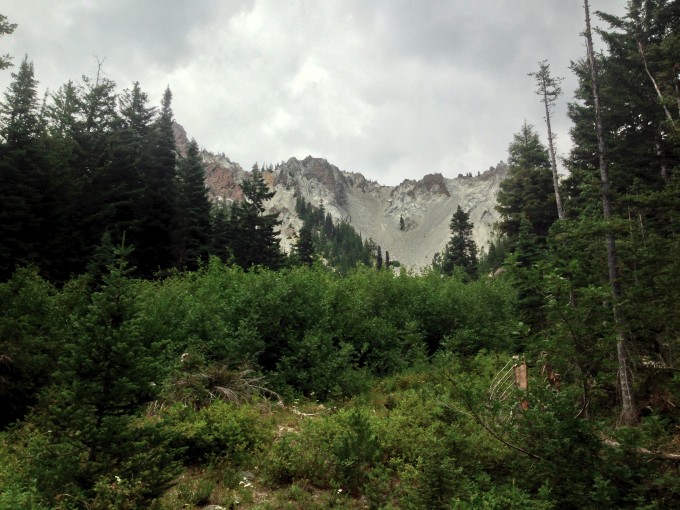 Here the trail was blocked by a several blowdowns, but we clamored over the logs and continued on.
Bobby had high hopes of reaching a mountain valley with 360 views. I was skeptical… He was right. Less than a half mile more along the trail and we were finally rewarded with some pretty good views in a beautiful, wildflower-speckled mountain valley.
We sat on a rock, ate a snack, snapped some pics and decided to turn around and head back the 4 mile trail we had just traveled on. There were a couple of alternate routes to get back out, but they were all lengthy and involved more elevation gain than I was in the mood for.
In and out trails can be tedious and this one proved no different. While the hike out is always faster, time-wise, it never feels like it. As we descended the switchbacks the heat and humidity level began to rise again.
Water access on this trail is limited at this time of year. Bobby would have to venture off the trail with Latigo to lead him to a small creek for a drink.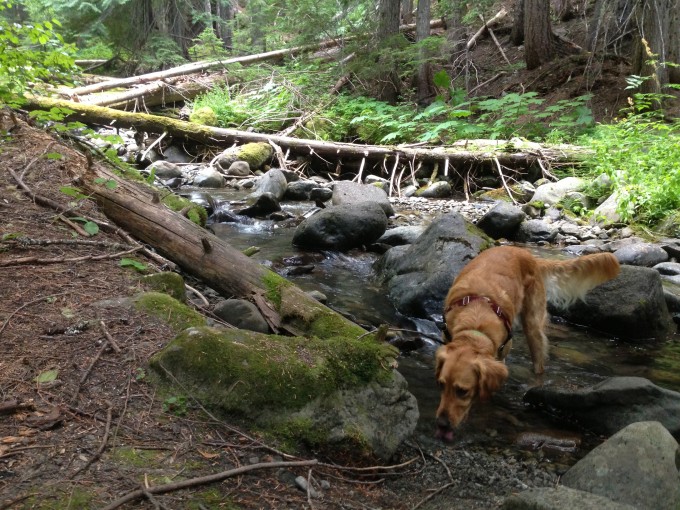 We crossed many dry river beds that, according to other trip reports, flow freely and were difficult to cross just a month before.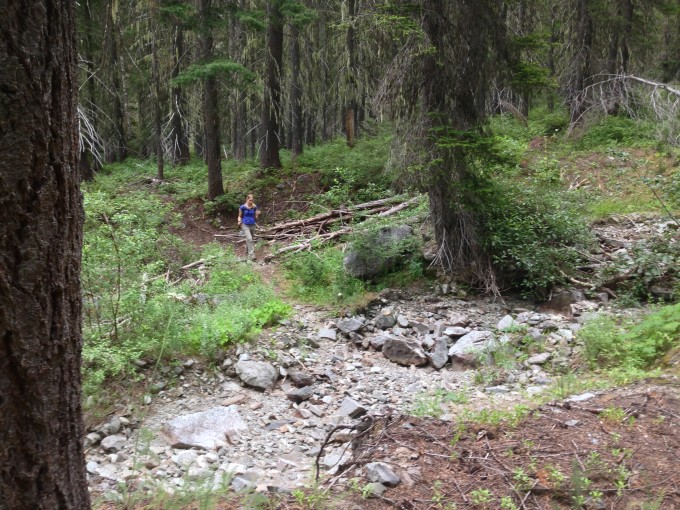 Overall this trail was pretty boring, if you want a good workout without much of a scenic reward then I would say do this trail, otherwise find something better or link it with several of the other, more scenic trails, in the area for a multi-day backpacking trip. We did pass several camp sites along the trail, as well as an odd assortment of garbage scattered throughout the forest.
We ended the day with a stop at Cle Elum Lake. Latigo had felt the need to roll in 2 dead things and had a pretty unpleasant stench about him. So, we stopped and let him swim in the cold waters while we sat on the shore, munched on our sandwiches, and watched the many boats, jet skies, and others recreating on the lake before our long drive home. This was, by far, the highlight of the day!