Some weekends we want a lazy adventure. We don't want to drive far and we want a familiar trail. Richard T Anderson Conservation Area in Eden Prairie has become our go-to destination when we want to hit the trails but don't want to be out all day long. A mere 16 minutes from our house with several short loops to choose from situated in a beautiful forest with hills, streams, and views of the Minnesota River Valley it's a great local hiking destination.
Rowan has been sick with Croup for over a week and after a late-night trip to the emergency room earlier in the week and a dose of steroids because she was having difficulty breathing our nerves were shot. My anxiety symptoms have been elevated lately and while I knew that getting out would do me good I also had zero desire to leave the house. All I really wanted to do was curl up into a ball in bed and sleep. Bobby doesn't let me brood for long when I get into moods like that and he often forces me out of the house, knowing how much better I feel after a trip into the woods.
The weather report foretold of sunny skies and warmer temps in the upper 50s but that didn't actually materialize until almost 5:00 p.m. We decided to wait out the weather and went for our hike following the kid's afternoon naps.
When we arrived at the trailhead the parking lot was a little over half full and we snagged a spot near the year-round spring bubbler located next to the parking lot. This water is potable but signs warn that the quality changes rapidly and it isn't tested regularly, so drink at your own risk!
The trails at this park are wide, well trodden, well signed, and yes very very muddy. We were very grateful we had just gotten Jack his first pair of "real" hiking shoes that are waterproof! We love KEEN Kids but up until this point Jack's feet have been too small for the technical shoes. In all honesty, his feet are still too small but after he tried them on he was totally obsessed with them and insists on wearing them constantly!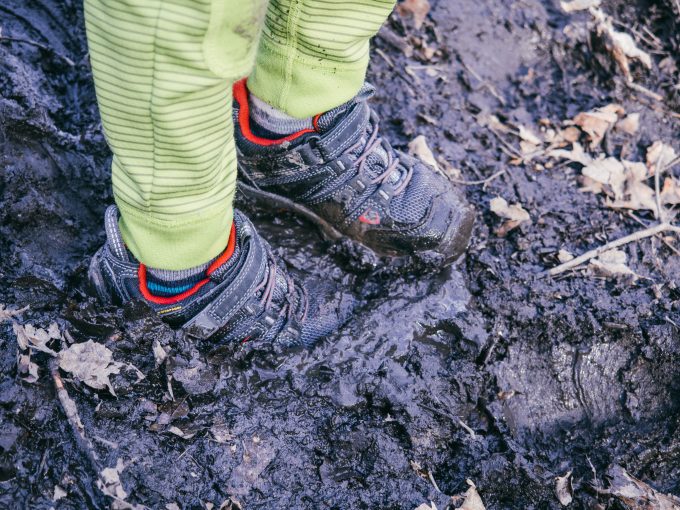 These trails could definitely use some good trail work. But the serene forest is worth the muddy boots.
Most other hikers were being deterred by the mud and we enjoyed a somewhat solitary hike. Jack ran almost the entire 1.22 mile hike we embarked on. He made it up the big hills, over the steps, and slipped through the mud.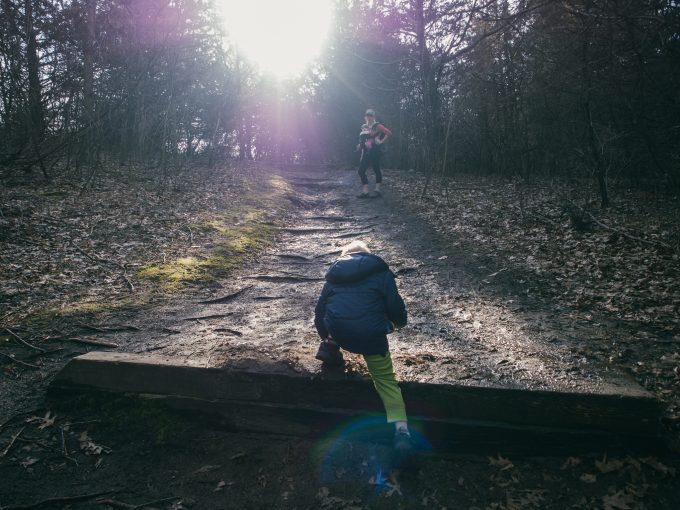 He was so excited when we made it to the top of the big hill with the sweeping views of the river valley. He was cheering but had zero desire to take in the view. "Let's keeping hiking Mommy! Which way to keeping hiking?"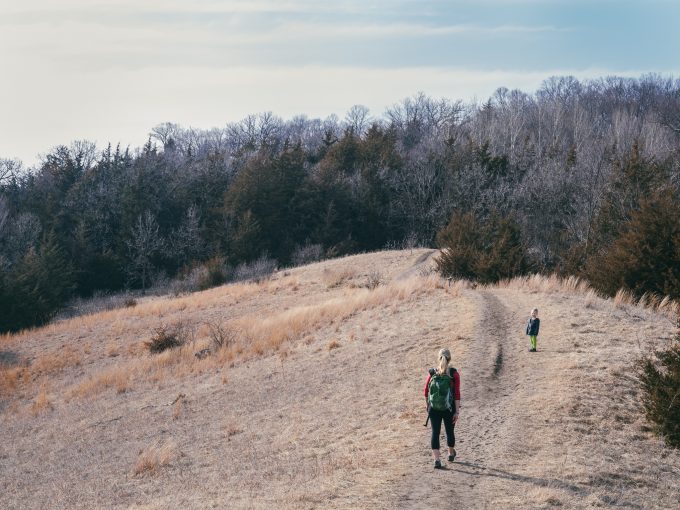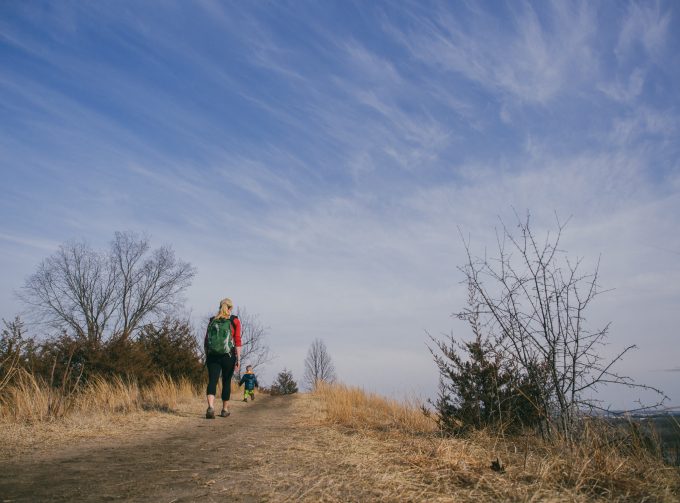 My friend Kim lent us her Ergo 360 to check out before buying. Rowan is a true observer and doesn't like to snooze through hikes the way Jack did. She wants to be able to see and our Onya Outback doesn't have a forward facing option. She LOVES the Ergo so much! She basically lives in this thing. When I'm cooking, cleaning, playing with Jack, doing laundry there she is hanging out, watching our every move. She was still a little under the weather as we hiked but we were hopeful the cool air would help her croup.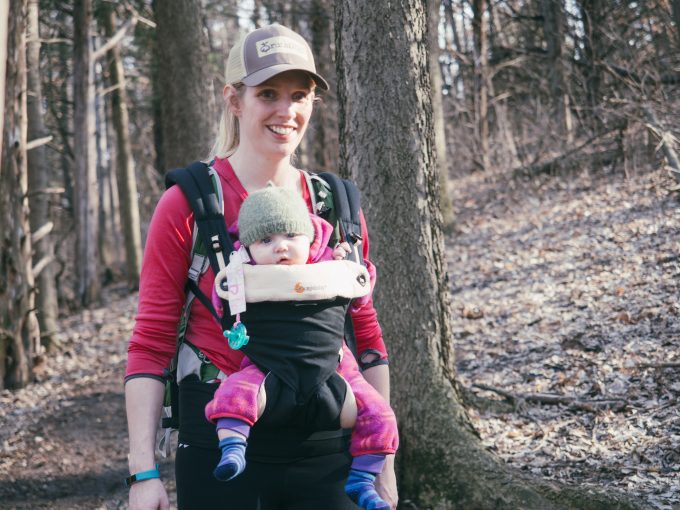 As we skidded our way through the muddy trails Jack became more daring, and thereby more clumsy. It wasn't long before he face-planted into the mud, and it wouldn't be the last time, either.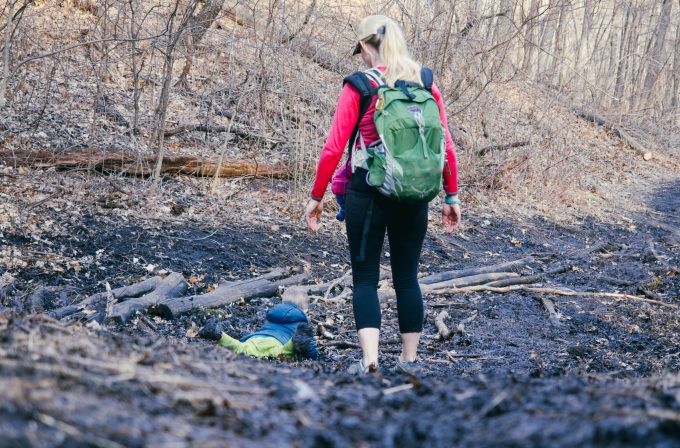 Strangely enough Jack isn't a fellow who likes being dirty. It tends to upset him, but we've been having lots of sensory play time to get him more used to it and he did better then he usually does. He learned how to use leaves, ice, and even a stream to clean his hands following his muddy falls.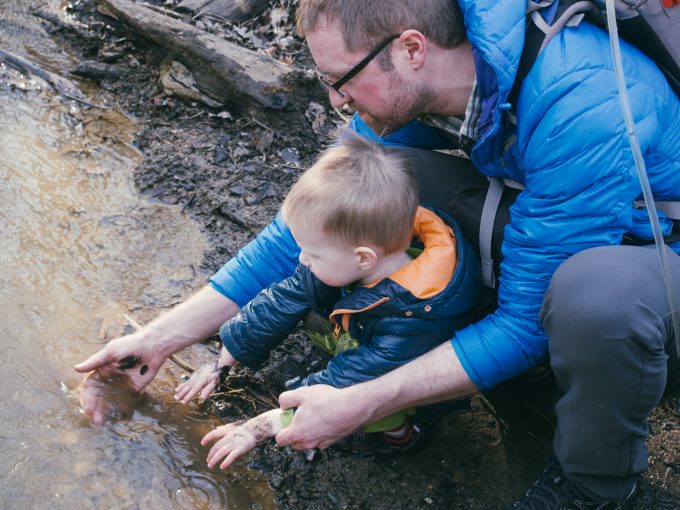 He also learned the benefit a walking stick can provide in those slippery situations. Soon enough he got tired of the stick and threw it back into the woods.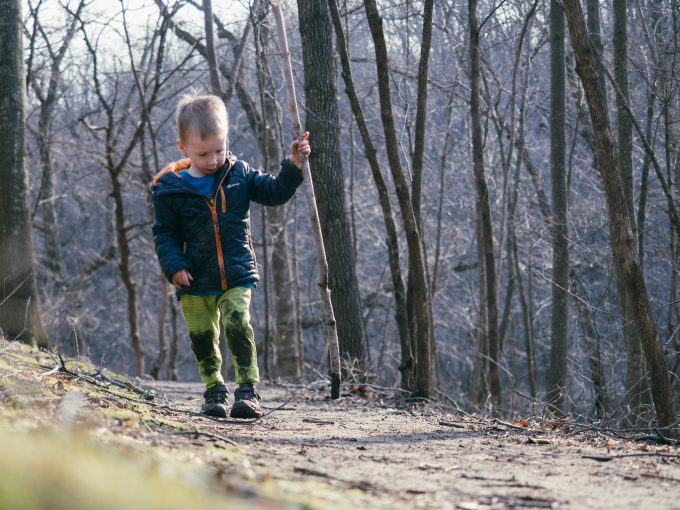 There are several stream crossings in this park, most of which have bridges or boardwalks over them. There was one crossing that just had a couple of wobbly logs so we got in some good water crossing practice with Jack!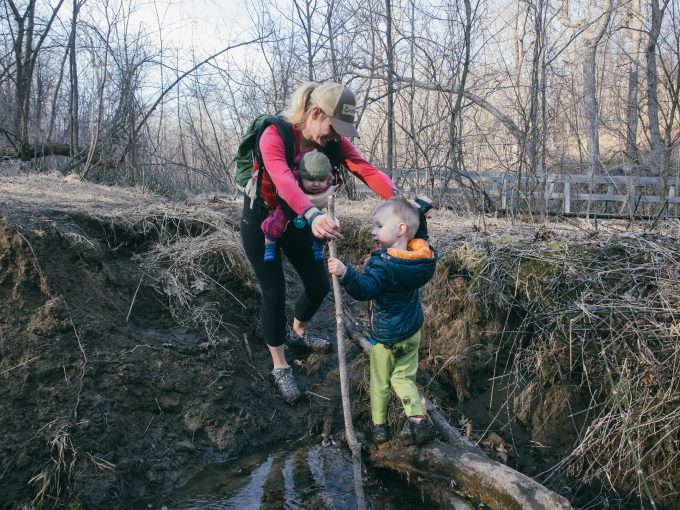 Jack loves to hike and he loves having his baby sister along for the fun. Whoever is carrying her is usually privileged to have Jack as your personal helper on the steeper downhills. "Oh, I hold your hand Mommy so you and Rower don't fall. My hiking shoes make me not fall down."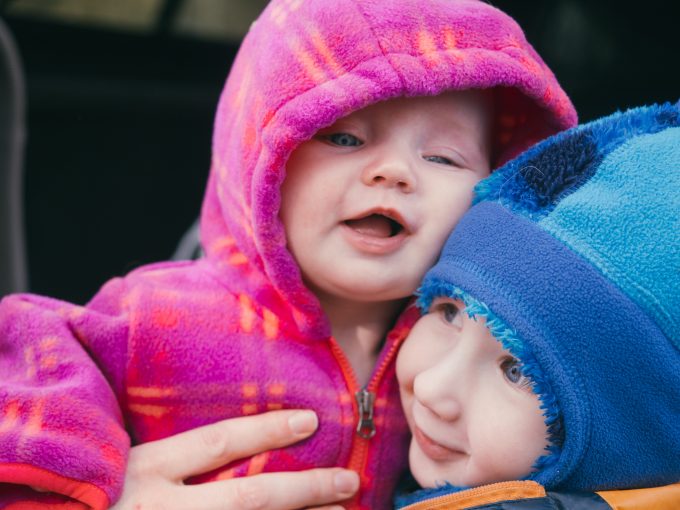 An easy, fun, and muddy day on the trail for the whole family. I was so grateful Bobby got me out of the house and out of my brooding mood. I did demand the reward of burgers and ice cream so we enjoyed dinner at our favorite Chaska restaurant, Tommy's Malt Shop. The burgers are good the malts are amazing and it's most definitely kid-friendly!