The 4th of July weekend occurred just two short weeks before my due date. Normally, we would've planned a grand adventure-filled weekend, but with baby potentially making his appearance at any time we knew we shouldn't wander far from home. The road to Sunrise in Mount Rainier National Park was just recently opened up after a long snowy winter and Bobby has been itching to visit this section of the park. We had never been to Sunrise, at 6400 feet it is the highest point in the park that you can drive to within the national park. There is a large visitor center, gift shop, and snack shack.
Bobby had read about the popularity of this area and heard tales of the massive parking lot being filled couple that with it being the weekend of the 4th of July we decided to leave home early. We set off for the 2 hour drive at 6:00 a.m. We packed the car with snacks, a picnic lunch, and our hospital bags (just in case). Latigo watched us go from the window in the bedroom, sorry buddy no dogs in the National Park…
When we arrived at the park just after 8:00 a.m. we found the parking lot pretty much empty and the visitor center closed, it was scheduled to open at 10:00 a.m.. We donned our hiking boots (Bobby had to assist me, getting shoes on in a parking lot isn't nearly as easy as it used to be!) and headed off on a trail that we thought was only 2 miles with less then 500 feet of elevation gain that would take us to a stunning viewpoint.  The area around the visitor center has a veritable maze of trails, that aren't super well signed when leaving the parking lot. Not surprisingly, we found ourselves on the wrong trail! We checked out a map of the area using our GPS app, GAIA, and decided to continue on the trail we were already on, seeing that there was a viewpoint along it. But, it was a bit further and had a bit more elevation gain then the one we had originally planned. We threw caution to the wind and continued along the way.
The day was sunny and in the 60s. The sun was shockingly warm and, though the trail wasn't too steep I was soon huffing and puffing my way up. The trail still had snow in spots, which was pretty difficult to pass over when 38 weeks pregnant. Bobby stayed close and held my hand, helping me through the slushy snow safely.
We were a bit early for the majority of the wildflowers, unfortunately, but there were still a few scattered along the side of the trail. This is a very fragile meadow area and due to its high use there are signs everywhere asking that you please stay on the trail.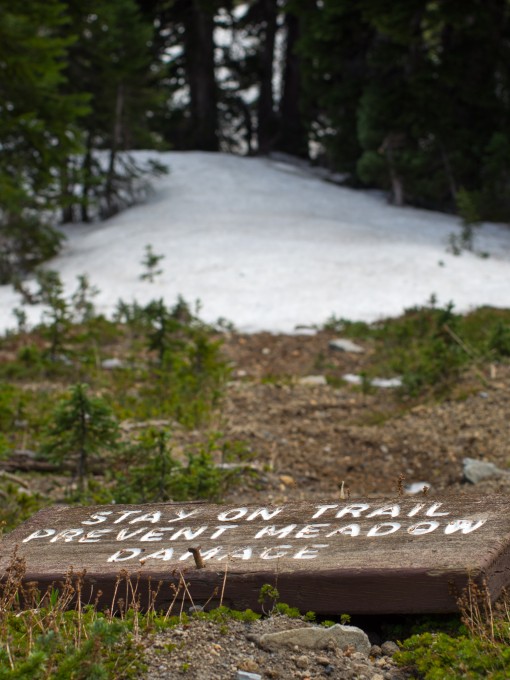 We only took photos of those wildflowers that were closest to the trails edge so as not to disturb the area.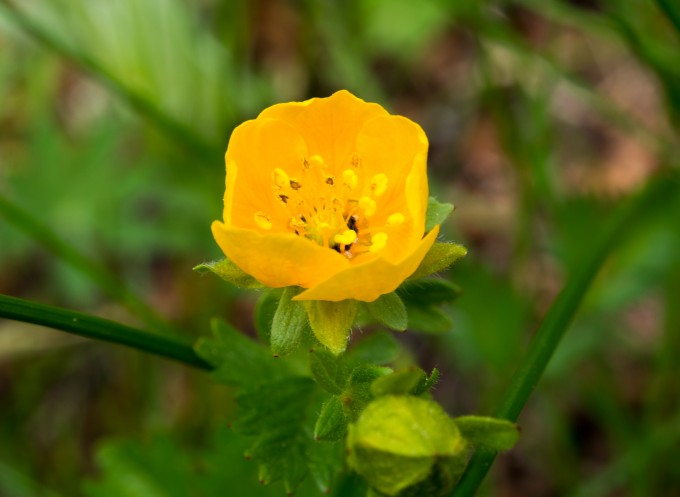 Mount Rainier was visible for the majority of our hike, though lenticular clouds obscured the top.
We reached Shadow Lake at 1.5 miles in, it was still partially covered in snow, but as Bobby took some pictures I watched several frogs swimming in the shallow water.
We continued along the trail and soon encountered stairs leading up to Sunrise Camp.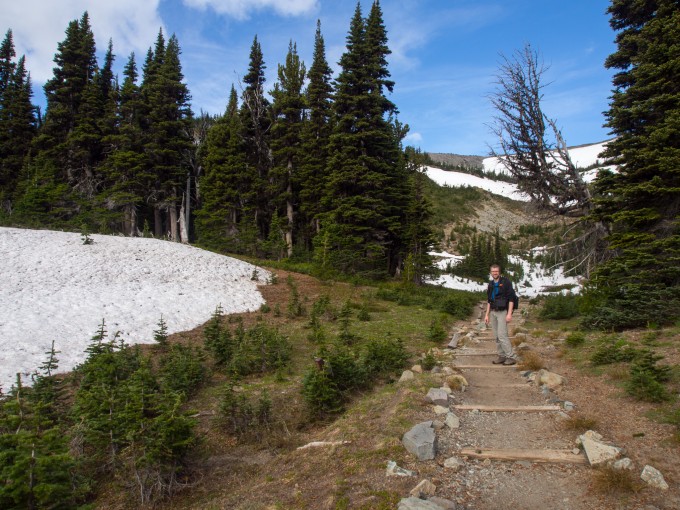 Sunrise camp used to be a drive in campsite, when the trail we were on was a road. Now it is a backcountry spot. There is a privy, with no toilet paper, and a hut that is labeled on the outside as a "Comfort Station". It was locked when we were there. Signs in the area warn that there is no drinking water available in the area.
Much of the area was covered in snow and the trail we had planned on continuing along was only accessible by crossing a large snow field. I was tired, my back was getting pretty sore and I decided that I gone far enough in. Bobby had brought along my backpacking REI sleeping pad and he set up a little spot for me to take a nap in while he continued ahead to the overlook that was about 1/4 of a mile away.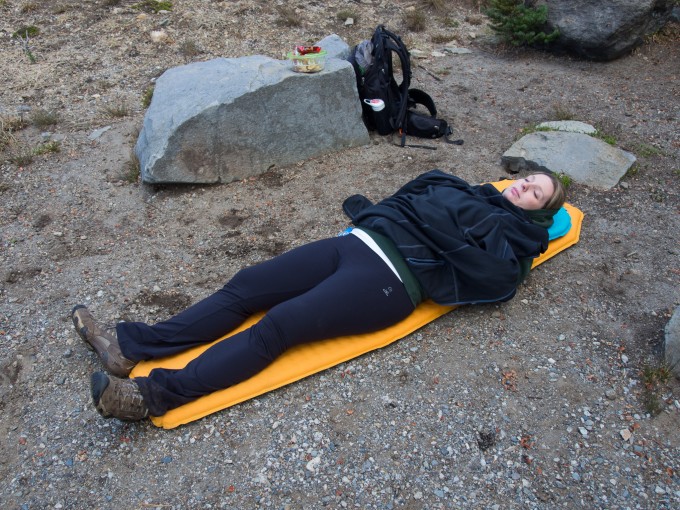 He reached the outlook and was greeted with some stunning views of the area.
He was back with me at the campground within a half hour and let me know that I had made the right decision. The trail had steepened from there and he wasn't sure I would've made it to the outlook without difficulty. We headed back the way we came, taking a slower pace as I was tired and struggling as it began to heat up. We hadn't passed anybody all morning along the trail until we were almost back to the trailhead where we encountered a volunteer ranger and a couple of hikers. Overall this was a great easy hike that I was easily able to do! I would definitely recommend this hike to people looking for an easy hike with stunning mountain views! I think this would be an excellent hike to do with kids!
When we returned to the parking lot it was beginning to fill up. There was still ample space but more and more cars were flooding in. It was a bit past 10:00 as we finished our hike. I needed a bit of a break so Bobby set up my sleeping pad in the back of our Explorer and made me a little bed to lay down in for a bit. We watched as at least a dozen volunteer park rangers were gearing up for a day of assisting the hundreds of tourists who were sure to be there throughout the day. After my brief respite we visited the informative visitor center and stopped at the gift shop where Bobby bought our baby boy a little stuffed goat!
We then drove to the parking lot just down the road a bit where there are some great views at an overlook. We had a picnic lunch and took some pictures!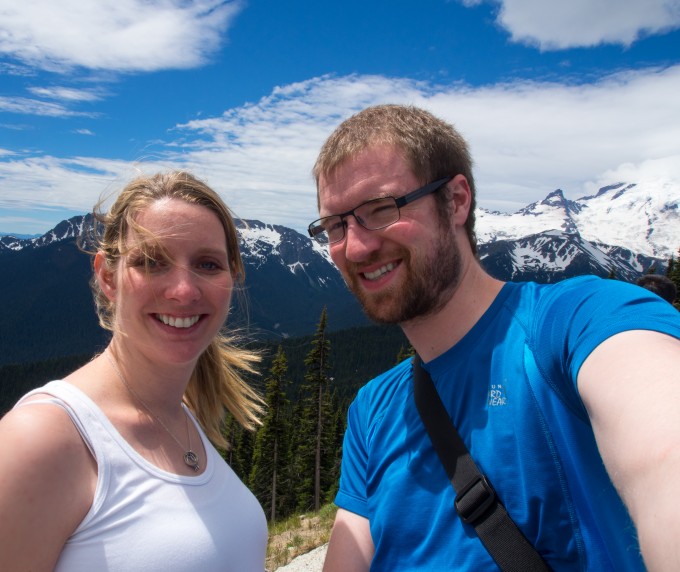 Our adventure for the day had come to an end. We headed home and back to Latigo to spend the afternoon napping away.
For more photos check out our Facebook Page!