We decided that it was about time we visited Mount Rainier National Park for the first time! We have lived in Seattle for over a year and a half and our lack of visits to such an incredible National Park was getting ridiculous! We left Latigo at home and headed south.
Two and a half hours later we found ourselves entering the majestic woods of Mount Rainier National Park.
It had been our intention to snowshoe to Panorama Point but upon reaching the entrance we learned that, due to severe winter storm warnings that would be in effect throughout the day, the road leading to the trailhead would be closed. As we waited in the line of cars checking in with the ranger at the entrance to the park we got out our guidebook, Snowshoe Routes Washington, and began making a new plan. The road was only open for 6 miles and was closed after reaching the Longmire Ranger Station. From that point there were several hikes we could've done. Since Bobby was driving and I was making the plan, I opted for the route that was given the difficulty rating of "easiest"!
The Wonderland Trail is 93 miles long and encircles Mount Rainier. The section we would be doing only had 1300 feet of elevation gain and was roughly 7 miles roundtrip. We weren't sure what snow levels we would encounter along the trail. Once we reached the parking lot of the Longmire Ranger Station snow was falling and there was some snow on the ground. We wouldn't be gaining too much elevation but we also didn't want to have to turn around early because we had left our snowshoes in the car. I was able to fit mine in my pack and Bobby carried his. We never did need them but we are convinced that had we left them in the car we would have!
The trailhead for the Wonderland Trail is across the street from the parking area. We began on the wooded trail not knowing what to expect!
We realized that this was actually the first time we had EVER hiked in a National Park! Kind of weird… The trail was large and we often found ourselves walking side by side, something we don't often do because trails are generally too thin. As we gained elevation the amount of snow on the ground increased but never above six inches I would say.
After 1.6 miles we reached the spur trail for Cougar Rock Campground. We followed the .1 mile spur, hopping we would find a picnic table to sit at for lunch and we weren't disappointed! We sat and munched on sandwiches!
After lunch we made snow angels in the undisturbed snow along the road of the campground.
The ease of the hike left us with extra energy and better spirits that allowed for some silly and fun times in the snow that we don't normally enjoy on the uphill treks we often find ourselves on!
We headed back to the trail and continued along, our next destination (and turnaround point) was a further 1.4 miles up the trail at Carter Falls.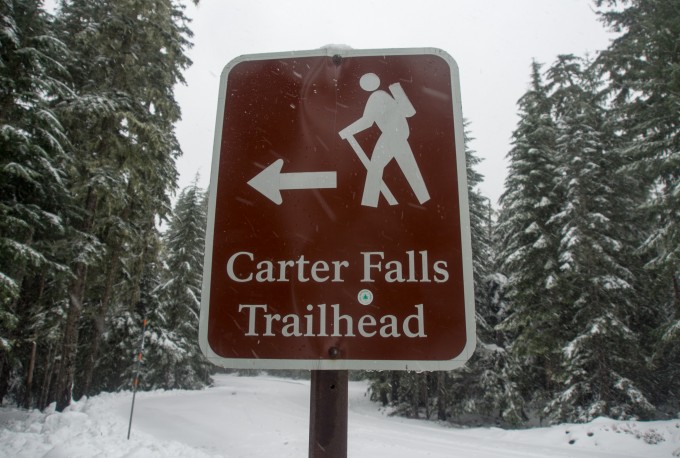 The trail brought us back to the road and a pullout viewpoint for vehicles that had interpretive signage about the color of the Nisqually River that we had been walking alongside for some of the first portion of the hike.
The trail then led us down into the river valley and to a bridge that crossed the river.
We had no idea just how windy it was that day! Throughout the first section of our hike we had been happily protected in the old Douglas firs and cedar trees. While crossing the river we were almost blown off course! Snow was flying and felt like pins on any exposed skin. We crossed quickly, and silently, mainly because we wouldn't be able to hear each other over the roaring wind…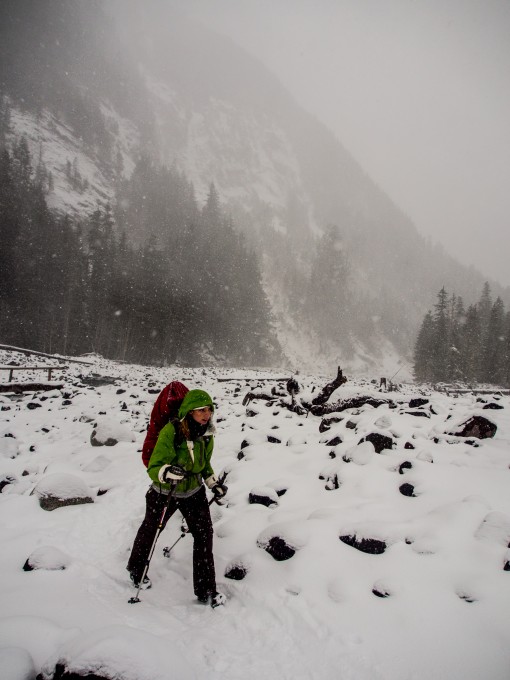 Once across we found ourselves on a smaller trail that ran alongside Paradise River.
This section of trail got a bit more steep and blisters began forming on my heels. Last winter I had a lot of issues with blisters while wearing my winter hiking boots. Last weekend on our inaugural snowshoe I was pleased when I didn't have any blisters and hoped that the summer of intense hiking had hardened and calloused my feet enough that I wouldn't have any issues this winter. I was sorely mistaken… But we pushed on until we reached Carter Falls (elevation 3660).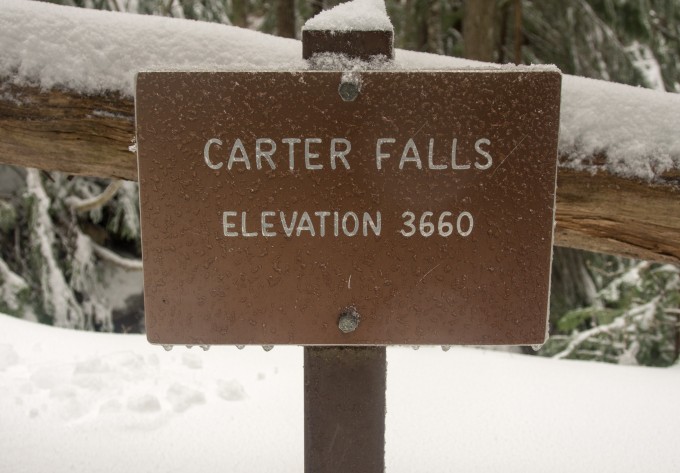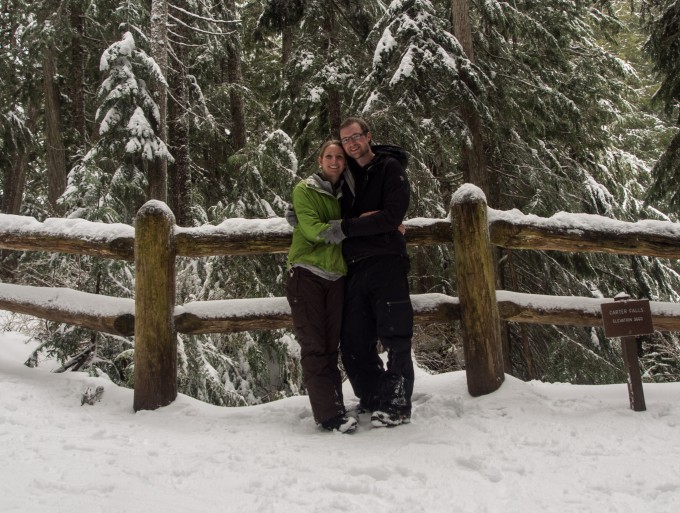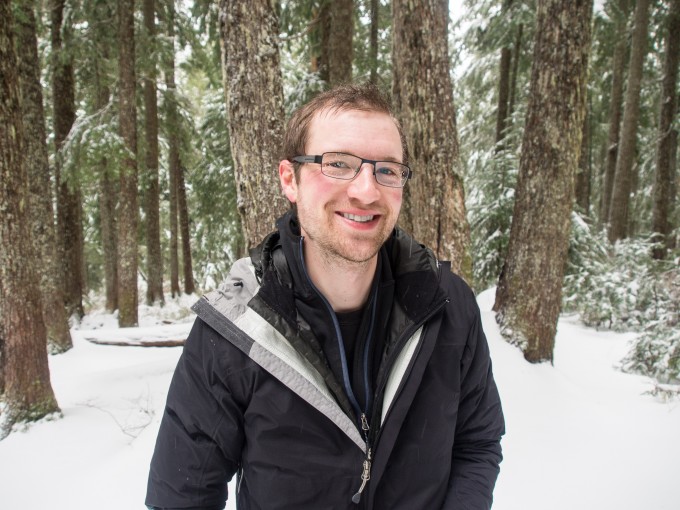 We rested a bit, drank some water and gatorade, snapped some quick pictures and then turned around and headed back the way we had come.
The hike out was fast and silent as both Bobby and I were both "in the zone". We both get this way when hiking some times. We walk and let our minds wander, our pace is usually fast and it usually only happens on easy trails that really don't require a lot of our attention. This well maintained and often used trail provided us with the perfect platform to let our minds wander. Thoughts of Christmas and family continually filled my mind as we walked through the beautiful winter wonderland that we found ourselves in!
Overall this was a great hike! It was nice and easy and since there were winter storms all day there weren't many views anywhere so we didn't feel bad that we did a trek that wouldn't provide us with many stunning views. It was a great gloomy weather day hike! Definitely kid friendly!
Wonderland Trail: Longmire to Carter Falls at EveryTrail
EveryTrail – Find the best Hiking in Mount Rainier National Park